Y'all, I really hate to be a downer, and this is two reviews in a row, but the bonus recipes from the Target edition of the Magnolia Table Cookbook have yet to prove to be winners. They seem to be recipes that they cut from the book because they didn't meet the standards of the others. The ones that needed a little more work.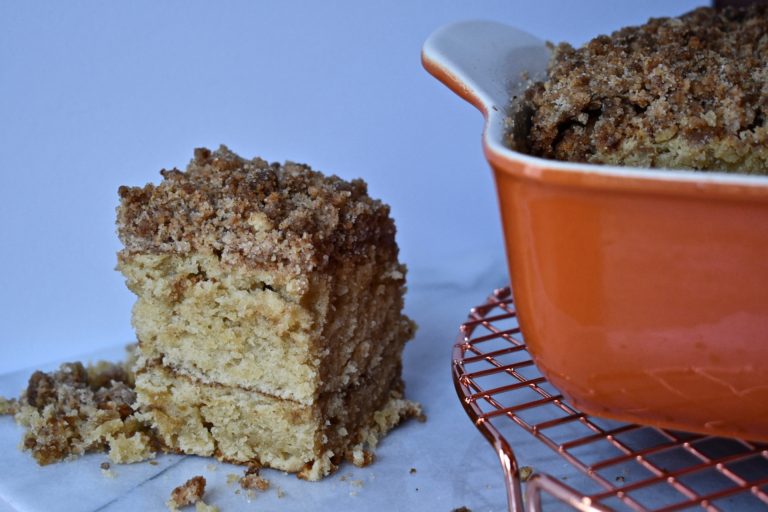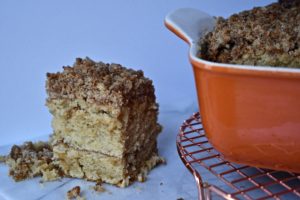 This is the second recipe that I have made from the bonus recipes and it is also the second recipe that I have not enjoyed from the bonus section. I was honestly really excited to have a great coffee cake recipe for future use, something great for weekend brunch or even just for my enjoyment. I am not sure if my idea of coffee cake is off, maybe Little Debbie has skewed my perspective, but this was not what I had hoped for while I was making it.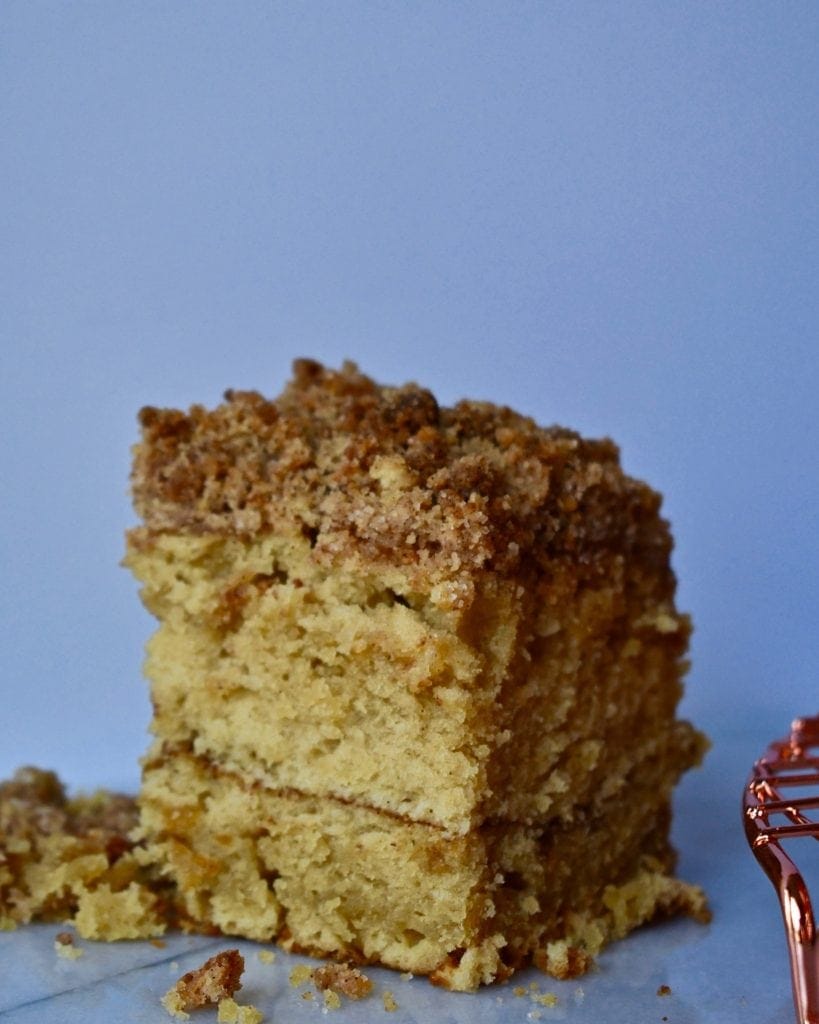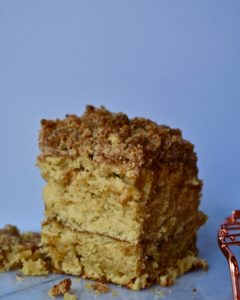 If it is possible for something to be hard and soft at the same time, this was it. But unfortunately not in a good way. The crumble topping came out way to hard, like little rocks on the top, too rough to eat. The cake was soft, but lacked flavor and the flavor that did come through was just bitterness from the spices. It was really a strange mixture of flavors. I had everyone in my house try it to see if I was just being to harsh and they all said the same thing. We deduced that a coffee cake should be subtly sweet to counteract the bitterness that a cup of coffee brings. So in the end I think this needs a little more vanilla or sugar in the batter, or something to give it some flavor and a little less spice to cut the bitterness.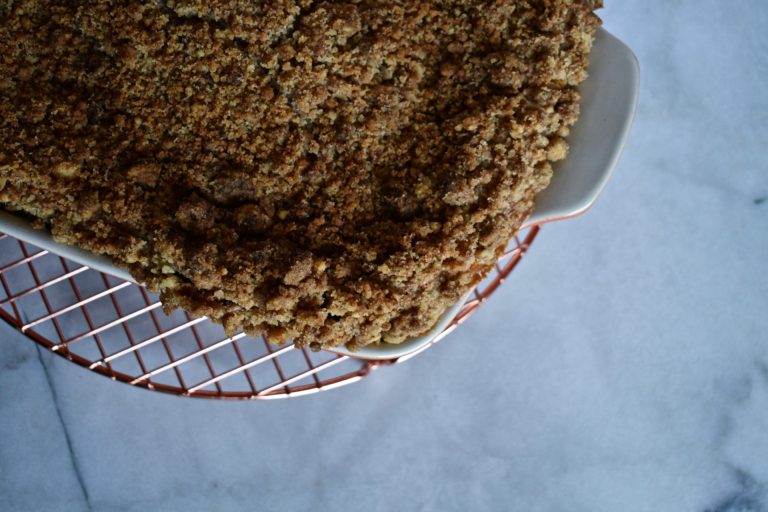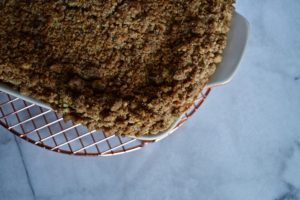 Leave me a comment below and let me know if you have made this and if you think I am on track or if you think I am crazy and that I need to give this another shot!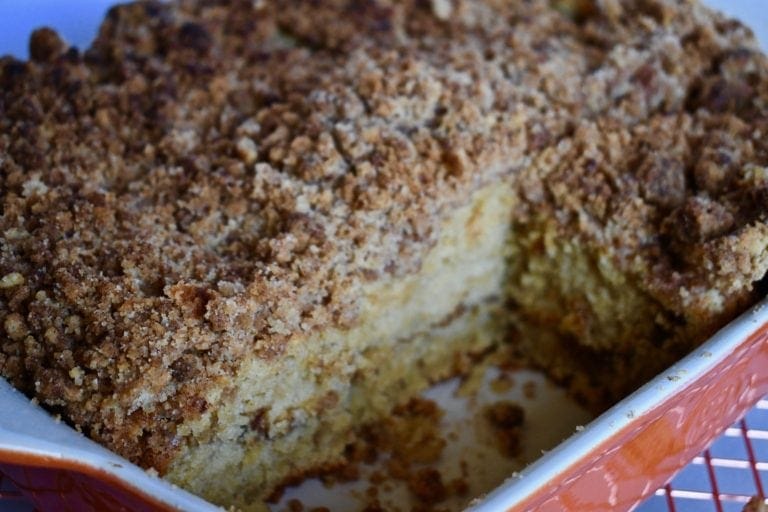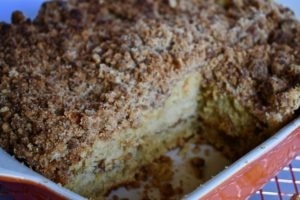 Until next time, happy cooking!
Kendell
Here are a few links to some of my favorite kitchen tools!
My FAV Silicone Tongs, I have 4 sets in my kitchen! ?
My FAV Sheet Pans, every kitchen should have at least 2 sets of these!
This is my favorite pressure cooker, the same as an "Instant Pot" but easier to use in my opinion, if you don't have one you need one, it will be your best friend in the kitchen!
A sharp knife is the most important tool in the kitchen, these are my favorite!
This 11" skillet is just the right size for almost anything you will need to cook and my best friend in the kitchen, it's also a great deal. Scanpan is the best in the world for healthy cooking. It is coated with a ceramic titanium coating that is durable while allowing you to use less fats and oils when cooking. It is a proprietary coating only they use. I could talk all day about my love for these pans, message me if you want more info.
8" & 10" Skillet set or 8" Skillet, I still need this one for my kitchen ?
This giant vat of olive oil is my favorite, I decant it into a smaller bottle for my counter. Or put this spigot on top of a wine bottle!
This jar scraper has to be my single favorite kitchen tool, it is definitely the most used tool in my kitchen.
A great wood spoon is essential, the Olive Wood one is the best, I have more than I can count ?
A food scale can be a very important tool in your kitchen, this one is the one I use every day!