Mexican Street Corn is a big-time favorite at my house. I am always looking for ways to incorporate it in new ways and I think I have hit it on the head with this one. My recipe for Chicken Enchilada Casserole also features it, cause it's that good!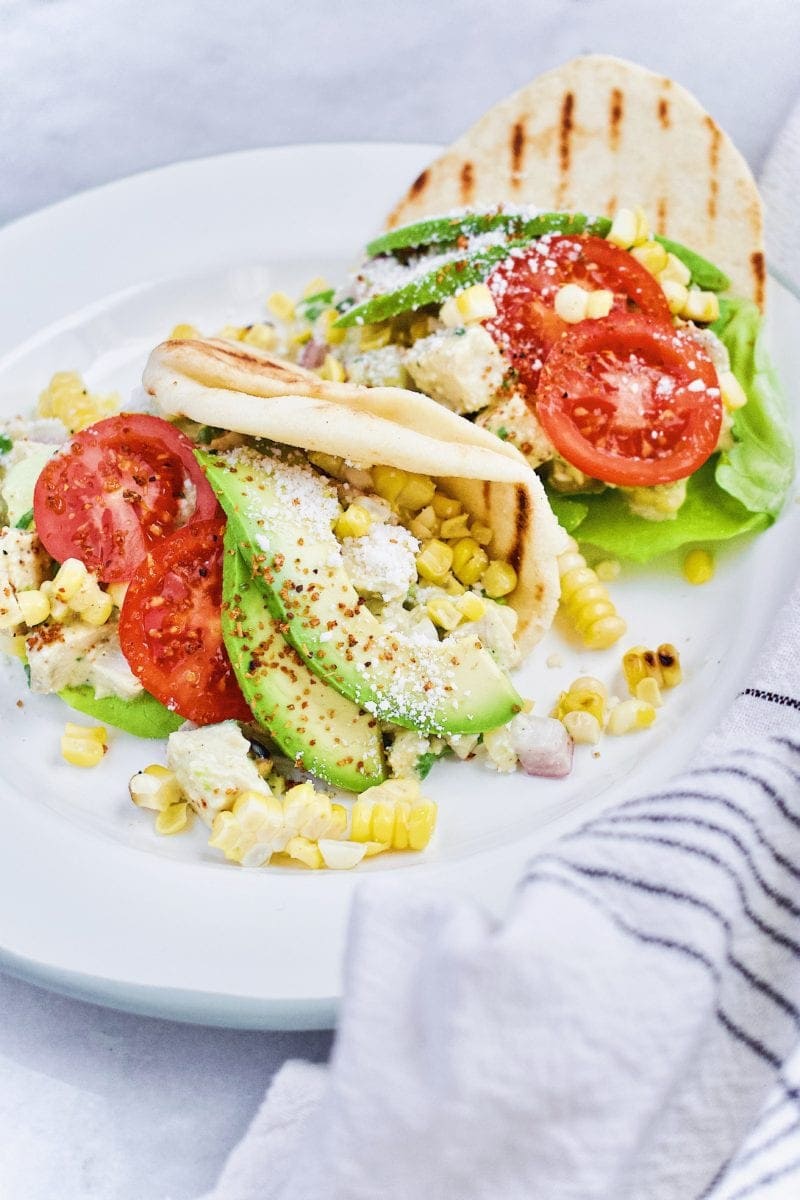 I like to serve it on a Naan bread like a chicken salad sandwich, but it also eats really well with corn chips. The Naan is a great vehicle and I like it because it is a spin on using a tortilla, and the flavor of the flatbread melds so well with the flavors of the chicken and the grilled corn. Naan is sweet and soft and when it is warm it's irresistible, so be sure to grab some to try it on, they sell the little ones you see in my photos at Costco and most grocers.
Preparing the chicken salad
Much like I shared in my Avocado Salsa post, I start with my onions in the bowl first with the acid being mixed in with them to dull the raw harshness of them. Allowing the onions to sort of pickle quickly in the lime juice takes the raw edge off and makes them more enjoyable to eat.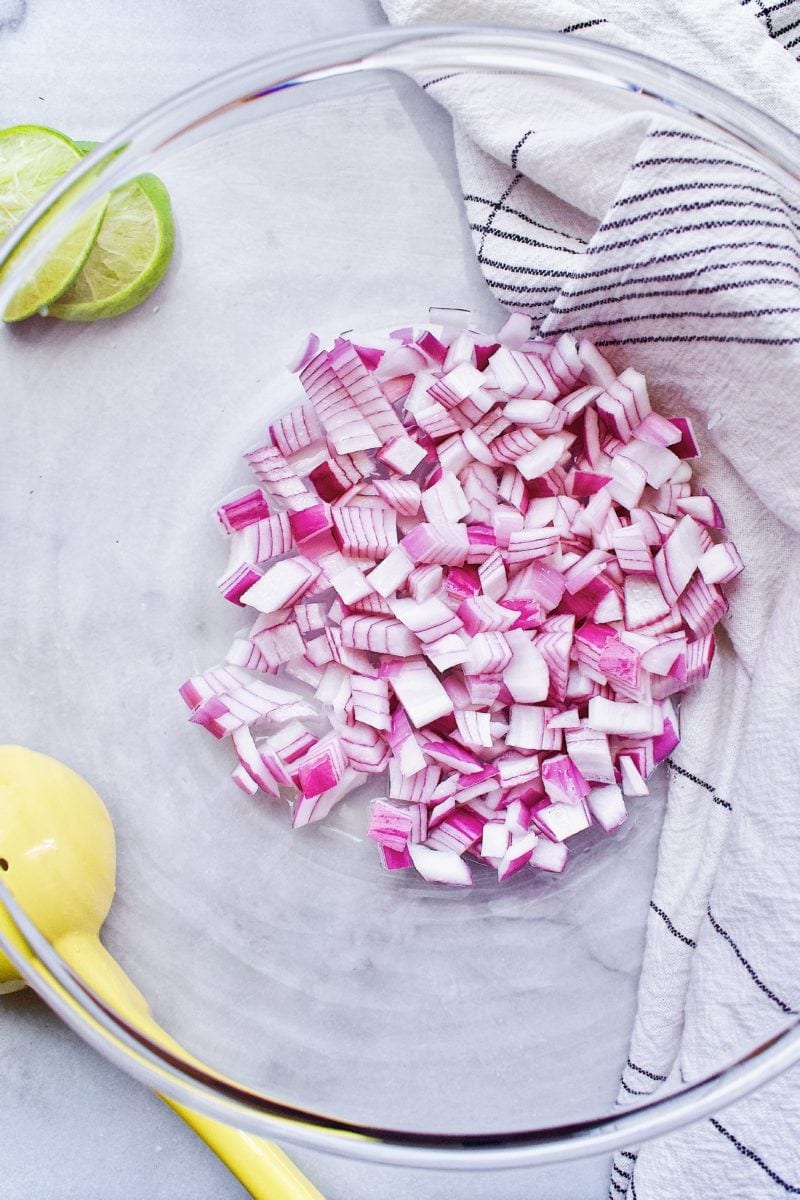 Once the onions turn pink, add the mix in's. I start with jalapeno, green onions, cotija cheese, avocado, and the chicken. I also begin seasoning at this point. A generous shake of tajin or chili lime seasoning gives you that classic Mexican street corn flavor.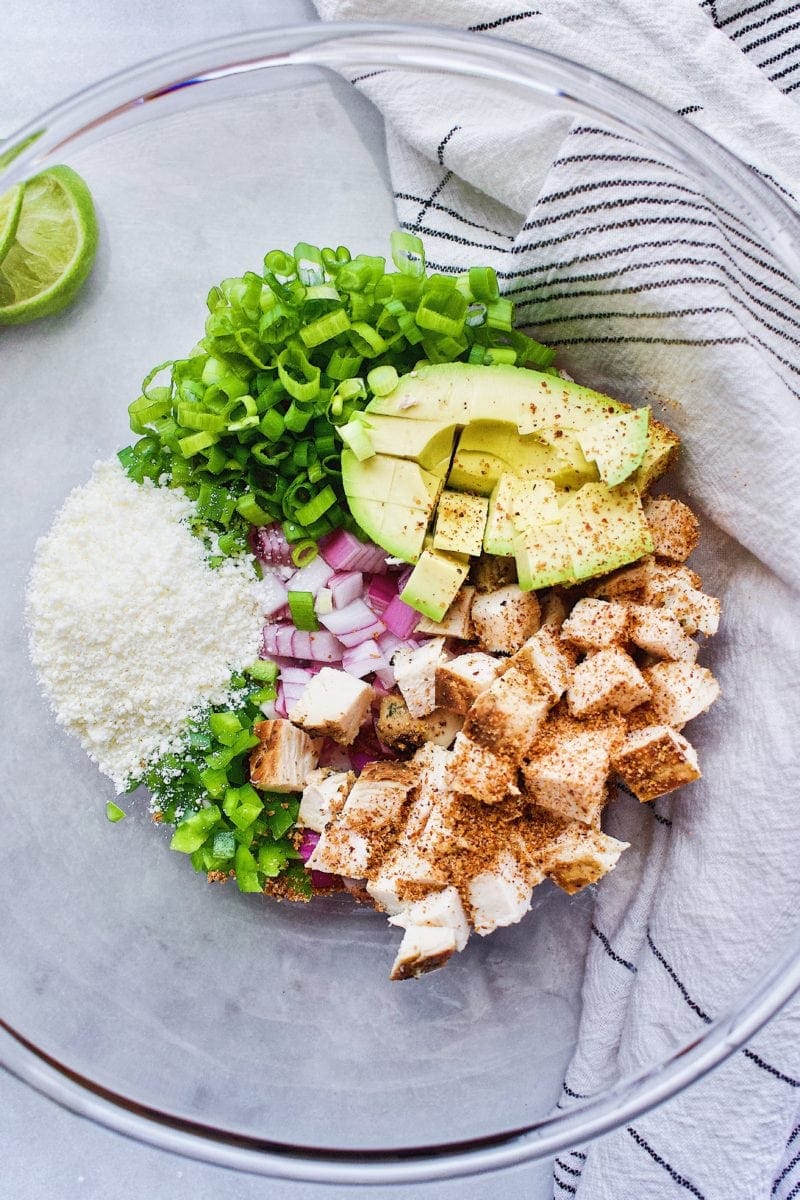 Give it a gentle mix and add in the mayo, cilantro, and grilled corn. Add a couple of pinches of salt and a few cracks of black pepper at this point too. Fold everything together making a point not to smash the avocado.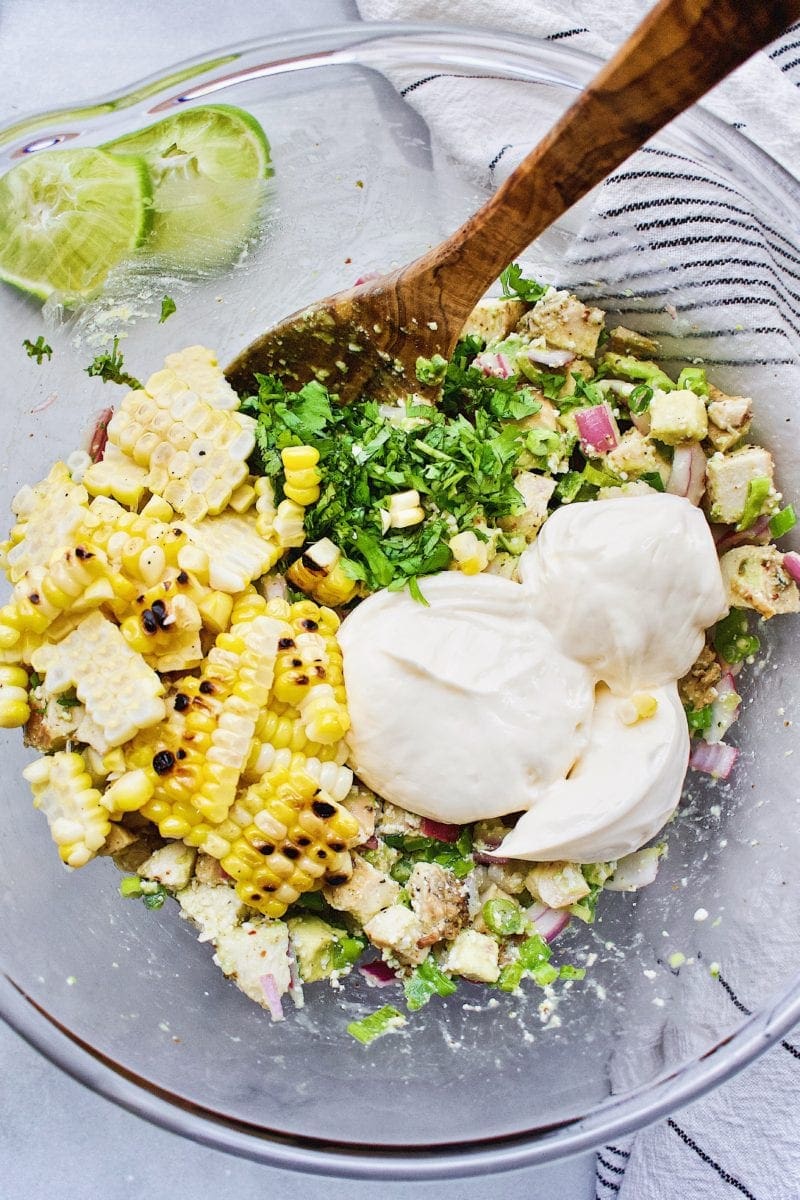 Once you have mixed this all together you have your chicken salad base and it is ready to eat. If you need more info on seasoning and cooking chicken breasts take a look at my Greek Chicken Salad post and cook that chicken to use here. Just throw a little chili lime seasoning in with the greek flavors and you have the perfect chicken for this recipe.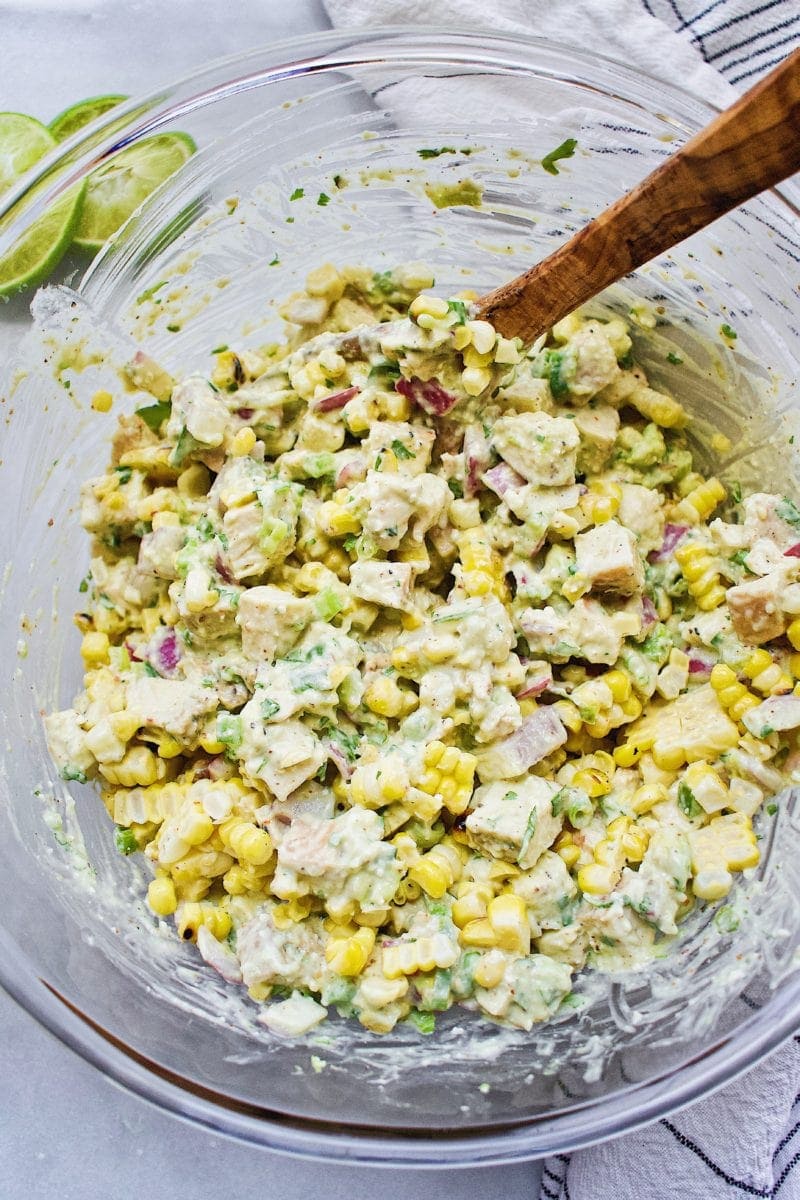 Like I said above, I LOVE this on naan bread, but it is great with corn chips or if you can find the guacamole chips at Sam's Club or World Market they just enhance the flavors of this salad even more!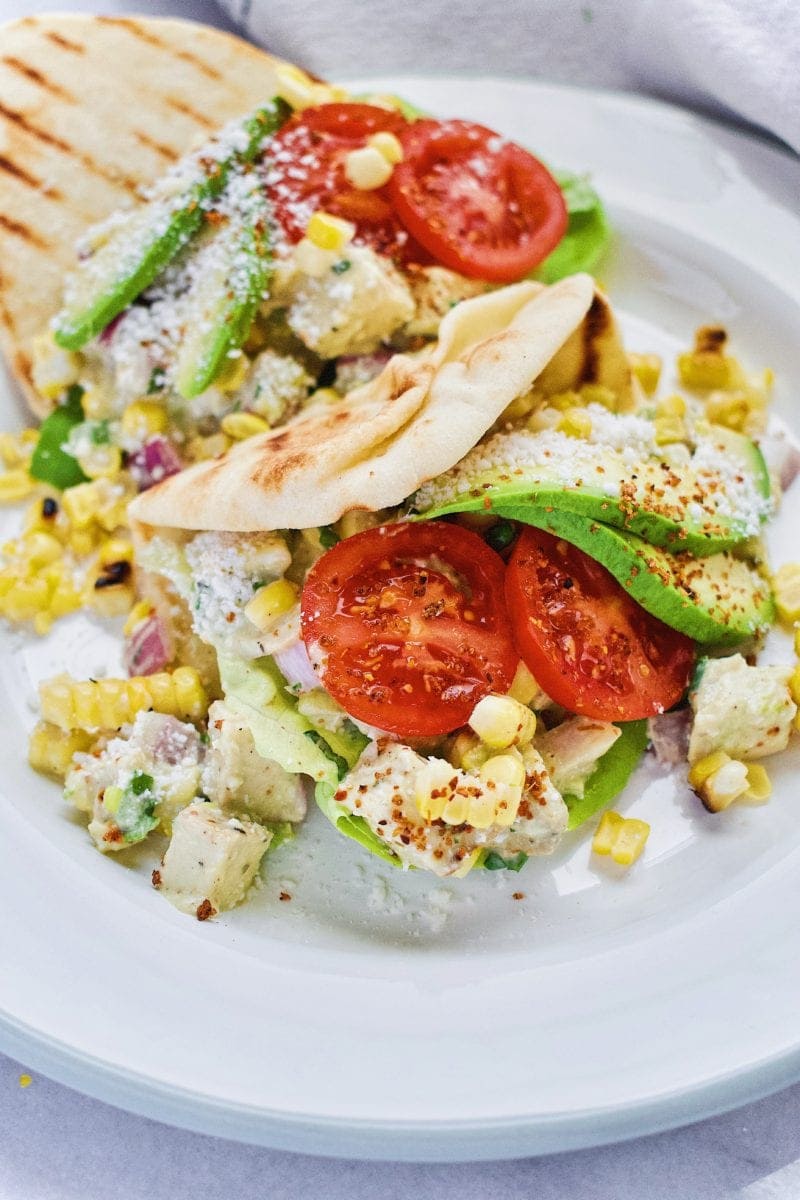 Did you make this recipe? Let me know by leaving a review or comment! And be sure to sign up for my newsletter, and follow along on Instagram, Pinterest, and Facebook.