Ok y'all, this one is for those who love those insatiable Gilmore Girls. I have assembled the quintessential junk food guide that will give you the food coma only Lorelie and Rory could handle! Oh, and don't forget the coffee, lots and lots of coffee!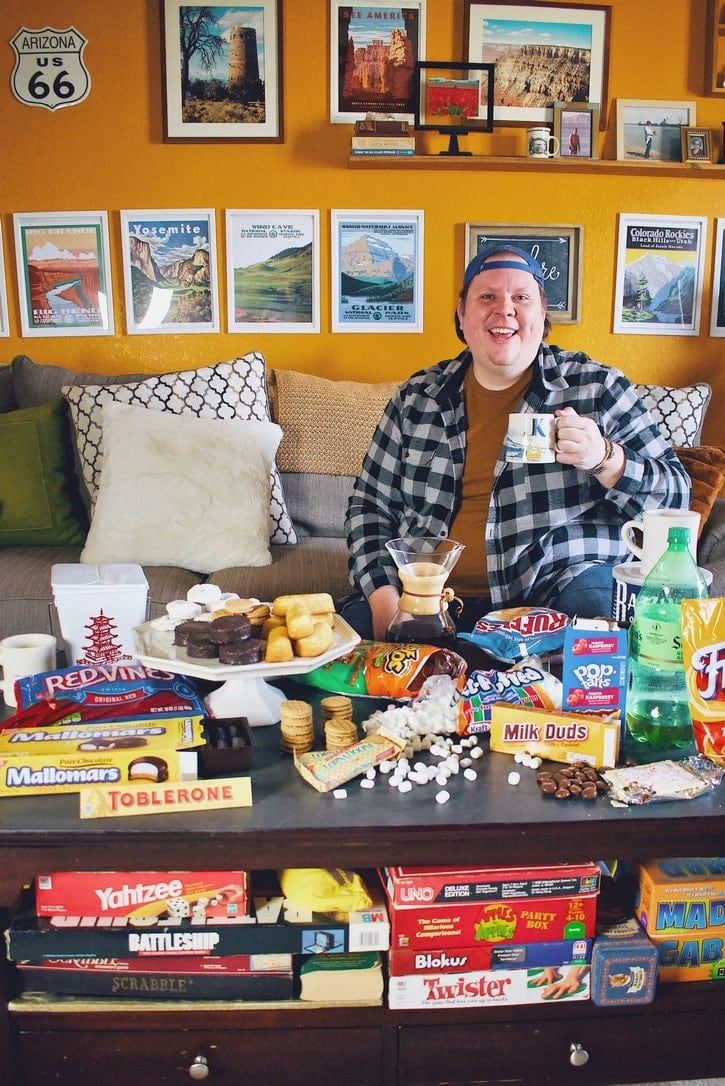 Now, who wants to join me as the Lorelai to my Luke? I am saving you a space on the couch next to me and my golden retriever CJ is ready to warm your heart and your toes! Let's curl up for a night in with an array of snacks and those fast-talking ladies ready to keep us company!
And for the gentlemen reading this, be sure to amass this perfect list of salty and sweet foods that are all 100% Gilmore Girls approved! I have done the research so all you have to do is place a grocery order on amazon and turn on the Netflix to go on the wild and goofy ride that is Gilmore Girls.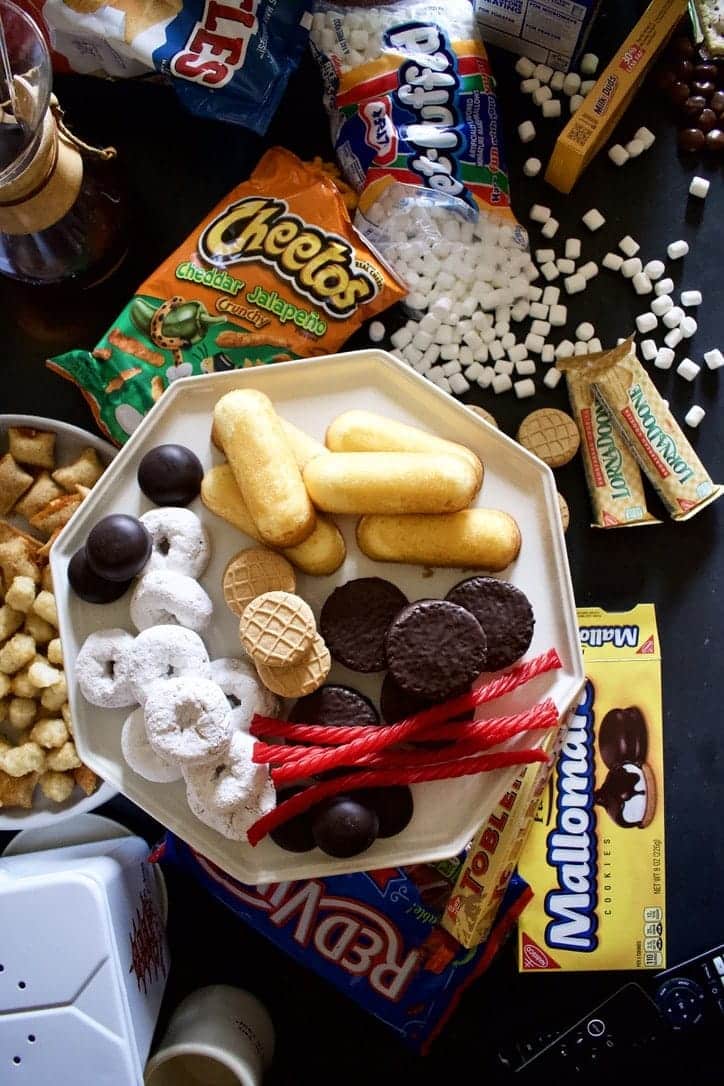 So set the table with this array of greatness and as a forewarning, pace yourself or you will be in a sugar coma faster than Lorelai can confuse Taylor at a town meeting! And if you don't know what that means yet, sit back, relax, and just enjoy the ride, my friend!
To give you just a super quick back story, just in case you aren't familiar with the ladies of the night yet, they are a mother and daughter duo, who basically grew up together. They are in a small town called Stars Hollow, where every season brings a new festival or event...this is where Taylor comes in!
Lorelai is estranged from her RICH parents, but begrudgingly attends dinner at their home every Friday night because they loaned her the money to get Rory into a posh high school so she can get into Harvard.
They have extensive knowledge of music and movies, the love interests come and go, and though they have a few ups and downs, they remain best friends through and through. Oh and the aforementioned Luke, he owns the local "greasy spoon" as described by Lorelai's mom Emily, and despite the subtle hints, it takes Lorelai 6 seasons to realize he LOVES HER! And lemme just say, he is THE ONE for her!
THE Gilmore Girls' junk food guide!
I have assembles a LONG list for you here, you can pick and choose from your favorites, but rest assured, these are all approved by the show itself, I have watched every episode and gathered this from everything you see appear on screen!
Coffee & PopTart, in nearly every episode
Chicken Fingers
Tacos - from Al's Pancake World
Burgers - with pinkies raised
French Fries - ALWAYS!
Tater Tots
Onion Rings
Chili - on fries, on burgers, it is mentioned a lot!
Hamburger Helper - when they feel like they need to cook, but Lorelai forgot the hamburger.
Salad out of a bag - eating makes Lore think she is pregnant cause it is too healthy.
Pie - not really picky about what kind
Moon Pie's
Nutter Butters
Junior Mints
Chocolate Cake - SaraLee from the freezer is featured on the show, I have yet to find it, I think they stopped making it.
Chinese Food - the whole menu!
Pizza - with extra cheese melted on top when you get home.
Cherry Danish - for Danish Day of course
KitKat's
Corn Flakes
Cookie Dough Ice Cream - for breakups
Pizza rolls - served with tots, because, "thats a rhetorical question, right?"
Fruit - only sometimes, cause scurvy
Twinkies - Rory's favorite
Mallomars - spelling Lorelai for her bday
Ding Dongs - because ding duh!
Milk Duds - for eating and throwing
mini powdered Donuts - as the appetizer to the pizza rolls and tater tots
RediWhip - for topping just about anything, or just spraying into your mouth
Pop Corn - always
Fritos and Ginger Ale - what Rory smells like after a day of studying
Soda - Coke, Orange Crush, Ginger Ale, Club
Cocktails - Gin Martini, Manhattan
Marshmallows - Particularly good in a bowl of rice crispies with milk, cause even Krispy treats is cooking for these girls.
Toblerone
Red Vines - always vines, not Twizzlers, until later seasons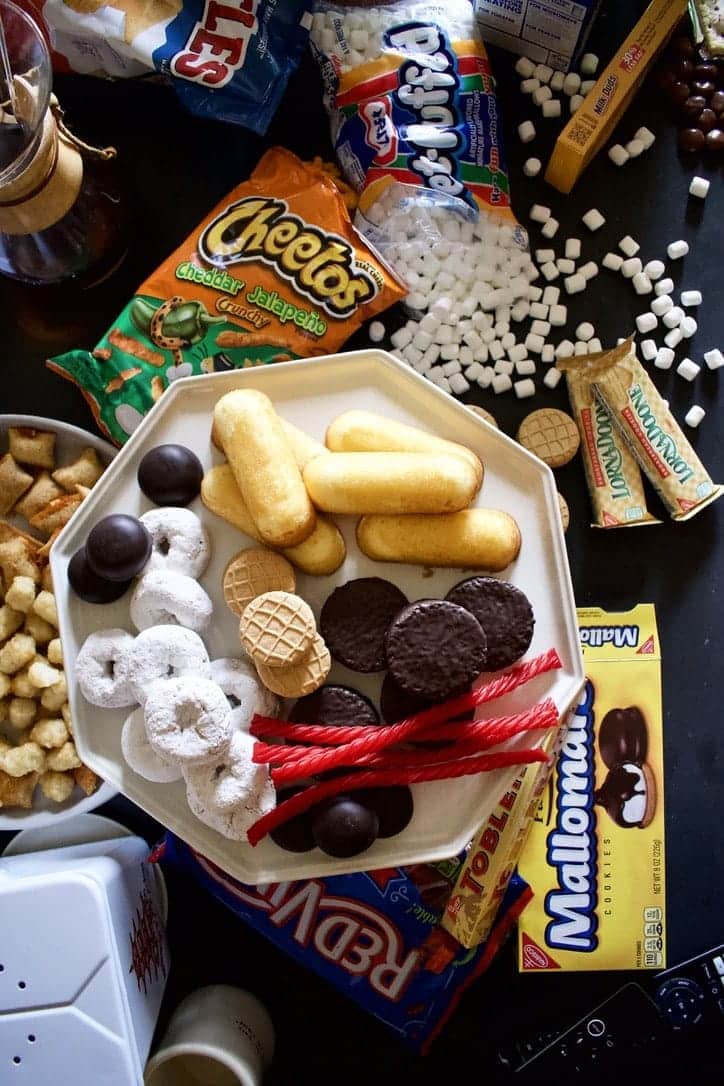 The shortlist of frequent Essentials!
Tater Tots
Pizza Bites
Burgers
Red Vines
Mallomars
Milk Duds
Ding Dongs
Twinkies
Marshmallows
Toblerone
PopTarts
Nutter Butters
Tiny Donuts
Coffee
Ginger Ale
Chips - fritos, cheetos, doritos, the whole -itos family
Ok, I do this maybe once a year, it cost me about $40 and I grab a bunch of junk food and have a Gilmore Girls binge night. My mom, my sister and I hang out, stay up late, and eat as much like a Gilmore Girl as we can, only til we barely get sick. We try not to go over the edge.
It is just a fun way to enjoy our favorite ladies while hanging with each other, which is everything Lorelai and Rory were about! They are 100% HILARIOUS, fast-talking, and head spinning, but I 100% love it! Yes, I said it, I love the Gilmore Girls and my lady will have some very big Lorelai shaped shoes to fill one day!
Thanks for reading, now go turn on episode 1 and don't leave the couch till you finish the whole series!
For more from KendellKreations take a look at the links below!
Did you make this recipe? Let me know by leaving a review or comment! And be sure to sign up for my newsletter, and follow along on Instagram, Pinterest, and Facebook!