Here I am reviewing two of Joanna Gaines's recipes from her Magnolia Table Cookbook Vol. 1. Her roasted Beef Tenderloin and Pickled Jalapeños, which you need need to make the sour cream that tops the beef. She has them listed as separate recipes in the book but you wouldn't really make one without the other unless you had a garden full of jalapeños, which for me I do not.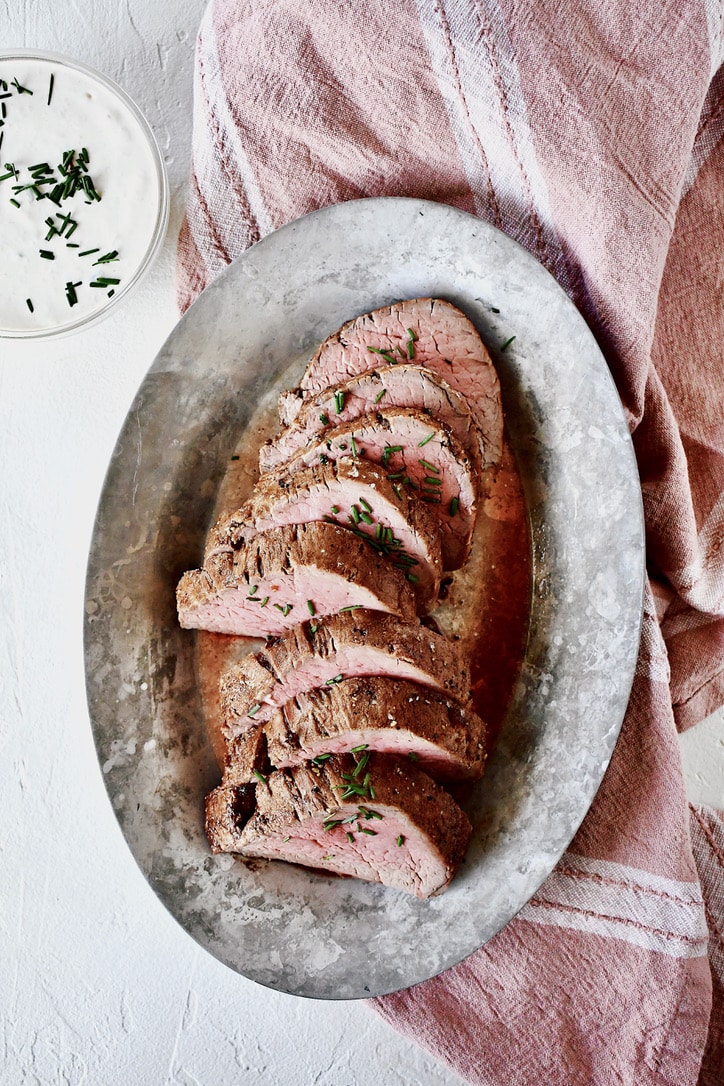 The review...
The roasted beef tenderloin introduces a whole new cooking method. Even to someone like me who's a classically trained as a Chef. Joanna has you wack the oven up to 500 degrees, cook the roast for a short time depending on the size and then turn the oven off and let it rest in the hot oven for 20-25 minutes until it has reached your desired doneness.
You do NOT open to oven to check on it because you don't want to let the heat out. You just have to trust it, and I will admit that was a little hard for me to do. Working in the restaurant industry I guess that I have applied this concept before but never really thought about it.
I've cooked a piece of meat to rare and then let it rest in a warming box until ready to serve where it reaches medium doneness. That is common practice anywhere that has big events. Also, we are usually in a hurry to get food out the window that something like this, that takes a little extra time isn't usually something we do very often.
But the method worked. And it worked really well. I feel like I learned something here that I can carry with me for a long time.
The reaction...
Skeptical as I may have been, the beef tenderloin turned out a perfect medium. Even my usually well done loving parents ate it as is and loved it! I usually really have to force them to eat their fillet anything less than well, but the flavor on this was so good it didn't take that much convincing this time.
The tenderloin has a great, yet light depth of flavor from the overnight marinating, soy, Worcestershire, and steak seasoning make is absolutely delicious. Staying true to the original mission of cooking my way through the Magnolia Table Cookbook and wanting to show photograph everything to show you if it comes out looking like it does in the pictures of a well-styled book, I have to say this did not look anything like it does in the cookbook.
And to be honest, even though every oven is different, I don't think it ever would. The picture Jo shows in the book looks like it had been grilled or broiled to get all that color, or maybe rubbed down in some butter or oil before going in the oven, but if you cook it as the directions state you will get something more like what you see here, opposed to the photo you will see inside the book.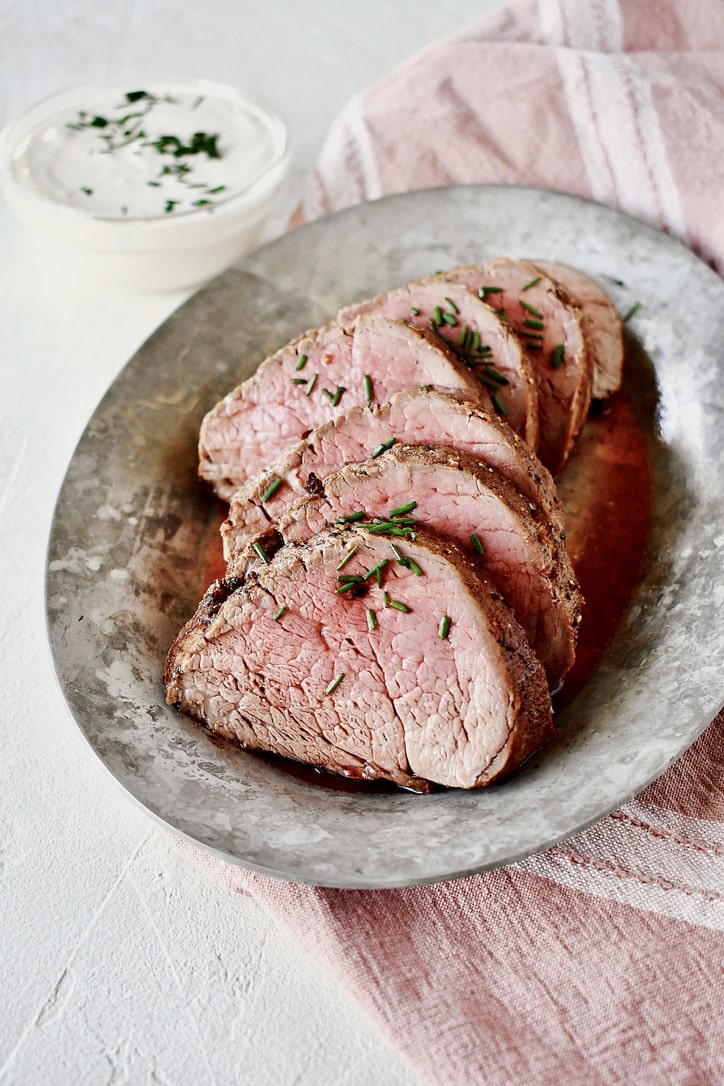 The TIPS...
Starting with the Jalapeños, the pickling recipe is super basic and easy. You could use it to pickle just about anything. If you ever want to pickle a vegetable, use the pickling liquid recipe she shares for these Jalapeños.
You can add garlic or some herbs to the jar with whatever you are pickling. Those flavors will infuse and get stronger the longer that you let them sit. I had a little bit of extra liquid and a half a red onion in my fridge so I used that to make some pickled red onions for burgers. I feel like the biggest point there is in preserving is that you don't want to have any waste, so I wanted to make sure I used everything that I had.
Beef tenderloin might be a bit of a splurge for many people but save this one for a special occasion or holiday and it will not disappoint. It's really delicious and will impress anyone you serve it to!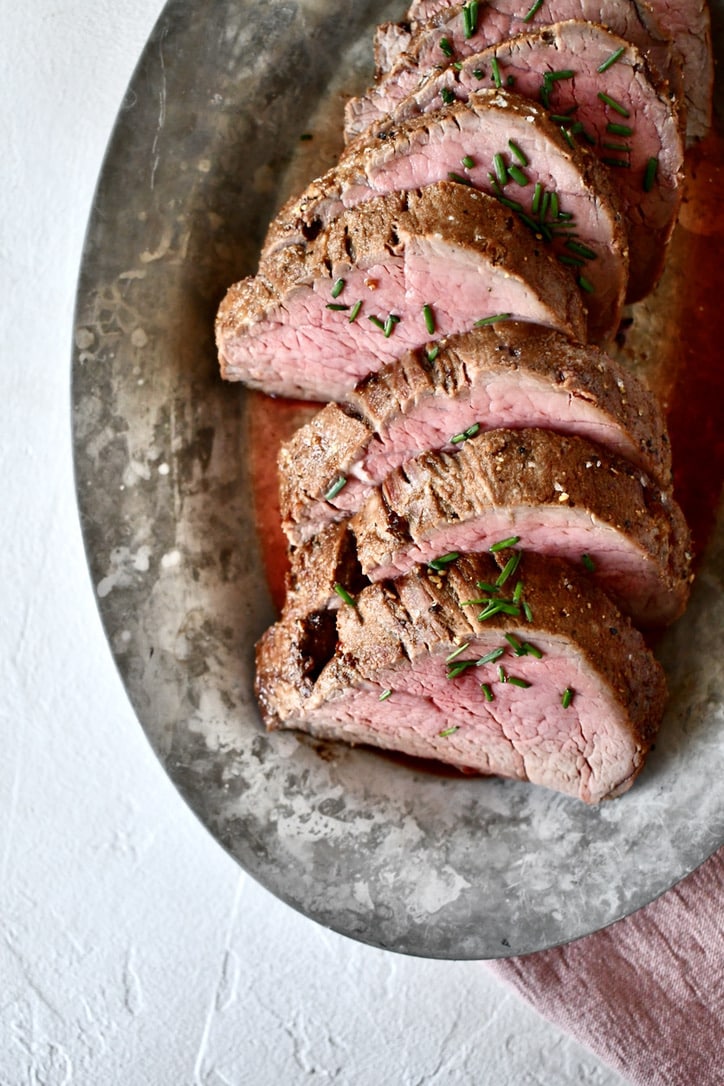 Until next time, happy cooking!
Kendell
If you watched Joanna makes this recipe on Season 2, Episode 3 of her new cooking show 'Magnolia Table with Joanna Gaines' you can get the recipe by CLICKING HERE, she shared it on her blog so you can make it at home!
read my other reviews of s3 episode 3 here...
Prosciutto-Wrapped Apples (coming soon)
Twice-Baked New Potatoes (coming soon)
Did you make this recipe? Let me know by leaving a review or comment! And be sure to sign up for my newsletter, and follow along on Instagram, Pinterest, and Facebook!