I like to describe my writing style as Kathleen Kelly does in You've Got Mail, as if we are the oldest and dearest friends already in the middle of a conversation. So let's jump right into what is Joanna Gaines AHHHMAZING recipe for Brussels Sprouts from her Magnolia Table Cookbook Vol.1.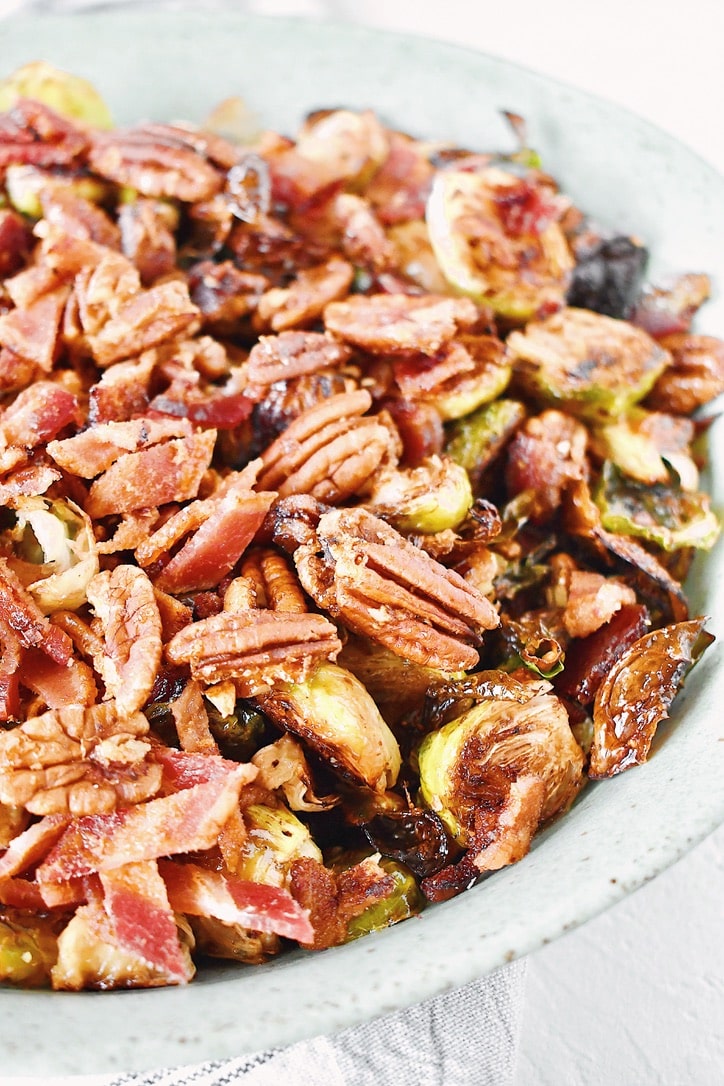 The review...
This Brussels Sprouts recipe will take away all of those childhood misconceptions you have about these tiny cabbages. It will actually make your adult self and your children fall in love with them! Yes, I even believe your children will enjoy eating them made like this!
It is a joy of mine to convert people to Brussels Sprouts in my professional life. I run across people that have never EVER tried one or people that had them boiled to mush as a kid and they can't bring themselves to eat them as adults. First off, you have to view them as cabbage.
That is what they really are, just tiny baby cabbages. If you like things like coleslaw or sauerkraut then you should know what to expect flavor-wise. But this recipe takes them to the next level and adds bacon to them!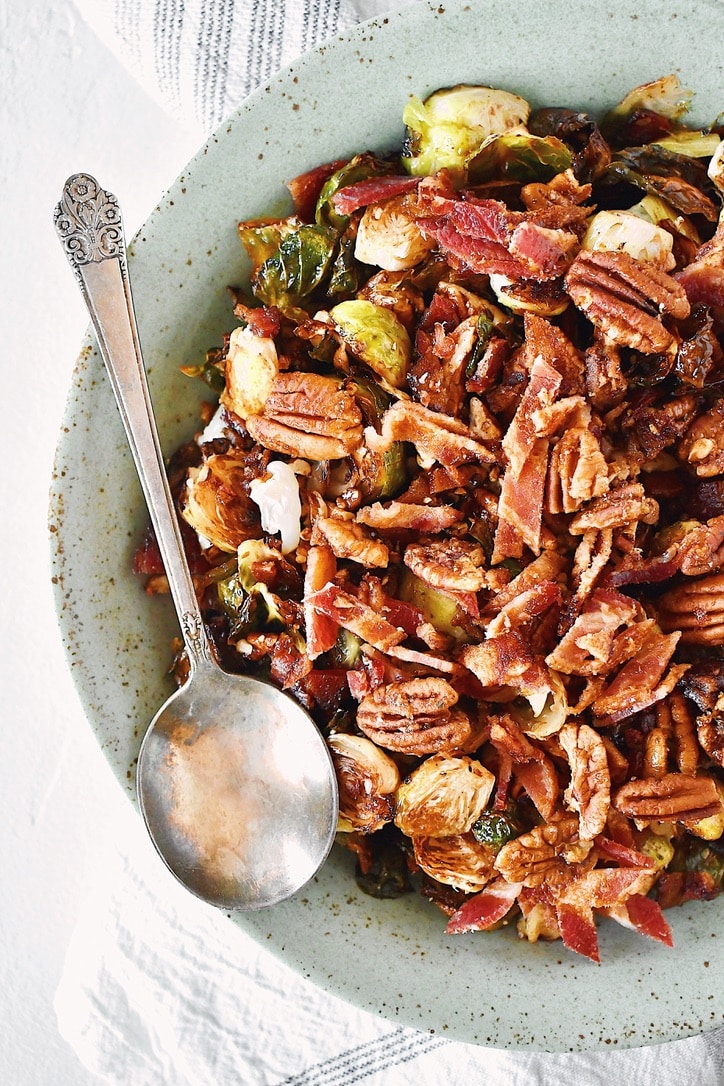 The reaction...
I first really fell in love with Brussels sprouts when working in a restaurant where we deep-fried them as a side dish. I mean what isn't good that comes from a deep fryer? But what I loved were the nutty flavor and the crisp texture, it really made them enjoyable.
When I started my own business where I teach people how to cook healthful family meals I looked for a way to keep them a little healthier while getting the same result. Now I know what you are thinking, the journey of cooking through this book has been filled with butter and bacon. But I use these in the 1-2 meals a week where I get to enjoy myself. It's all about the balance in life.
This recipe is reminiscent of those deep-fried Brussels. Because you toss them in oil and seasoning and roast them at a high heat in the oven, they crisp beautifully and are a joy to eat!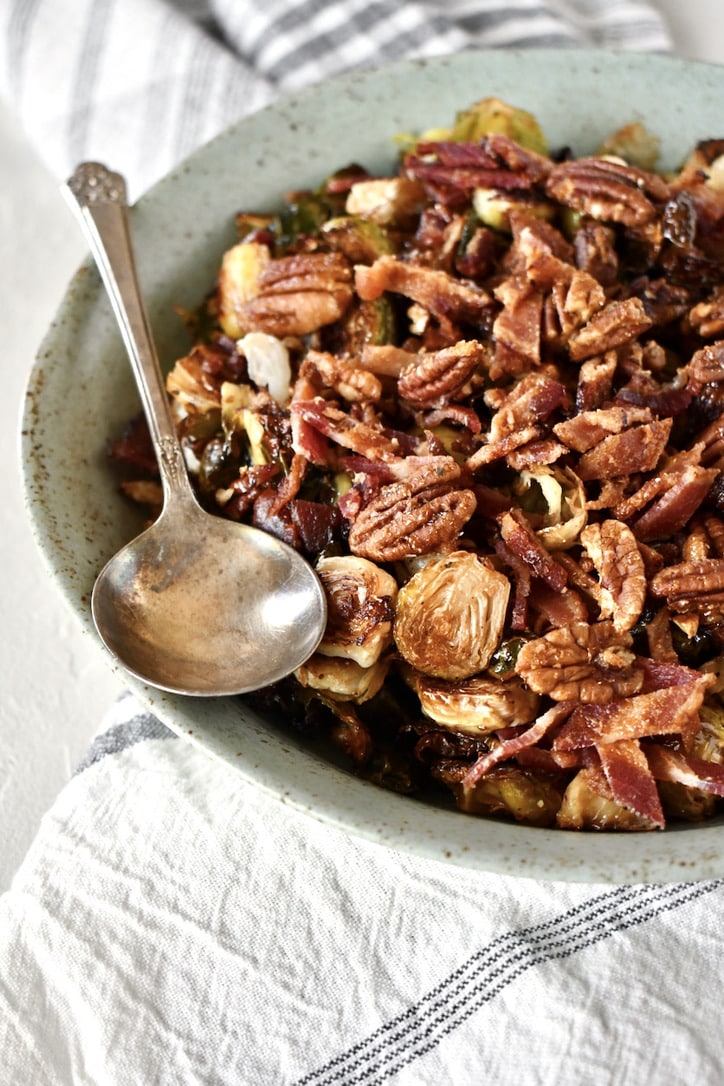 The TIPS...
So, if you do like the recipe says in the book and toss your sprouts with some olive oil and roast them with a little salt and pepper, and just leave them that way, you have a great healthy side that tastes great and is packed with nutrients and good fat.
But let's get back to these indulgent sprouts. Jo calls for olive oil to coat, but we are cooking bacon so why not use some of that fat, plus it will give us great flavor. I used half and half bacon fat to olive oil when making mine.
The biggest tip I can give you is if you want a little more crisp on them than you will get from just roasting them, turn the broiler on and really light them up. Keep a close eye on them as they can turn black QUICK! But I personally like mine with just a little char on them, not too much, but a little bit is good.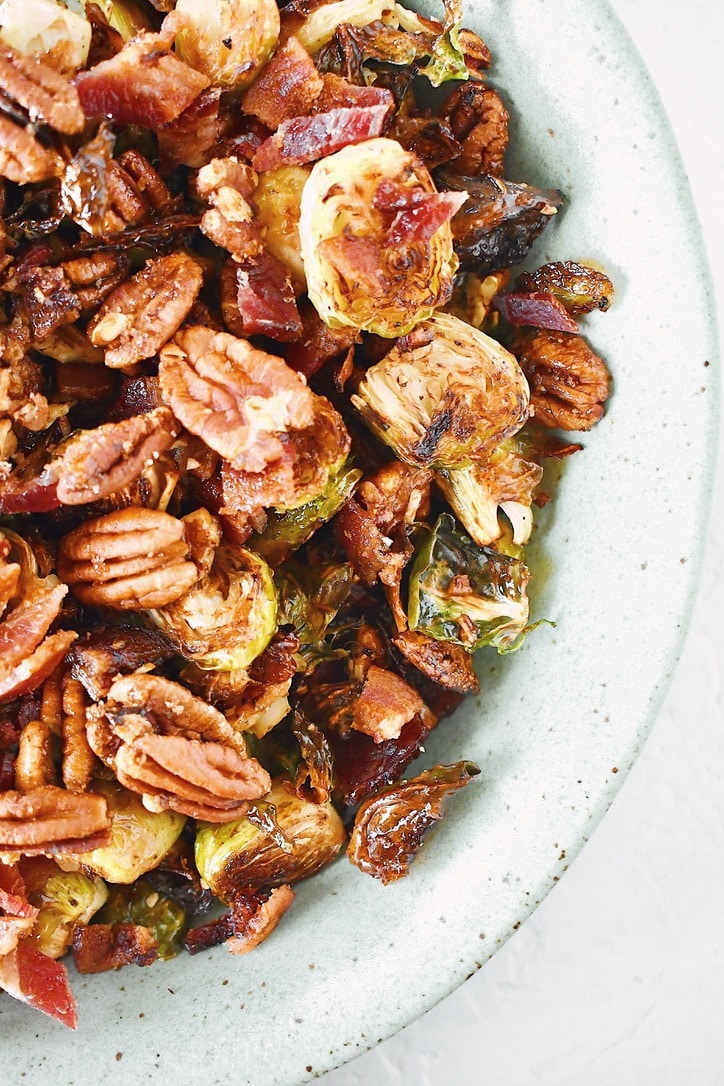 Until next time, happy cooking!
Kendell
If you watched Joanna makes this recipe on Season 2, Episode 3 of her new cooking show 'Magnolia Table with Joanna Gaines' you can get the recipe by CLICKING HERE, she shared it on her blog so you can make it at home!
Read my other reviews of S3 Episode 3 here...
Prosciutto-Wrapped Apples (coming soon)
Did you make this recipe? Let me know by leaving a review or comment! And be sure to sign up for my newsletter, and follow along on Instagram, Pinterest, and Facebook!