This beautiful Pumpkin Sage Risotto is just the right way to end the season. The flavors sum up fall in one bite. It is perfectly heartwarming, cheesy, and herby in all the right ways!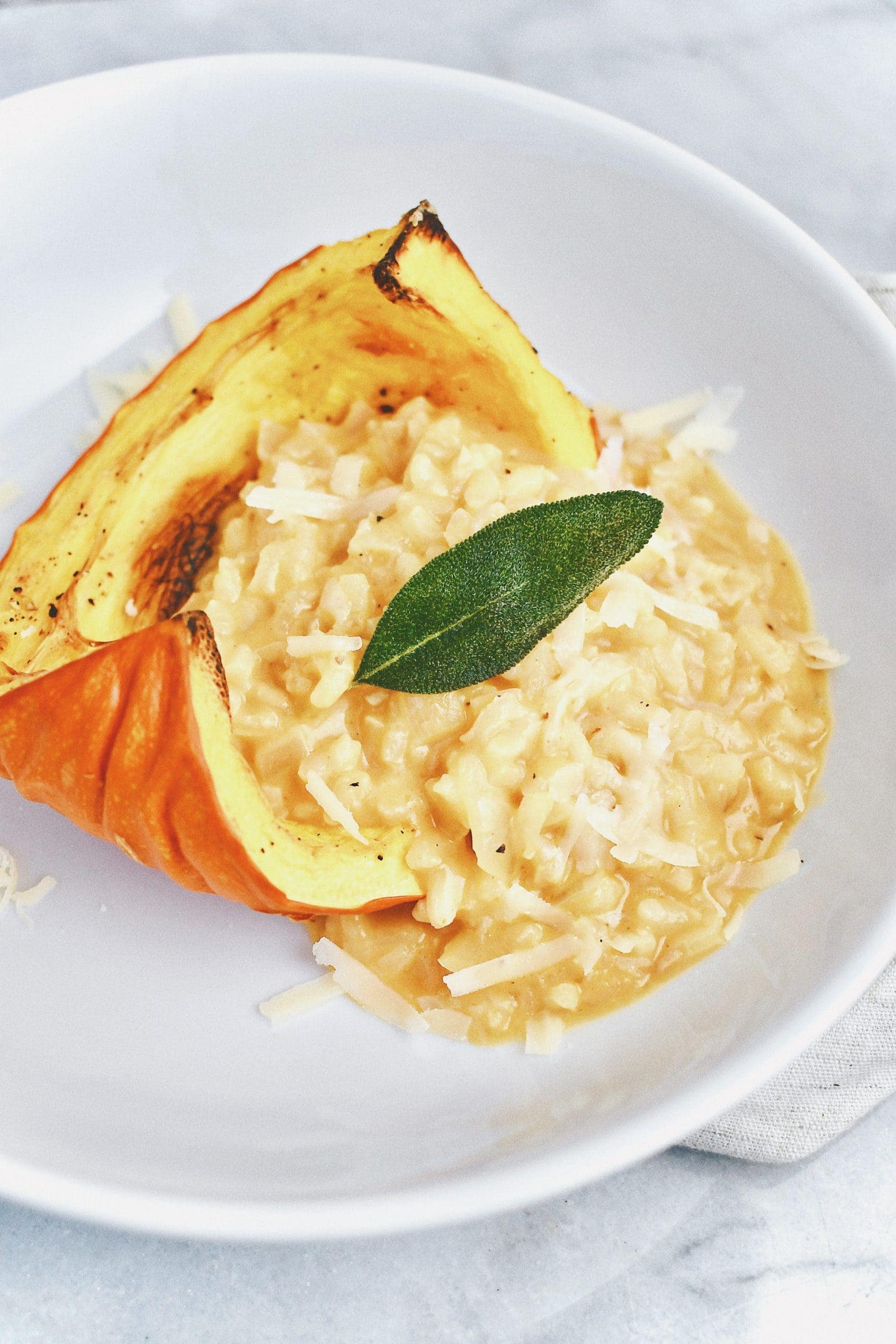 I think I have finally found just the right way to get my risotto right. Keep reading for my trade secret that will have you no longer afraid of making risotto at home. It will also make you look like a PRO!
Team Stir or NO Stir?
It is a great debate, many people will say you have to constantly stir your risotto the entire time that it is cooking. But there is a debate that you shouldn't stir it at all. I guess that I kind of land on the fence.
I am half and half, I give it some good stirs, but then I let it sit and simmer a bit while the rice absorbs the cooking liquid. I just always act like I am training to make the best risotto that Tom Colicchio has ever eaten!
I have this recurring nightmare that I serve Tom risotto on Top Chef and as many that have gone before, he is supremely disappointed. I will always remember that he insists that risotto should run on the plate. So just remember, risotto should move on the plate, meaning it should be loose.
Now get ready, I am about to drop a HUGE chef bomb on you. I have found what I believe to be the KEY to making your risotto just right.
I cook my risotto until I have about 3/4 of the cooking liquid in and I turn it off and let it sit for about 20 minutes. This allows the starches in the rice to be released and thicken the mixture. Then I add the remaining cooking liquid and finish it with a touch of cream and cheese.
This keeps the mixture loose and the way that I imagine that Tom would like it if I was serving it to him on Top Chef!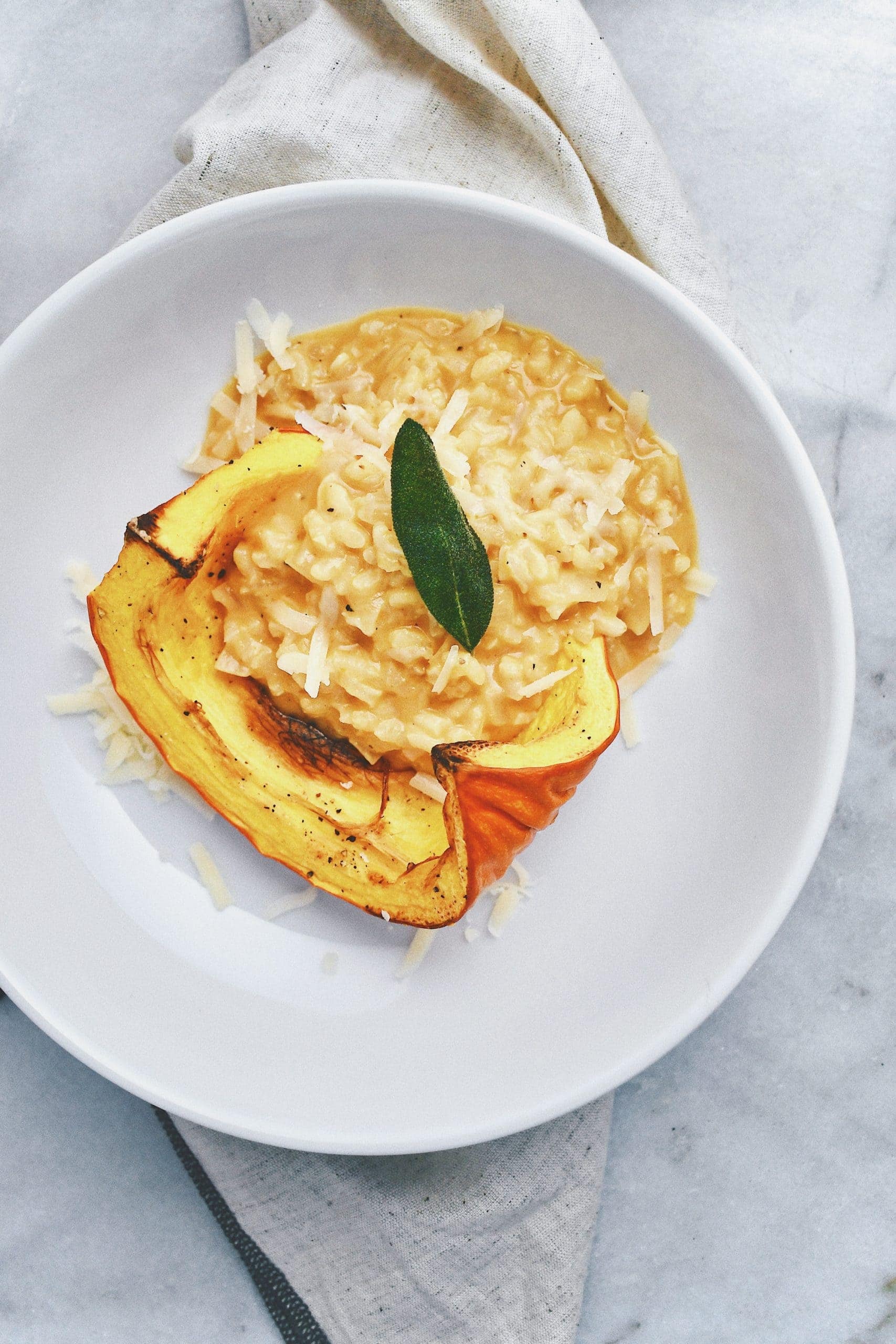 What rice is best for making Risotto?
Arborio rice is the rice you want when making risotto. It is a short-grain rice that has a high starch content. That is why you cook risotto slowly and why many believe it needs constant stirring.
Arborio also absorbs less liquid and it does so slowly. This is why you add the liquid in 4-5 parts and stir it often. It helps produce a stickier and more compact risotto.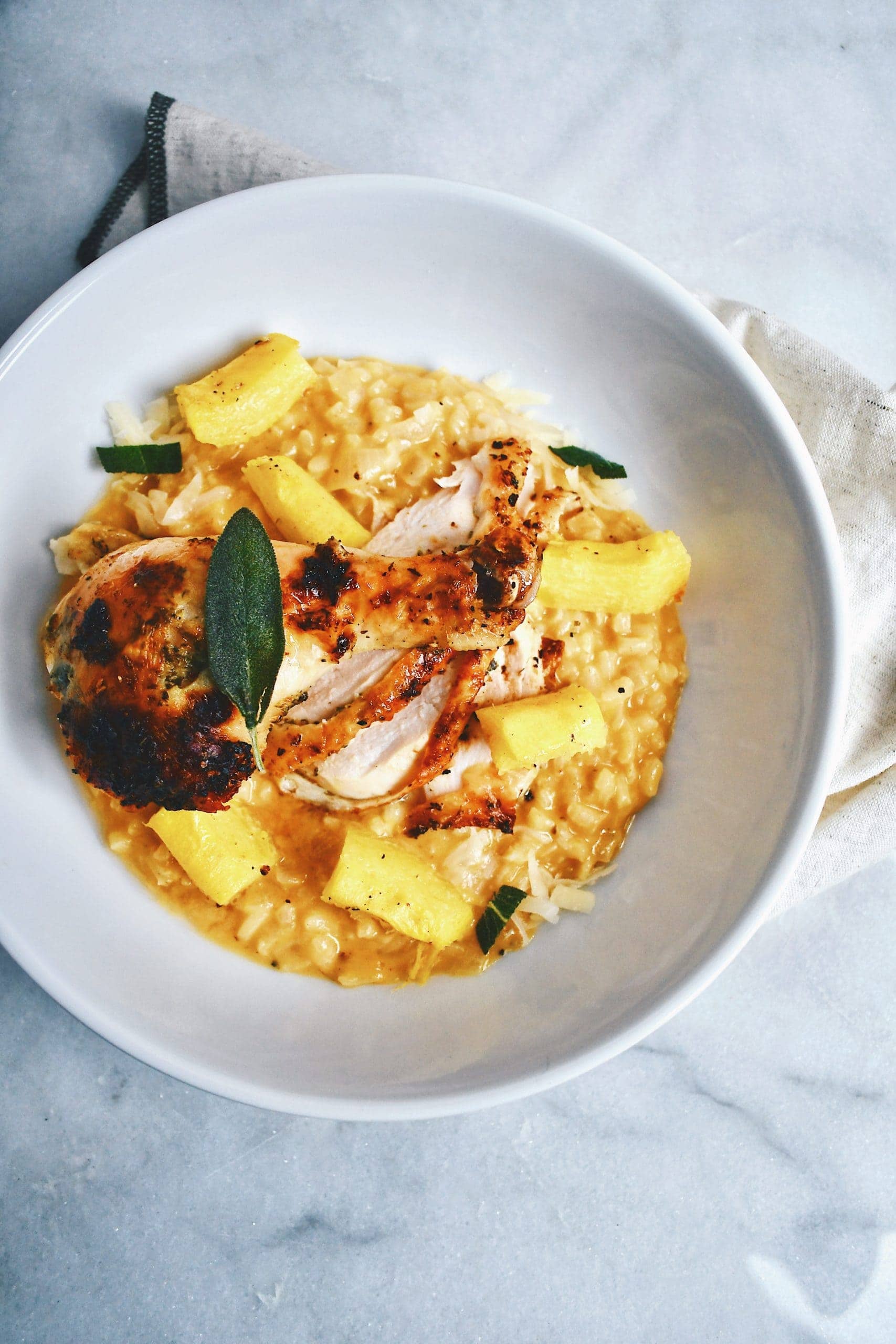 This Pumpkin Sage Risotto pairs perfectly with my Spatchcock Chicken. I make a sage butter and rub the chicken down with it. The flavors go together like peanut butter and jelly!
Pumpkin Sage Risotto
Ingredients
1/4

C

Olive Oil

6-8

Sage Leaves

1

medium Onion

small diced

5

cloves

Garlic

minced

1 1/2

C

Arborio Rice

1

C

White Wine

3-14.5

oz

cans Chicken Stock

1/2

C

Pumpkin Puree

1/2

C

Heavy Cream

1

C

Grated Parmesan Cheese

Kosher Salt

Black Pepper
Instructions
In a small pot warm the 3 cans of chicken stock over low heat. Do not boil.

In a medium saucepan, heat the olive oil over medium heat until it moves quickly in the pan. Fry the sage leaves in the oil for about 30 seconds. Beware, the sage will pop at first in the hot oil. You will know they are ready when they begin to look translucent.

Add the onion to the sage-infused oil and cook til translucent, about 3 minutes. Add the garlic and the rice and cook, stirring frequently, until the rice beings to brown. 4-5 minutes.

Deglaze the pan with the white wine and cook until the pan is almost dry again. Season with salt and pepper, about 1/2 teaspoon salt and 1/4 teaspoon of pepper.

Add just enough chicken stock to the pan to make the rice swim. Stir to combine and let simmer until the mixture thickens. Then add just enough chicken stock to loosen the rice, stir and again, simmer until thickened. Repeat until you have added all the chicken stock and the mixture is still slightly loose.

Add the pumpkin, cream, and parmesan, reserving some parm for topping each bowl.

Taste for seasoning and adjust if needed.

Serve the risotto topped with parmesan and fried sage leaves.
Notes
If you feel like going a little over the top I like to 1/4 a pie pumpkin and roast it at 425 for 30 minutes. Season with olive oil, salt, and pepper.
I also served this recipe with my Spatchcock Chicken, if you roast the chicken when making this risotto, pour the pan juices into the risotto at the end for TONS more flavor!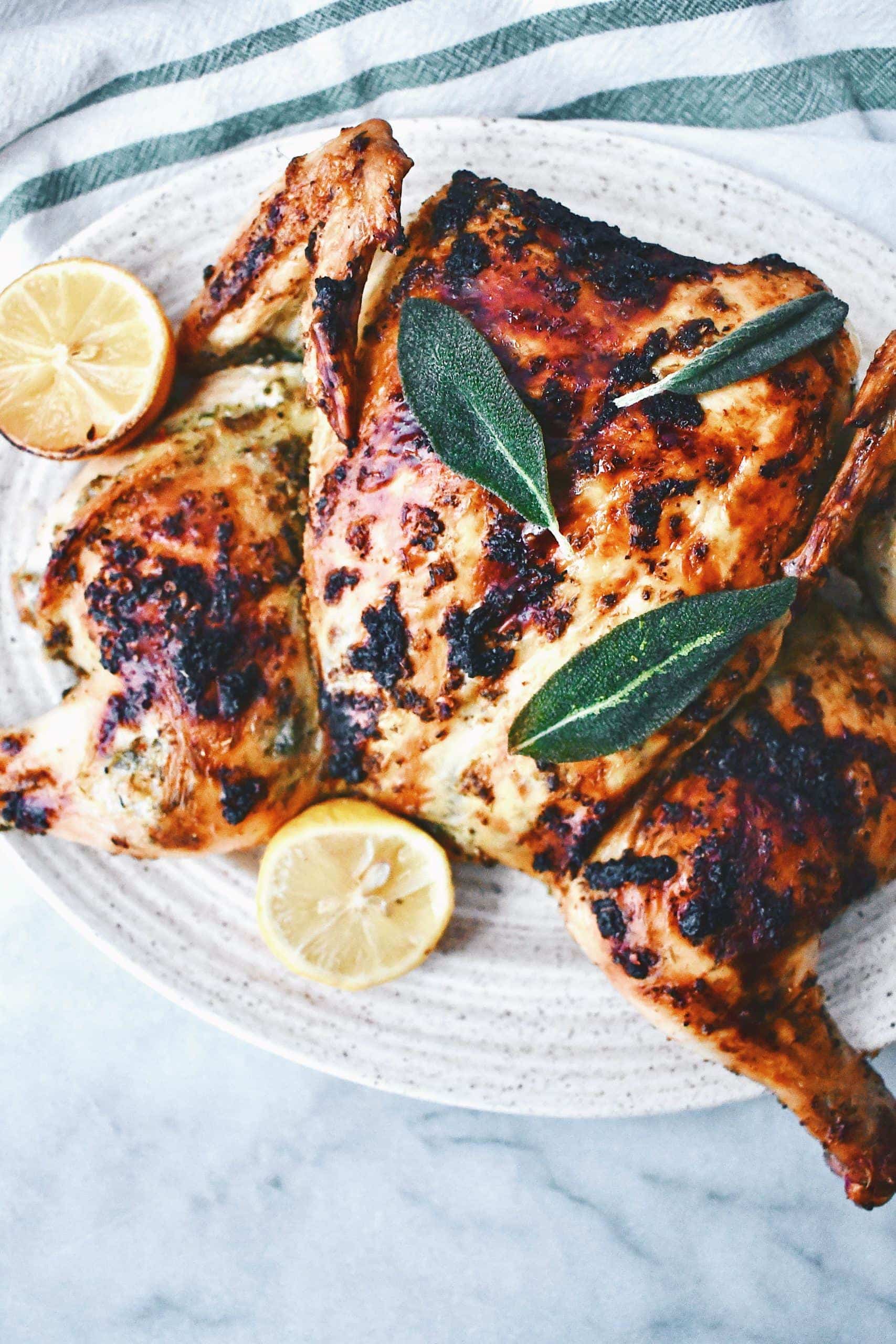 Other great sides from my friends!
Sarah's Crisp Broccoli would round out this meal beautifully, or Kathryn's Crispy Parsnip Fries.
MY LATEST RECIPES!
Get my NEW e-Cookbook here!! ⬇️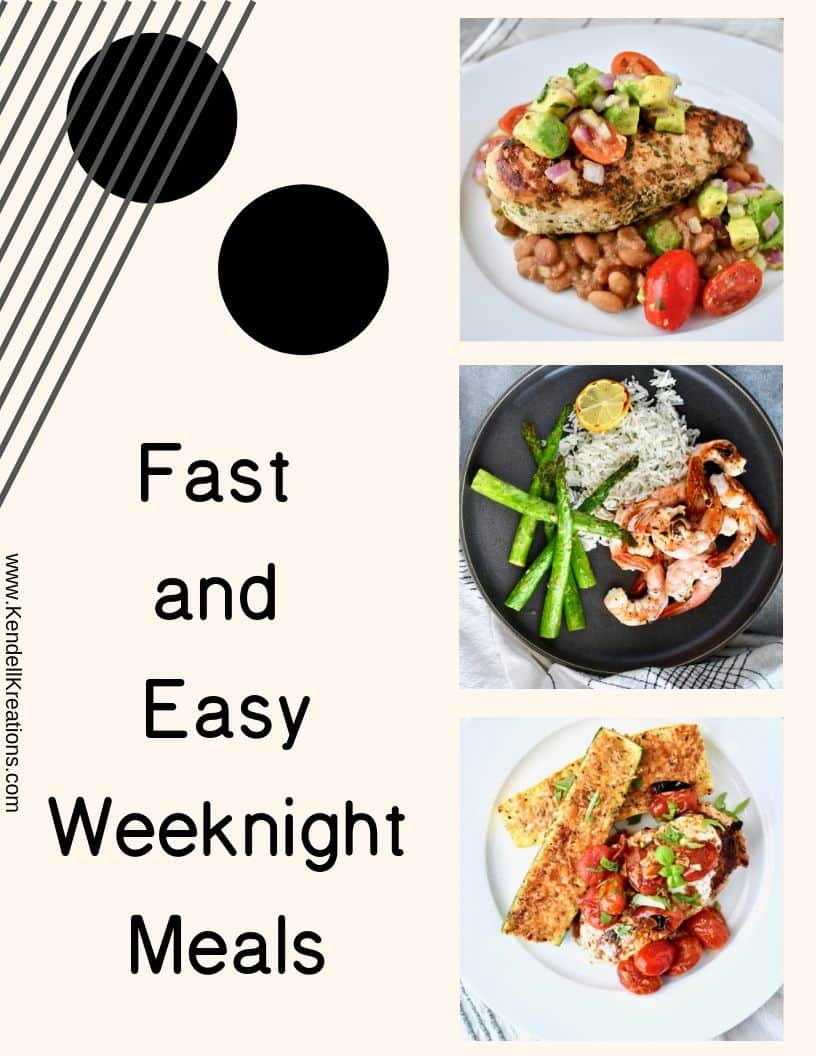 MY FAVORITE KITCHEN TOOLS!
Here are a few links to some of my favorite kitchen tools! You get a car, YOu get a car, YOU ALL GET A CAR…in my best Oprah voice
These Rösle Silicone Tongs are a little pricey but they will last you the rest of your life and are the softest in your hand. This is important for someone like m that cooks so much. It reduces strain, I have 4 sets in my kitchen!
These are my FAVE Nordic Ware Sheet Pans, every kitchen should have at least 2 sets of these! I think I have at least 4 of each of these.
This is my favorite pressure cooker, the Fagor is the same concept as the "Instant Pot" but easier to use in my opinion, if you don't have one you NEED one, it will be your best friend in the kitchen!
A sharp knife is the most important tool in the kitchen, these Japanese steel "Shun" knives are my favorite! And this is a great starter set to build on. Once you try them you will be in love so use this as a foundation you can build on for years to come.
This Scanpan 11″ skillet is just the right size for almost anything you will need to cook and my best friend and a real workhorse in my kitchen, it's also a great deal at $99. Scanpan is the best in the world for healthy cooking. It is coated with a proprietary ceramic-titanium coating that is durable while allowing you to use fewer fats and oils when cooking. It is a coating only they use. I could talk all day about my love for these pans, message me if you want more info. Here are some other sizes that are available if you are looking to outfit your kitchen with some new goodies. 8″ & 10″ Skillet set or 8″ Skillet, I still need this one for my kitchen Also, I don't really know how to cook small so the 12.5″ is my other fave!
This giant vat of olive oil is my favorite, I decant it into a smaller bottle for my counter. Or put this spigot on top of a wine bottle!
My favorite baking dish that is so easy to clean even burnt on cheese slides right off!
This Tovolo jar scraper has to be my single favorite kitchen tool, it is definitely the most used tool in my kitchen. If you are NOT a gadget person, this is the only necessity I say is a MUST beyond the wooden spoon.
A great wood spoon is essential, this Olive Wood one is my favorite, I have more than I can count. But can you really ever have too many?
A food scale can be a very important tool in your kitchen, this one is the one I use every day!
If you love Joanna Gaines as much as I do then the 'Magnolia Table Cookbook' is a must in your kitchen, get a copy HERE!