This beautiful Pumpkin Sage Risotto is just the right way to end the season. The flavors sum up fall in one bite. It is perfectly heartwarming, cheesy, and herby in all the right ways!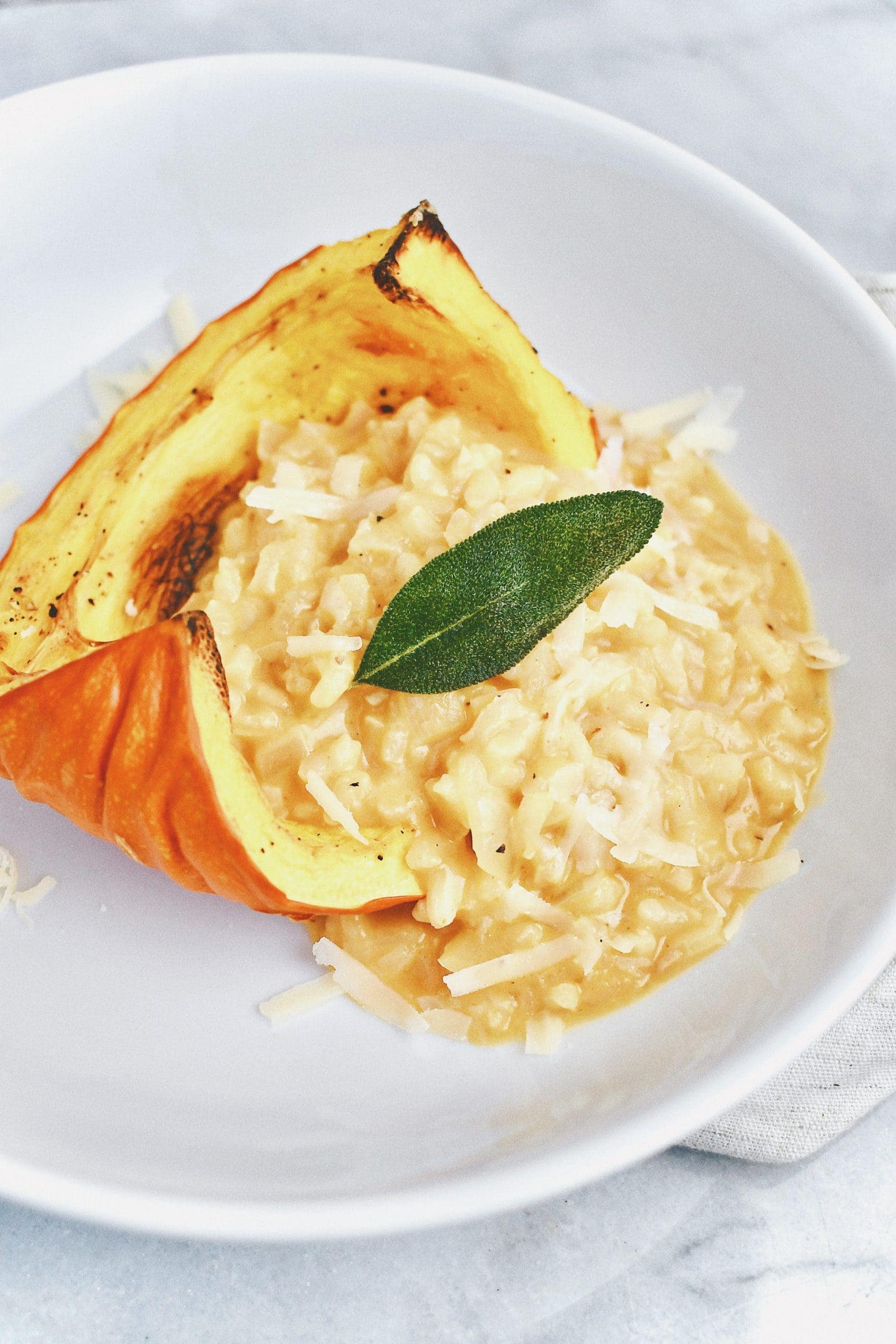 I think I have finally found just the right way to get my risotto right. Keep reading for my trade secret that will have you no longer afraid of making risotto at home. It will also make you look like a PRO!
Team Stir or NO Stir?
It is a great debate, many people will say you have to constantly stir your risotto the entire time that it is cooking. But there is a debate that you shouldn't stir it at all. I guess that I kind of land on the fence.
I am half and half, I give it some good stirs, but then I let it sit and simmer a bit while the rice absorbs the cooking liquid. I just always act like I am training to make the best risotto that Tom Colicchio has ever eaten!
I have this recurring nightmare that I serve Tom risotto on Top Chef and as many that have gone before, he is supremely disappointed. I will always remember that he insists that risotto should run on the plate. So just remember, risotto should move on the plate, meaning it should be loose.
Now get ready, I am about to drop a HUGE chef bomb on you. I have found what I believe to be the KEY to making your risotto just right.
I cook my risotto until I have about ¾ of the cooking liquid in and I turn it off and let it sit for about 20 minutes. This allows the starches in the rice to be released and thicken the mixture. Then I add the remaining cooking liquid and finish it with a touch of cream and cheese.
This keeps the mixture loose and the way that I imagine that Tom would like it if I was serving it to him on Top Chef!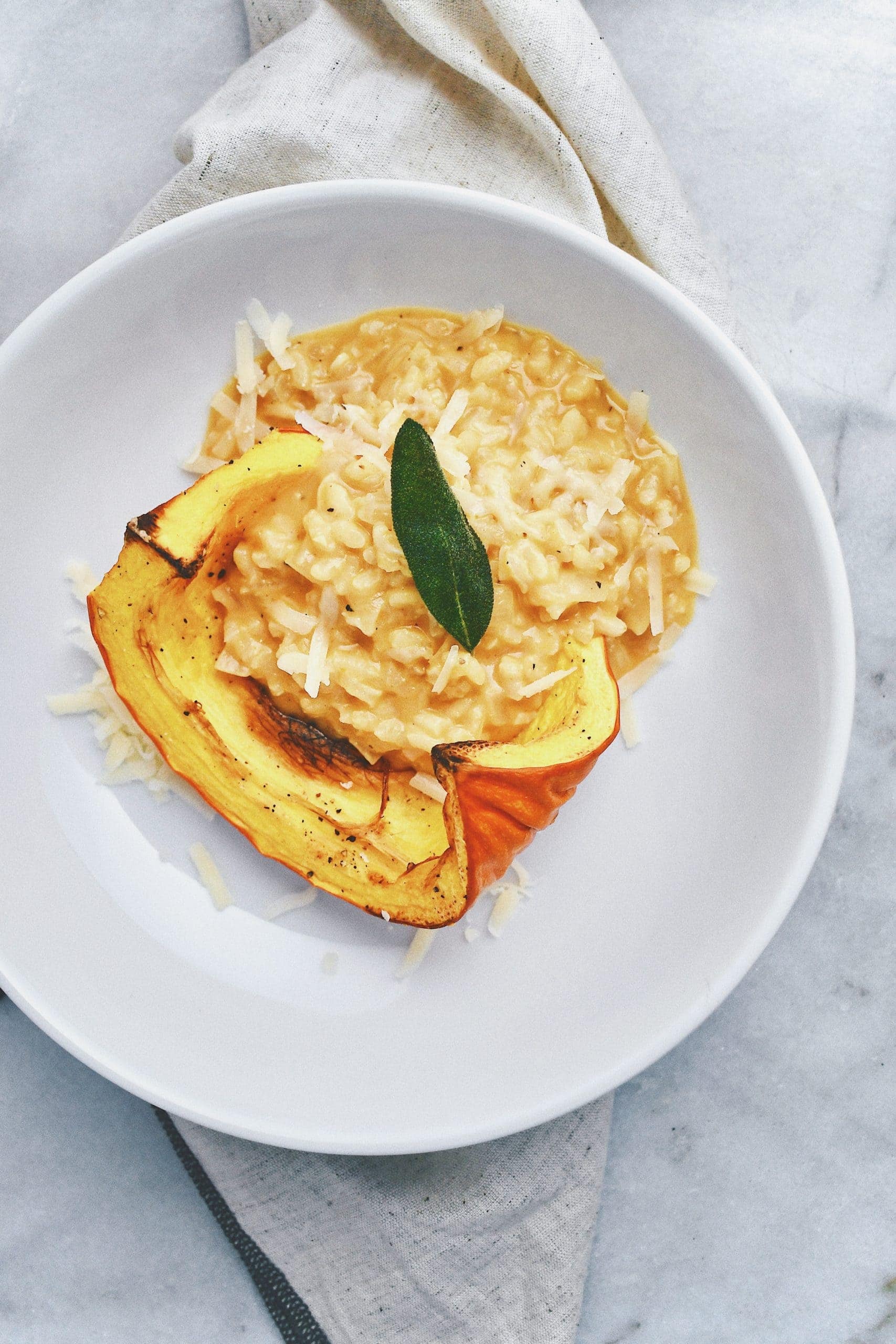 What rice is best for making Risotto?
Arborio rice is the rice you want when making risotto. It is a short-grain rice that has a high starch content. That is why you cook risotto slowly and why many believe it needs constant stirring.
Arborio also absorbs less liquid and it does so slowly. This is why you add the liquid in 4-5 parts and stir it often. It helps produce a stickier and more compact risotto.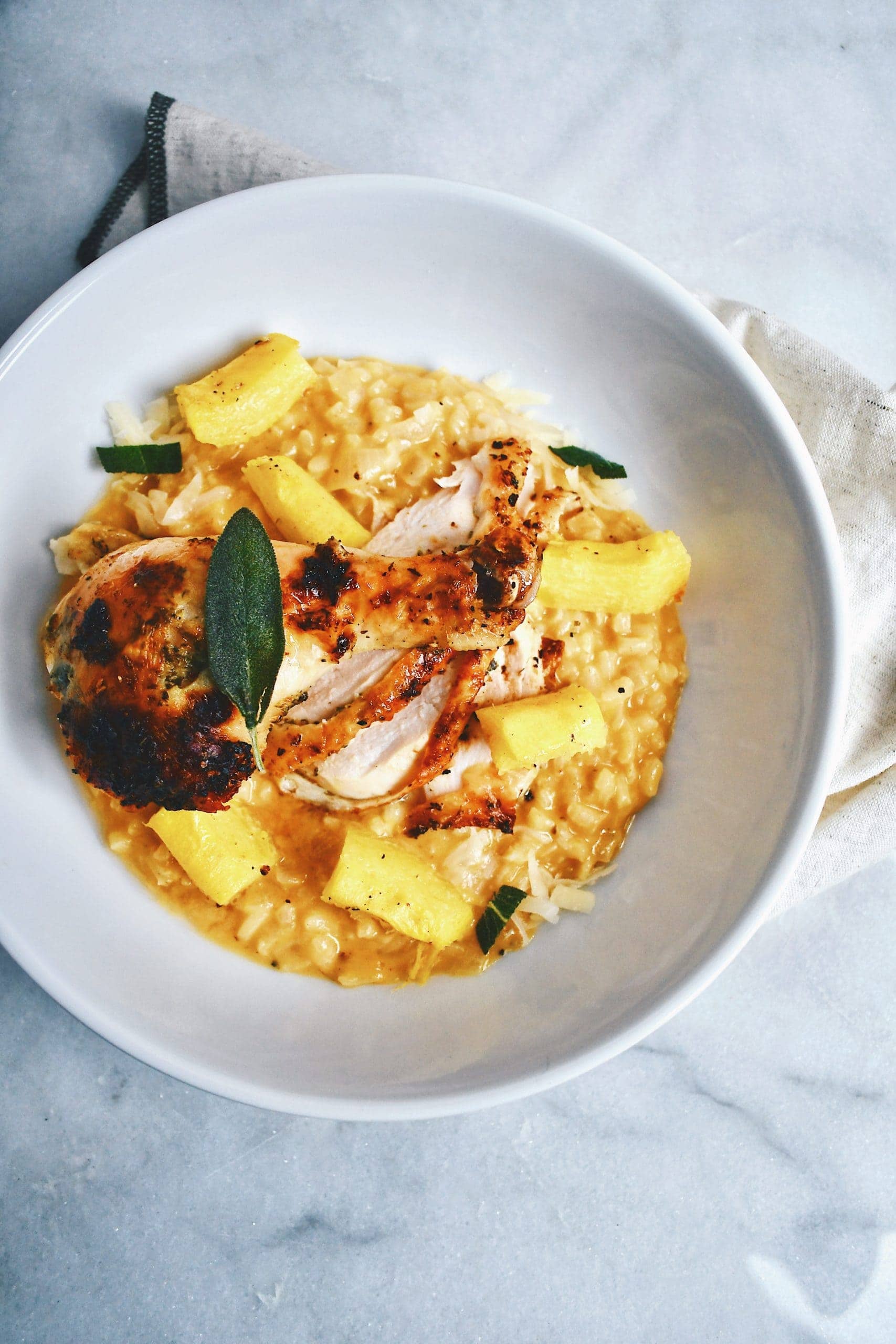 This Pumpkin Sage Risotto pairs perfectly with my Spatchcock Chicken. I make sage butter and rub the chicken down with it. The flavors go together like peanut butter and jelly!
Did you make this recipe? Let me know by leaving a review or comment! And be sure to sign up for my newsletter, and follow along on Instagram, Pinterest, and Facebook!