I absolutely LOVE this Banana Pudding Pie, I mean the regular version has always been a fave, but the nilla wafer crust on this one is out of this world! It really is the shining star that brings this recipe up, I don't know what else to say, IT IS SO GOOD. It is totally nostalgic but in an elevated, more delicious form!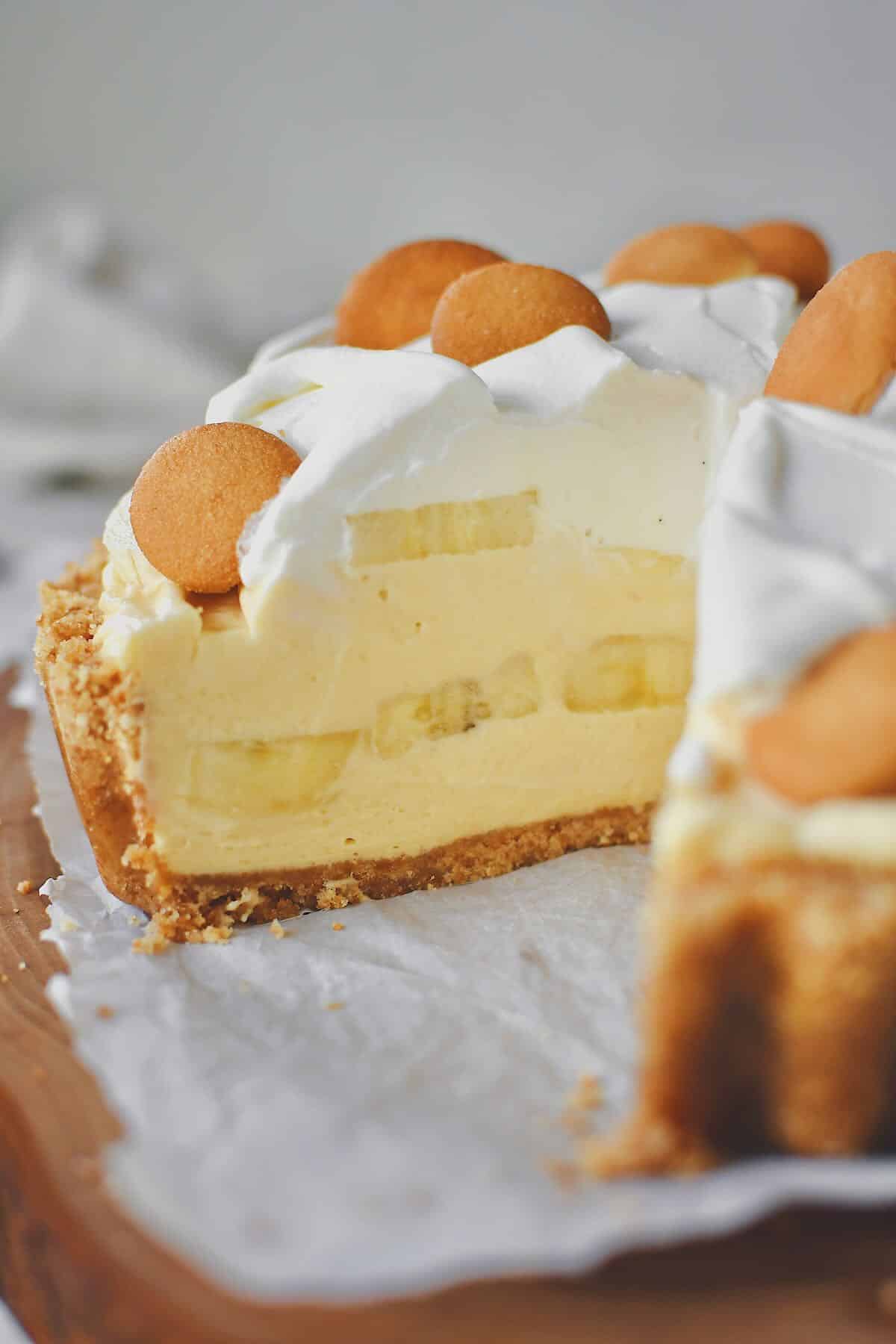 This isn't your grandma's banana pudding. I make a lot of recipes and I can truthfully say this is one is THE BEST things I have ever made. It is also the perfect summer dessert because it is no-bake, except for the crust, but I just throw it in the toaster oven for 8 minutes. I also love serving this for the 4th of July, it just feels like quintessentially American!
Jump to:
Ingredients
You'll find this recipe requires most of the same ingredients needed to make a traditional banana pudding, they are just going to be arranged in a different way. The only thing that might be extra is the butter, extra sugar, and nutmeg to make this crust with.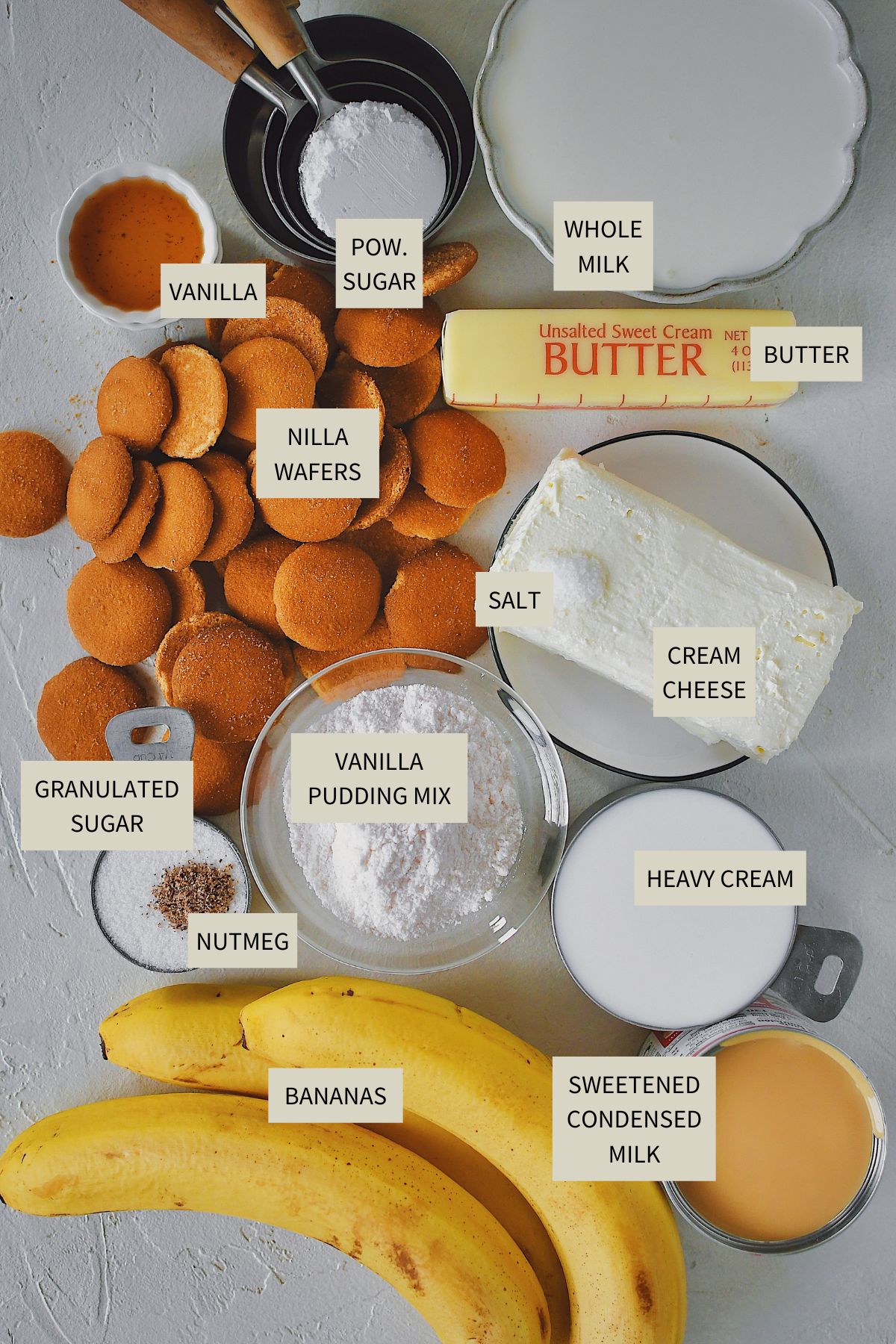 Where the banana pudding part of this recipe varies is the cream cheese that stiffens up the pudding so it can be sliced in a pie crust. It is mixed with the pudding mix and a little less milk than normally used also.
Use the JUMP TO RECIPE button at the top of the post, or scroll to the bottom of the post to see the full recipe card with ingredient measurements and instructions.
Method
To make this crust, first, grind the nilla wafers till they are small crumbs in a food processor. I do it in my little one in two batches. Then mix the crumbs, sugar, nutmeg, and melted butter and press it into a deep pie, or tart pan. I personally LOVE the tart pan for something different, and it fills it to the tip-top!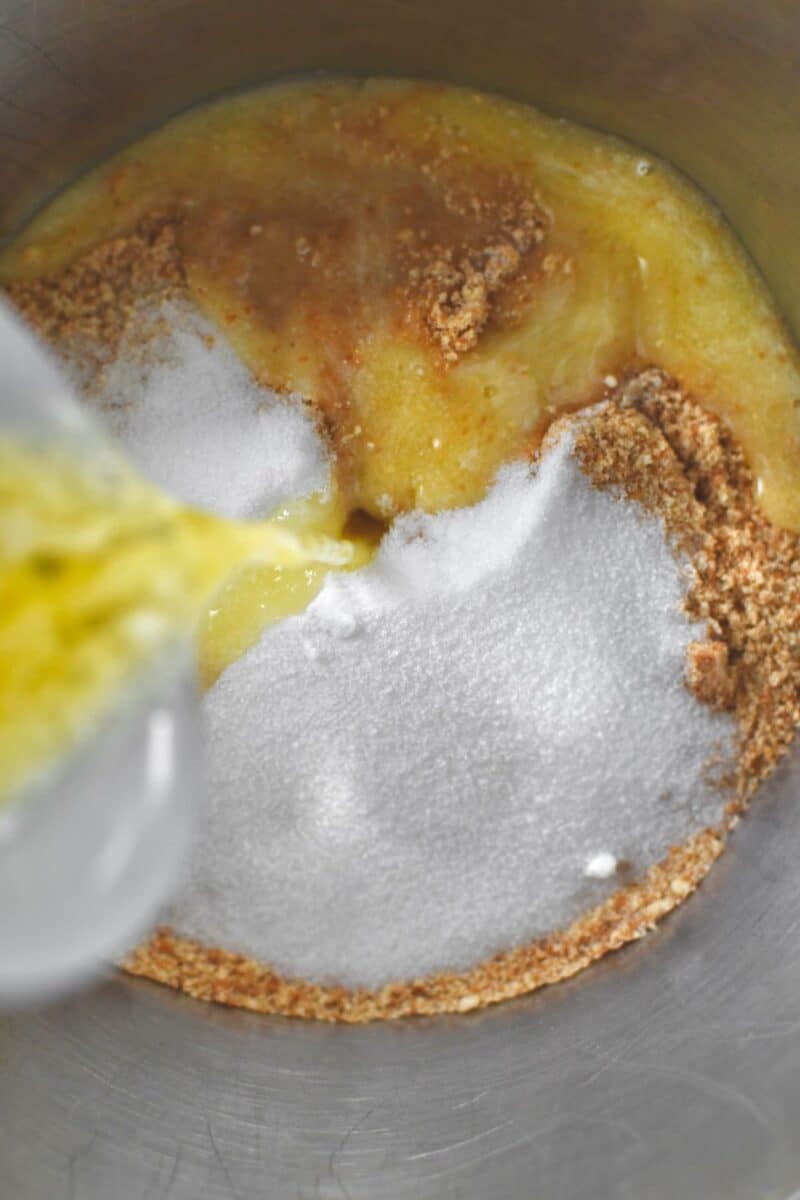 I like to use as few dishes as possible, so I start by whipping the cream in the stand mixer bowl. You do have to remove it to another bowl, but I try.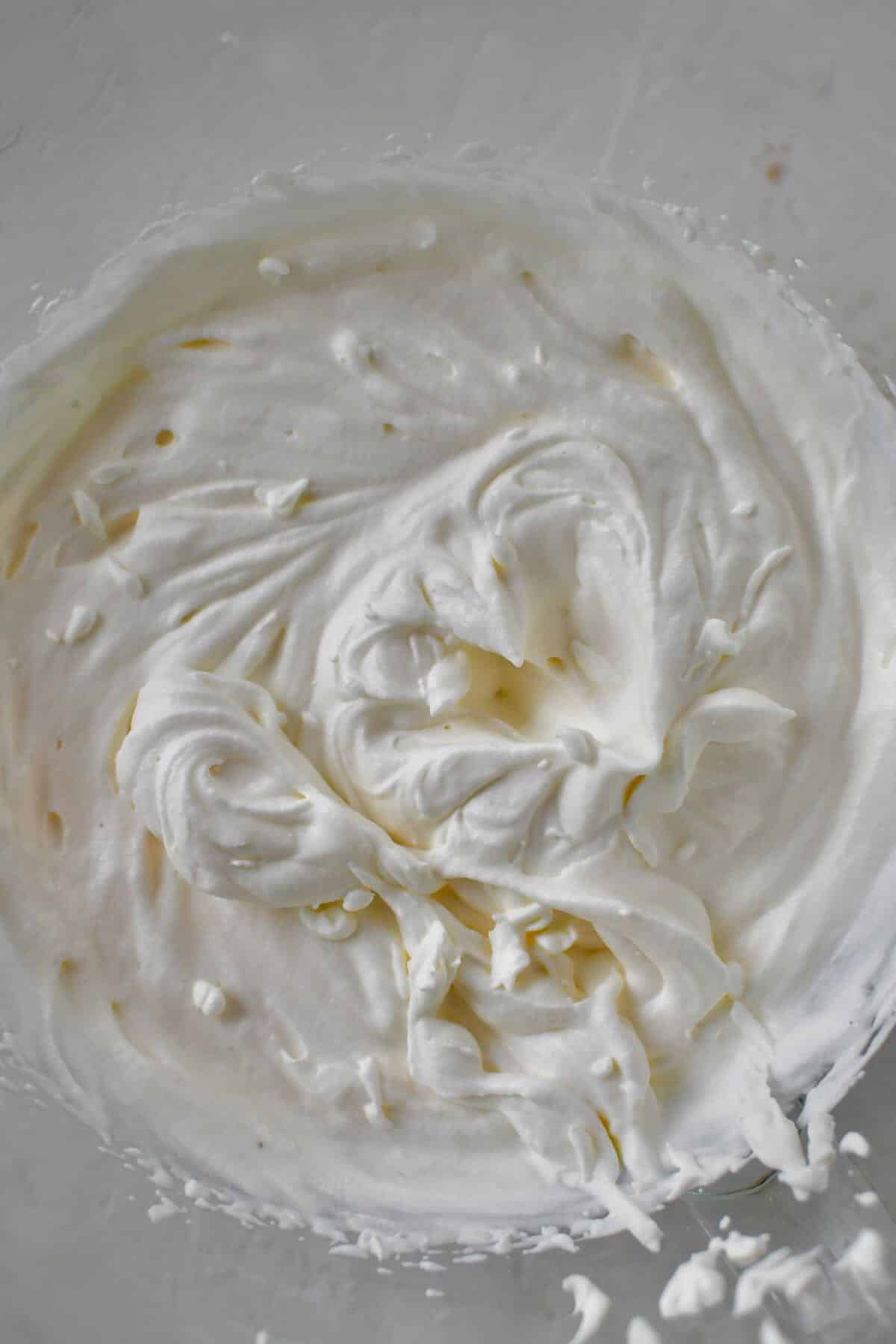 Then in the same bowl, whip the cream cheese till smooth, then add the milk, pudding mix, and sweetened condensed milk and whip till perfectly creamy.
Spread half the pudding mix into the baked and cooked pie crust, top with a full layer of bananas, and then cover with the remaining pudding. You are then going to chill the pie for 24-hours, though it was best after a 24 hour chill.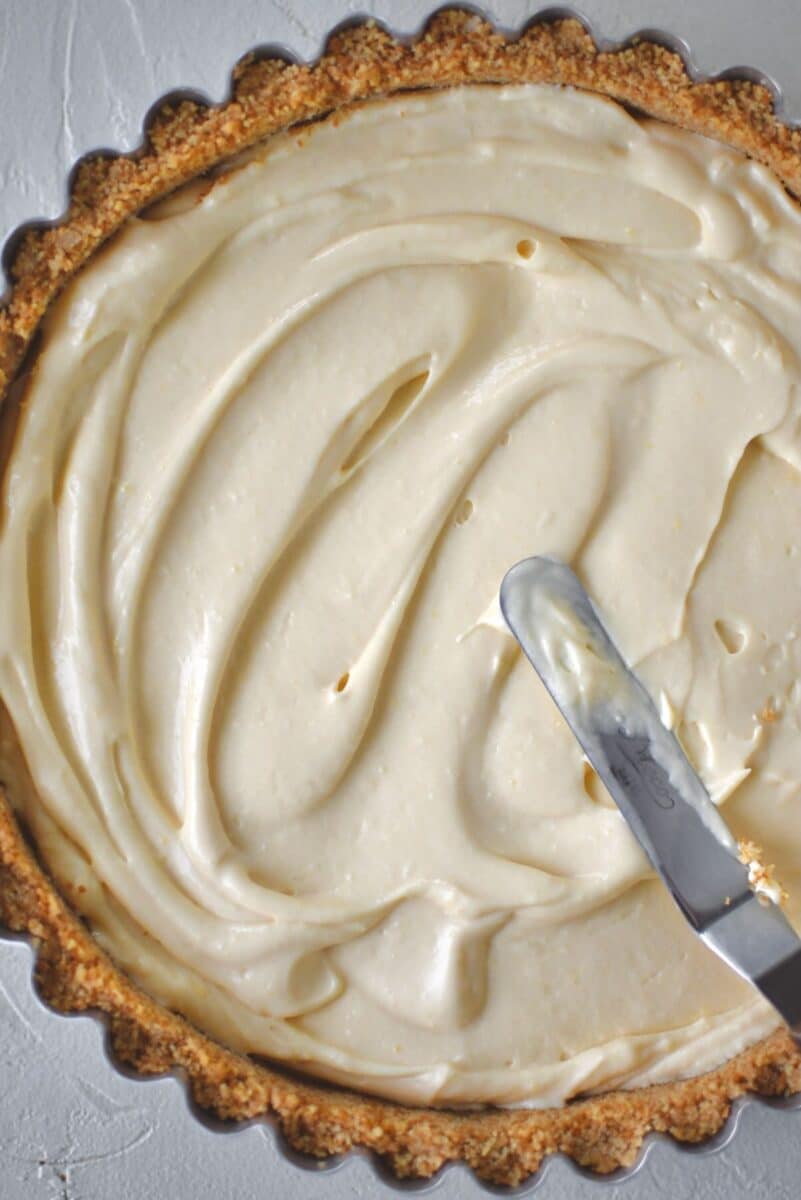 When ready to eat, top the pie with 1 more banana thinly sliced, the remaining whipped cream, and the reserve nilla wafers.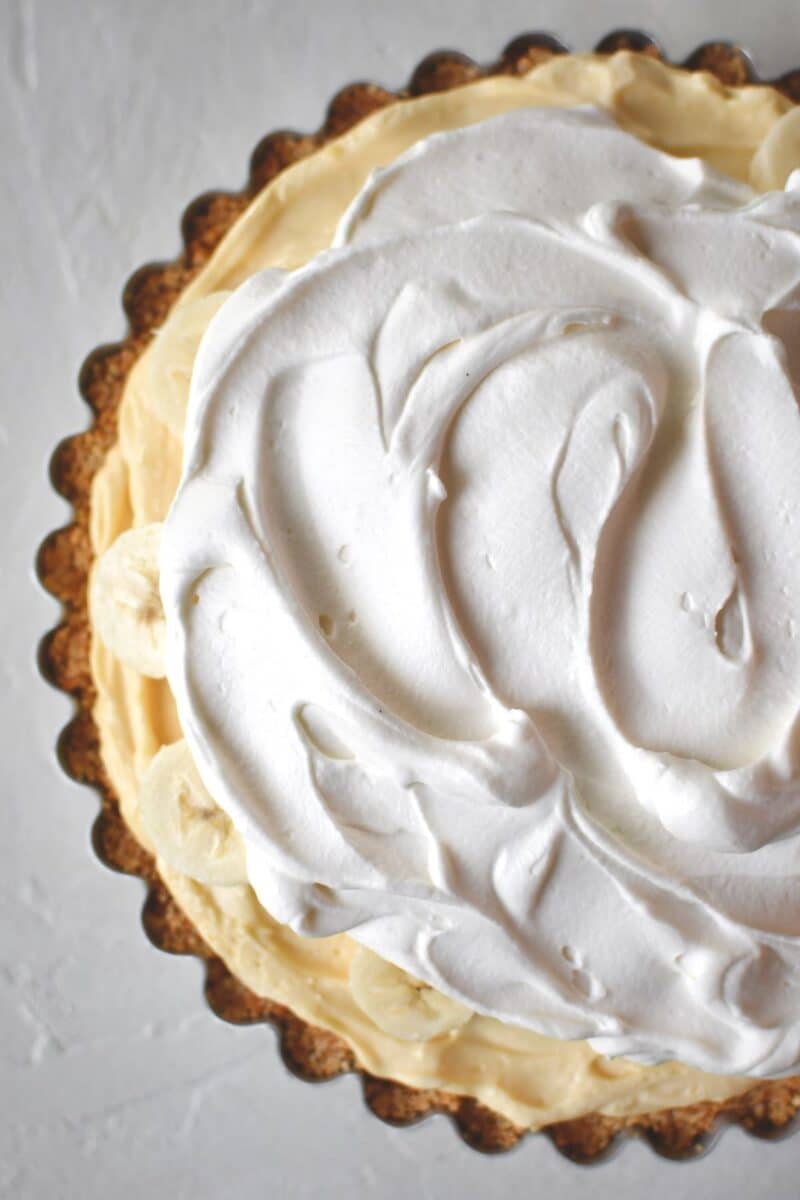 You have to slice the Banana Pudding Pie, RIGHT out of the fridge, otherwise, it gets a little messy. But it holds its shape really well as long as you cut it when it's super cold. But you better believe I still ate it on day 3 when it was soft and fell apart, it was still amazing!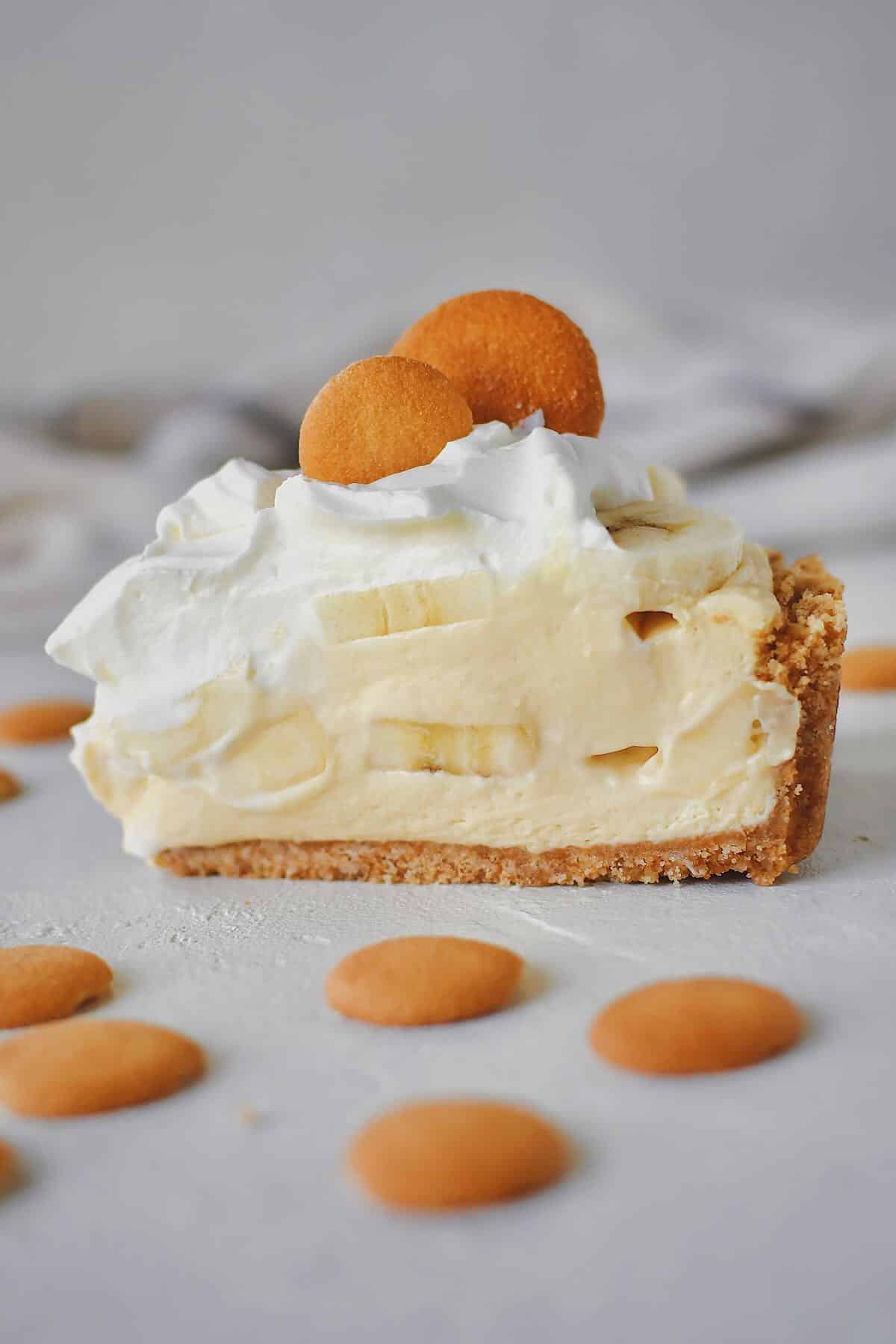 Notes & Tips
I love to make this recipe in a deep tart or quiche pan. At a minimum, you need to use a deep pie pan. If you use a regular shallow pie pan, this recipe will make you two pies. You could also make this in a 9x13 pan and cut it like cheesecake bars or just scoop it like more traditional banana pudding.
The pie slices beautifully and just like a traditional pie within 24-48ish hours of making it. After 48 hours the bananas began to lose a little liquid and it got a little soggy. But at a minimum, I wouldn't cut it for at least 4 hours after making it so it can set up well.
So I would say you can make it up to the day before you want to eat it, but only 1 day.
I will tell you, if you use the deep tart pan I suggest, it gets REALLY full, but doesn't overflow, it just makes for a beautiful mile-high pie!
Substitutions
While you could make this in a graham cracker crust, I don't suggest it. The nilla wafers keep it traditional and it's the best crust I've ever had!
Did you know jello pudding mix is Vegan? If you would like to make this recipe dairy-free, replace the cream cheese with a plant-based version, use coconut-sweetened condensed milk, and swap the whole milk for almond or cashew.
You can also make coconut whipped cream for use in the filling and topping.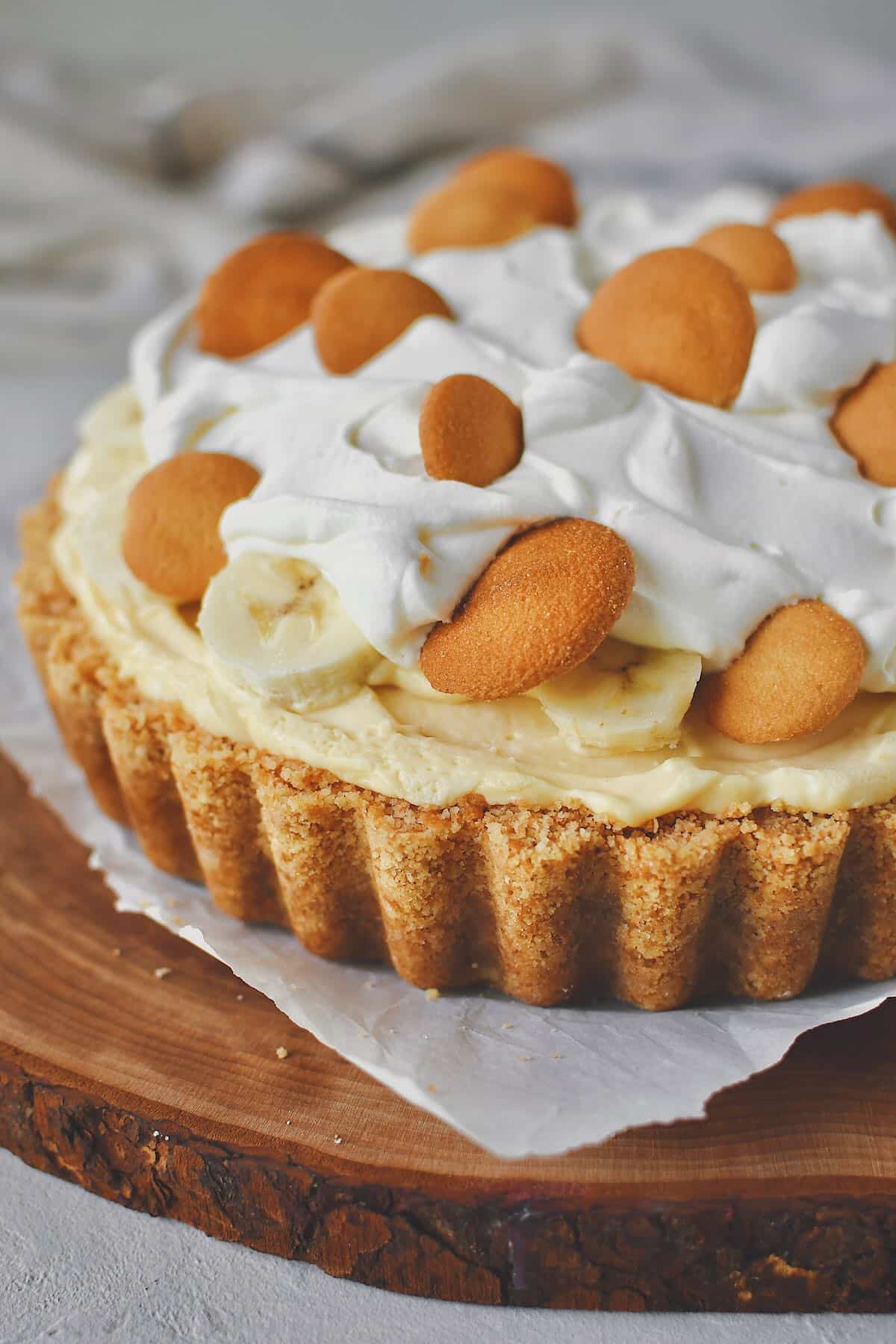 Did you make this recipe? Let me know by leaving a review or comment! And be sure to sign up for my newsletter, and follow along on Instagram, Pinterest, and Facebook!