Getting Around D.C.
From Ronald Reagan Washington National Airport (DCA), you have a few options of routes to take into D.C. There is always the rideshare option, but if you want a bit of a more scenic road into downtown there is the Metro. It is a great and inexpensive option that takes you right into the heart of the city and has many stops at the attractions you will want to see most.
If you are only in the city for a short trip, I was on there 3 days, be sure to fly in to Regan. It is practically IN D.C. All the other airports require a car ride in that takes away time you can spend at attractions and will cost far more.
The Metro
I would say at the very least it is a good time to get a D.C. metro card and load a few dollars on it so you are ready to go when you want to use it. You don't want to be the person that wants to get on the train that is pulling in right now and you don't have a ticket to ride. $15 got me around for 3 days and I used it a lot to get from my hotel to the city center.
Bike Share
Some other options for getting around D.C. once you are in the city is the Capital Bikeshare system that is available. There is an app you can download and use to get your first 30-minute ride, FREE! They then offer day or week passes, or if you will be moving there and want to take regular advantage of it they also offer a yearly pass.
D.C. Circulator
There is also a free bus that shuttles around the monuments, the DC Circulator has been deemed free for all riders and is a great option for a hop on hop off free tour that you can make your own. This will allow you to see all of the fantastic memorials around the "National Mall" area and save your feet a few steps in between.
Be sure to take a look at their twitter for the most up to date info on if their will be any schedule changes. It was actually canceled all day the day I wanted to use it because of the filming of a TV Show or Movie. So be sure to check it out before you head out so you know what to expect.
Food in D.C.
This city is a food Mecca, I couldn't even begin to scratch the surface, but I will share with you some of my favorites that I came across. What is the most awesome as a Chef is that there are many different cultural styles of food available from around the globe!
I was fortunate to find one of my favorite restaurants from NYC just steps from where I was staying. The Smith serves one of the BEST brunches you will ever have, get the breakfast pot pie that is served with a complimentary brunch cocktail. There is no better way to start a weekend day in the city.
The next place I had to check off my list was visiting Chef Spike Mendelsohn's restaurants. He was a contestant on Top Chef and one of my favorites. He opened his first restaurant, a burger place called Good Stuff Eatery, 10 years ago now and I have wanted to visit ever since.
He now has an entire city block of restaurants to try out but I had the time to try two of them while I was there. Good Stuff Eatery and We, the Pizza. Both were amazing!
At Good Stuff Eatery, I wanted to try ALL of the burgers but I went with Spikes Sunnyside that is topped with bacon and a fried egg. I LOVE an egg on a burger and this one did NOT disappoint. The real star of the show though...the Vidalia Onion Petals, they beat even the best onion rings I have ever had out of the water!
We, the Pizza offered a HUGE assortment of pizzas, from thick to thin crusts. I went with the White Pie, I love a good slice with white sauce and this one features tons of fresh ricotta. It just doesn't get much better in my opinion!
Spike also owns and operates Santa Rosa Taqueria that is next door to We, the Pizza.
If you have the time and the attire, visit Estuary, it is another Top Chef restaurant from the Voltaggio brothers. They have this gorgeous looking Maryland Crab Crab Roll on the appitizer menu. If you go you will have to let me know how it is, I made a reservation but didn't make it. ?
Some others I had on my list to try but didn't make it to were:
Hanumanh
The Meatball Shop
Chicken and Whiskey
Ted's Bulletin
Bresca
Tico
The Fainting Goat
Coffee
Just down the street from my Hostel, yes I stayed in a Hostel, more on that later. I found a great little Grocery and Cigar shop, Kazanchis. It takes a little courage to go in, it looks a little shady, but they offer an authentic Ethiopian Single Origin Coffee Ceremony. It's a very special and fantastic cup of coffee!
D.C. also holds some of the worlds best commercial coffee shops. Blue Bottle Coffee, Bluestone Lane, and Peet's just to name a few. It also hosts tons of independents like Emissary, Grace Street Coffee, and Baked & Wired.
Blue Bottle Coffee has been on my list of shops I wanted to visit for a long time, I just haven't been in a city where they were! Until now. And I have to say, it lived up to the hype and might have just become my new favorite!
I walked in and took a look at their menu, it is small which I like, but I don't have many experiences like this where I live so it was a little bit new for me. I told the barista that I wanted something on the milder side and lightly sweet. She recommended the New Orleans, which you can get hot or cold.
It is like you might know from the classic Cafe Du Mond coffee, coffee with chicory that offers a light flavored and less bitter cup of coffee. I have to say, my bank account is lucky that I don't have one of these cafes where I live because I have a new FAVE! Seriously, I know this place has gone mainstream, but they are doing it right!
I actually had a ton of places to try on my list, but I made the mistake of going to Blue Bottle Coffee first and I didn't visit any of the others!
Blue Bottle Coffee
Grace Street Coffee
Emissary
Bluestone Lane
Baked & Wired
Peet's
Ice Cream
So I went to D.C. for a work conference. After the first night, I took myself on a little walk just to explore. I decided that it was the perfect opportunity for an Ice Cream Crawl!
I started with the closest to me and worked my way down 14th street from U. My first stop was Jeni's Splendid Ice Cream, it was the closest. The line was long which seemed crazy for this early in the night, it was only 8, but I jumped in and waited my turn.
Now, I could have stopped my search for the best ice cream in D.C., maybe even the world, right there! I have seen Jeni's at the high-end grocery stores and heard bits about it here and there. But it is a high premium cost at the store and I had never actually tried it.
BIG MISTAKE!! Maybe I should have never tried it because it is OUT OF THIS WORLD amazing! The best ice cream I have ever had, hands down. And don't even let me start on the waffle cone!
I continued down the street and my next stop was Jubilee. They offer a wide variety of very unique ice cream flavors, I landed on the Thai Iced Tea after tasting a few. Unfortunately, their ice creams were too light in flavor and icy, not creamy.
My next stop was to Milk Bar. I knew from the moment that I decided I was going to D.C. that I was going here! I had the chance to stop in and try some goodies when I was in NYC in 2018 and couldn't wait to try it again.
Christina Tosi is known for her Crack Pie and Cereal Milk Ice Cream among many others. I purchased a few goodies to take home but got a cup of the ice cream, which is just heavenly! It ranks #2 just cause Jeni's go it going on, but it is a MUST in my opinion.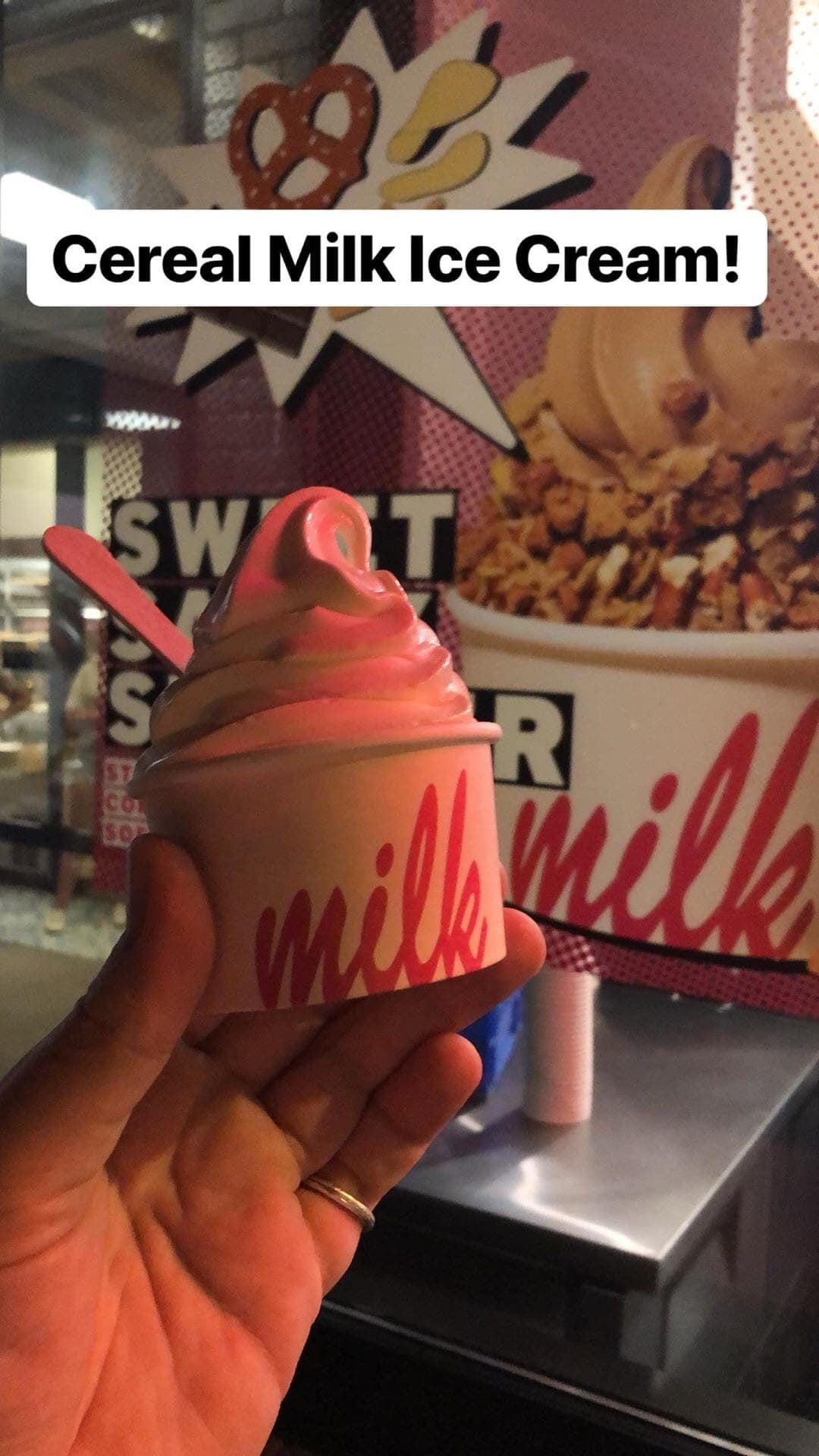 Area Ice Cream Shops
Jeni's Splendid Ice Cream
Milk Bar
Jubilee
Hershey's Ice Cream
Larry's Cookies and Ice Cream
Presidential Scoops
Captain Cookie and the Milkman
Shake Shack
What to SEE!
This is a HUGE statement in a place like Washington D.C. I had a very short window to sightsee so I had to prioritize based on what were my MUSTS based on the fact I may never go back there. So just in case, I HAD to go to the museum that housed Julia Child's Kitchen.
This was my #1, if I did nothing else I wanted to go there. I documented the entire thing and have saved it to my instagram highlights if you want to see it. It was amazing to see, so small, yet no space was underutilized.
I dream of having a kitchen built around my dining table one day. Nothing huge or fancy, but a place where people can gather and feel welcomed and warm in my home.
I left there and walked ?(the circulator was down that day) from the Washington Monument to the Jefferson Memorial, thru FDR park, to MLK monument and finished at the Lincoln Memorial. All this can be done on the BUS!! When it is running.
I definitely got my steps in and I was the hottest day since I had been there! Which was a bummer because it had actually been a little chilly they days before. I would 100% recommend using the bus, it stops at all of these major monuments and memorials skipping all the walking in between.
That said, it was really amazing to see all of these things that I had only seen in movies and on TV. Since 9/11 I have a special place in my heart for visiting things of this stature because you never know when it will be gone. Also, I can only imagine what walking from the Washington Monument to the Jefferson Memorial is like when the cherry blossoms are in bloom, it must be amazing!
LOOKING FOR SOME OTHER GOODIES?
Take a look at a few of my more decedent recipes or reviews below.
JoJo's Biscuits – Magnolia Table Recipe Review – Free Recipe
Get my NEW e-Cookbook here!! ⬇️