This is my take on Southern Fried Chicken and Waffles but with waffles made of macaroni and cheese. If you follow the recipe fully I can almost guarantee love at first bite. And don't skimp on the Golden Cheddar Syrup, you'll want to drink that with a straw!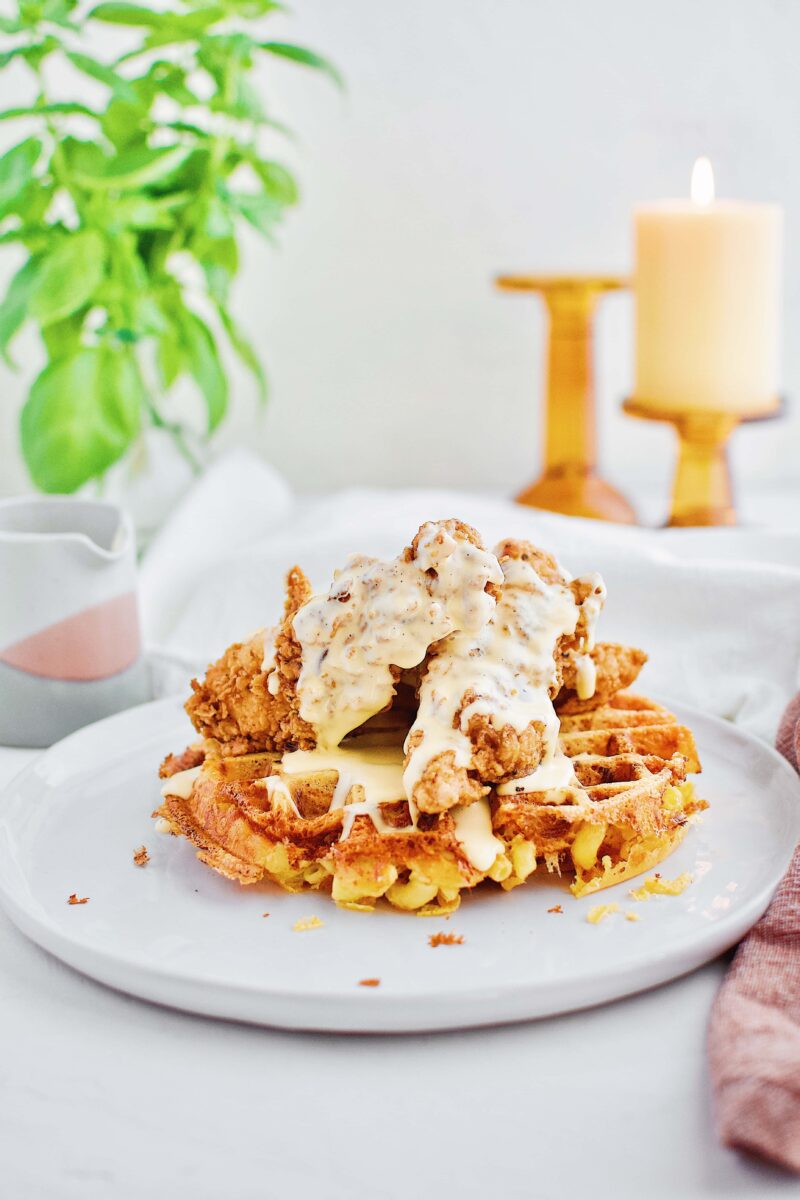 This post was first published August 23, 2020, and was last updated March 15, 2021.
This recipe is the absolute most decadent way to enjoy Chicken and Waffles, with a waffle made of SUPER CHEESY mac n' cheese sending it right over the top! It is the same work as making homemade waffles, you just boil some pasta and make a cheese sauce. It does result in a little bit of a messy waffle iron, but once it cools it cleans up easy and is worth a little extra effort!
Jump to:
Use the JUMP TO RECIPE button at the top of the post, or scroll to the bottom of the post to see the full recipe card with ingredient measurements and instructions.
The Southern Fried Chicken
I have officially found THE BEST fried chicken, at least the best I have ever had. The key is marinating it in a buttermilk spice blend for a day or two. I allowed this to sit for 3 days and you should do the same. This is THE BEST Southern Fried Chicken and Waffles I have ever made or tasted!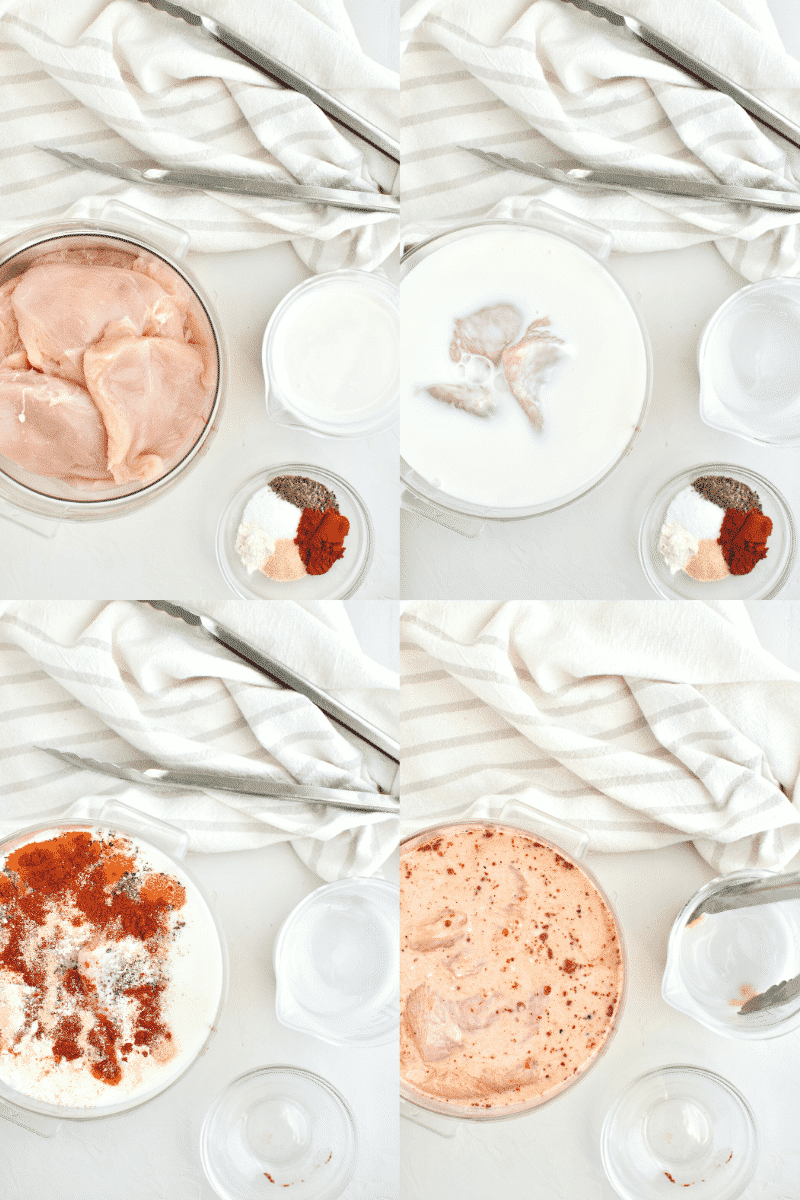 The buttermilk brine tenderizes the chicken and keeps it super moist while cooking. And when in doubt the longer you can let it soak, the better.
I then just remove it from the buttermilk brine and toss it right into some seasoned flour and it is ready to hit the hot oil. This simple breading process makes this recipe super easy and quick to get on the table. In about 6 minutes the chicken is cooked and ready to eat, and it beats take out any day!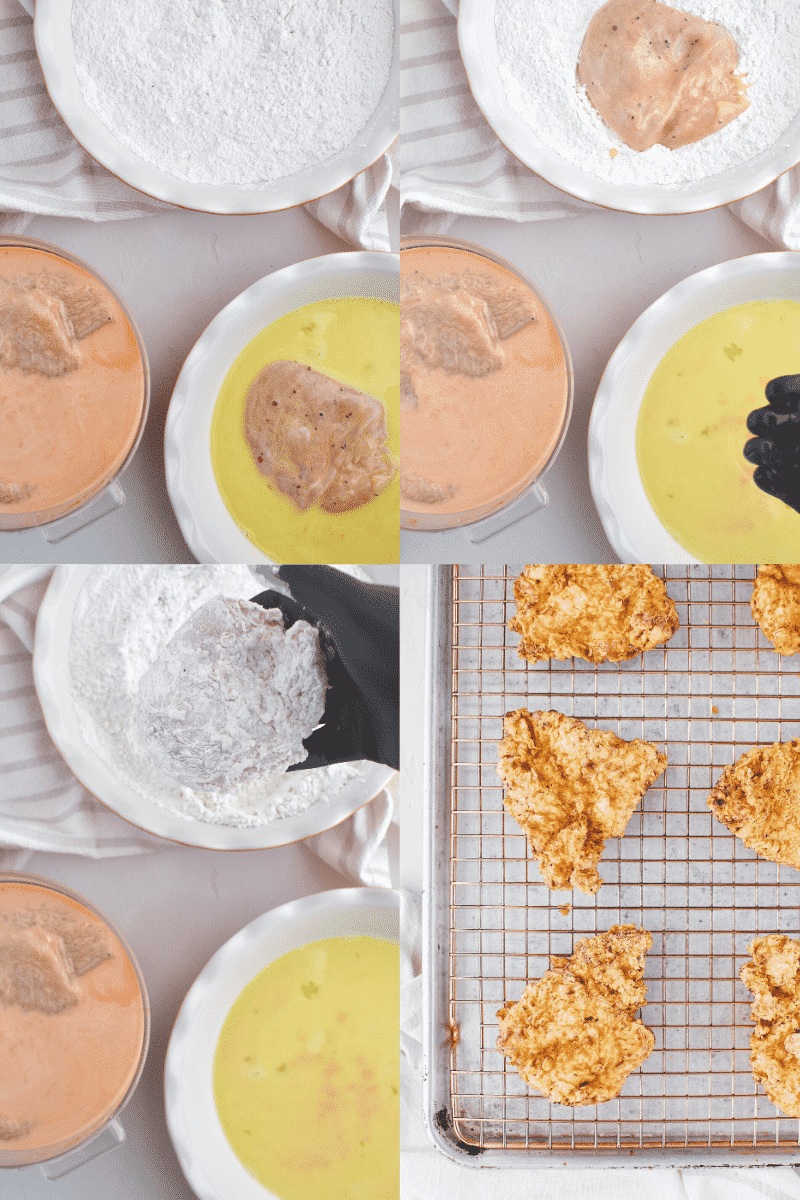 Then put the chicken on top of this Mac n' Cheese Waffle and topped with some cheddar cheese syrup, it's just so dang delicious! Be sure to bookmark this recipe even if it is just for the cheese sauce, I honestly just need an excuse to sip it with a straw. It makes for the best Chicken & Waffles ever!
The Golden Cheddar "Syrup" (aka Cheese Sauce)
For me, this recipe is all about the sauce for the mac n' cheese waffle. But if you wanted to take some of the work out of it you could buy some already fried chicken to top it with. That would be my suggestion for cutting down the workload. Because you NEED the cheddar syrup (aka, cheese sauce) as the base to pour over everything.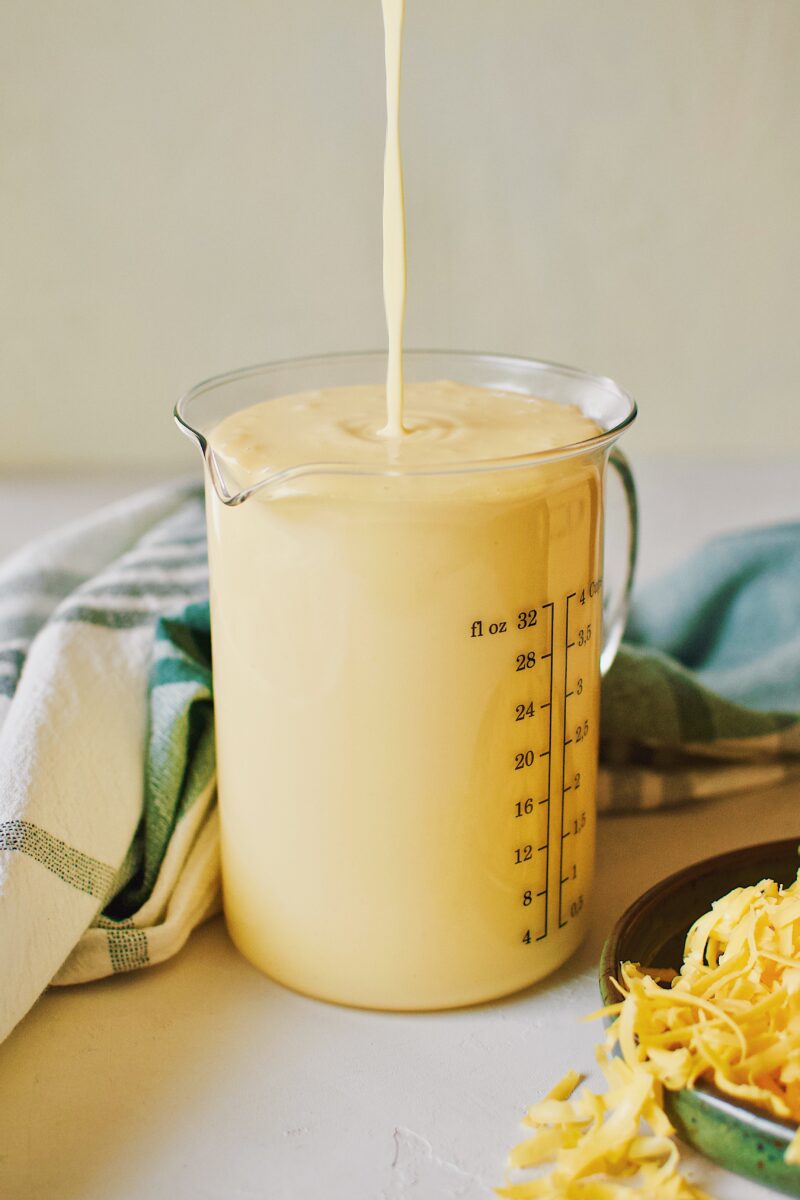 Be sure to invest in a really good quality block of cheese for this one, I like to go with the Tillamook Extra Sharp Cheddar because it has so much extra flavor. "Extra Sharp" might not be my favorite eating cheddar, the extra flavor is welcome here because it will be dulled down by the milk/cream and roux when making the sauce.
You also want to buy a whole block and shred it yourself because pre-shredded has an anticaking agent that will keep your sauce from becoming SUPER smooth.
The Waffle
The waffle is simple after you make the golden cheddar syrup, cook some pasta and pour the sauce over it, making macaroni and cheese. Allow the macaroni to cool before heating up the waffle iron, place some shredded cheese in it, add a scoop of the sauced macaroni, more cheese, and close the iron and cook until the cheese is crisp.
When you are ready to make the waffles, preheat your waffle iron, and if it has an adjustable heat setting turn it all the way up! Sprinkle some of the reserved cheese on the bottom of the hot iron and place 1 ½ to 2 cups of the sauced macaroni in the waffle iron, then top with some more shredded cheese and close the lid. Let the waffle cook for about 5 minutes, it is important not to open the lid for at least 5 minutes so the cheese has time to crisp and begin to release from the iron.
When the iron will open easily and at least one side of the waffle will release, it is usually the bottom, open the iron and remove the waffle. It sticks a little sometimes but should come off with just a little encouragement. Top the hot waffle with a few pieces of the fried chicken and the reserved cheese sauce. Enjoy!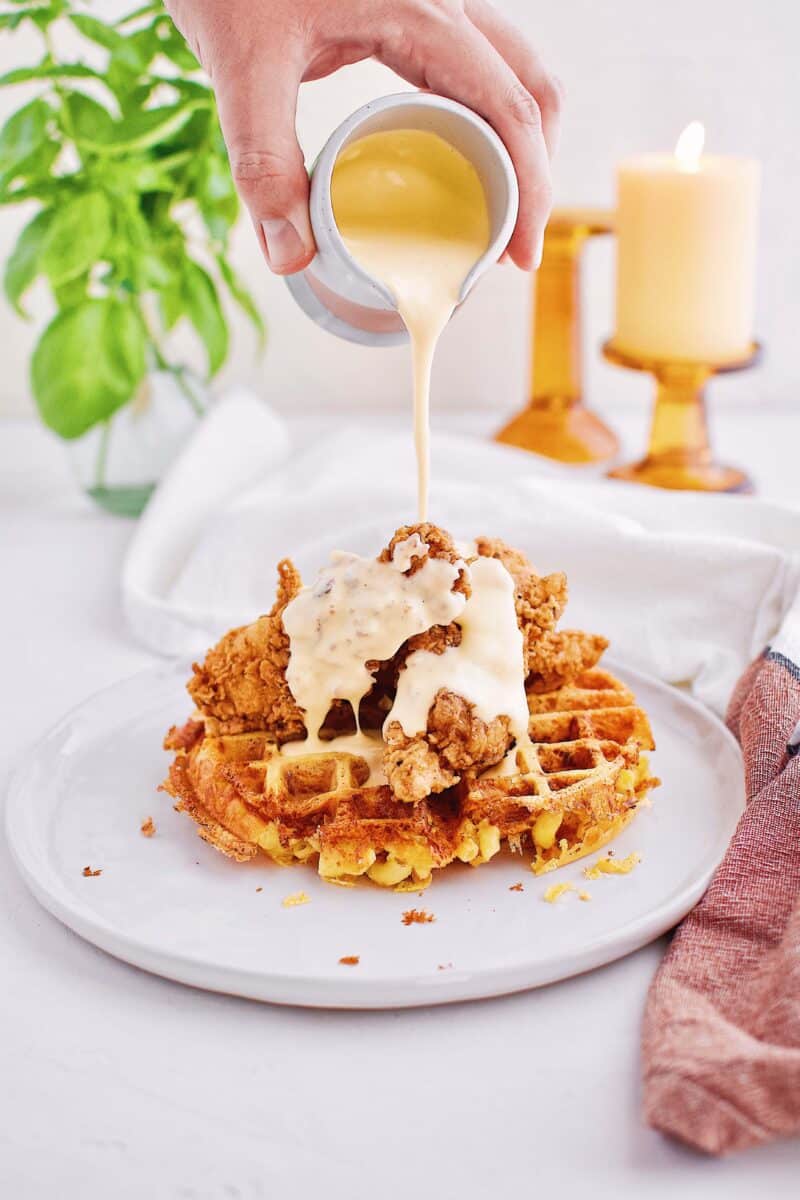 Notes & Tips
For the most tender and flavorful chicken, be sure to soak it in the buttermilk and seasonings overnight, or even for a day or two before cooking. This will keep the chicken tender and moist when fried, and pack it with tons of flavor.
Be sure to make the sauce FRESH. It performs best when it is new and hasn't cooled down. It can be made in the time it takes for the pasta to boil so there is no problem whipping it together right when you need it. Hold the reserved "syrup" on LOW heat in a small saucepan on the stove while you make your waffles.
If you have leftover macaroni and cheese, you can make waffles with it directly out of the fridge. I have done this and I simply make a little macaroni patty in my hand and place it in the hot waffle iron with a little cheese on both sides for crisping.
As with most things, this is best when made and enjoyed fresh. But both the chicken and waffles can be made ahead of time. To warm them up, reheat in a toaster oven or regular oven the same way you might warm a frozen waffle. When warm serve with more sauce.
To reheat cooled cheddar syrup: gently warm the syrup in a pot on the stove over low heat, or on a low setting in the microwave. If the sauce splits, toss it back in the blender with a splash of cold milk and blend until smooth.
Follow these tips and you are on your way to the best Southern Fried Chicken and Waffles you've ever tasted.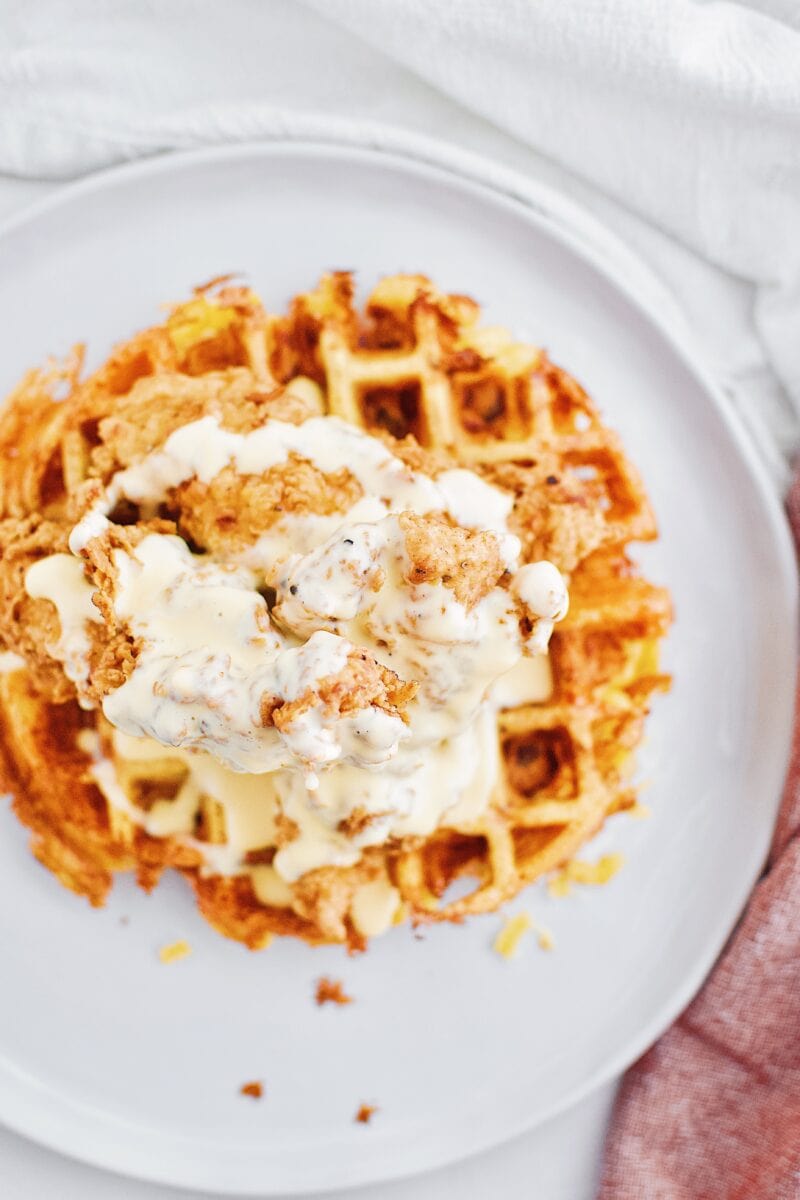 Substitutions
For me, this recipe is all about the waffle, but if you wanted a more traditional Chicken and Waffles, you could serve this fried chicken over a classic waffle, or even a frozen one.
The chicken recipe may look long, but it is mostly seasonings, feel free to change those up to your liking, but the paprika and garlic are what makes this chicken AMAZING!
If you LOVE a different type of cheese, the sauce recipe will work with any kind of cheese. Make it your own, I have used white cheddar, parmesan, and gouda to make this sauce, they are all fantastic.
To make this waffle recipe gluten-free by using your favorite gluten-free macaroni noodle. Make this chicken gluten-free replace the flour with a "cup for cup" gluten-free flour or gluten-free panko bread crumbs.
More Cheesy Goodness
My version of Joanna Gaines 1919 Pimento Cheese
Gluten-Free Mac and Cheese (Instant Pot)
Did you make this recipe? Let me know by leaving a review or comment! And be sure to sign up for my newsletter, and follow along on Instagram, Pinterest, and Facebook!