This recipe is a family heirloom passed down through the generations. My Great Aunt Sally must have been one great cook because many of the family recipes I still cook today have her name in the title. I am told she love to explore in the world of food, and feeding people made her happy. Her recipe for Sweet Potato Soufflé is one that is still required to show up at EVERY holiday dinner.
I am sharing this recipe with you today in partnership with Farmers Market Foods. Their premium ingredients are staples in my kitchen and their Organic Sweet Potatoes are the perfect ingredient for this recipe.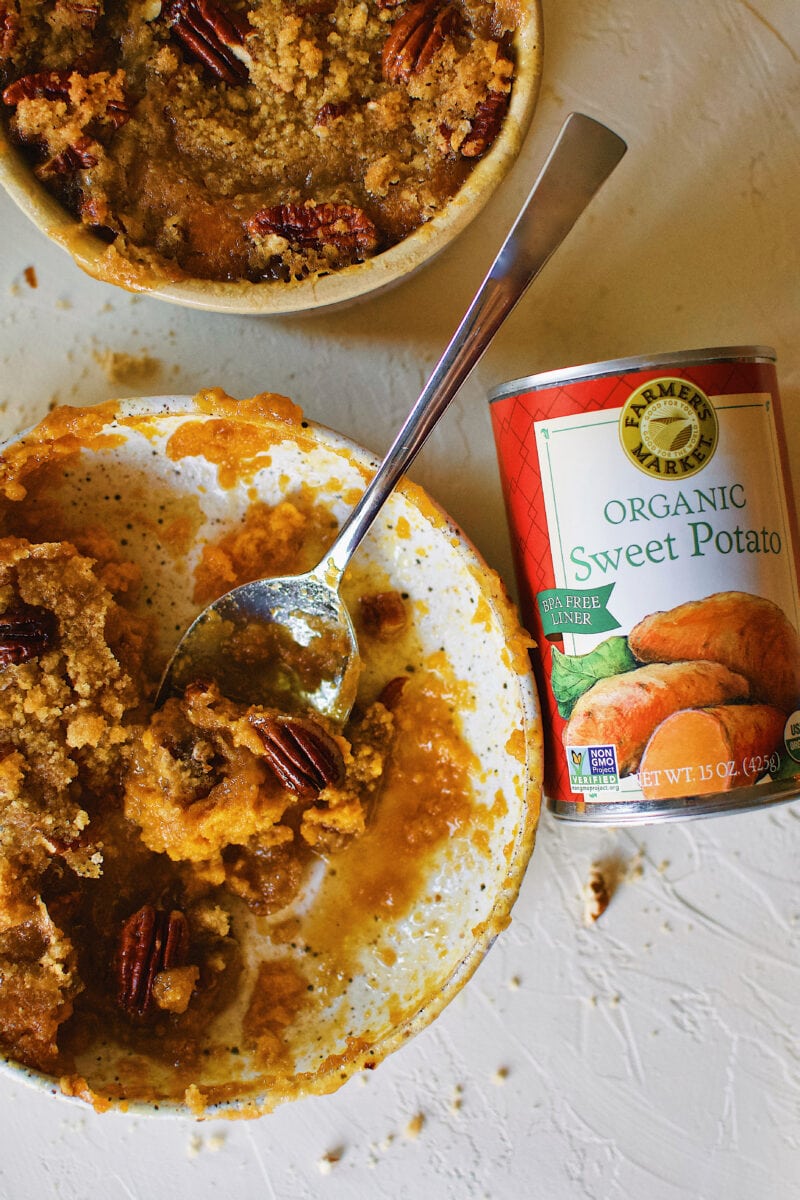 What you need to make Sweet Potato Soufflé
This is a very simple recipe to whip up and get on the Thanksgiving or Christmas dinner table. A short ingredient list that leads to some SWEET potatoes and loads of family memories. This recipe also holds up well to being prepared in advance, 2-3 days, kept in the fridge, and baked just before dinner is ready.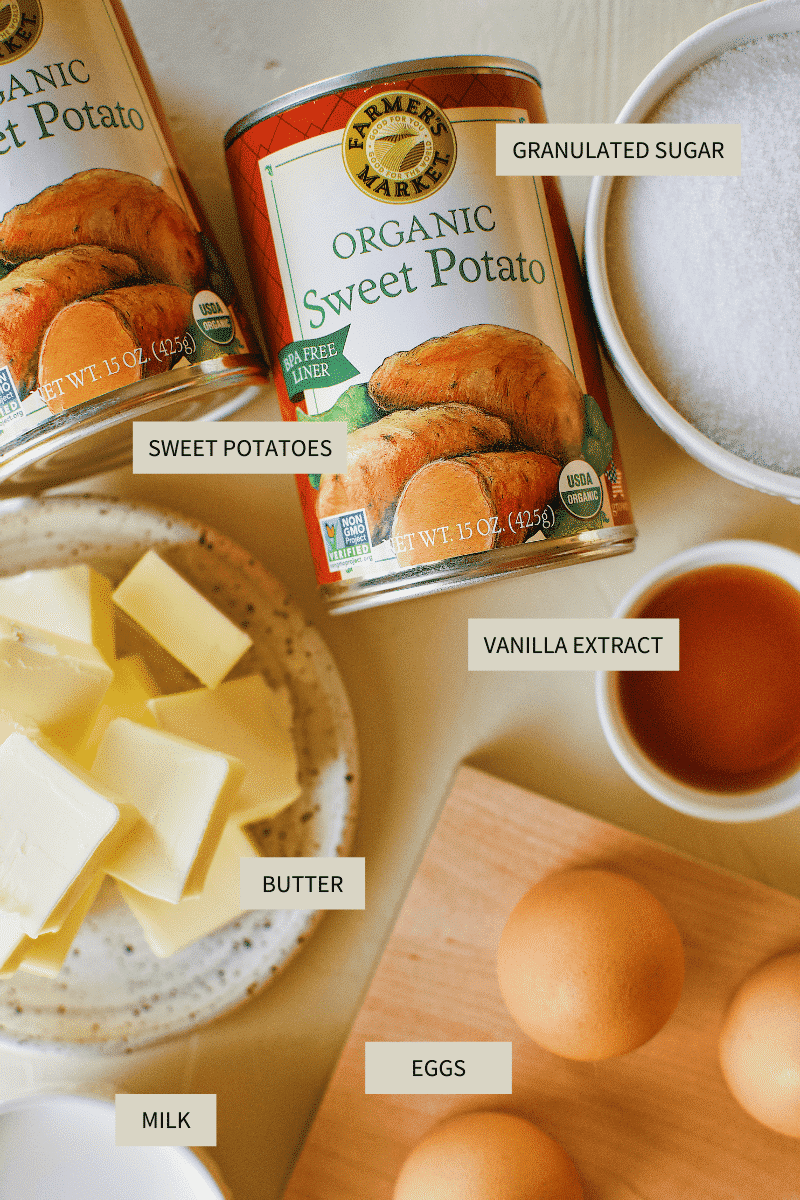 Aunt Sally says in her recipe to bake this in a 9x9 casserole or a deep pie dish, but this is where I tend to stray a bit. The recipe is SWEET so I tend to split this into two smaller dishes and freeze one of Christmas. Or depending on the number of people I have I will make it into little ramekins for individual portions or just a smaller casserole dish.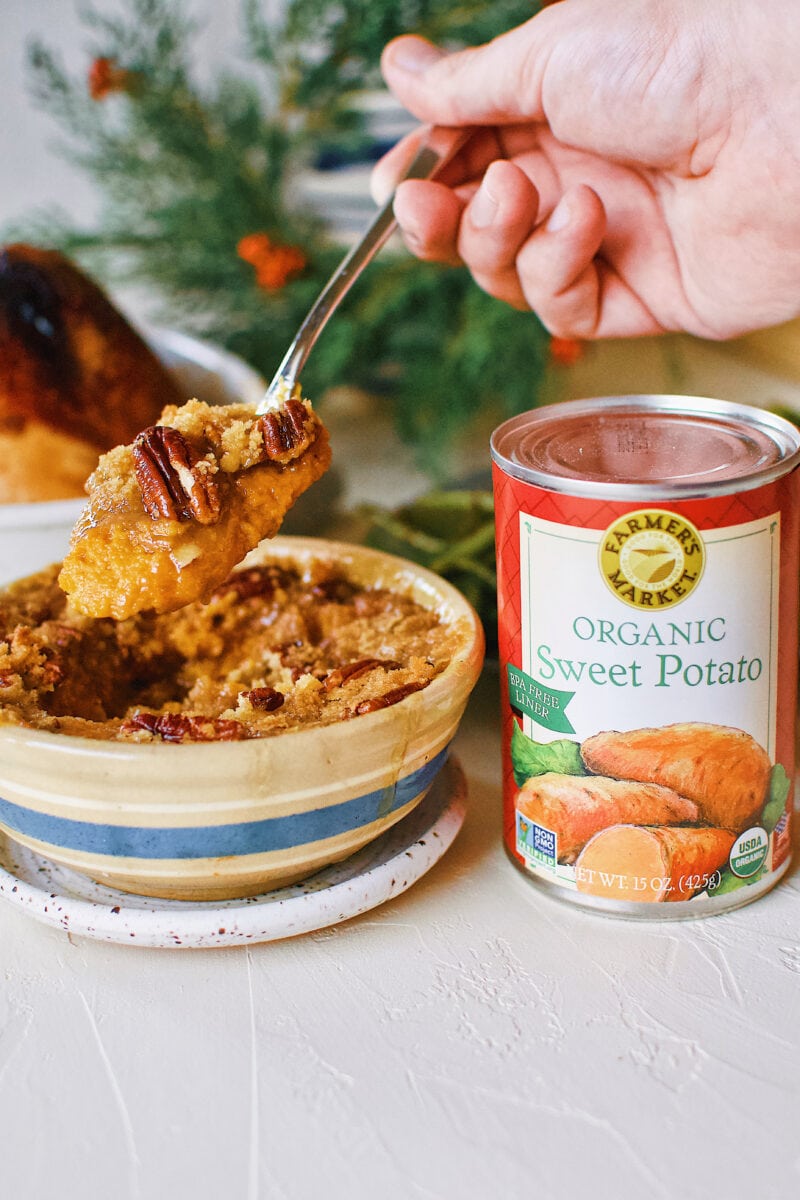 Do what works for you, I am writing the recipe to be placed in a 9x9 dish because that is the way the recipe is written. A 9x9 is most likely the pan you bake your brownies in. I always have a 9x9 glass dish laying around.
Assembling a Sweet Potato Soufflé
Start with super soft, but not melted butter. Microwave it for about 10 seconds if it is cold in you house and even on the counter it is still firm. Then fold the soft butter into the sweet potatoes with a spatula until small streak are all throughout the sweet potatoes.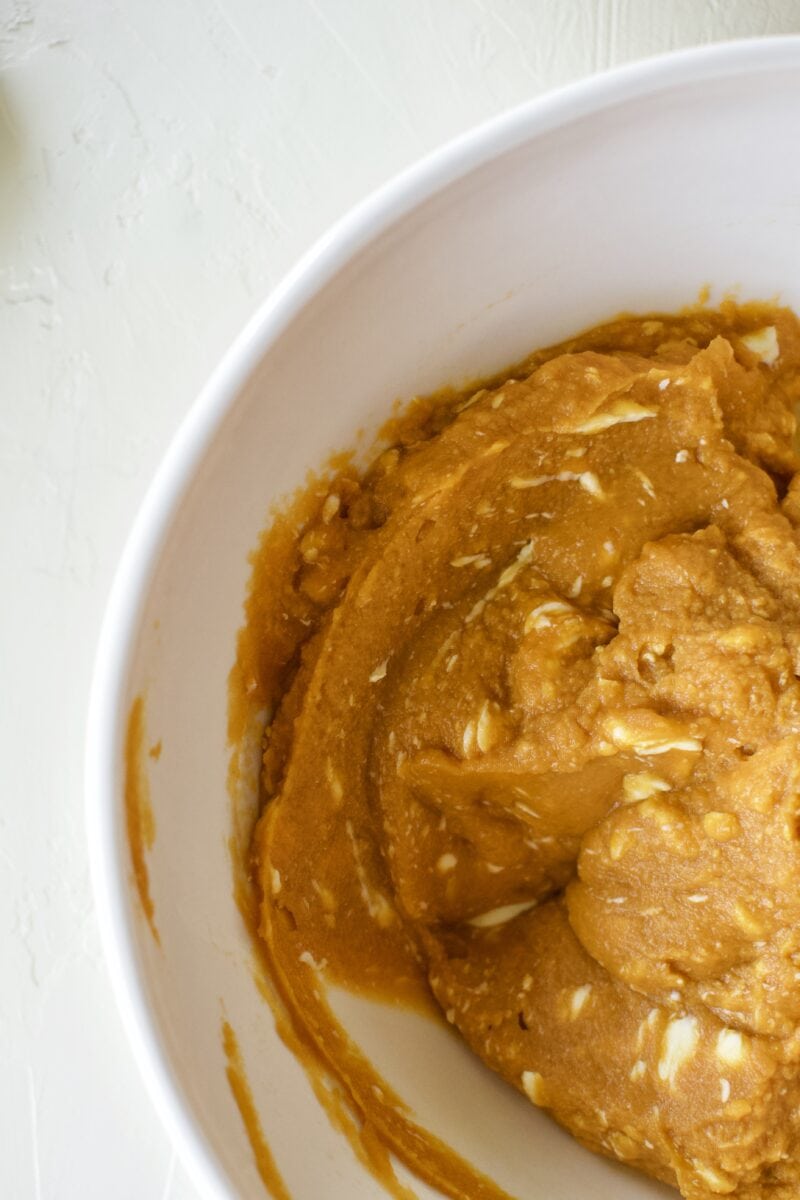 Add the remaining ingredients and fold them in until completely worked into the mixture and no egg streaks remain.
In a separate bowl, blend the butter, flour, and brown sugar together with your hands until it clumps in your hand. Add in the pecans and toss to combine.
Place the sweet potato mixture into your casserole dish and top with the brown sugar crumble. Bake until the soufflé puffs up in the dish and doesn't wiggle in the middle.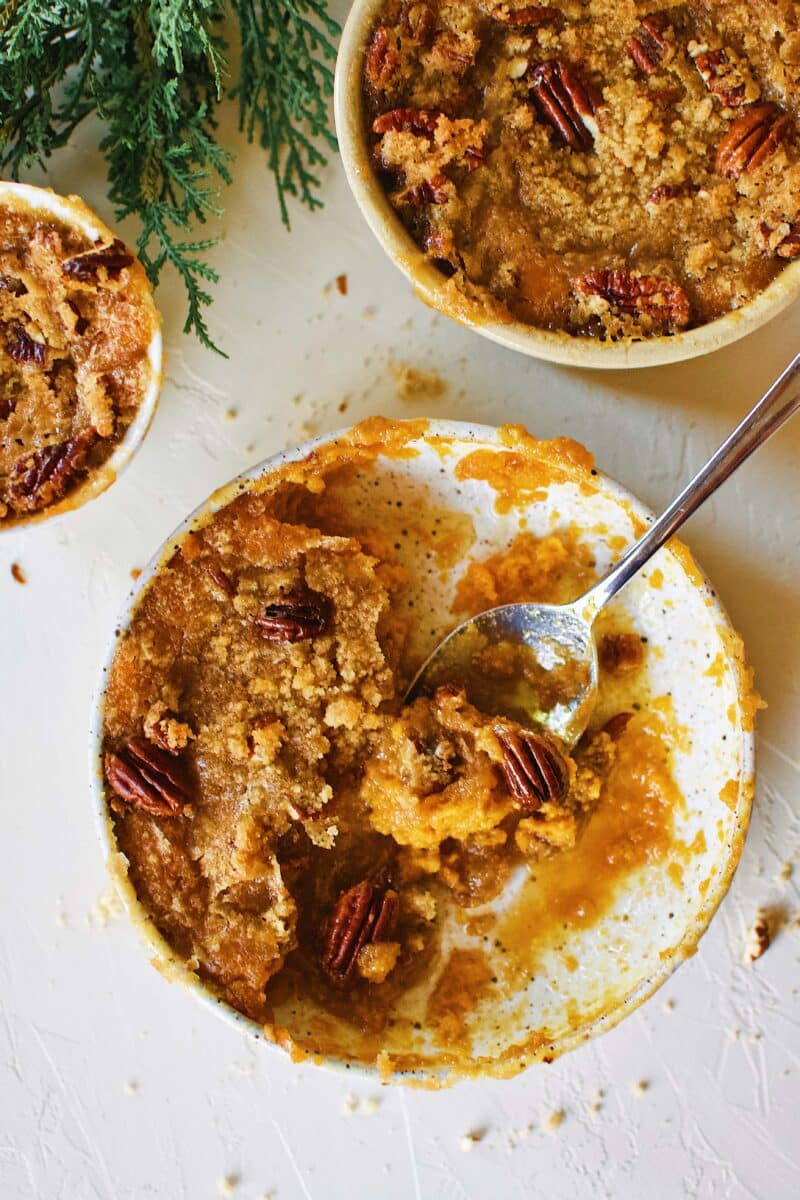 What to serve it with?
This Sweet Potato Soufflé is a required side on the Thanksgiving and Christmas dinner table and it pairs PERFECTLY with my Soy-Maple Glazed Roast Turkey for your holiday table.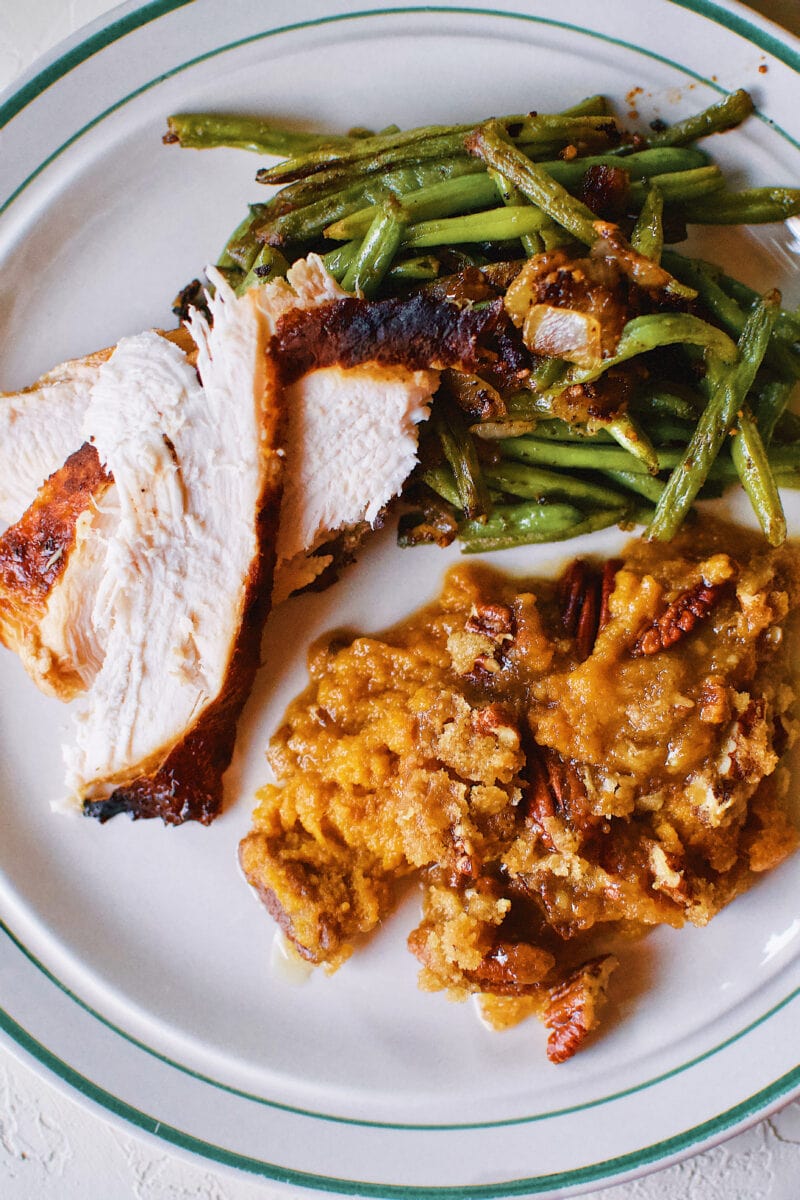 And if you are looking for more recipes to compliment your holiday dinner, take a look at my Thanksgiving Recipe Round-Up.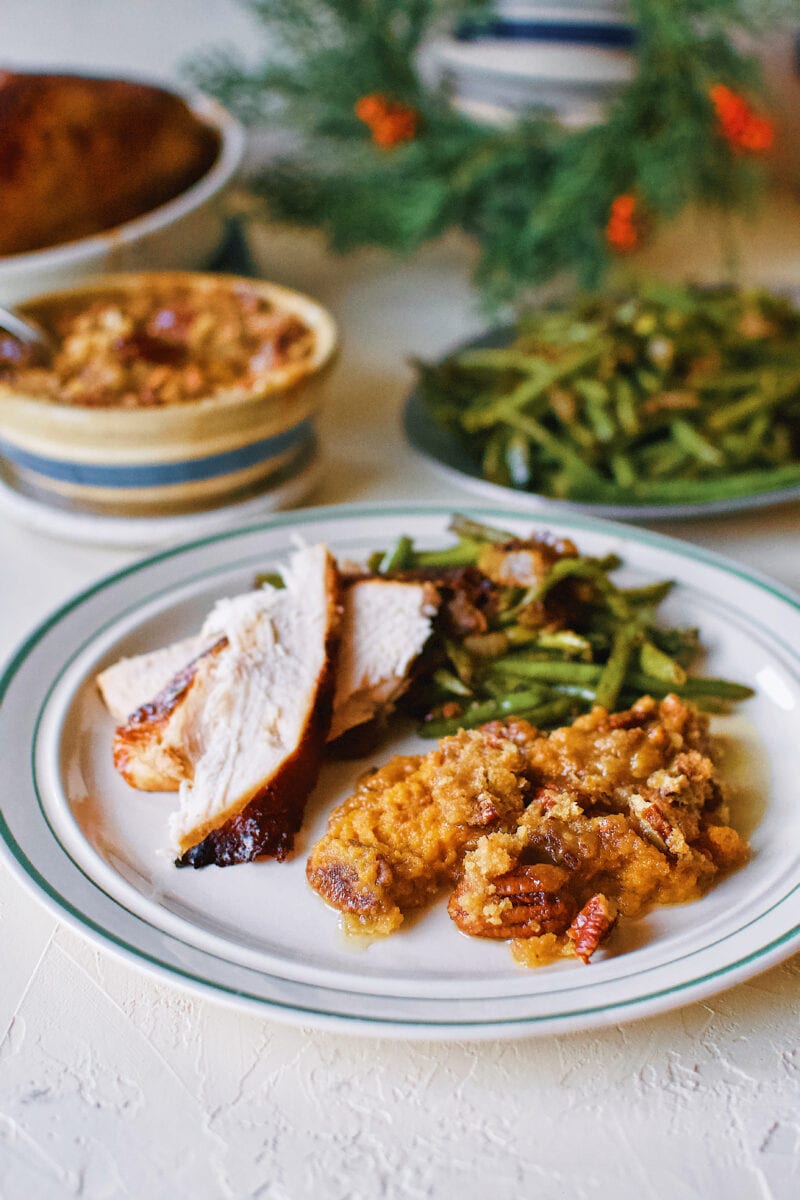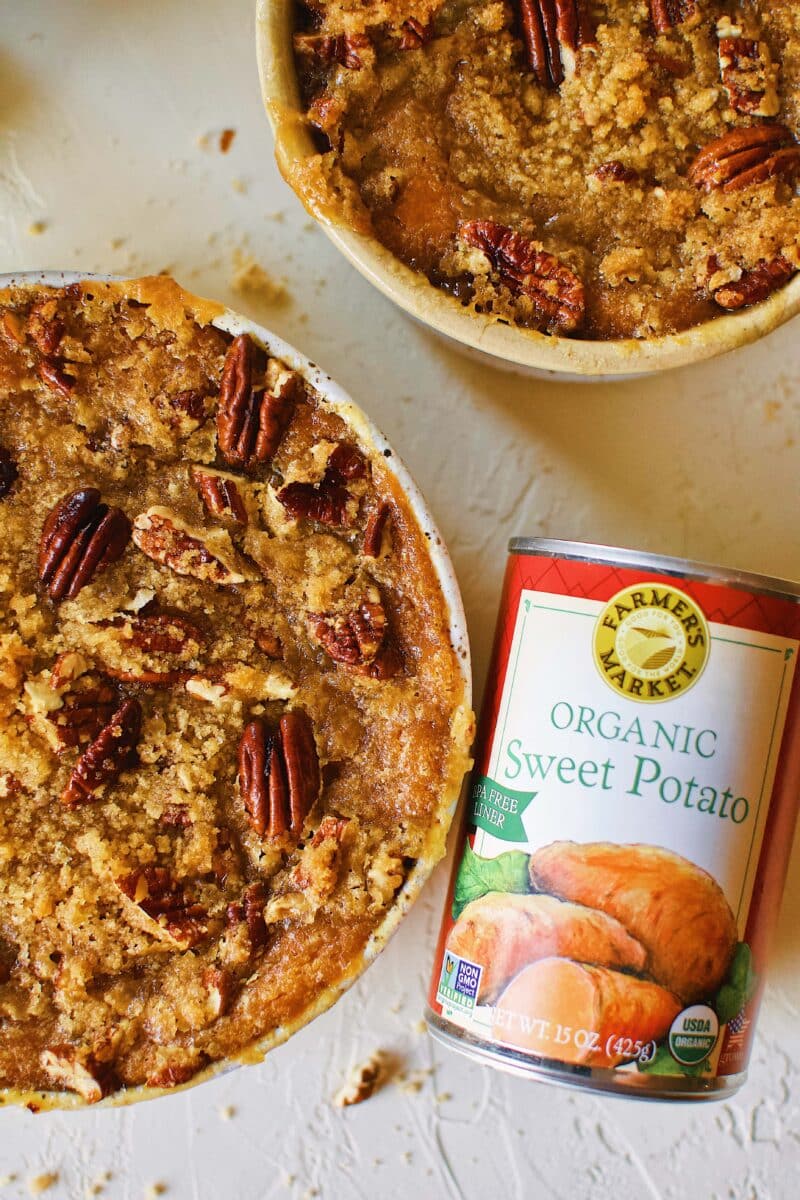 Did you make this recipe? Let me know by leaving a review or comment! And be sure to sign up for my newsletter, and follow along on Instagram, Pinterest, and Facebook.