I know it is easy to just buy a jar of bbq sauce at the store, but I really love making my own, and this Dr. Pepper BBQ Sauce is a favorite of mine! It's just sweet enough, with a little tang and a hint of heat.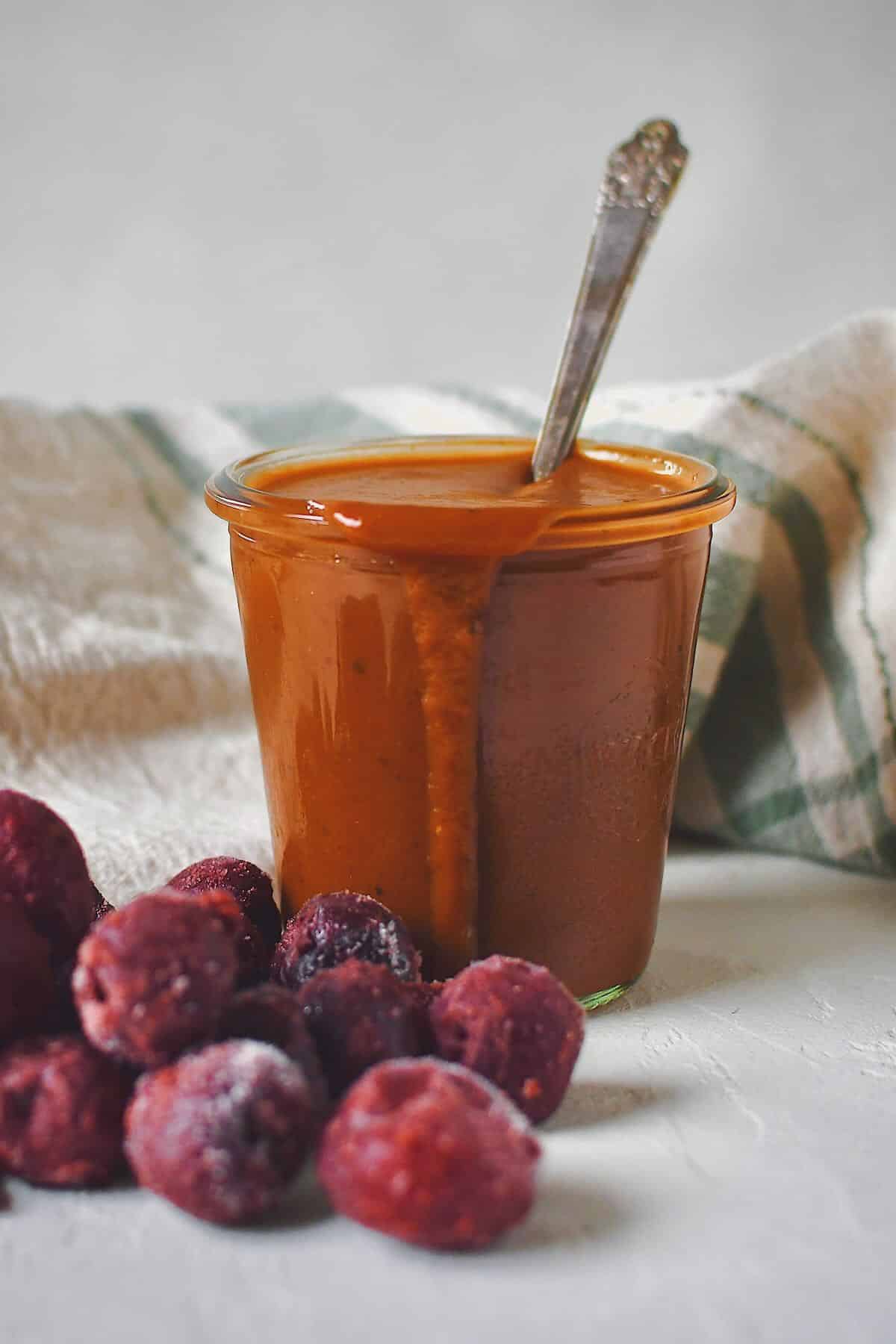 This sauce is everything a barbeque sauce should be, in my opinion anyway. I like this version for a nice sweet, mop-able sauce to put on chicken or ribs. Finger-lickin' good! And it is also great used in my Dr. Pepper Baked Beans recipe too!
Jump to:
Ingredients
The signature ingredients for this recipe are the frozen tart cherries and the cherry Dr. Pepper. While you could use a regular DP for this recipe, I like the little extra flavor from the cherry. And using the frozen fruit too makes this a great Cherry Dr. Pepper BBQ Sauce.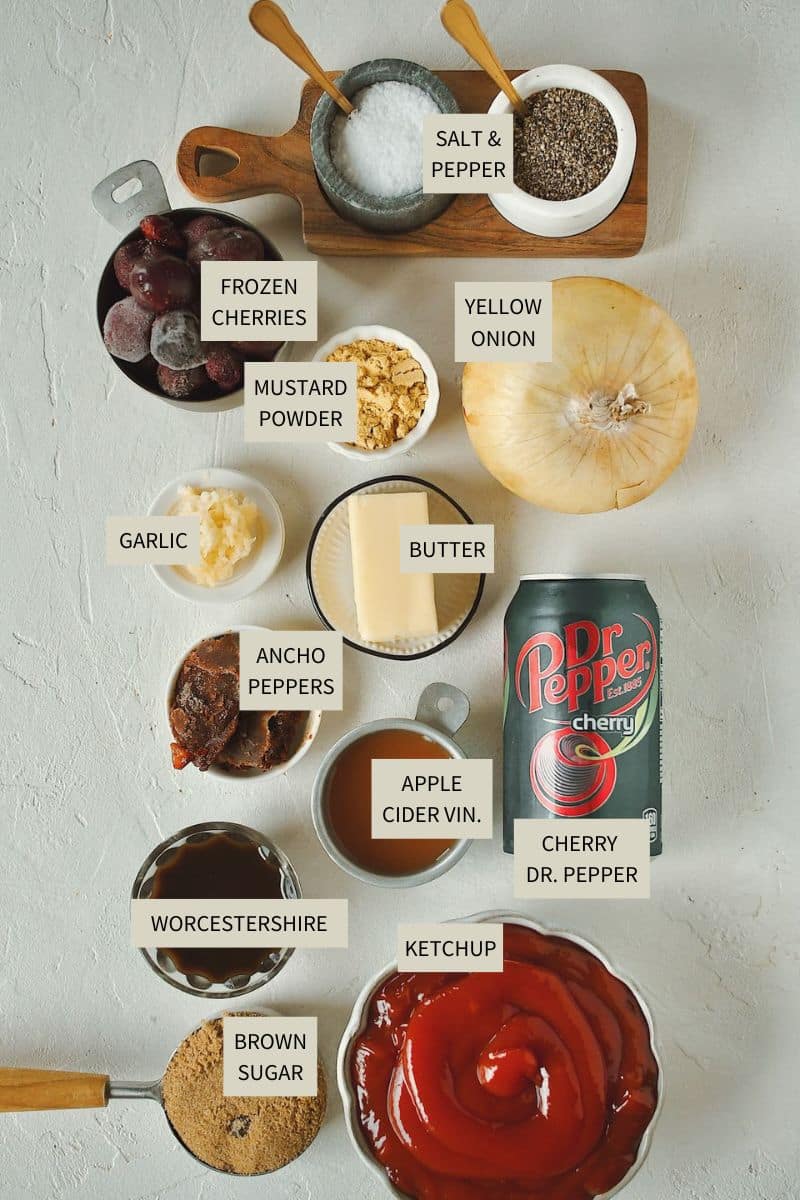 My other favorite thing to add to my bbq sauces is ancho peppers. They come in a small can and you only need 1-2 of them, put the leftovers in a zip-top bag and keep them in the freezer. You can then just crack off a little bit any time you want to use some.
Use the JUMP TO RECIPE button at the top of the post, or scroll to the bottom of the post to see the full recipe card with ingredient measurements and instructions.
Method
Start by sauteing the onion and garlic in the butter till the onions get super soft. Then toss all the remaining ingredients into the pan and bring it to a boil.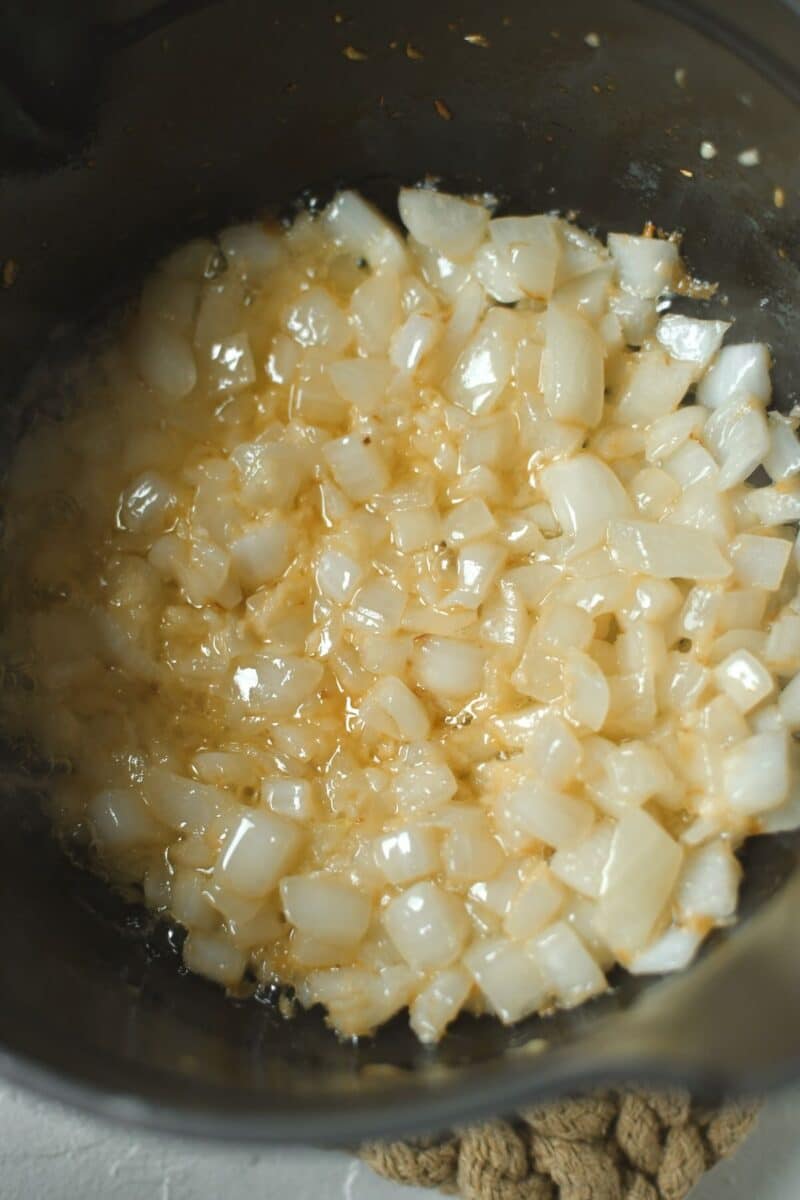 Once the mixture has reached a boil, lower the heat and let it simmer for at least 15 minutes to marry all of the flavors together. I then use an immersion blender right in the pot to puree the sauce.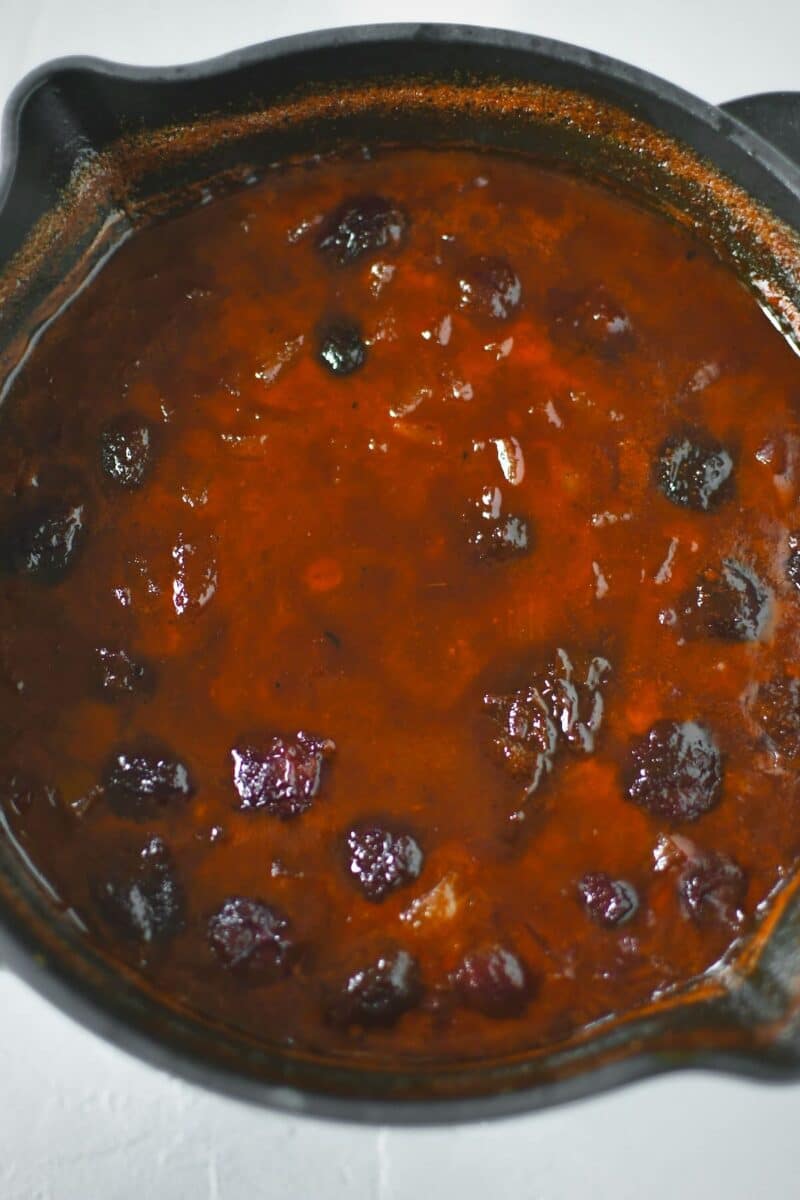 Once the sauce has been blended I like to simmer for a few more minutes just to thicken the sauce a tiny bit more, but if you like a looser sauce stop here.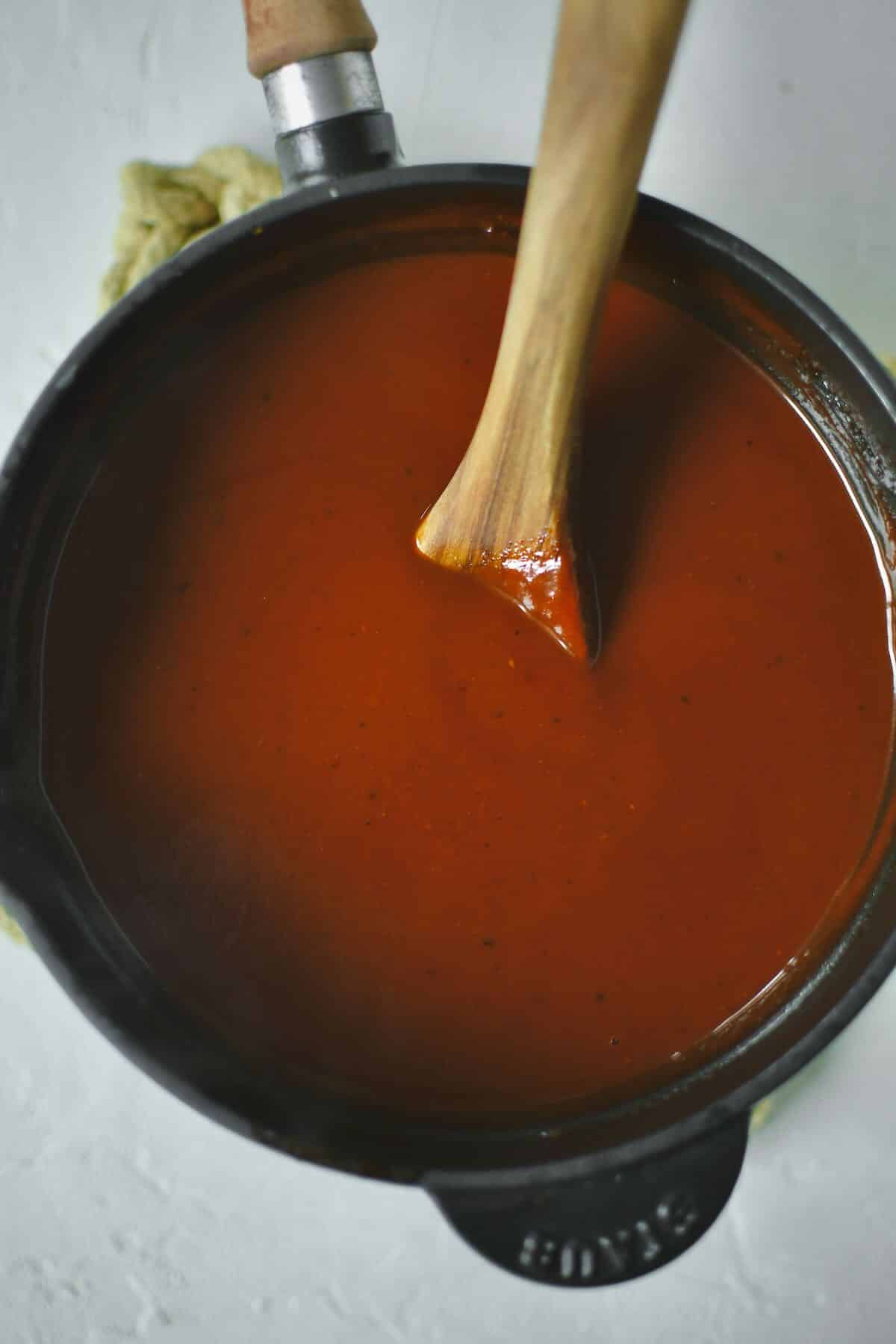 You can then place the sauce in canning jars or a bottle and let it cool. Store in the fridge once cool and it will keep for 2-3 weeks, if it lasts that long.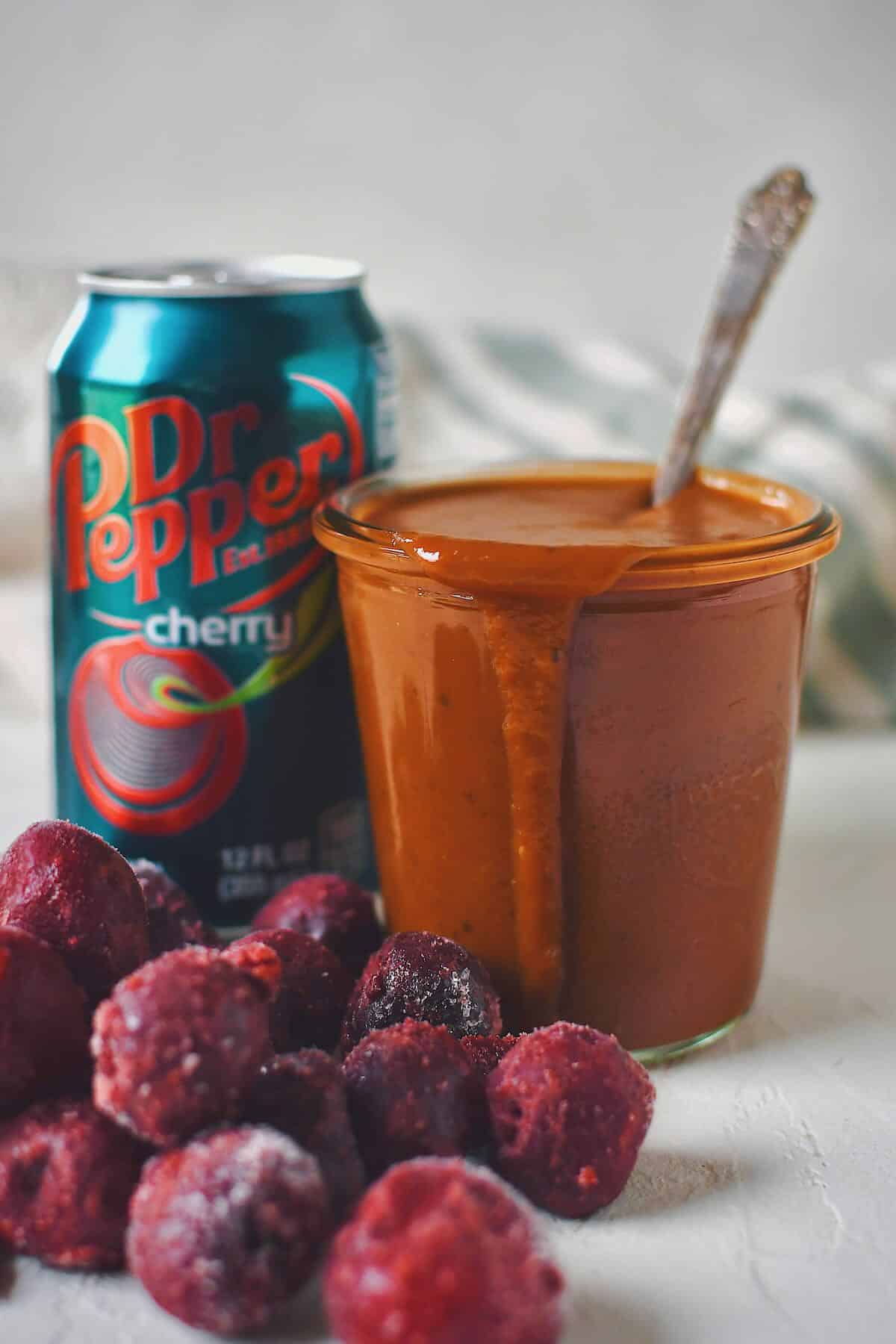 Notes & Tips
When cooking the onions and garlic in the first step, you can cook them over medium-low heat for about 10 minutes to really soften the onions before adding the remaining ingredients. This will sweeten the onions a little more and brown the butter some, just deepening the flavors.
If you do not have a handheld immersion blender for pureeing this sauce, let it cool for about 3o minutes after simmering and puree it in a traditional blender. Making sure it isn't too hot is essential to ensuring your blender cup won't explode on you. Another thing that can make sure you don't make is a mess is covering the top of the blender with a kitchen towel in case anything tries to escape during blending.
Substitutions
If you would like for this recipe to be dairy-free, swap the butter for 1 tablespoon of olive oil, or your favorite dairy-free butter substitute.
Really any onion will work for this recipe. Yellow or red/purple are the best because they are a little sweet and balance the flavor well.
I love the gentle warmth that Chipotles in Adobo bring to a bbq sauce. You could also use a fresh pepper of the spice level you like. Anything from jalapeno to a ghost pepper or beyond. That's the fun of making your own sauce, spice it to your liking.
I use frozen cherries because they are readily available all year and give me a very consistent sauce every time I make this. If you have fresh sweet or tart cherries, by all means, use them!
This is a cherry-heavy sauce, so a cherry Dr. Pepper is fitting. You could use a regular Dr. Pepper too if you like.
Apple Cider vinegar brings a great balance and tang to this recipe. White Balsamic or even my new favorite Rosé vinegar would be great options too.
For the brown sugar, it really doesn't matter if you use light or dark. There are so many other flavors going on, it is just there to balance everything out.
If you like a little more heat, replace the mustard powder with prepared horseradish or horseradish powder for a light flavor tweak.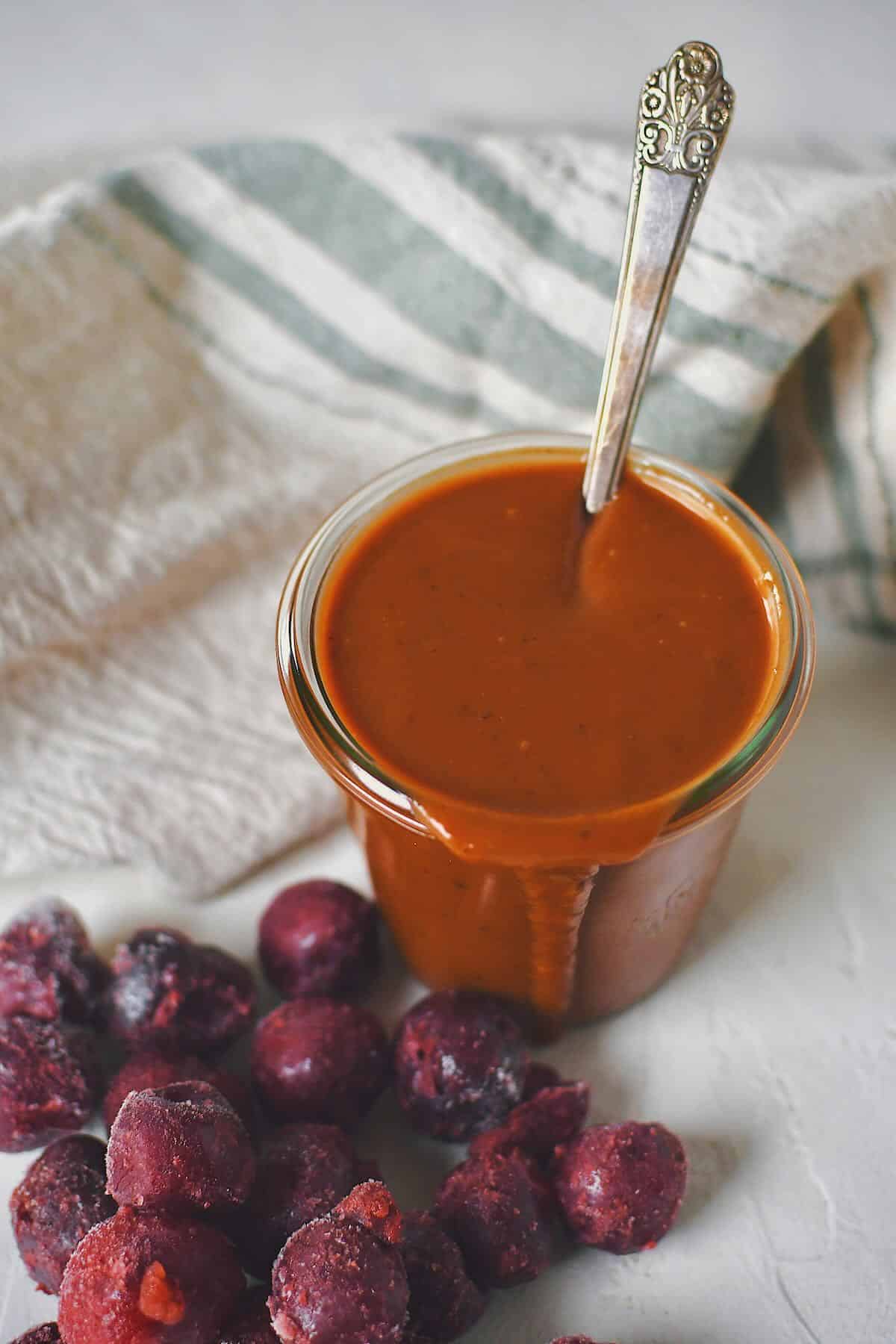 Great Compliments for this Sauce
Did you make this recipe? Let me know by leaving a review or comment! And be sure to sign up for my newsletter, and follow along on Instagram, Pinterest, and Facebook!