When you want a quick simple dinner that feels as special as eating at a fancy steakhouse, reach for this Pork Tenderloin Medallions recipe. It's extremely easy to whip up, like 15 minutes easy, so tender and extremely tasty!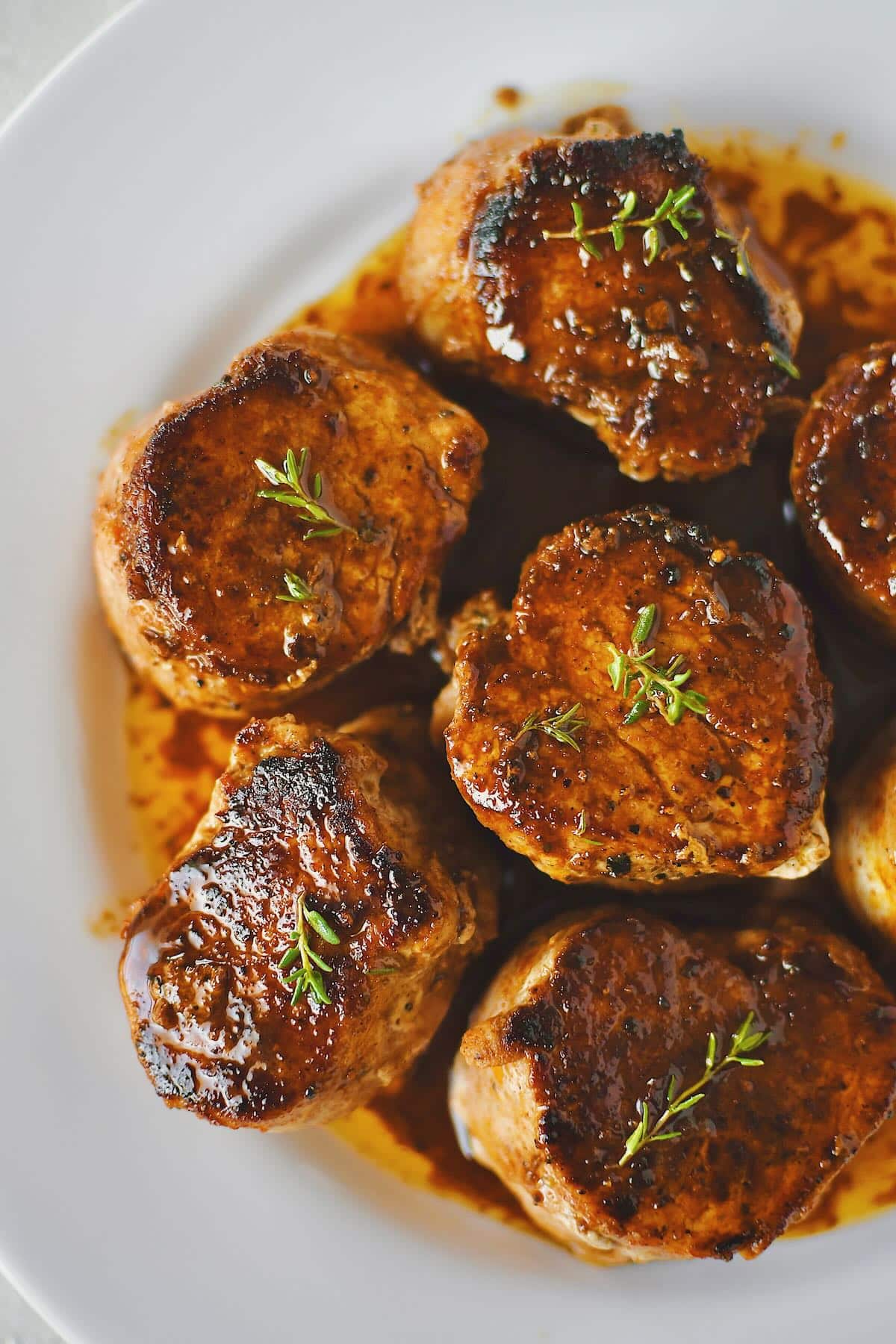 These pork tenderloin medallions are like the fillet mignon of pork. It is the same cut but at a FRACTION of the price. I get 4 pork tenderloins at Costco for about $15, beef tenderloins there cost $100+. The pork is deliciously tender, and being so small it cooks up super fast while feeling a little fancy.
Jump to:
Ingredients
If you have a good butcher you might be able to ask them to cut your tenderloins into 2-inch medallions, but I just do it at home. I get 5-6 pieces, plus a tail end out of each tenderloin, and serve 2-3 pieces per person. The tenderloins I buy come in a 2 pack, so I cut and cook 2 loins at a time.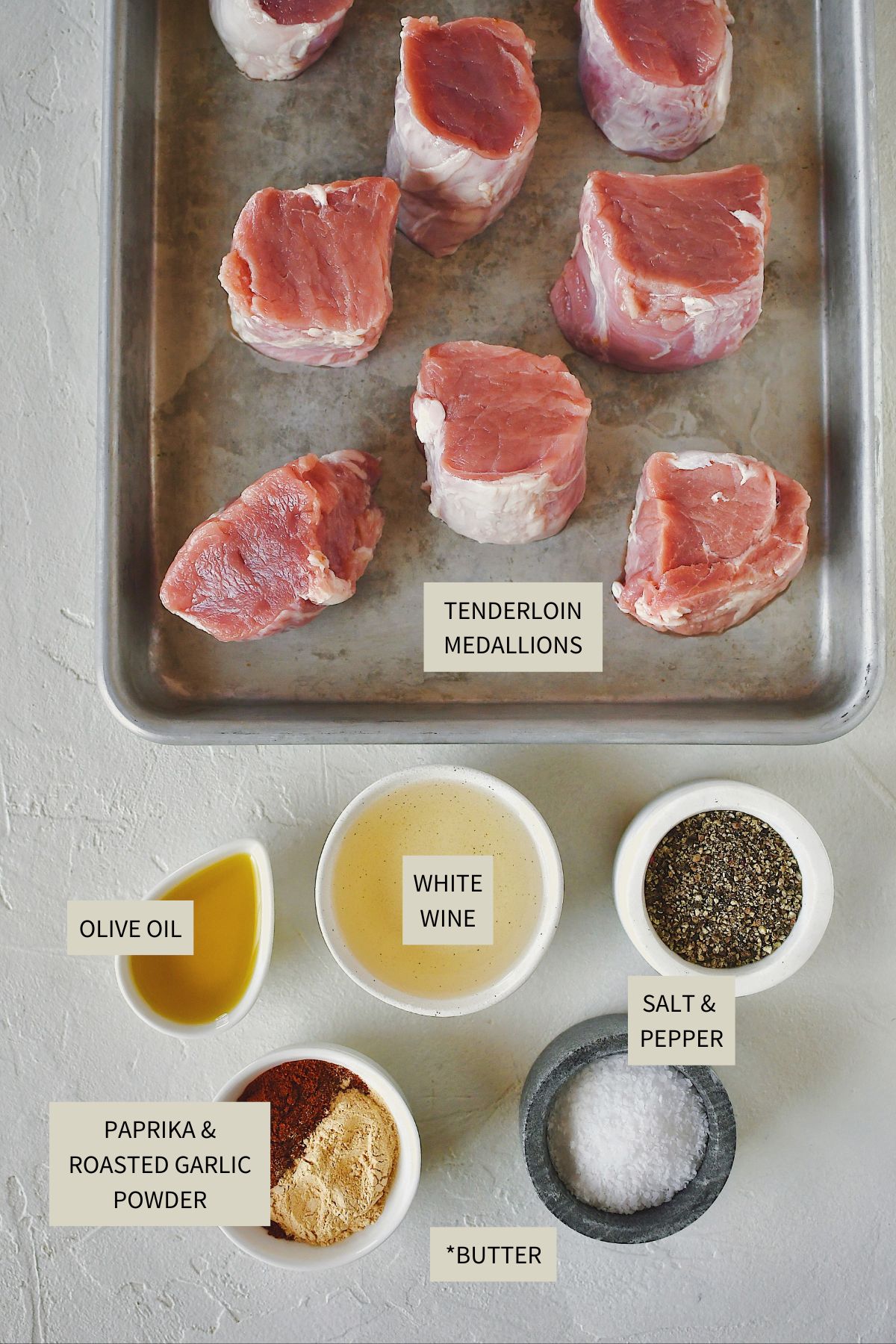 You also need some fat to cook the meat in, and some seasonings for it. I use salt, pepper, paprika, and my very favorite seasoning, roasted garlic powder. I mix up a little rub and dust it over the meat. The white wine and butter are optional, but you can use them to create a little pan sauce after cooking the tenderloins if you like.
Use the JUMP TO RECIPE button at the top of the post, or scroll to the bottom of the post to see the full recipe card with ingredient measurements and instructions.
Method
To make the pork tenderloin medallions, dust the seasoning over the cut medallions, then toss them all together to coat all sides of the meat. Heat a large, cast-iron skillet, over medium-high heat and get a really nice dark sear on the medallions.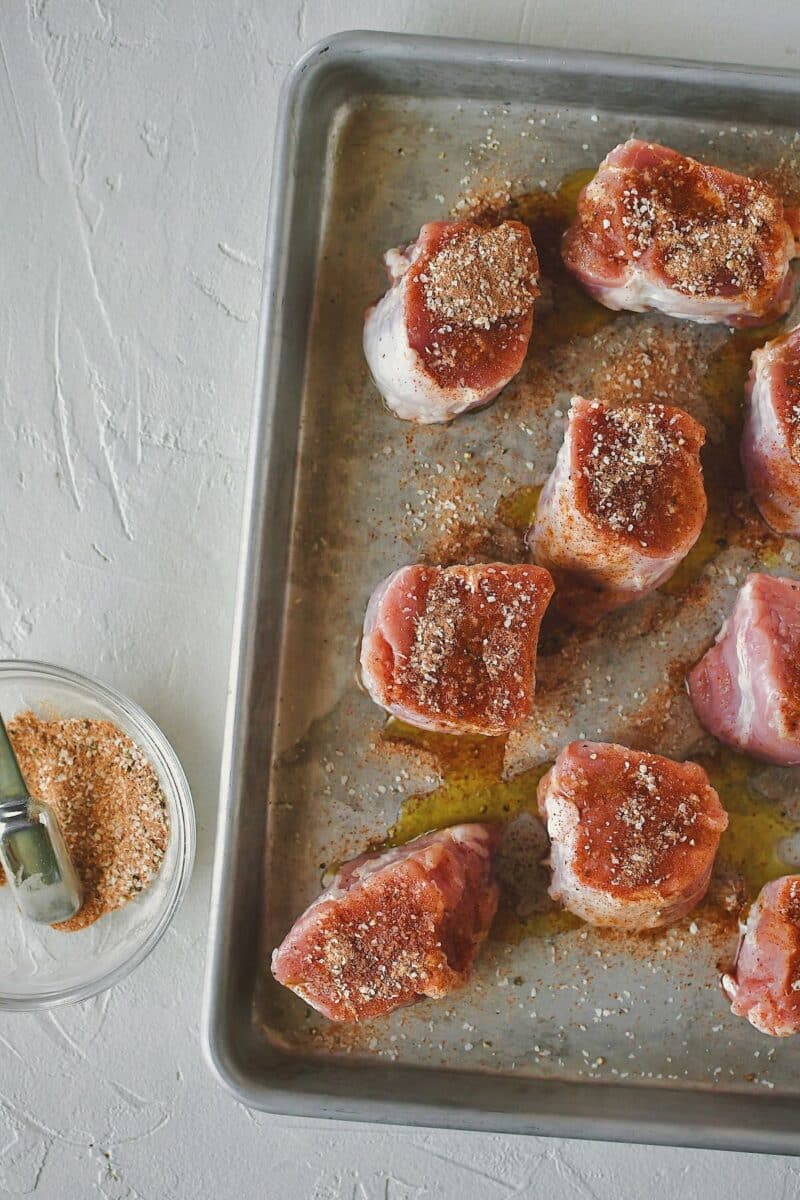 After you flip them and cook for 2-3 minutes, remove the medallions and add the wine and butter to the pan and bring it to a boil and scrape the bottom of the pan to create a simple pan sauce. Return the medallions to the pan and baste the sauce over them.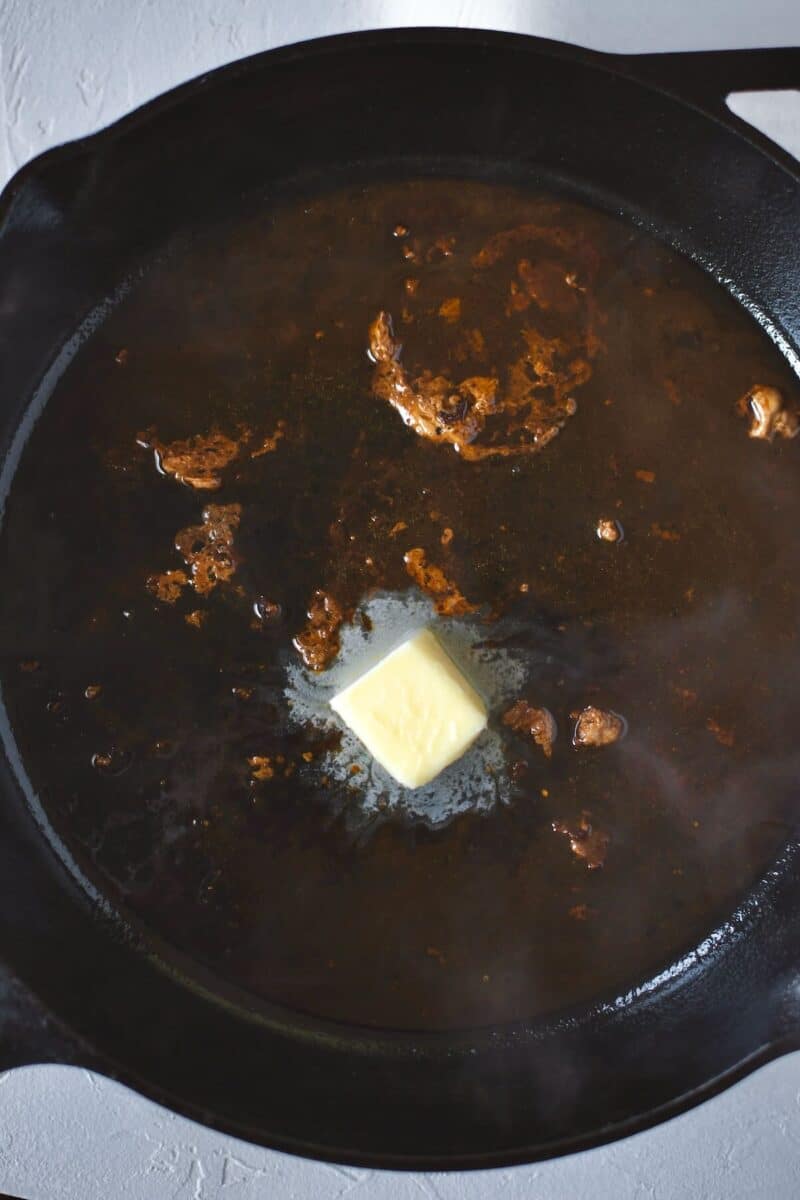 I finished them with a little thyme I had from the garden but you can leave that off if you don't have it on hand. It just adds a little extra herb freshness to the final product.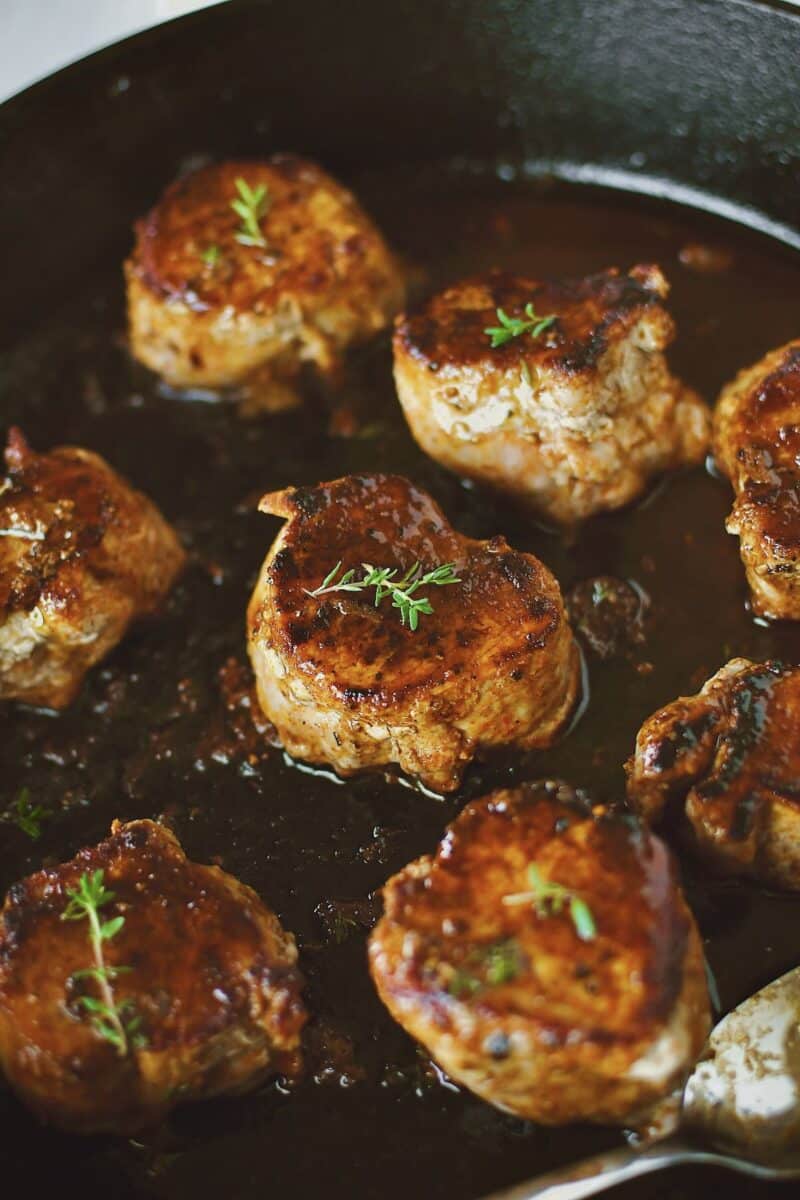 Serve the pork tenderloin medallions immediately with lots of sauce over top. Look how glossy and beautiful they look. I like to serve them over potatoes or rice so all that sauce can get soaked up by them.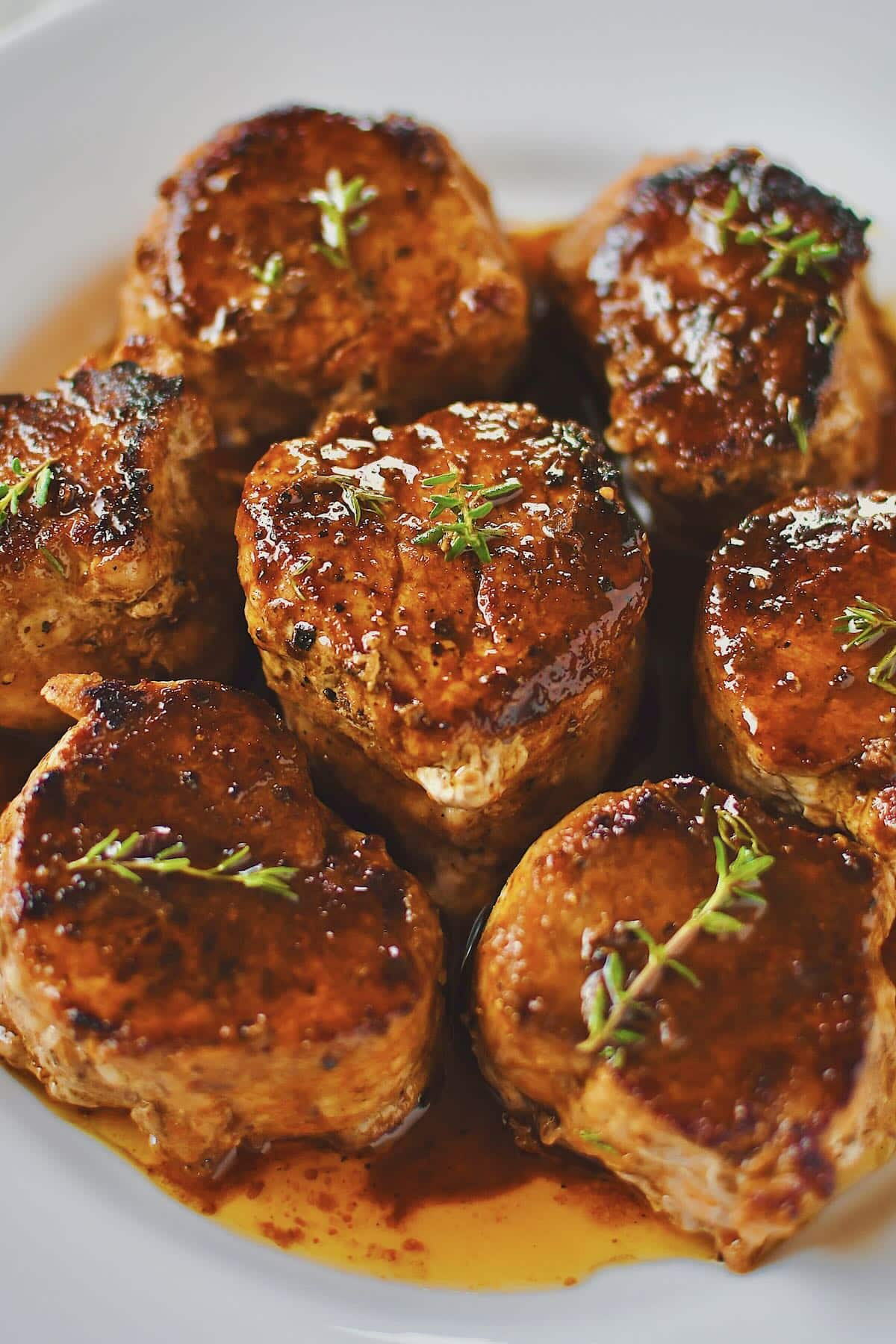 Notes & Tips
Cut the pork tenderloins into 2 to 2 ½ inch medallions, or fillets. This gives you little pork fillet mignons if you will. This is the same cut from pork as it is from beef, so think of these little fillets of pork tenderloin, they cook up equally as tender and buttery as beef fillet mignon, one of the most expensive cuts of meat around.
After you sear the medallions, pull them out of the pan for a few minutes and add the wine and butter. Bring the wine to a boil while scraping any browned bits off the bottom of the pan. Simmer it till the pan goes nearly dry, then set the medallions back in the sauce for about 2 minutes just to warm them back up, and use a spoon to drape them in some of the sauce.
Substitutions
Be sure you are using pork tenderloins for this recipe. Swapping for pork loin, which is larger and what you get pork chops from will not work. You'll just have pork chops. Tenderloins are much smaller and much more, well, tender!
At a minimum, you need to salt and pepper all sides of each little medallion. You can swap the paprika and garlic powder for other things you prefer but always use the salt and pepper for the best flavor.
You can swap the wine for chicken stock if you do not have any wine on hand or prefer not to use it.
I added some thyme I had from the garden into the sauce and on top for just a touch of extra flavor. You can leave it out or also use rosemary or oregano in its place.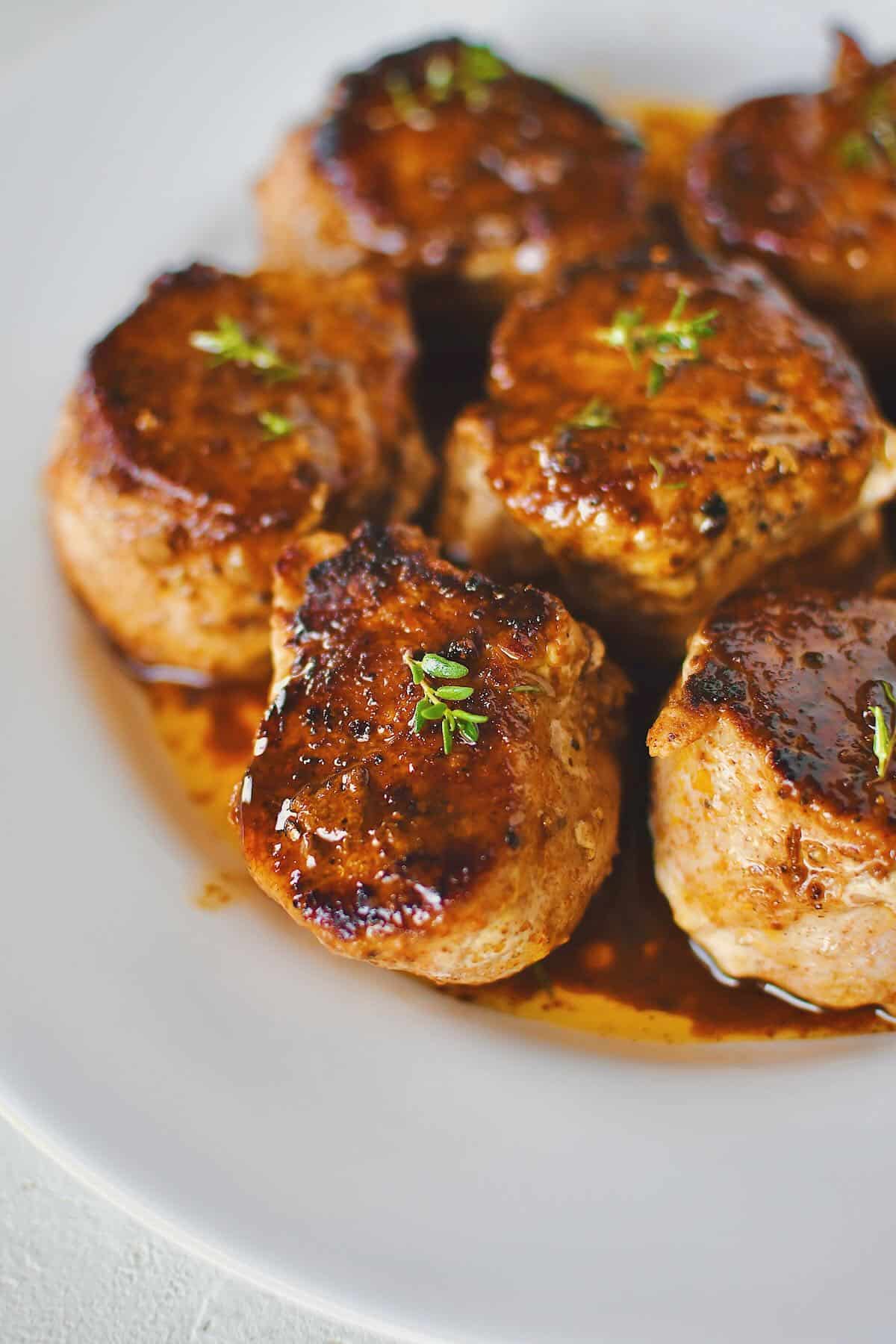 Did you make this recipe? Let me know by leaving a review or comment! And be sure to sign up for my newsletter, and follow along on Instagram, Pinterest, and Facebook!