I have given this recipe my own twist using seasonal blood oranges. I dip them in a freshly made glaze multiple times. Doing so makes these craveable Blood Orange English Scones a classic you will want to make year after year. It is also a great way to use this fresh citrus when they pop up in stores that one time a year!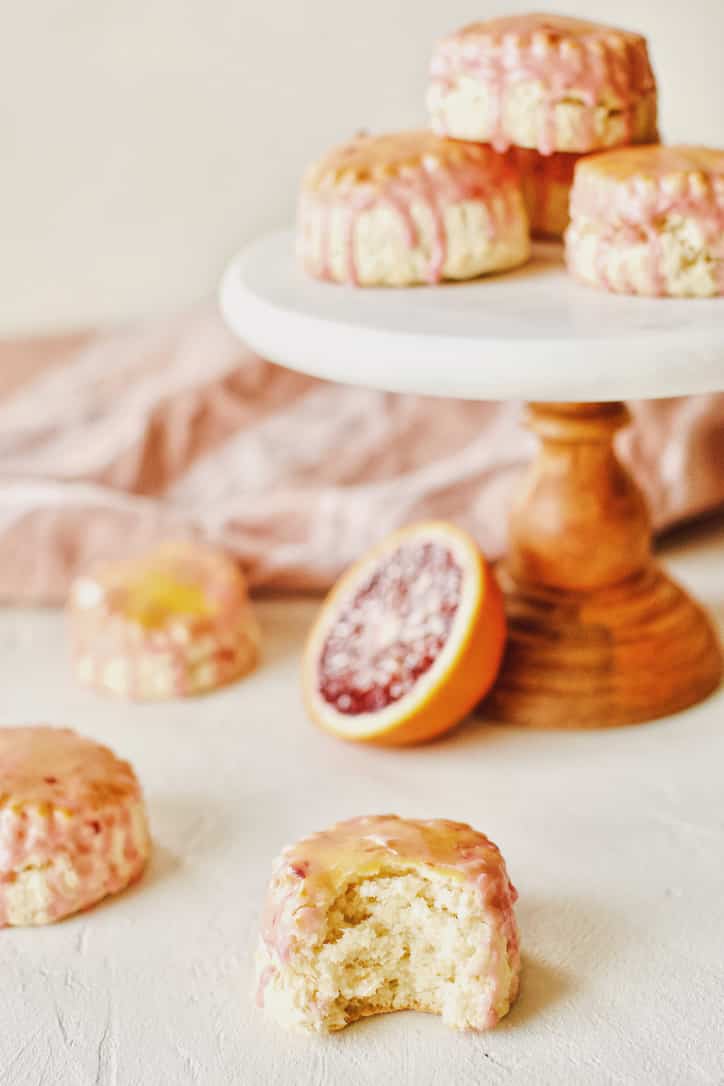 I adapted these classic English scones to fit the ease and availability of ingredients for a U.S. audience. One thing you can do to keep them as authentic and delicious as possible is to use high fat European or Irish Butter. It helps keep them fluffy and tender and delicately crisp.
Making English Scones
The method for making classic English scones is simple. It is what is referred to professional kitchens as a biscuit method. And fittingly named because making these scones is nearly identical to making biscuits.
I take this a step in the "even easier" direction and make them in the stand mixer a la John Whaite. And one thing you will notice is the use of grams in the recipe. This is a true English recipe, so we are going metric. It is very simple to do, just be sure you have a good kitchen scale at the ready.
I start by weighing out my ingredients to make for quick work of it all. And you will soon realize that when you have everything ready it goes SUPER FAST! And you don't have to do it as fancy as you see here, measure all the dry into the bowl of the stand mixer, and add the butter there too. Then measure all the wet into a measuring cup, the less dish the better in the real world!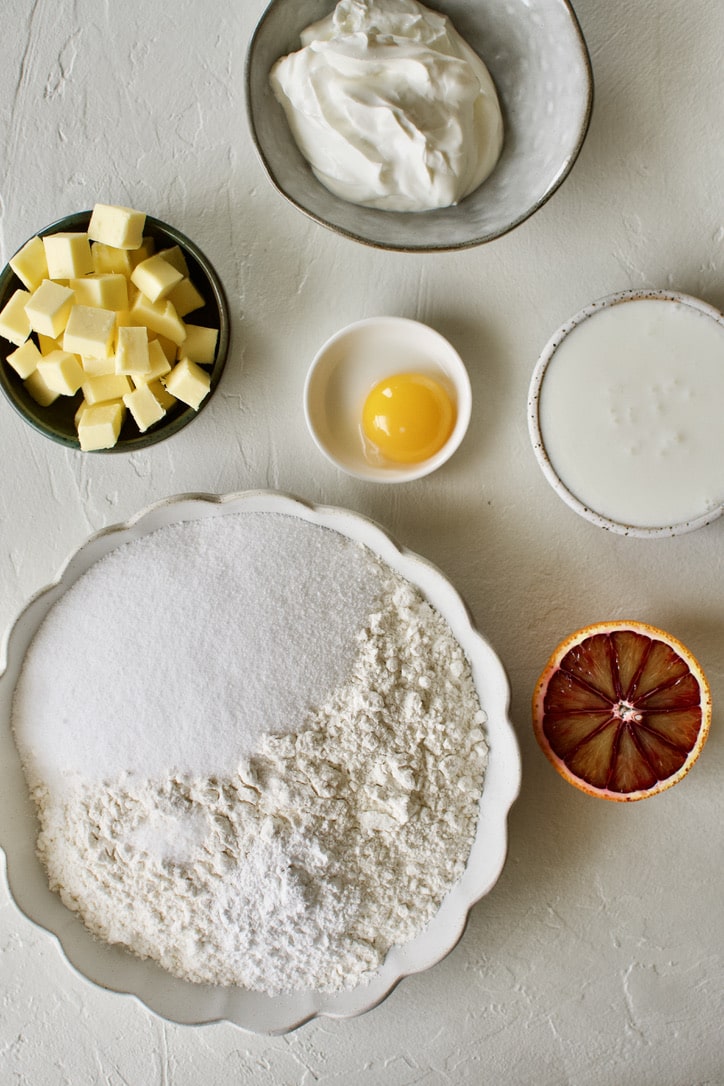 Next, blend the dry ingredients and the butter in the bowl of the stand mixer with the paddle until you get a crumbly mixture that resembles an almond meal. It should be course, but the butter should be completely worked into the flour. Then toss in the wet ingredients and mix just until combined, even a little dry looking still.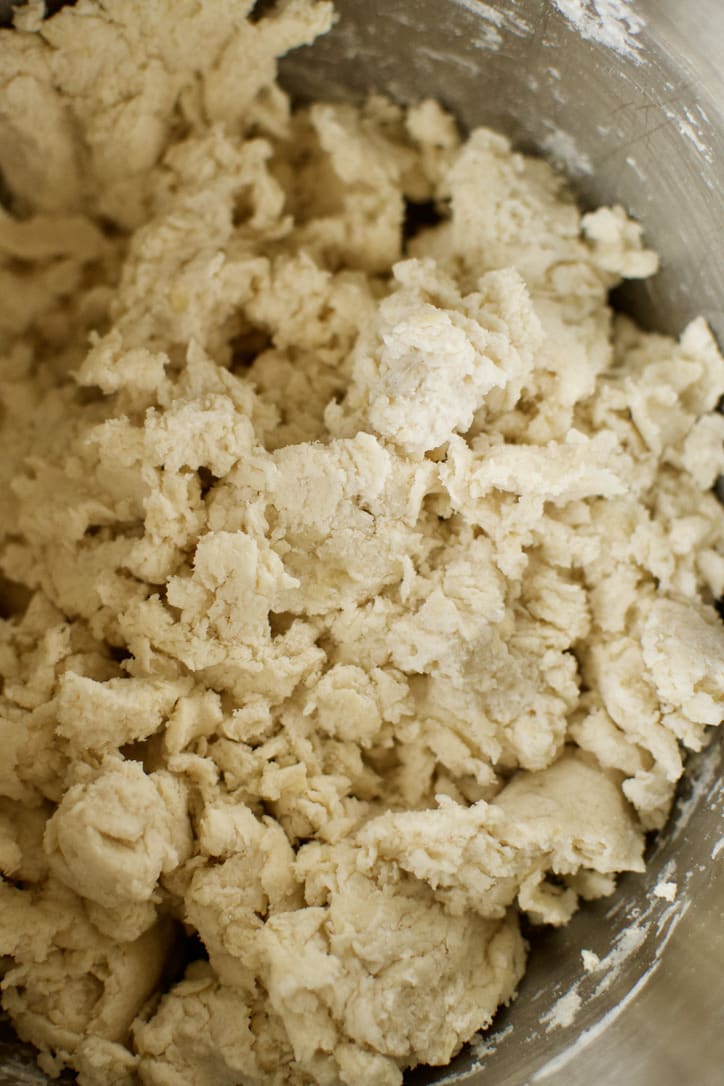 Dump the dough out onto your work surface and bring it together gently with your hands until there are no cracks remaining in it. Cover it with plastic wrap and rest it in the fridge for 20 minutes.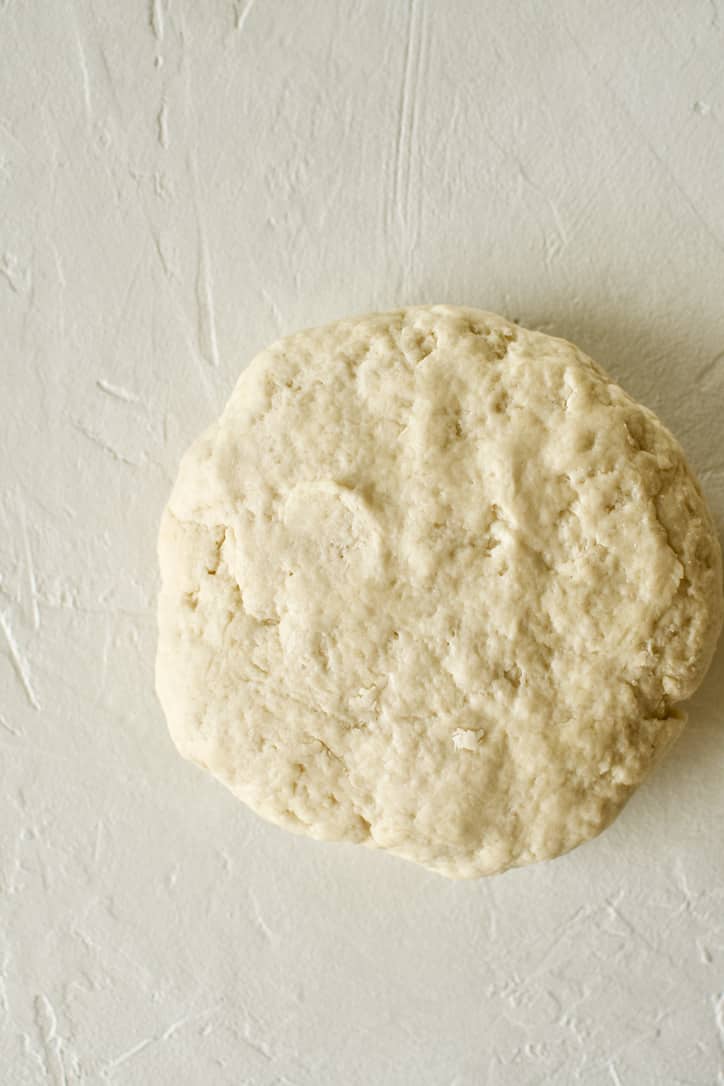 Now it is time to roll them out. I told you it was SUPER FAST! Besides the rest time they can be made in a flash, and you can even skip the rest if you are in a hurry. I cut my scones out into 2.5-3 inch circles. You can cut them larger or smaller, just know if you do you will need to adjust the cooking time.
Place them on a parchment lined baking tray, egg wash, and bake.
When the scones come out of the oven, push them close together in the pan and cover with a tea towel. This will allow them to finish cooking and steam them a bit. This is prefered for a soft, chewy texture.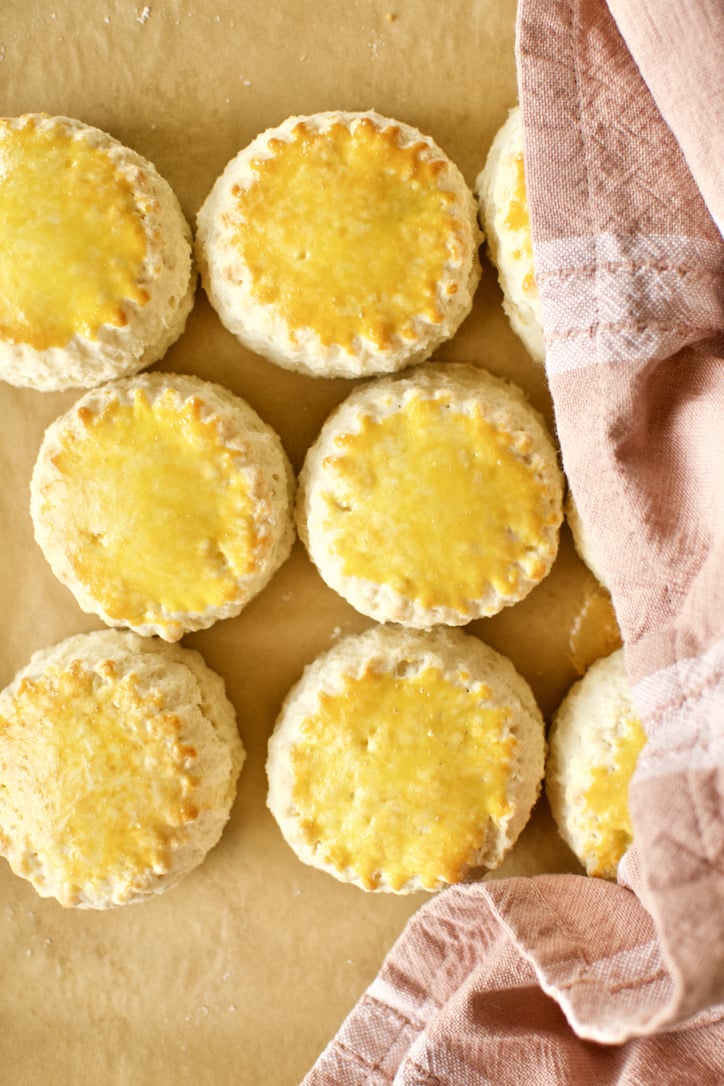 I then make a quick glaze by mixing together some blood orange juice and powdered sugar. Mix until you have a thick, but moving glaze.
Dip the scones in the glaze while they are still the tiniest bit warm, work your way through the batch, and then start at the top and dip them a second, or even third time if you like lots of glaze like me!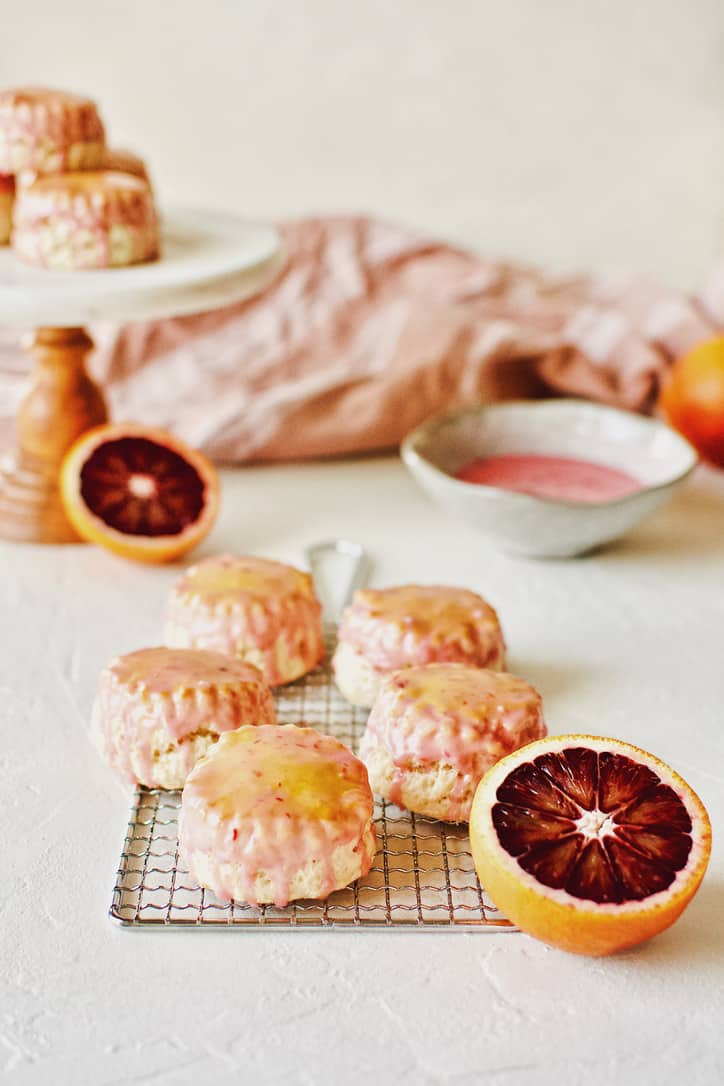 What to serve scones with...
These English scones would traditionally be served with some double cream, fresh butter, or even jam. I have an array of jam recipes that would pair perfectly with these scones. If I didn't glaze them, which you don't have to do, I would serve them warmed with butter and jam...here are a few for your consideration.
Bourbon & Brown Sugar Peach Jam
Cran-Raspberry Jam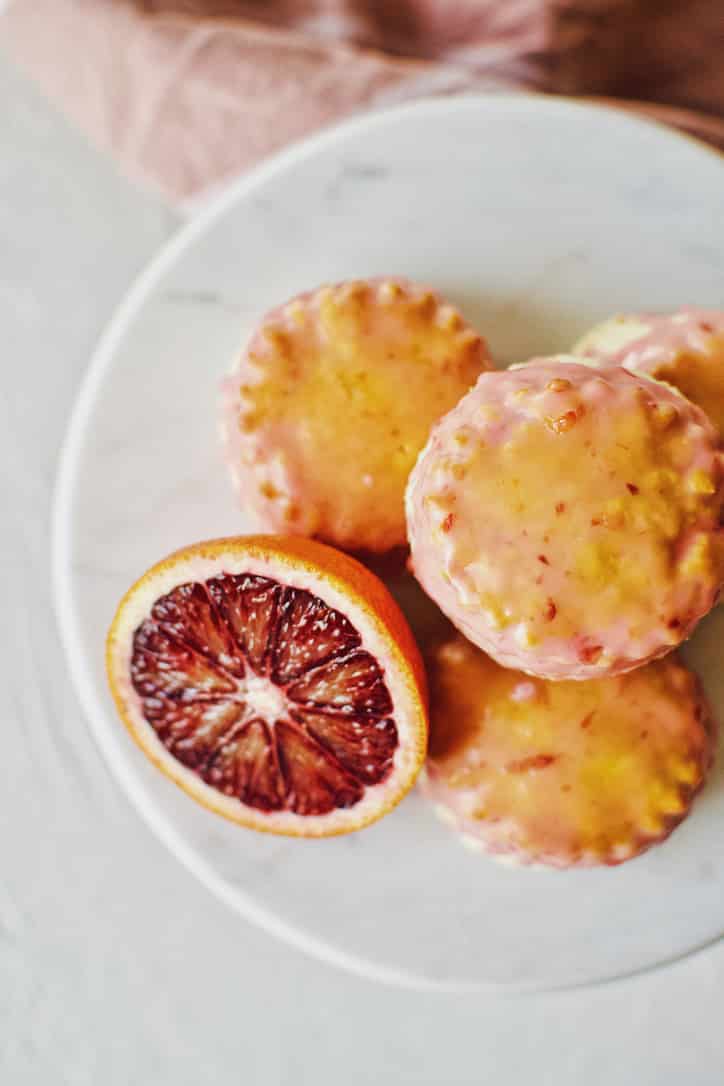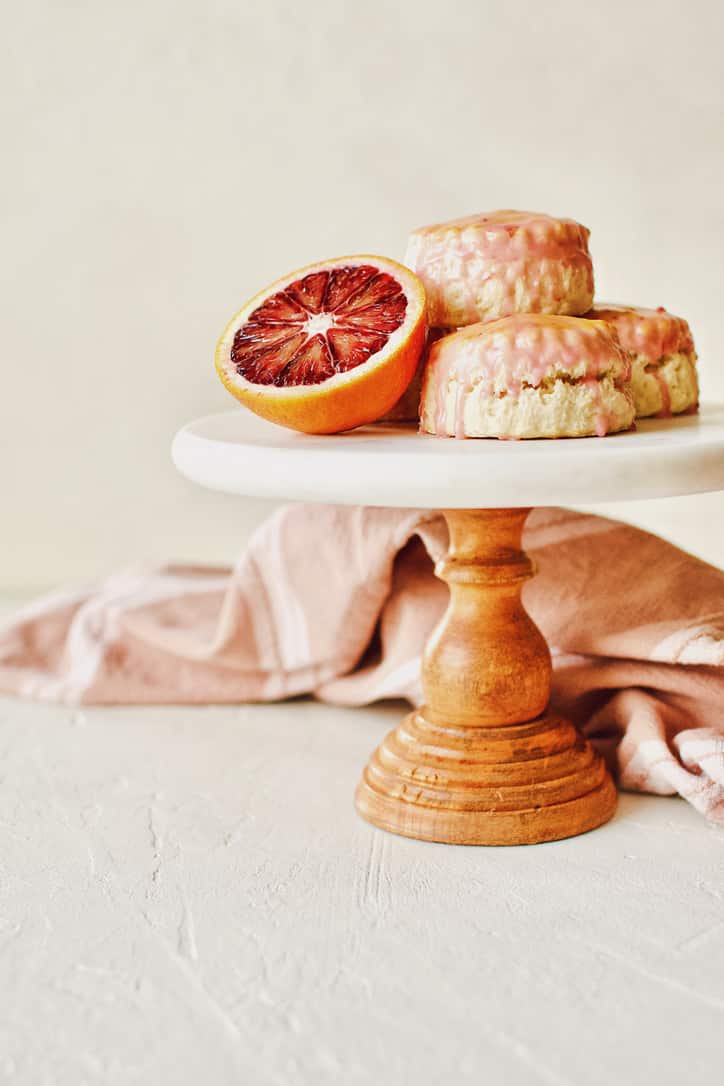 Did you make this recipe? Let me know by leaving a review or comment! And be sure to sign up for my newsletter, and follow along on Instagram, Pinterest, and Facebook!
Did you make this recipe? Let me know by leaving a review or comment! And be sure to sign up for my newsletter, and follow along on Instagram, Pinterest, and Facebook!