My love for all things Irish runs deep, and while this Corned Beef Hash may only be Irish adjacent, it still satisfies my craving for it. This is my elevated Cheffy version of Corned Beef Hash.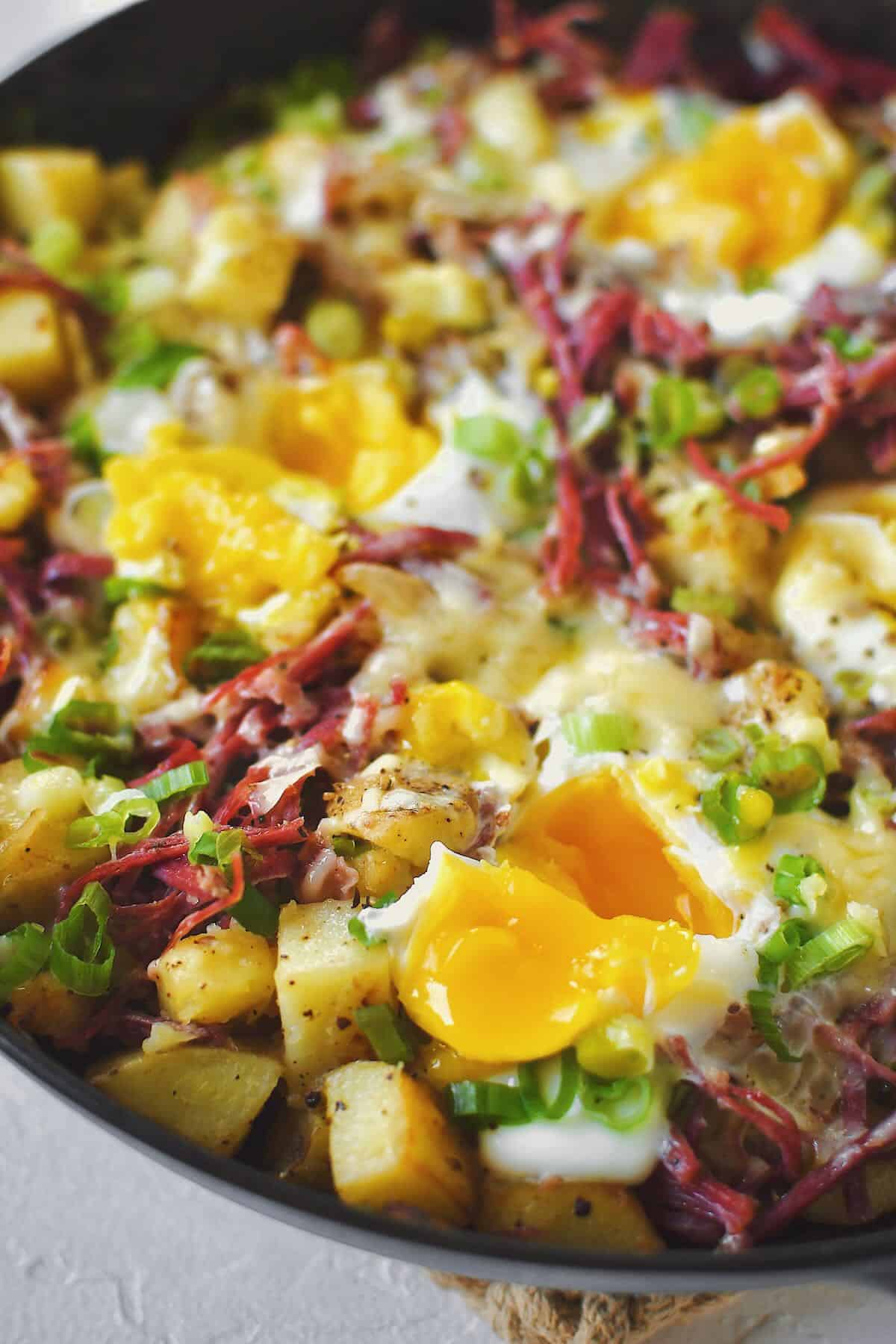 It is also a great way to use up leftover Corned Beef from St. Patricks Day. I always try to make a HUGE brisket so I have leftovers to make things like this or my Reuben Casserole.
Jump to:
Ingredients
As I mentioned earlier, I use making this as an opportunity to use leftover corned beef. I like to cook it super tender and then shredded it for this recipe. That helps keep it from feeling like canned corned beef, and you definitely want to stay away from that for this recipe.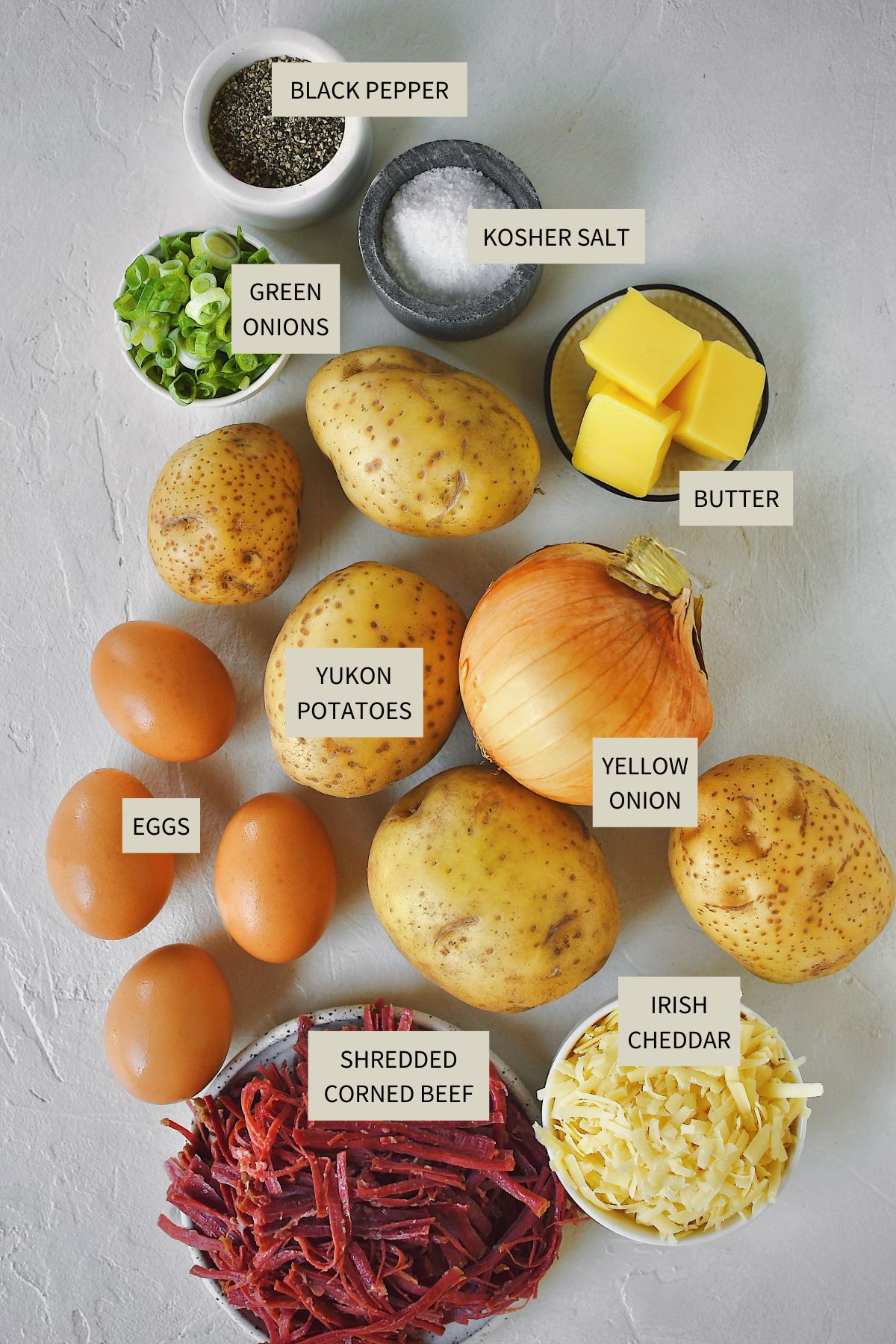 For the potatoes, you want to use a nice creamy potato like a Yukon gold, and you also need a creamy Irish white cheddar too! I also make a point to use Irish butter too, just to keep the theme going. I also like eggs on top of my hash, you can cook them right in as I show here, or you can top it with fried eggs.
Use the JUMP TO RECIPE button at the top of the post, or scroll to the bottom of the post to see the full recipe card with ingredient measurements and instructions.
Method
I make this a one-pot meal, and I start by dicing the potatoes and cooking them for about 5 minutes in some water in a large skillet.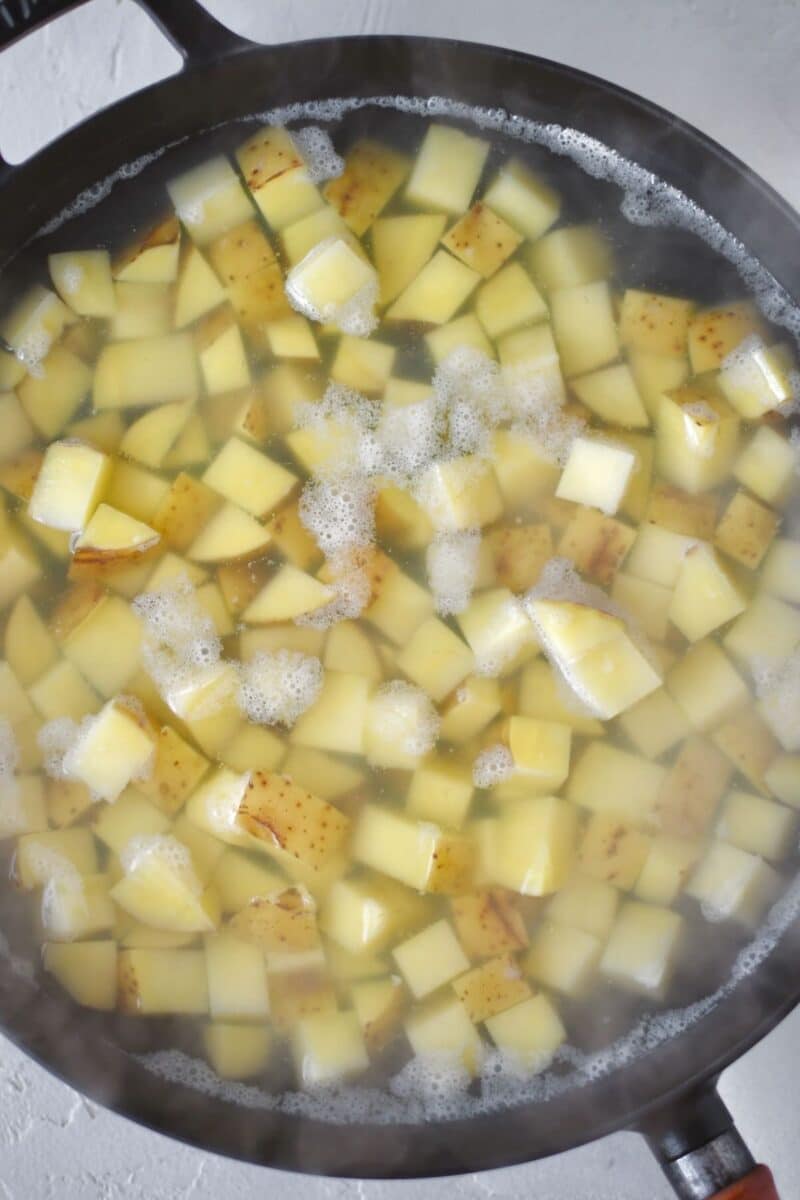 Drain off the potatoes, then return the skillet to the stove and add the butter and onions to it. Cook them till they are soft and add in the potatoes. Continue cooking till they being to get golden and a little crispy on some.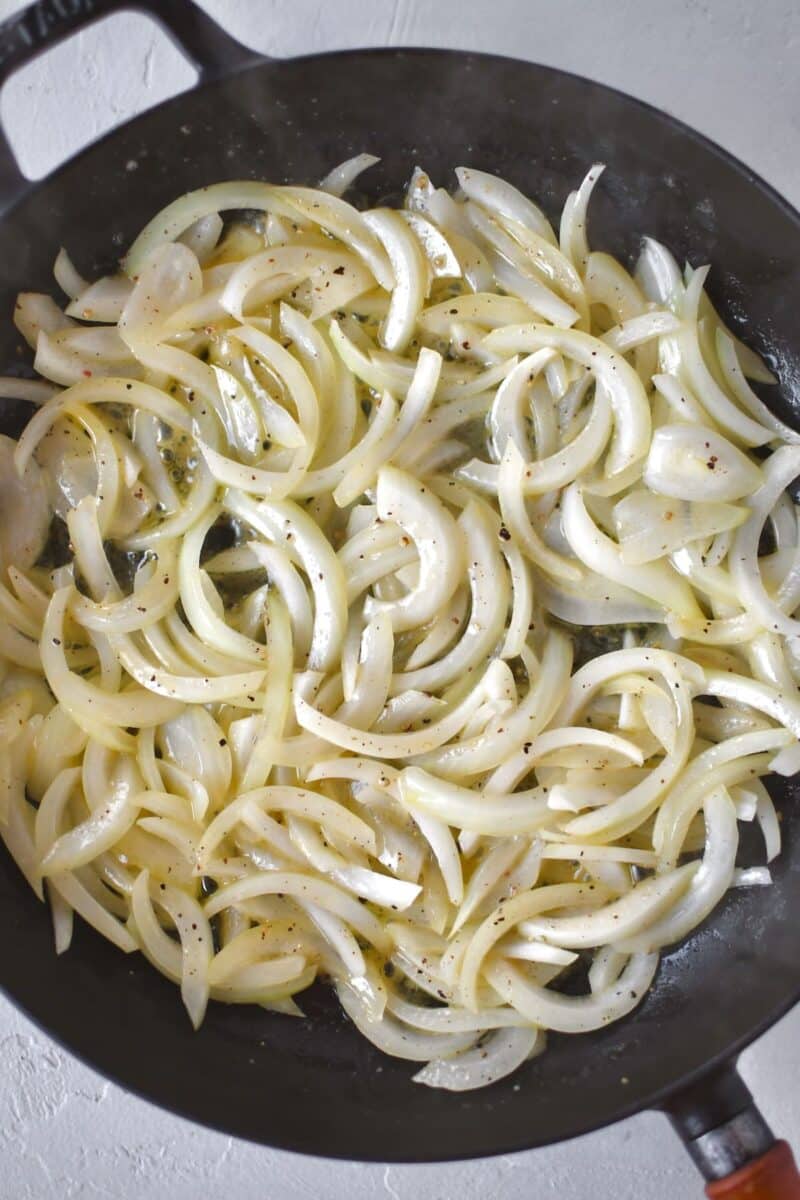 When your potatoes are sufficiently crisp, toss in the shredded corned beef and stir to warm. Then top with some of the cheddar cheese and make a few wells in the hash. Drop the eggs in and place a lid on top and cook just till the whites set.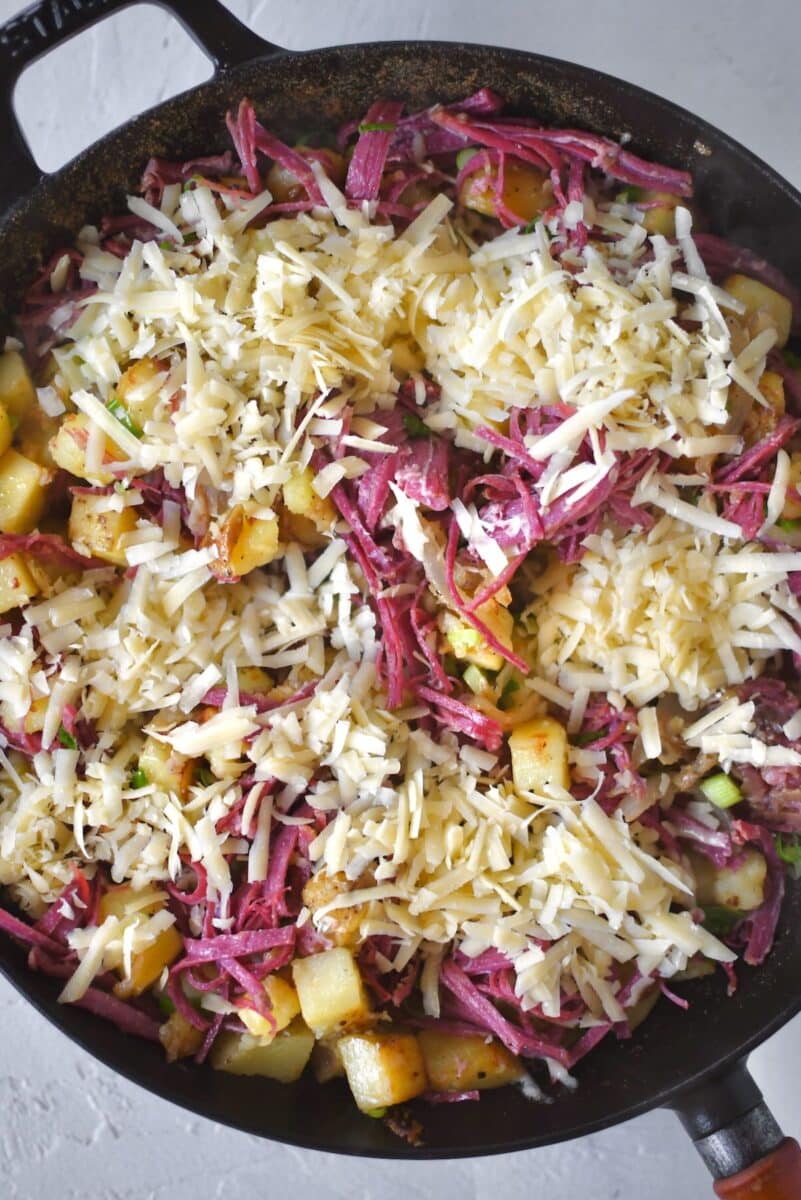 I like to finish the eggs with a little more cheese on top and a generous dusting of green onions. They bring a bright fresh crunch to the finished product. Plus they make it look pretty too.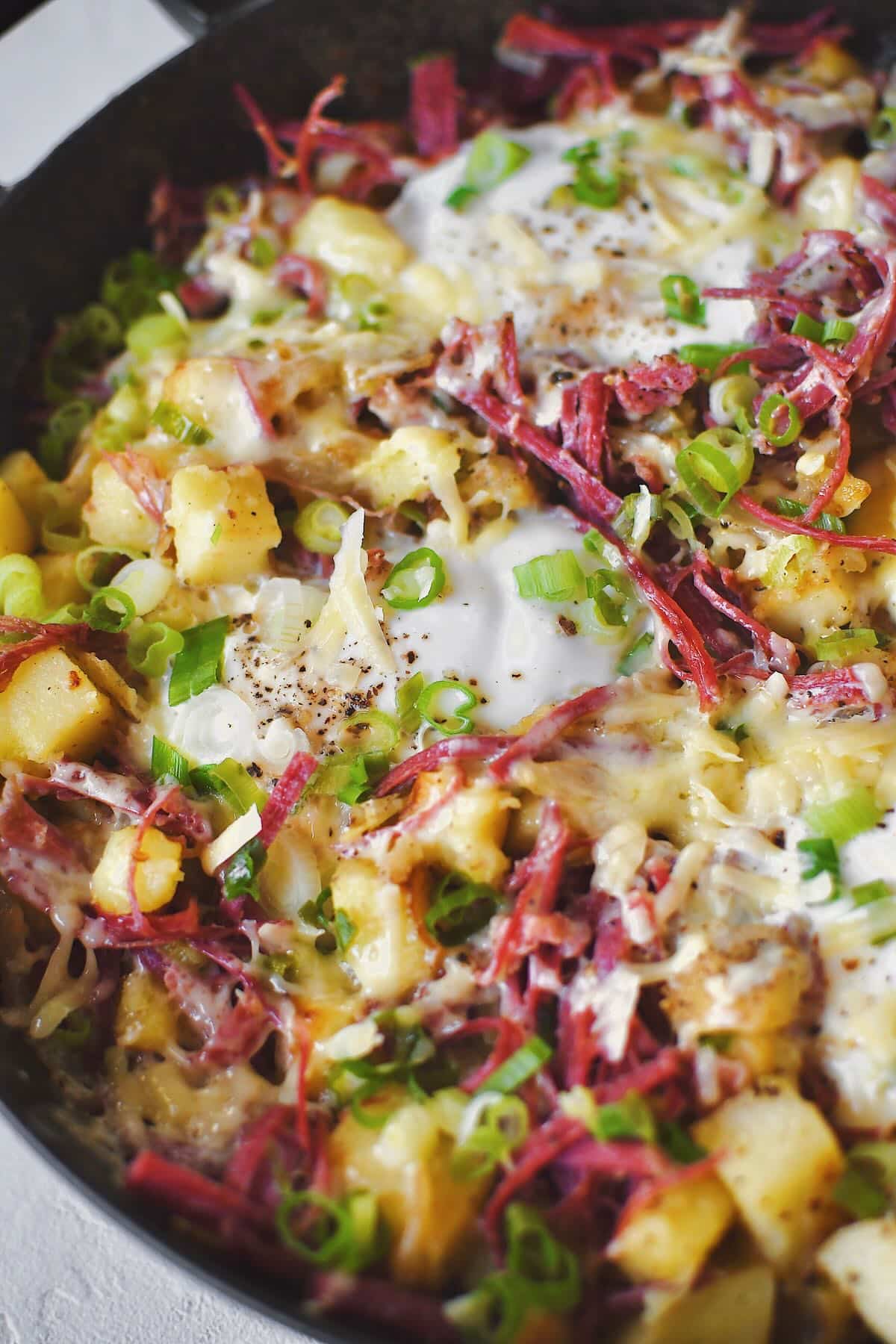 Notes & Tips
If you do not use leftover corned beef, you can slow cook or pressure cook one till tender.
I suggest slow cooking in a crock pot on low with 1 cup of water to get it started for at least 8 hours till it becomes fork tender and will shred nicely.
Pressure cook on high for 20 minutes with 1 cup of water, then slow cook on low for 2-3 hours till tender.
Substitutions
Yukon potatoes are the best for this because they are so creamy when cooked. You could use russets or even small little potatoes.
I like to stick to the Irish feel, so I use Irish butter, but you could absolutely use regular butter if that is what you have on hand.
The use of a yellow onion is pretty traditional, but you could also use a red onion, or even shallots if that is what you have around.
If you want to make this but do not have leftover, super tender corned beef, don't swap it for canned. If you make a swap, you can use deli corned beef. Get it sliced and then dice or cut it into strips and use it in place of home-cooked brisket.
A quality Irish white cheddar just makes this dish in my opinion. However, if you can't get your hands on it, use a regular white cheddar or yellow cheddar in a pinch.
The eggs are totally optional. I know some people don't prefer an egg on their hash. Leave them out, or serve with a fried or poached egg on top for those who do enjoy it.
Green onions really make this. They add a bright fresh crunch to the finished product. You could also use chives for that oniony garlic flavor.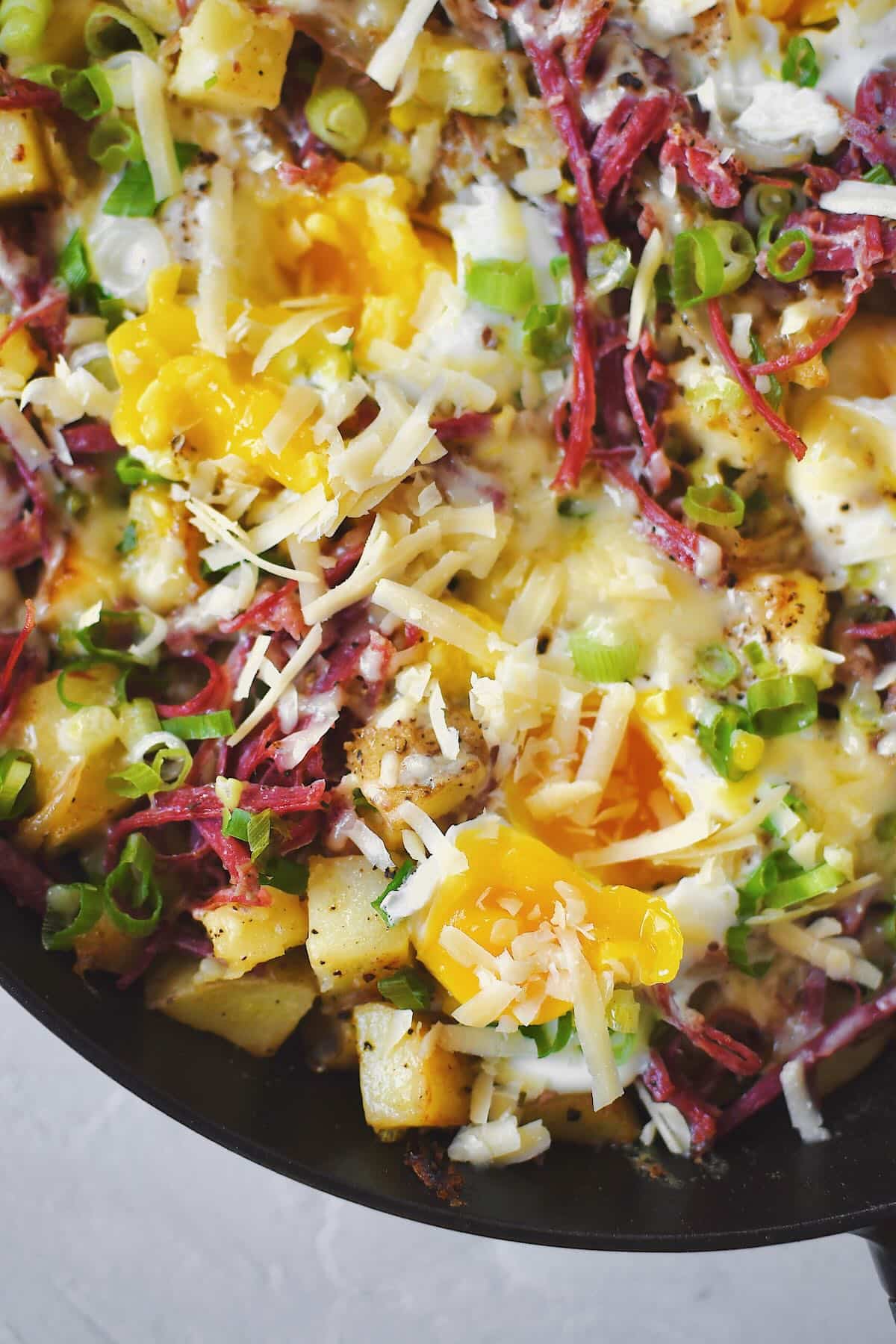 Did you make this recipe? Let me know by leaving a review or comment! And be sure to sign up for my newsletter, and follow along on Instagram, Pinterest, and Facebook!