There is a reason that Joanna avoids sharing this recipe for Twice-Baked New Potatoes in real-time on her new cooking show. Because they are 100% not worth the work! Like, AT ALL!!! She also shares the recipe in her cookbook Magnolia Table Vol. 2, but I have a better one for you, one that is WAYYYY easier, and even more tasty!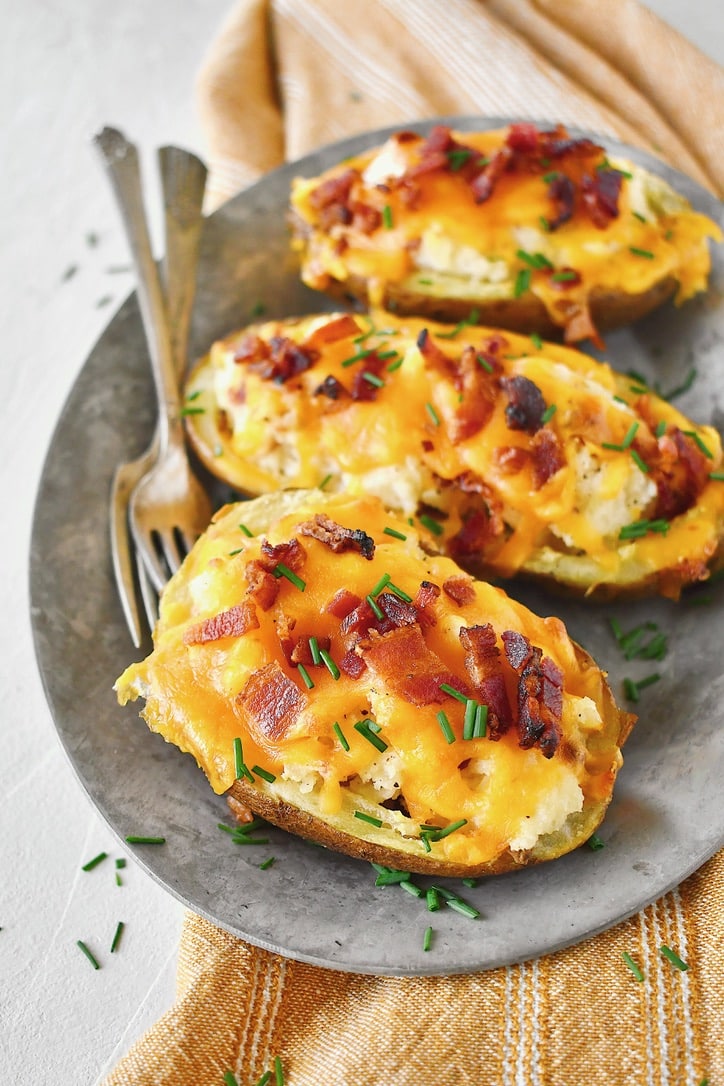 The review...
The first issue I ran into with this recipe is that I was trying something new, for the first time, and it was for Mother's Day. I have never really messed with making Twice-Baked New Potatoes before, and know I know it is for good reason. I thought it would be fun to try this, I have only ever eaten a frozen version of this, and that was MANY moons ago!
After reading the recipe, the first thing I wonder about is how these are Twice-Baked? Joanna calls for them to be boiled, scooped, and then filled and baked...does anyone else misunderstand where the Twice-Baked factor comes in?
But let's take it back to reviewing the recipe, as far as it is written, it seems simple enough. The issues come in the cooking and scooping of the potatoes. Because they are boiled first, they begin to burst at the sides, and the middle is still firm. This means when I cut them and a half and scoop them, my potatoes crumble in my hand. This doesn't make for a very happy experience!
The next issue is, the boiled potato has NO flavor, IF I ever make these again I would do it with Yukon Potatoes so that I have a buttery potato base at the very least. I even drizzled my scooped potato skins with olive oil, seasoned with salt and pepper, and roasted them for a little bit, STILL NO FLAVOR!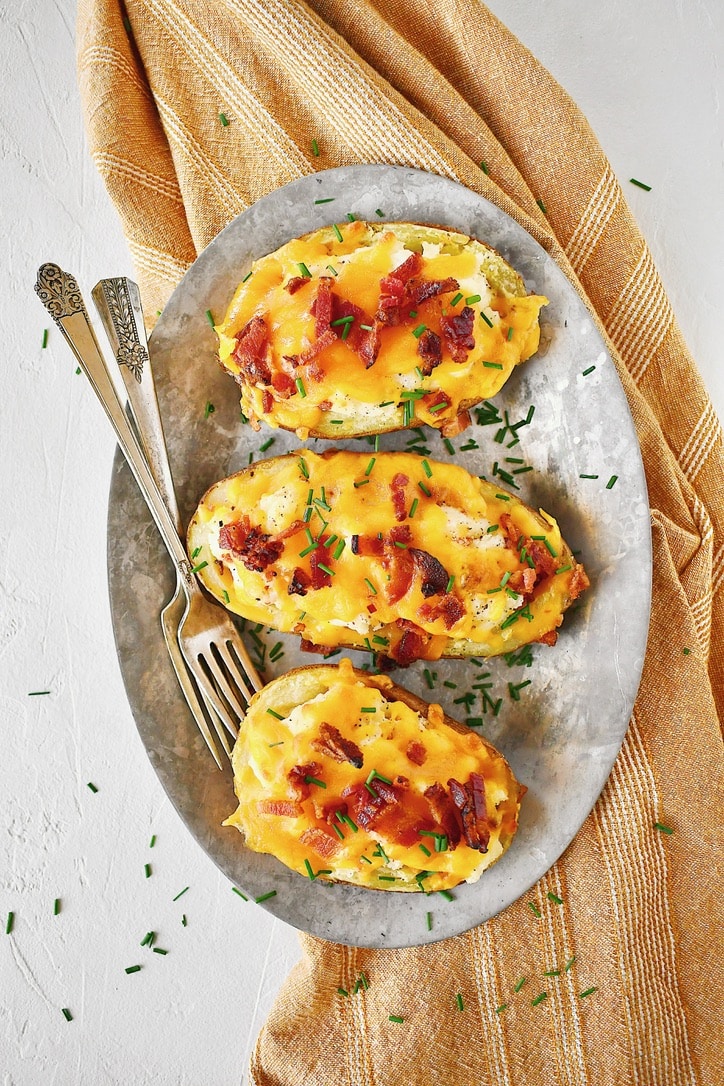 The reaction...
When it came to eating, they were slightly redeemed by the cheddar and bacon on top, but they were SUPER bland. I even over seasoned according to the recipe, and they just tasted like boiled potatoes.
In my opinion this recipe is 100% not worth your time, like, AT ALL!
If you want a much simpler and always delicious potato recipe, take a look at my recipe for Loaded Baked Potatoes Mashers, you get all the flavor that this recipe has, with a much more calculated end result!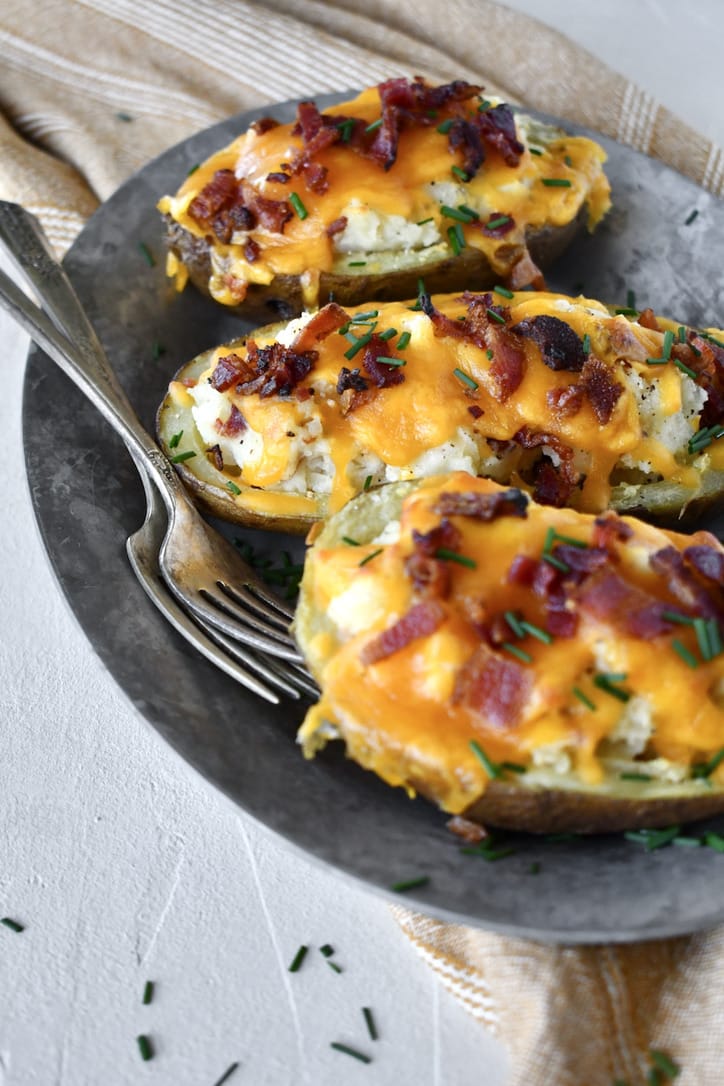 The TIPS...
Well, my first tip would be to pass on this recipe. But if you want to give them a go, here is what I learned.
These really are NOT Twice-Baked, I would much prefer to oil and season my potatoes and roast them whole until tender. This may take a while longer to do, but the end result would be true, and much tastier.
After you boil, I might even do this the day before, let them cool to COLD. This will allow the center to fully cook and get soft. This is key to the potatoes being scoopable. When I was scooping my potatoes were cracking in half and just a mess. Not what I wanted to present mom with at Mother's Day dinner.
Scrape with your spoon, don't scoop. I took the spoon and just pulled it across the potato and this resulted in less potato cracking, and I was able to get a much thinner outer edge, I learned this on my third potato, so I had two that were a mess!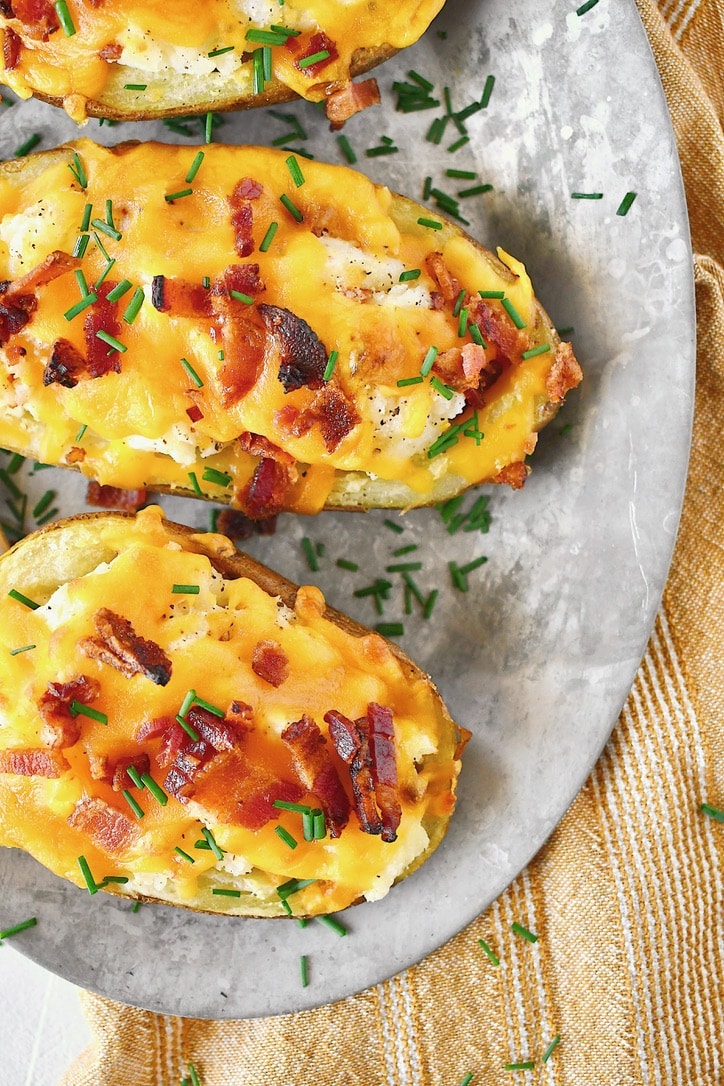 Overall, not my favorite recipe I have ever worked on. The flavor was blah, I will stick with my Loaded Mashed Potatoes from here on out!
Until next time, Happy Cooking!
Kendell
read my other reviews of Season 3 Episode 3 here...
Prosciutto-Wrapped Apples (coming soon)
Did you make this recipe? Let me know by leaving a review or comment! And be sure to sign up for my newsletter, and follow along on Instagram, Pinterest, and Facebook!