I love Corned Beef and Cabbage on St. Patricks Day, even if I learned that it isn't traditionally Irish on my visit to the emerald isle. It is however traditionally Irish-American, and regardless, I still enjoy it.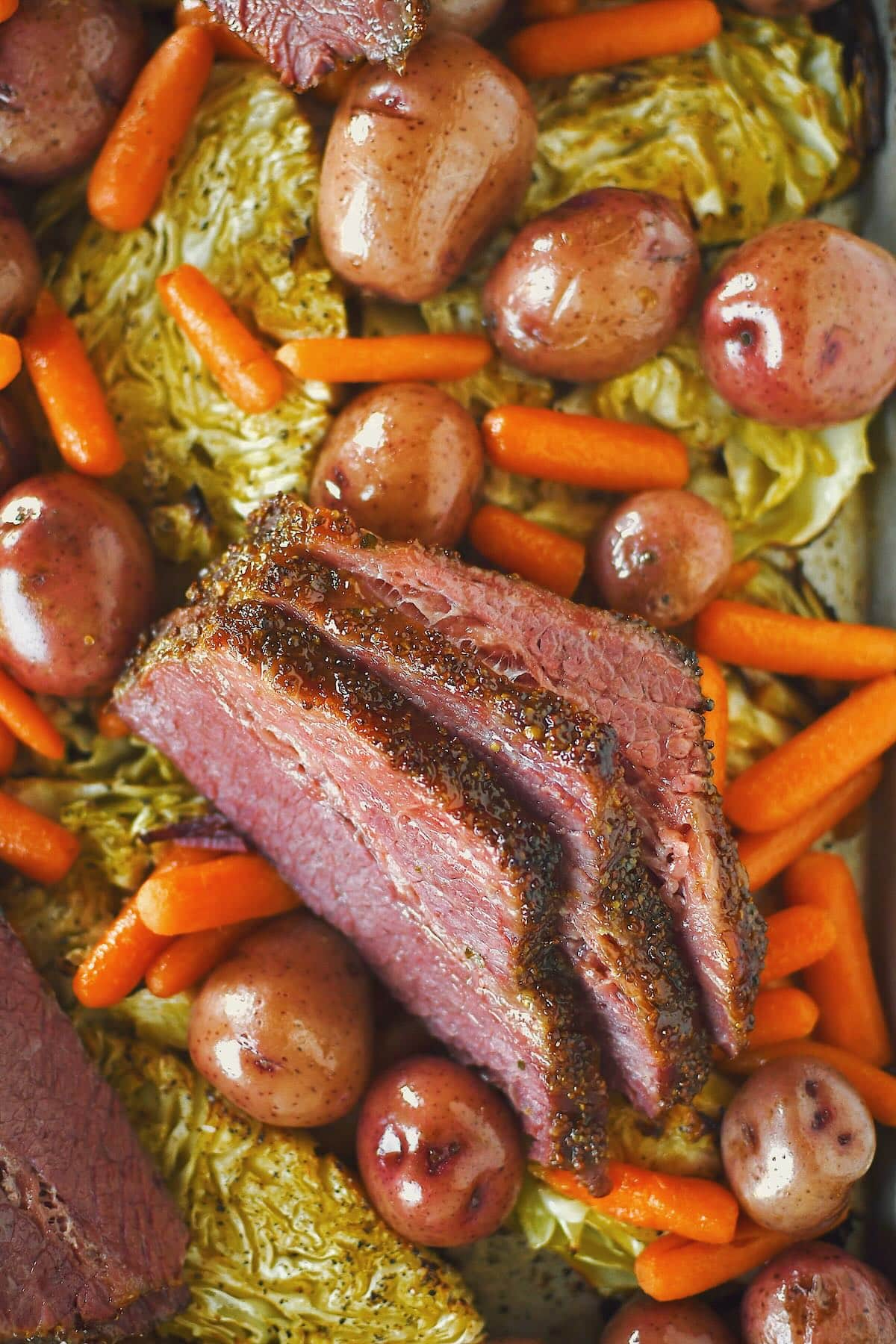 This post was first published March 12, 2020, and was last updated July 27, 2023.
I was told that Boiled Bacon and Cabbage is what is actually eaten in Ireland. That said, Irish immigrants made Corned Beef and Cabbage in the Americas after the potato famine, and we can still enjoy it today!
Jump to:
Ingredients
Corned Beef and Cabbage is a humble dish, and it requires very few ingredients to create a welcoming feast! Store-bought corned beef is a brisket that has been brined in a salt, water, sugar, and pickling spice mixture. I have learned that finishing a cooked corned beef with a glaze is AMAZING, so I mix one up with maple syrup and grainy mustard.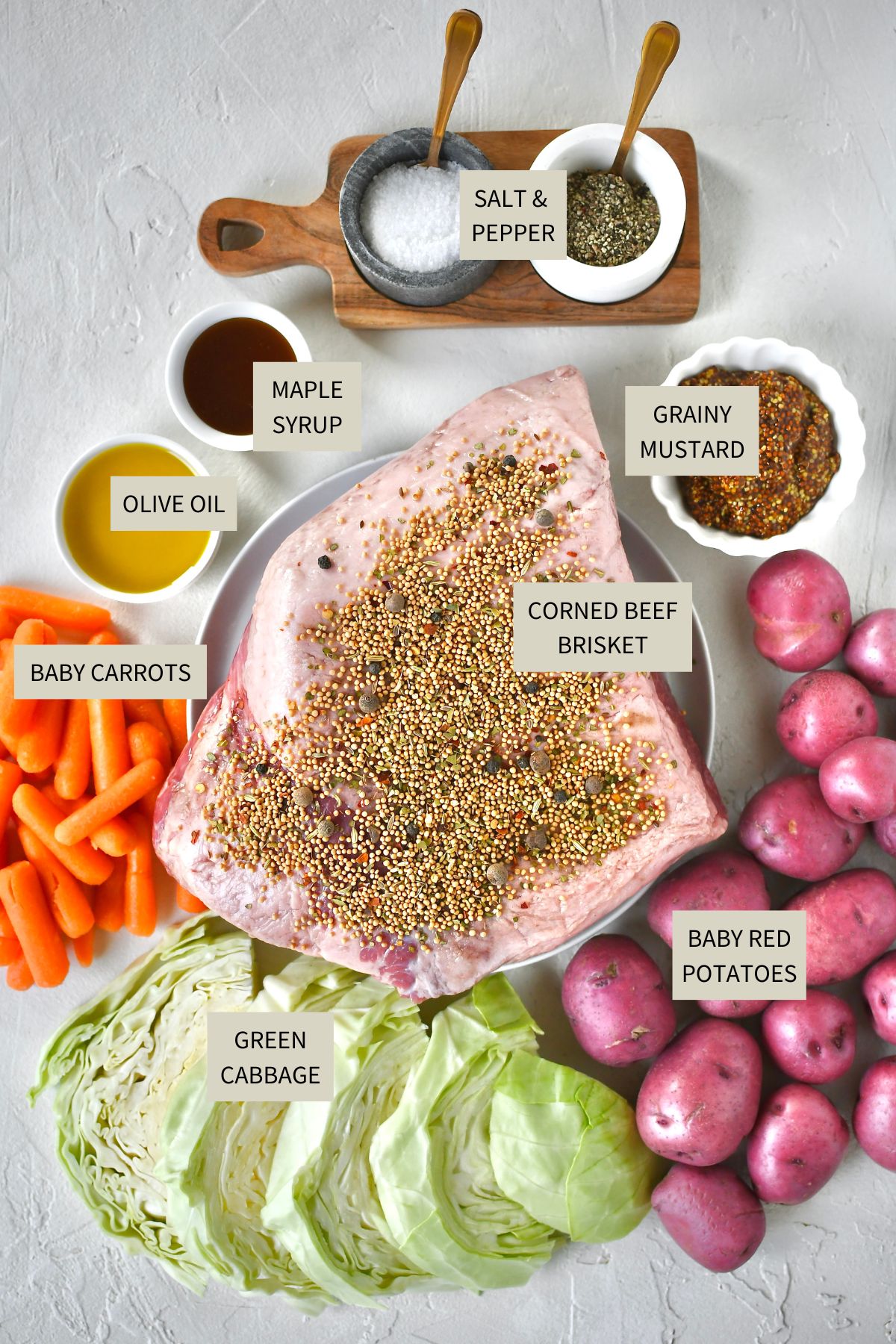 The corned beef is turned into a meal when served with cabbage, potatoes, and baby potatoes. I like to cut my cabbage into steaks and roast them as opposed to boiling or steaming them. It is much more enjoyable drizzled with olive oil with salt and pepper on it than boiled.
Use the JUMP TO RECIPE button at the top of the post, or scroll to the bottom of the post to see the full recipe card with ingredient measurements and instructions.
Method
To make much quicker work of my corned beef I like to cook it in the instant pot to get it tender first. Line the pot with a silicone rack to keep the bottom from getting dried out or burned. And if your instant pot doesn't have a non-stick bowl add 1 cup of water. Cook the brisket for 20 minutes on high pressure and then slow cook for 2 hours, or longer if you make a bigger corned beef brisket.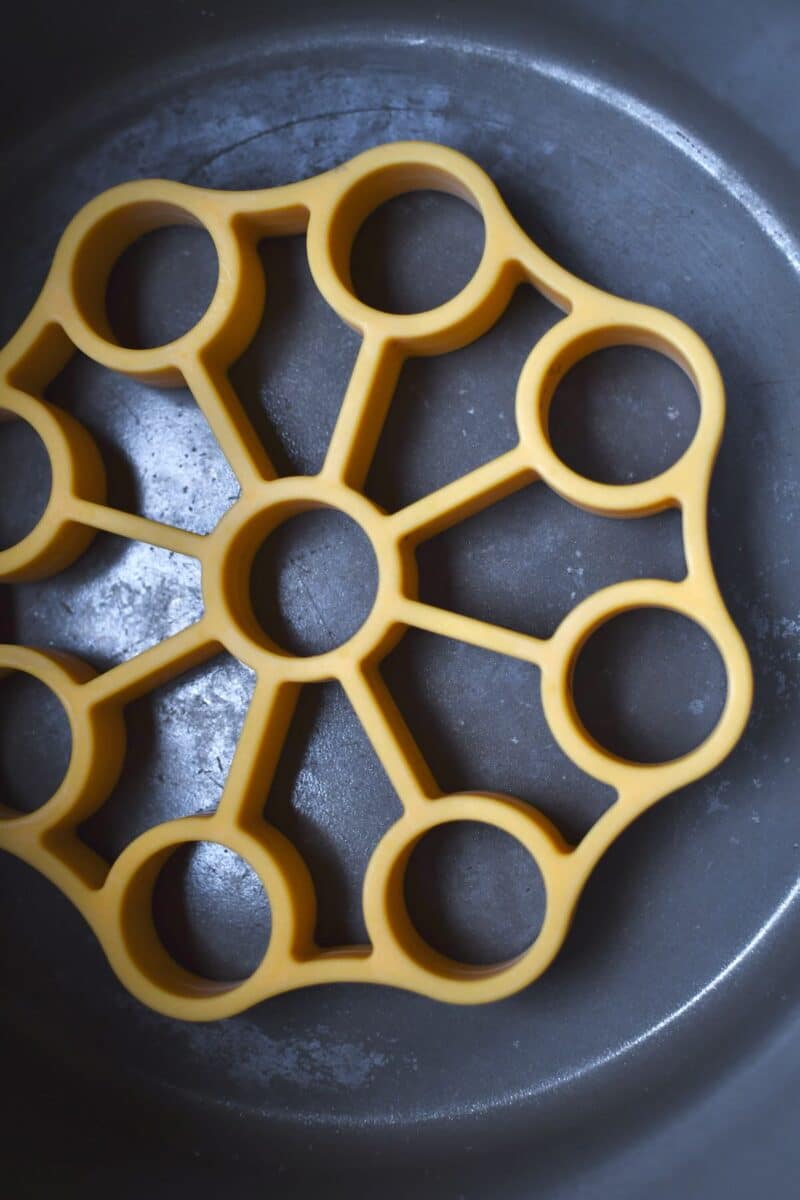 When it is done in the instant pot, I rinse off the seasoning packet mixture that I sprinkled on top and mix the honey and mustard together to make a glaze. Pour it over the cooked corned beef and finish the brisket in the oven while the cabbage steak roast. The glaze gets dark and crispy on the outside, and you may want to put some foil down so make clean-up easy, but don't get scared, the runoff burns a little, but the brisket is still ok.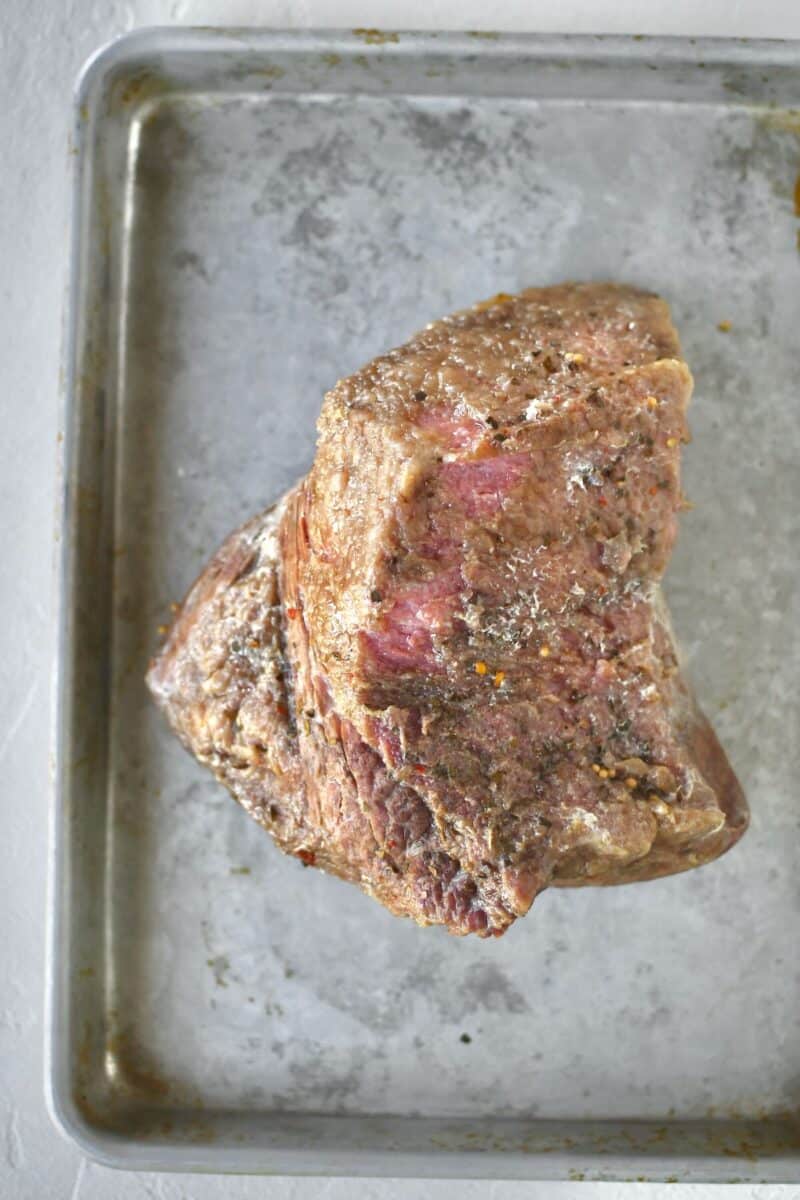 While the brisket is roasting, I cook the potatoes and carrots in the instant pot, WITH the liquid from cooking the brisket. It is super salty and delicious from all of the brine that runs out of the corned beef as it is cooked. When they are done toss them on the pan with the roasted cabbage and season them with a little salt and pepper.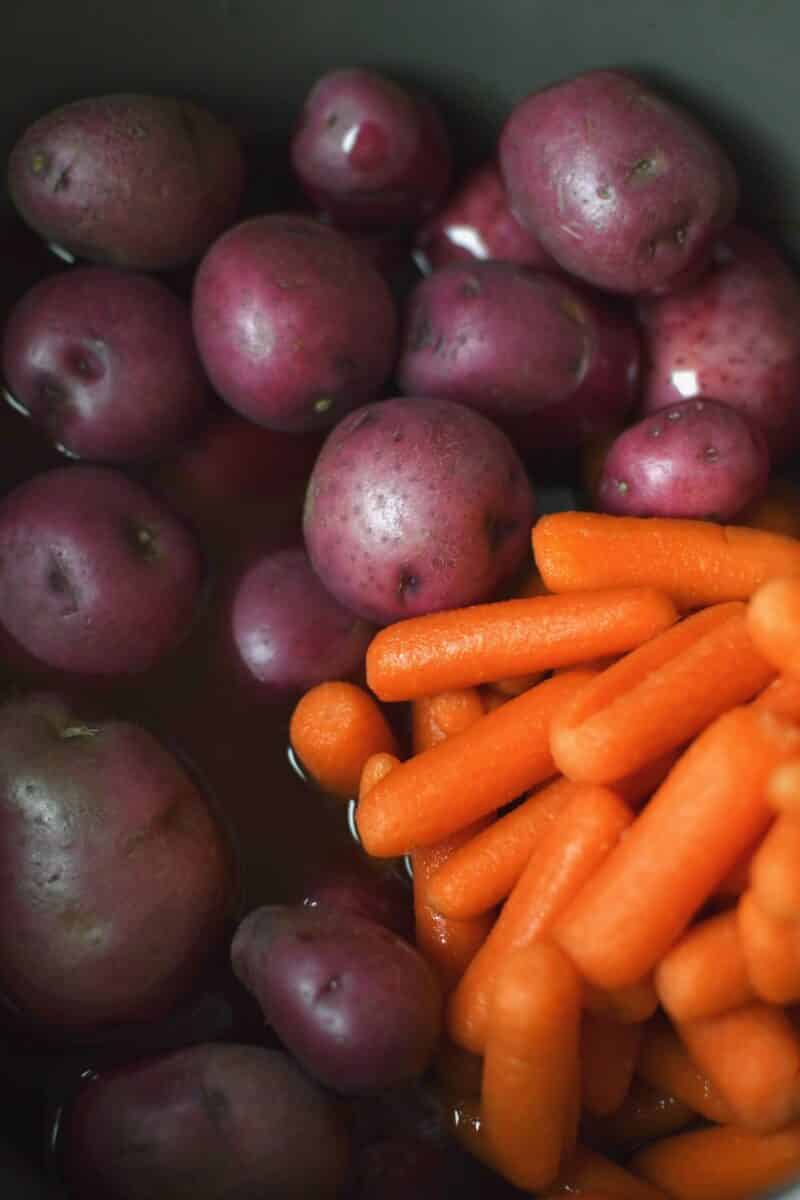 When everything is ready, slice the brisket and serve it on the sheet pan like a platter. Serve it up immediately for everyone at your St. Patricks Day festivities to enjoy.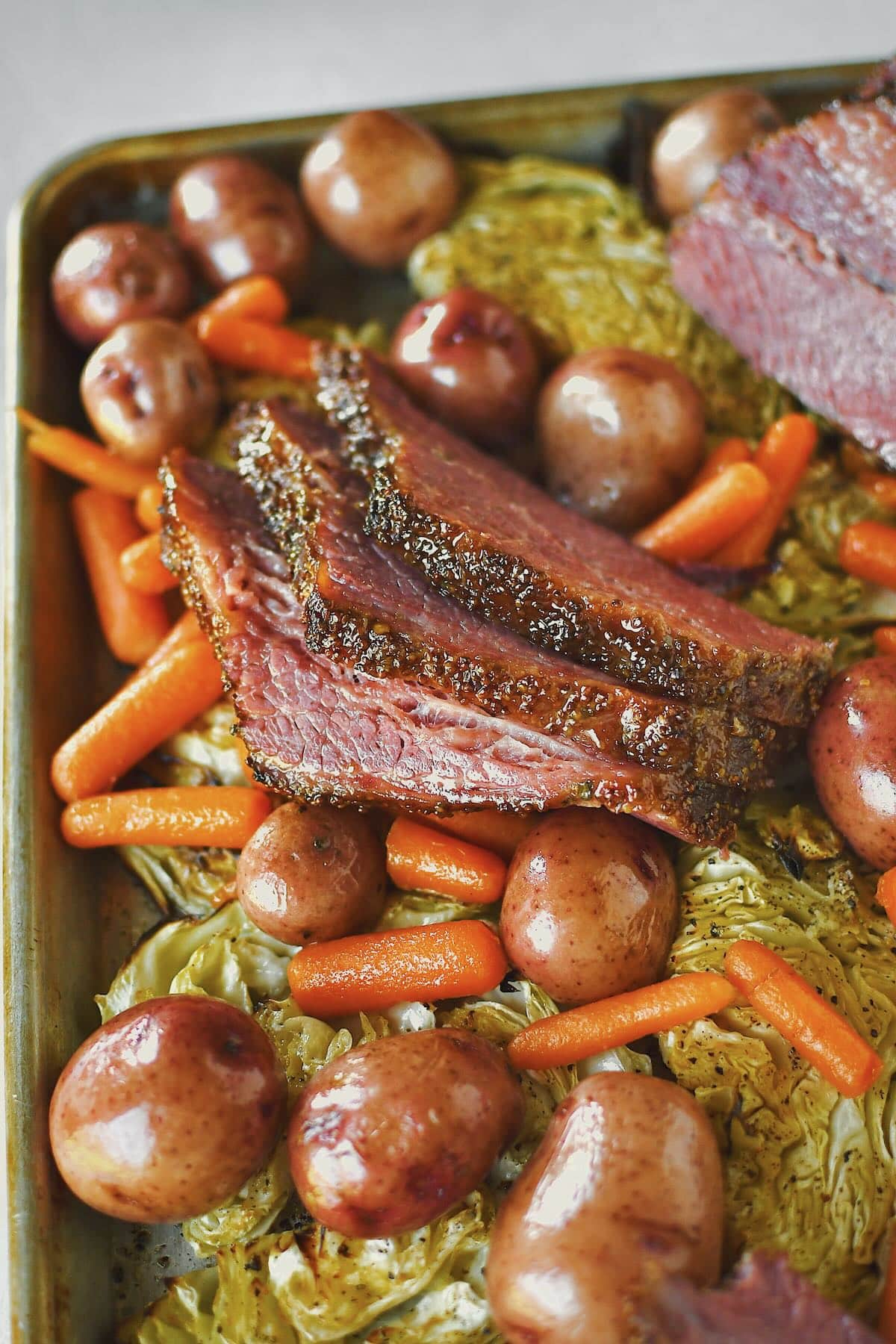 Notes & Tips
I stray a little bit from the way it has been traditionally cooked in the united states. Before I knew any better, like many, I used to make my corned beef in a crockpot and let it sit till it was nearly dead. AGAIN! I've learned to slow-cook it enough to tenderize it, then finish in the oven with a simple glaze. It comes out FANTASTIC!
While you could toss the cabbage in with the potatoes and carrots, I prefer to roast them. Then end up with a well-balanced flavor while allowing it to be left slightly crisp at the same time.
I also like this process because then I quickly steam the potatoes and carrots in the leftover juices, giving them a punch of flavor from the salty water. It really is the best way to get them tender super quick and infuse flavor at the same time.
If your instant pot has a stainless steel insert you will need to add 1 cup of water to the bottom of the pot when you cook the corned beef to prevent getting the burn notification. My pot has a non-stick insert so I haven't encountered it, but others have shared this note with me.
Substitutions
I don't always pick the right brisket, but I suggest using a flat cut for this recipe. I prefer less fat on my meat and flat is left with only a small cap on top.
In place of the red potatoes, you can also use fingerling, or a blend of red, Yukon, and blue if you like. Don't fret about the potatoes, you can use any type, I just tend to lean toward little ones.
I use baby carrots because they cook super quickly, but you can use larger carrots cut up too. Just cut them into about the size of baby carrots and you'll be all good.
Green cabbage is most traditional for this recipe, but you can swap it for napa, or even bok choy for a fusion twist. Red cabbage could also be used and is equally great roasted.
I like to use a French grainy mustard, you could also use creole mustard. They are nearly the same and either will work.
The only swap I would suggest for the honey is maple syrup. Just be sure to use the real thing. They have a similar consistency and are a good swap.
The salt, pepper, and oil are mainly for the cabbage, you could also use some butter if you like. Also, be sure to salt and pepper the potatoes and carrots after the steam in the instant pot.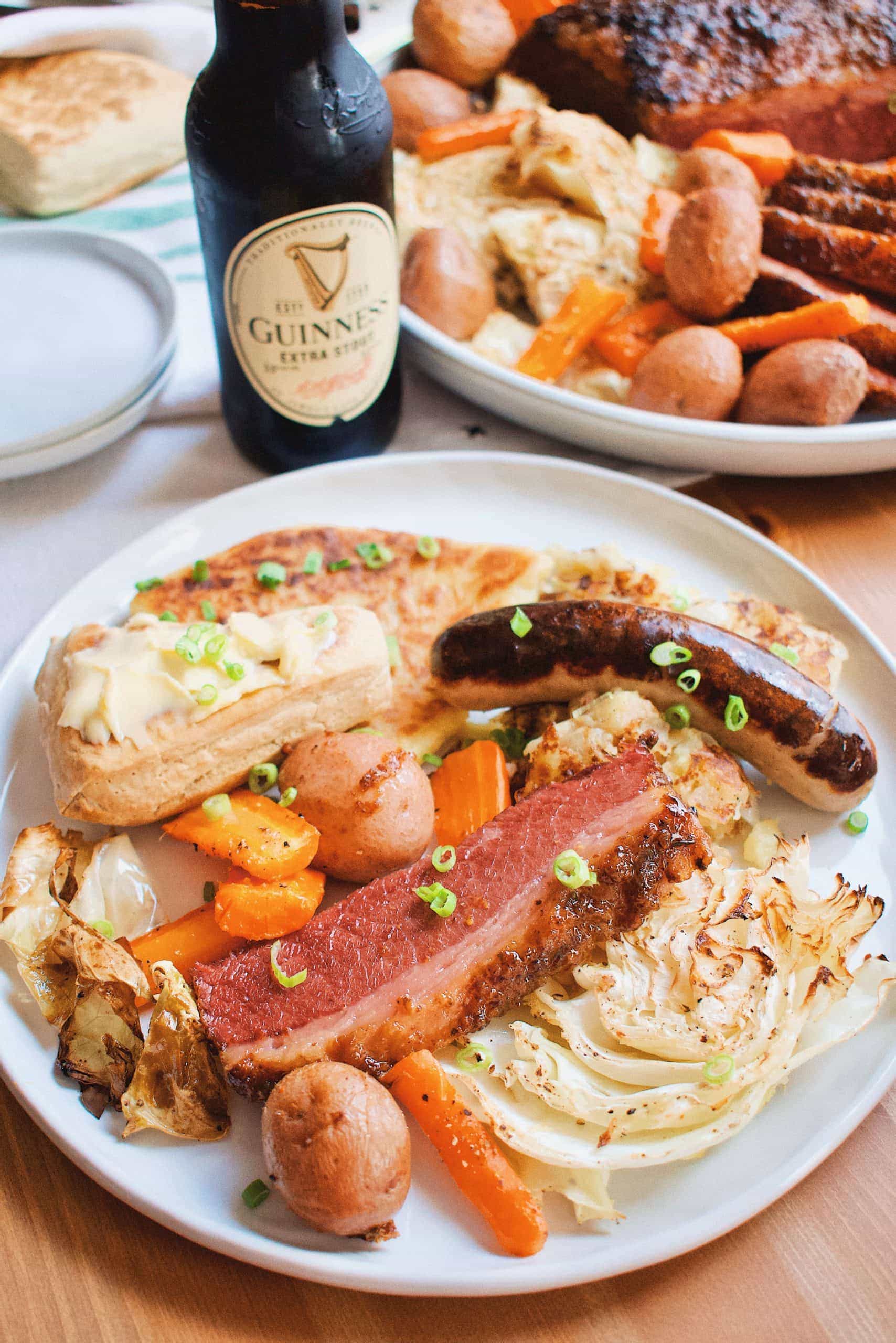 Did you make this recipe? Let me know by leaving a review or comment! And be sure to sign up for my newsletter, and follow along on Instagram, Pinterest, and Facebook!