Since I visited Ireland for my 30th birthday it has held an extra special place in my heart. I absolutely fell in love with the country and have been obsessed with the food and culture ever since. I look forward to sharing a few more recipes soon, but let's start with this classic Irish Shortbread that is ready to be served with a cup of tea or an Irish coffee.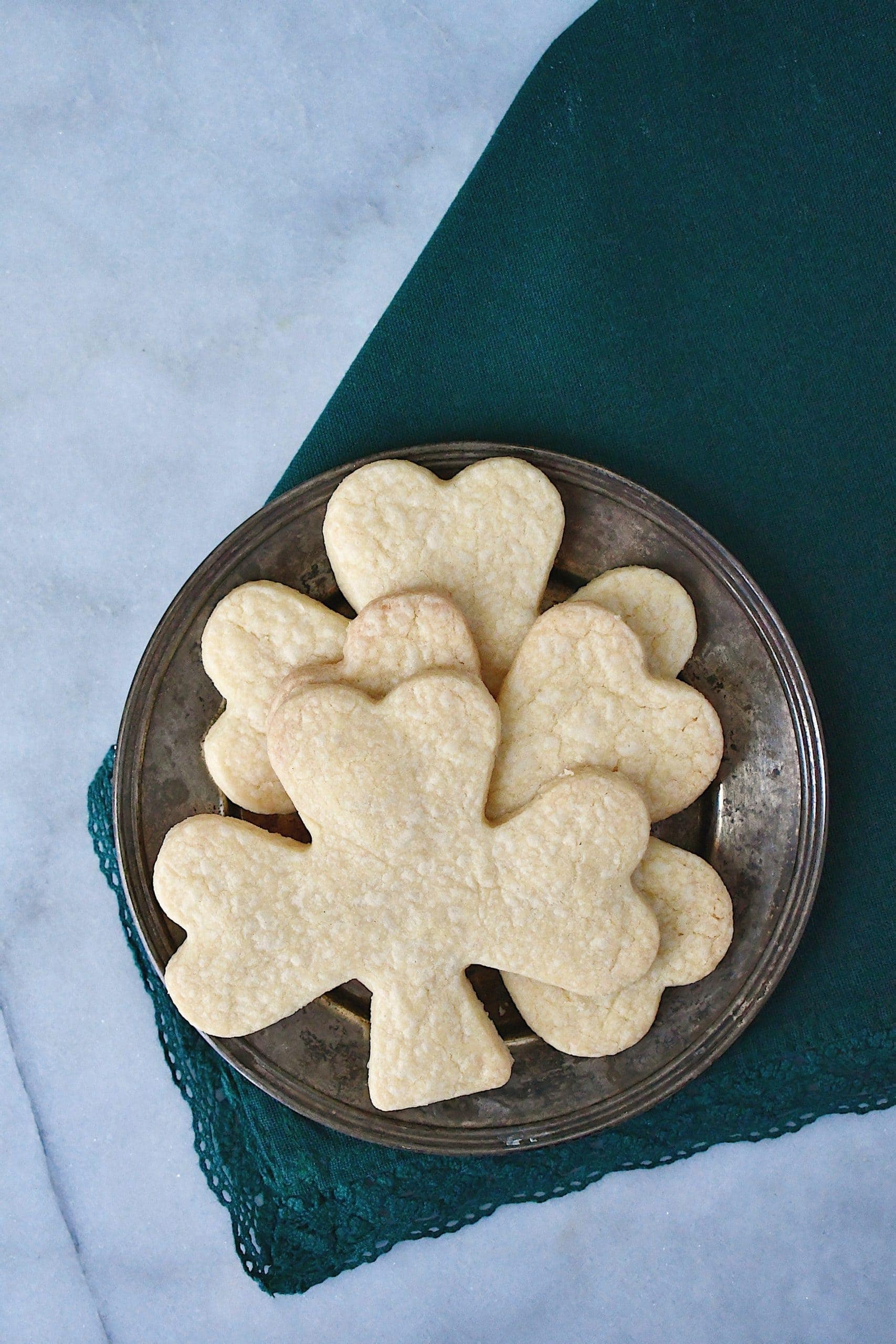 What makes it "Irish" Shortbread?
The one true ingredient that makes is a true Irish Shortbread is the BUTTER! Irish butter has a slightly higher fat content, and that is what makes all the difference. While American butter contains just 80 percent butterfat, European butter has been churned for a longer period of time, giving it 82 percent butterfat.
This 2% higher butterfat gives the pastry a richer texture. By having more fat and less water it will also prolong the crispness of the shortbread or any pastry you apply it to. This makes Irish butter perfect for pie crusts and cookies alike.
One can only assume that this butter would help you achieve a Mary Berry approved "No soggy bottoms". And I am happy to report that these cookies, even 2 weeks after being baked, retained their signature crunch. I liked this because I like to make a nice big batch that I can keep around for my morning coffee.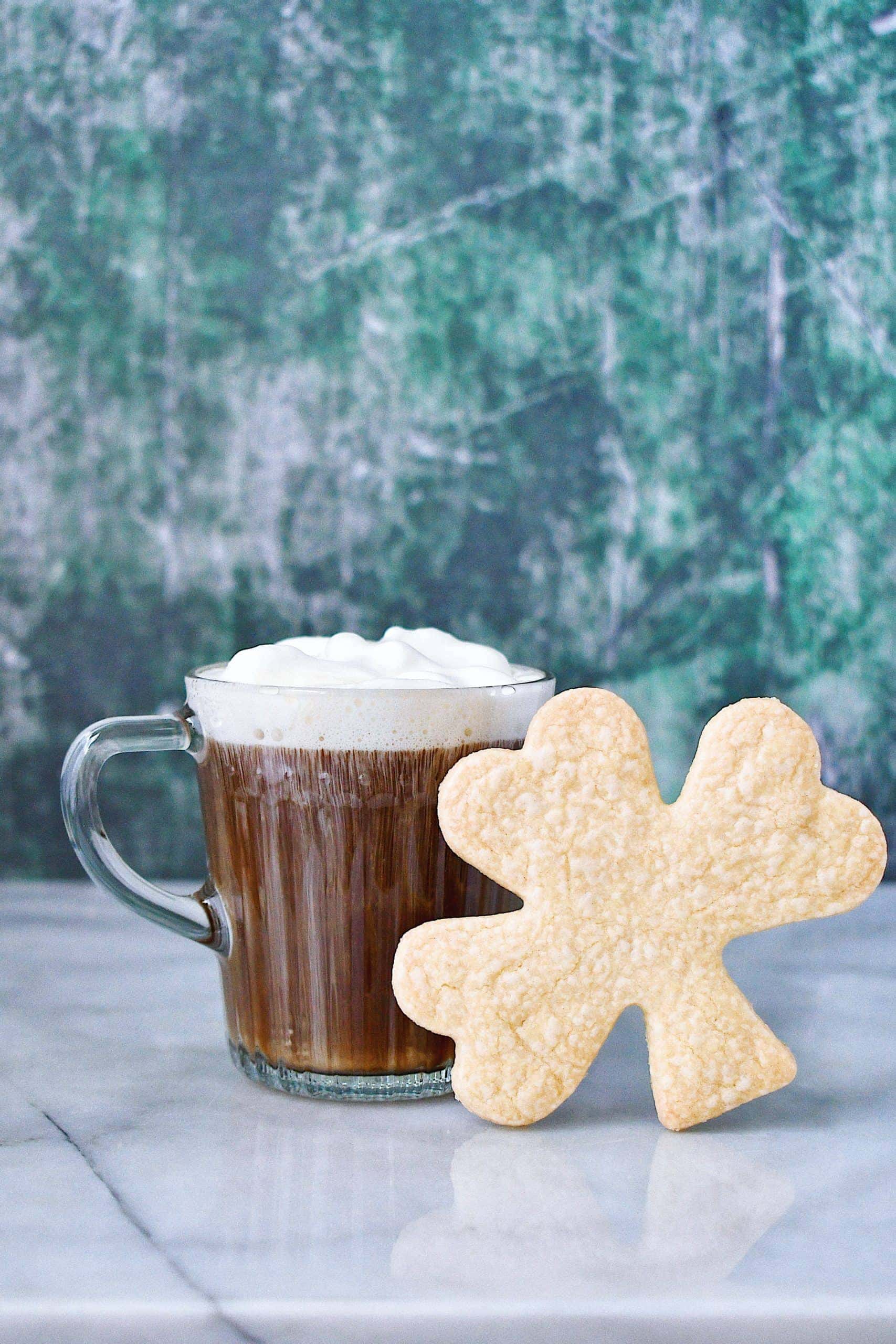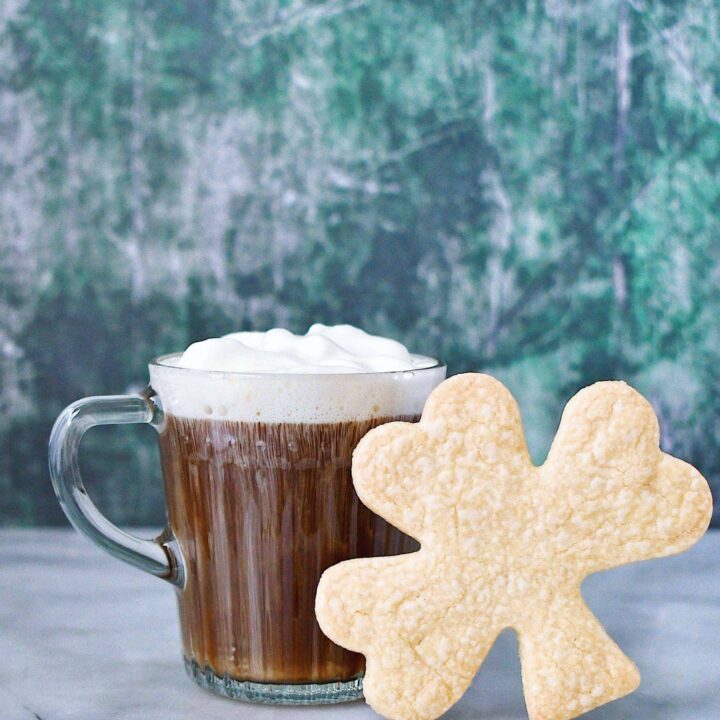 Irish Shortbread Cookies
This is the quintessential Irish shortbread. Be sure to use Irish butter when making them for the perfect crisp and crunch.
Ingredients
16 tablespoons Irish Butter, very soft, not melted
1 teaspoon Vanilla Extract
½ cup Granulated Sugar
1 ¾ cup All-Purpose Flour
¼ cup Corn Starch
Instructions
Line two baking sheets with liners or baking parchment.
In the bowl of an electric stand mixer fitted with the paddle attachment, blend the butter and vanilla until smooth. Add the sugar and blend until combined and the butter begins to lighten just a little bit.
Add the flour and corn starch and blend just until a dough forms. It will look a bit like a sugar cookie dough, but will be soft to handle and not sticky.
Drop the dough onto the counter and split into two pieces.
Lightly flour your surface and rolling pin and roll one half of the dough out to about ¼ inch thick. The dough will be slightly sticky as it gets worked, so reapply flour as needed so the cookies don't stick when you stamp them out.
Cut into shamrocks or your favorite shape and place onto your prepared baking sheets.
Place the cookies in the fridge or freezer for a minimum of one hour up to 12 hours before baking.
When it is time to bake, preheat the oven to 350 degrees and remove the cookies from chilling.
Bake for 14-16 minutes or until crisp, but not taking on color. They should remain the bright yellow color that the butter gives them.
Let the cookies cool on the pan for about 5 minutes before removing to a wire rack to cool completely.
Cookies will hold in an airtight container up to 2 weeks, if they last that long!
Nutrition Information:
Serving Size:

1 grams
Amount Per Serving:
Unsaturated Fat:

0g
Some of my Irish Favorites!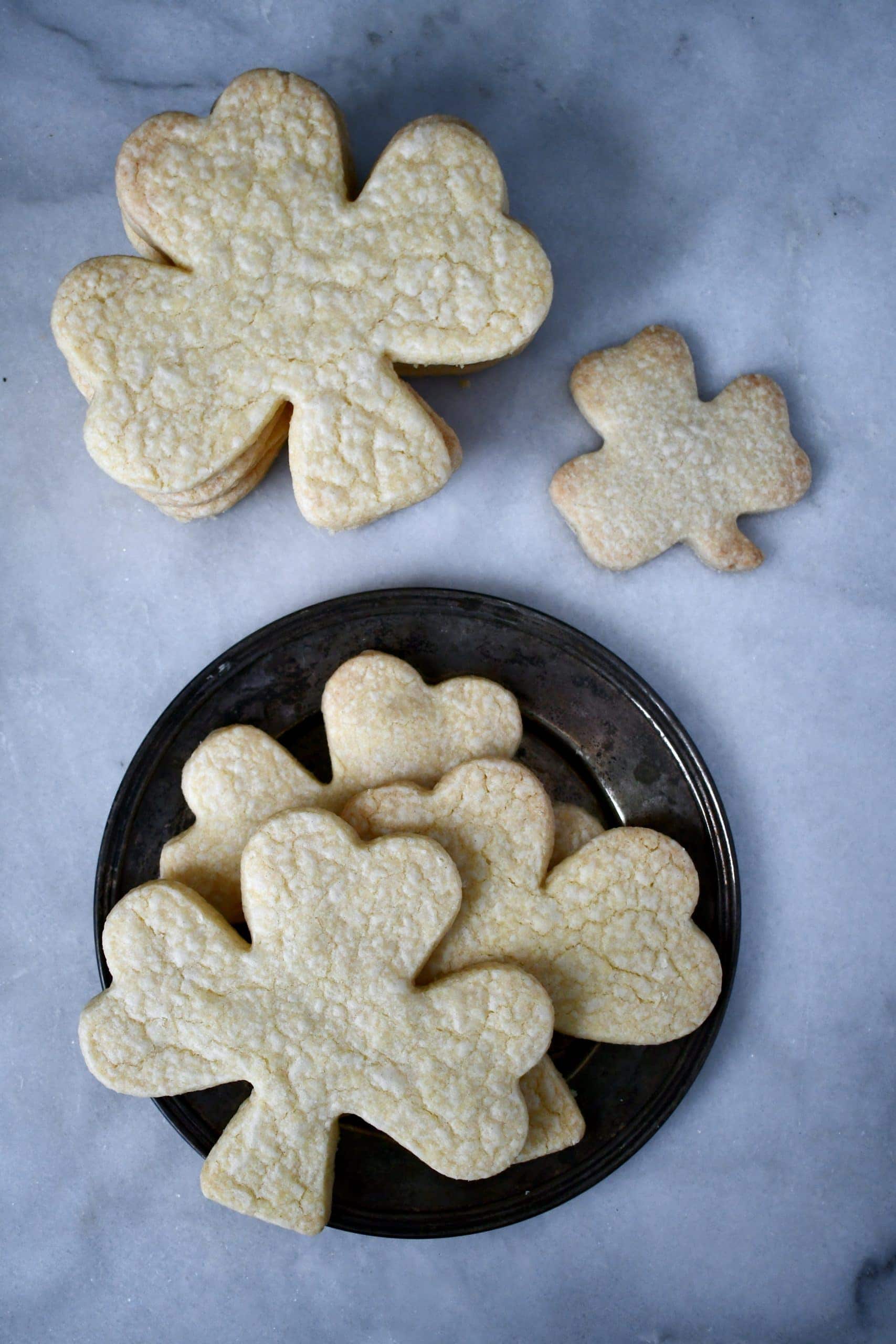 If you make this recipe, please let me know by leaving a review at the bottom of this page!
And make sure to sign up for my newsletter and follow along on Instagram, Pinterest, and Facebook for more KendellKreations!
MY LATEST RECIPES!
Get my NEW e-Cookbook here!! ⬇️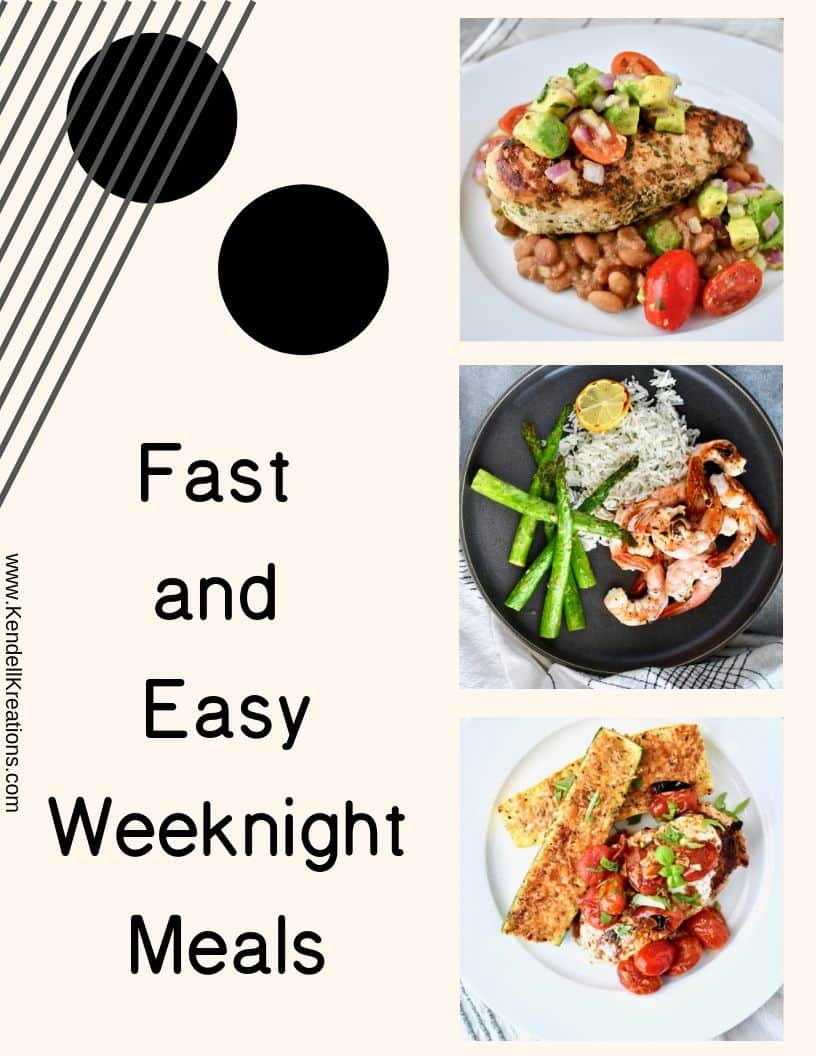 MY FAVORITE KITCHEN TOOLS!
Here are a few links to some of my favorite kitchen tools! You get a car, YOu get a car, YOU ALL GET A CAR…in my best Oprah voice
These Rösle Silicone Tongs are a little pricey but they will last you the rest of your life and are the softest in your hand. This is important for someone like m that cooks so much. It reduces strain, I have 4 sets in my kitchen!
These are my FAVE Nordic Ware Sheet Pans, every kitchen should have at least 2 sets of these! I think I have at least 4 of each of these.
This is my favorite pressure cooker, the Fagor is the same concept as the "Instant Pot" but easier to use in my opinion, if you don't have one you NEED one, it will be your best friend in the kitchen!
A sharp knife is the most important tool in the kitchen, these Japanese steel "Shun" knives are my favorite! And this is a great starter set to build on. Once you try them you will be in love so use this as a foundation you can build on for years to come.
This Scanpan 11″ skillet is just the right size for almost anything you will need to cook and my best friend and a real workhorse in my kitchen, it's also a great deal at $99. Scanpan is the best in the world for healthy cooking. It is coated with a proprietary ceramic-titanium coating that is durable while allowing you to use fewer fats and oils when cooking. It is a coating only they use. I could talk all day about my love for these pans, message me if you want more info. Here are some other sizes that are available if you are looking to outfit your kitchen with some new goodies. 8″ & 10″ Skillet set or 8″ Skillet, I still need this one for my kitchen Also, I don't really know how to cook small so the 12.5″ is my other fave!
This giant vat of olive oil is my favorite, I decant it into a smaller bottle for my counter. Or put this spigot on top of a wine bottle!
My favorite baking dish that is so easy to clean even burnt on cheese slides right off!
This Tovolo jar scraper has to be my single favorite kitchen tool, it is definitely the most used tool in my kitchen. If you are NOT a gadget person, this is the only necessity I say is a MUST beyond the wooden spoon.
A great wood spoon is essential, this Olive Wood one is my favorite, I have more than I can count. But can you really ever have too many?
A food scale can be a very important tool in your kitchen, this one is the one I use every day!
If you love Joanna Gaines as much as I do then the 'Magnolia Table Cookbook' is a must in your kitchen, get a copy HERE!