This recipe for Sous Vide Pork Chops is great for a couple or a crowd. What is great is you can prep them and forget about it. The cooking method of sous vide, means that the pork chops are cooked in water after being sealed in a bag. You set the water temp to the final cooking temperature, which means the chops can stay in the water and not overcook for hours!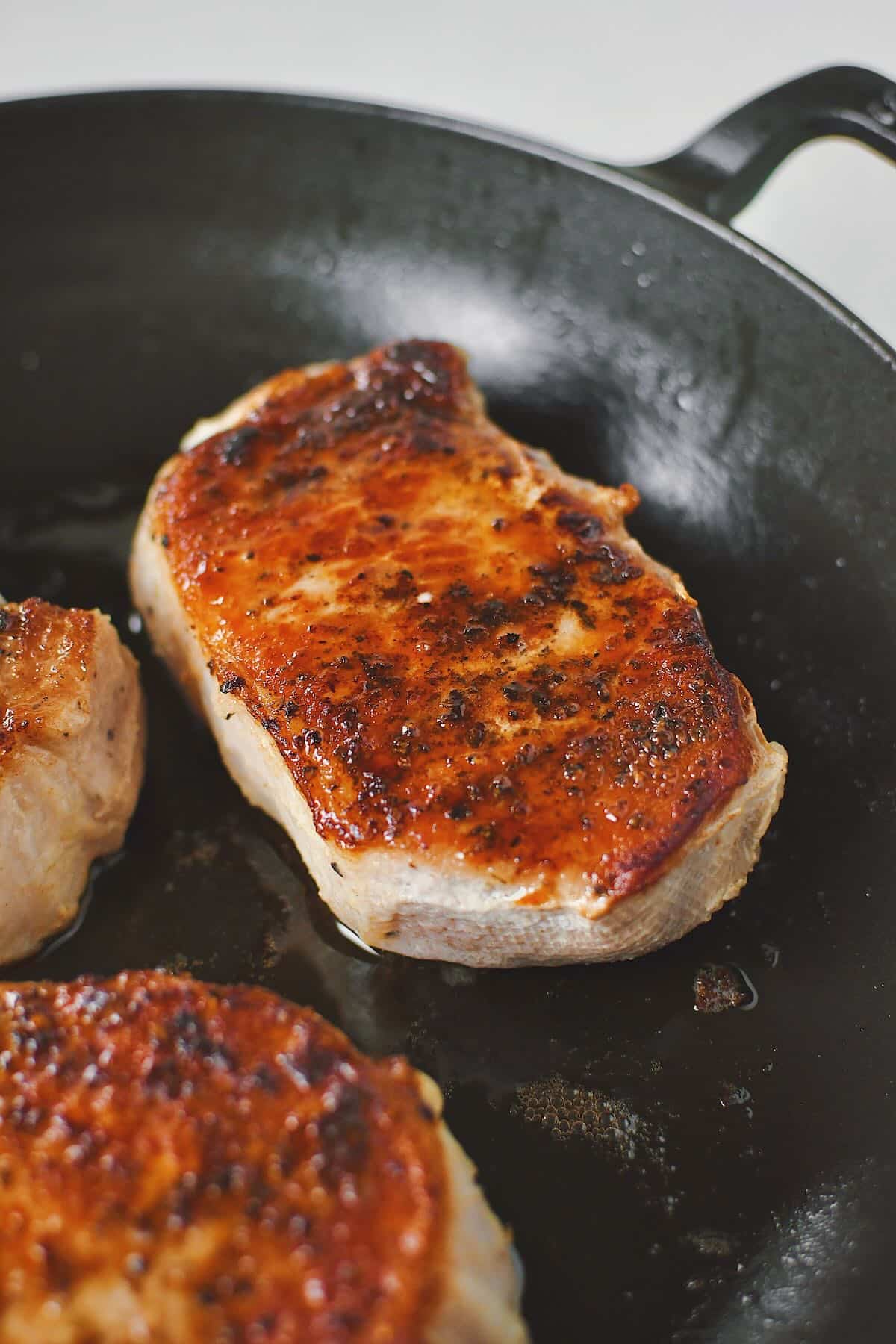 And while it does take a few hours to cook through, this slow cooking process infuses flavor the whole time it cooks, as well as yields a wonderfully tender end product. The final step after cooking in the sous vide, is to perform a process called a reverse sear, which is cooking the meat over high heat just till the outside crisps up. This can be done in a pan or with a torch.
Jump to:
Ingredients
When it comes to the pork chops, I like to buy a large pork loin at Costco and cut them myself, because I like an extra thick chop. I cut them myself to 2 inches thick. Then aside from the butter, or olive oil if you are dairy-free, everything else is pretty much negotiable.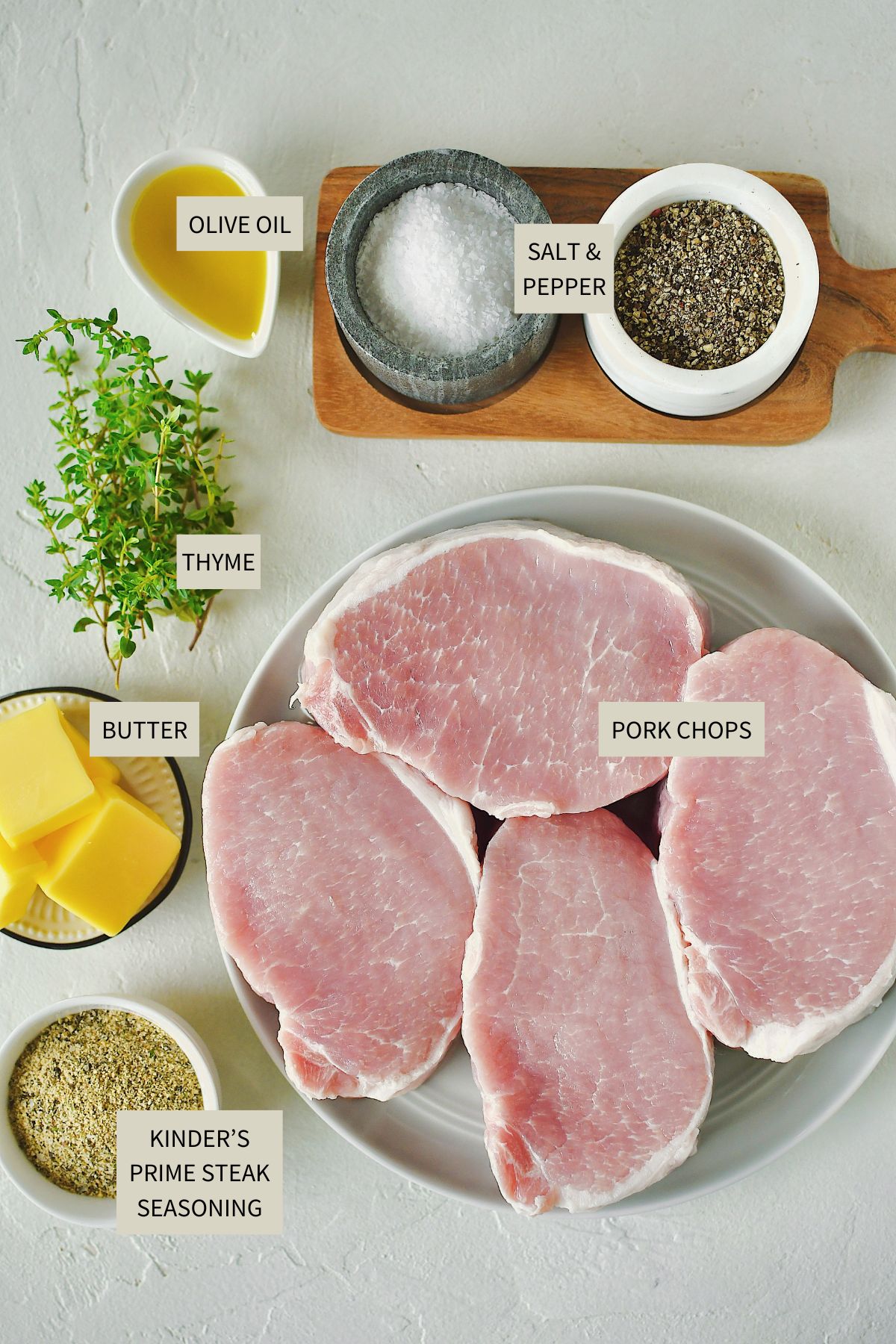 And while I do think you absolutely need the salt and pepper, you could also swap that for a seasoning blend that you love. I had thyme growing in my garden so I used that, but the herbs could be anything you have or love. Rosemary or Tarragon would also be fantastic!
Use the JUMP TO RECIPE button at the top of the post, or scroll to the bottom of the post to see the full recipe card with ingredient measurements and instructions.
What you need to Sous Vide
If you are already a fan of this cooking method, you don't need too many pieces of equipment to cook Sous Vide.
A vacuum sealer is great if you plan to do this often. While you can use a zip-top bag and squeeze all the air out, a vacuum-sealed bag is a little tougher for when you get to higher temperatures.
The one piece of equipment that is a must for this cooking method is an immersion circulator. It is what performs the method of sous vide by creating a consent temperature of water for your Sous Vide Pork Chops to cook in. Some instant pots also have the function of sous vide.
If you plan to really get into this and do it often, having a dedicated container with a lid with a space for the circulator to go in is very helpful. You can also use a large pot.
Method
First, season the chops on both sides with salt and pepper, and then I like to also add a sprinkle of my favorite seasoning blend too. To finish prepping the chops, add a tablespoon of butter on top of each and a sprig of thyme.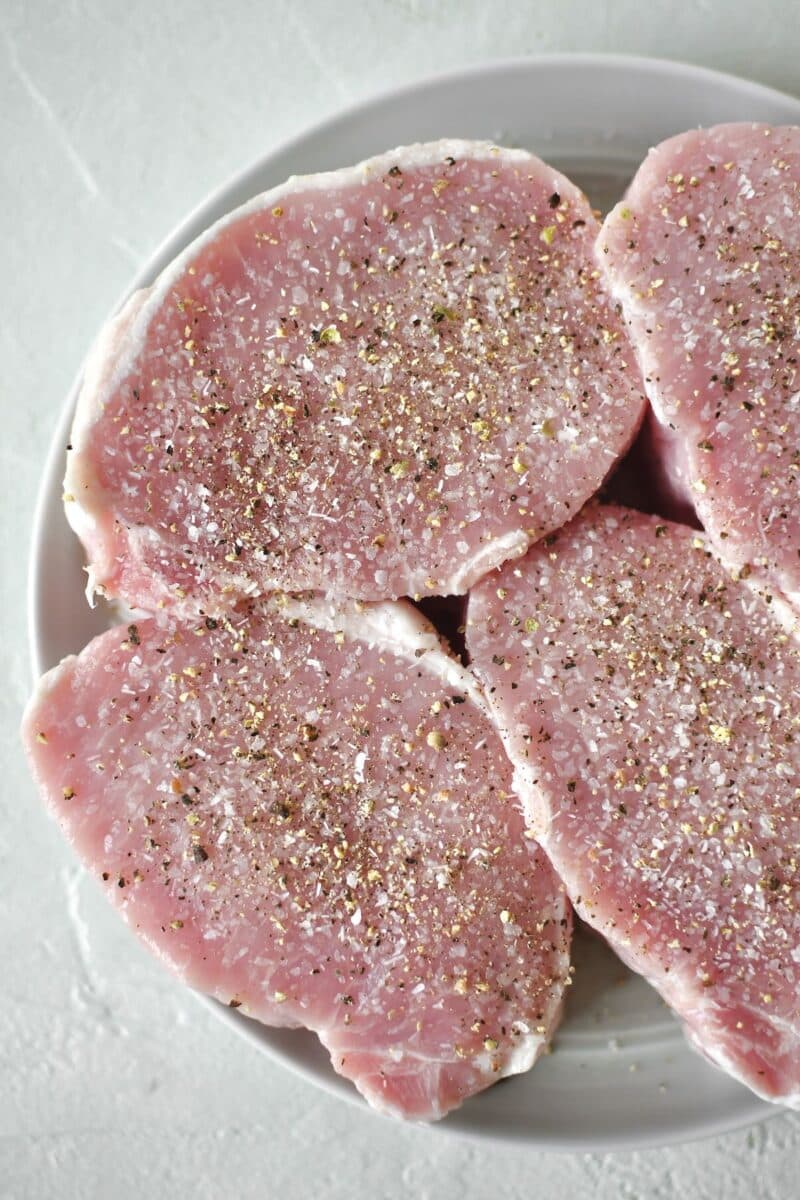 Then place the chops, 2 each in a vacuum seal bag and process them to remove the air. Preheat your immersion circulator in a pot or container of water with the sous vide machine set to 145˚F. When it has reached 145˚F submerge the bags, ensuring the meat is fully under water, and let it cook for at least 2 hours, up to 4 hours.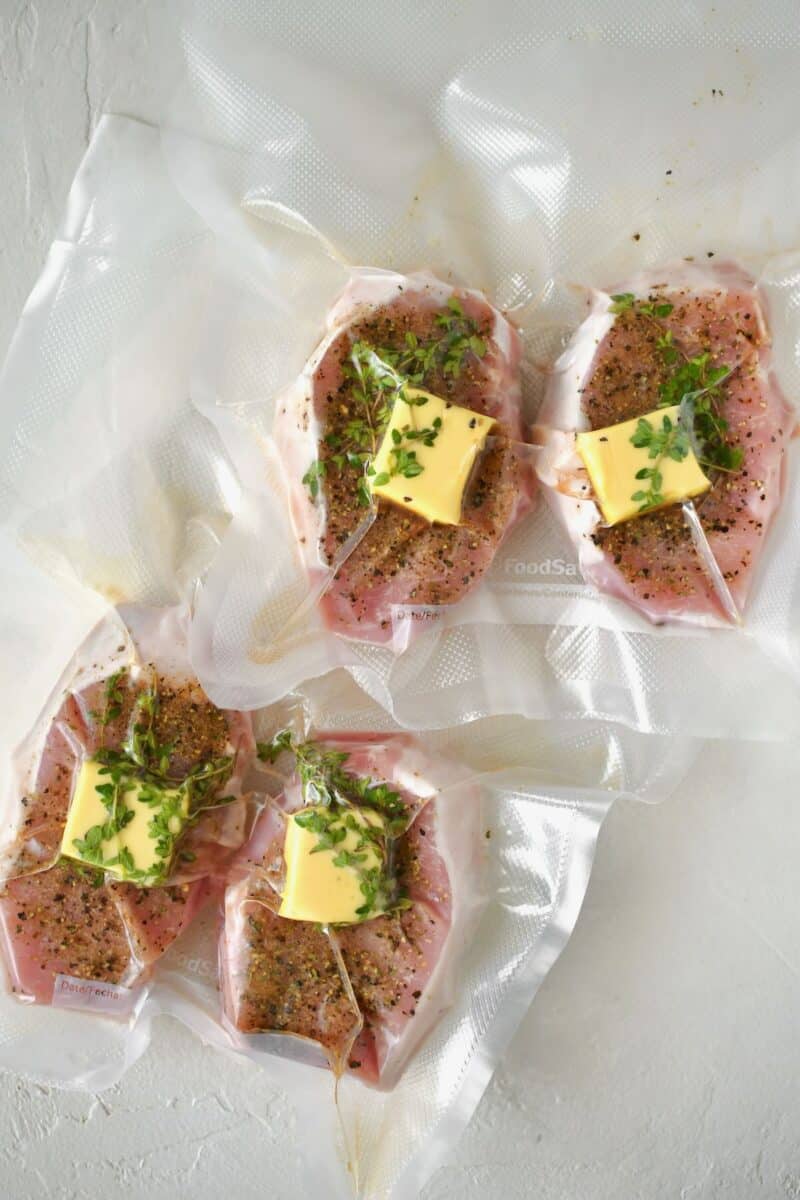 When the pork chops are done in the sous vide, they need to cook in there for a minimum of 2 hours, up to 4, then remove them from the bags and leave the herb sprigs behind. Now heat a cast iron skillet over medium-high heat till it begins to smoke and place the chops in the hot pan.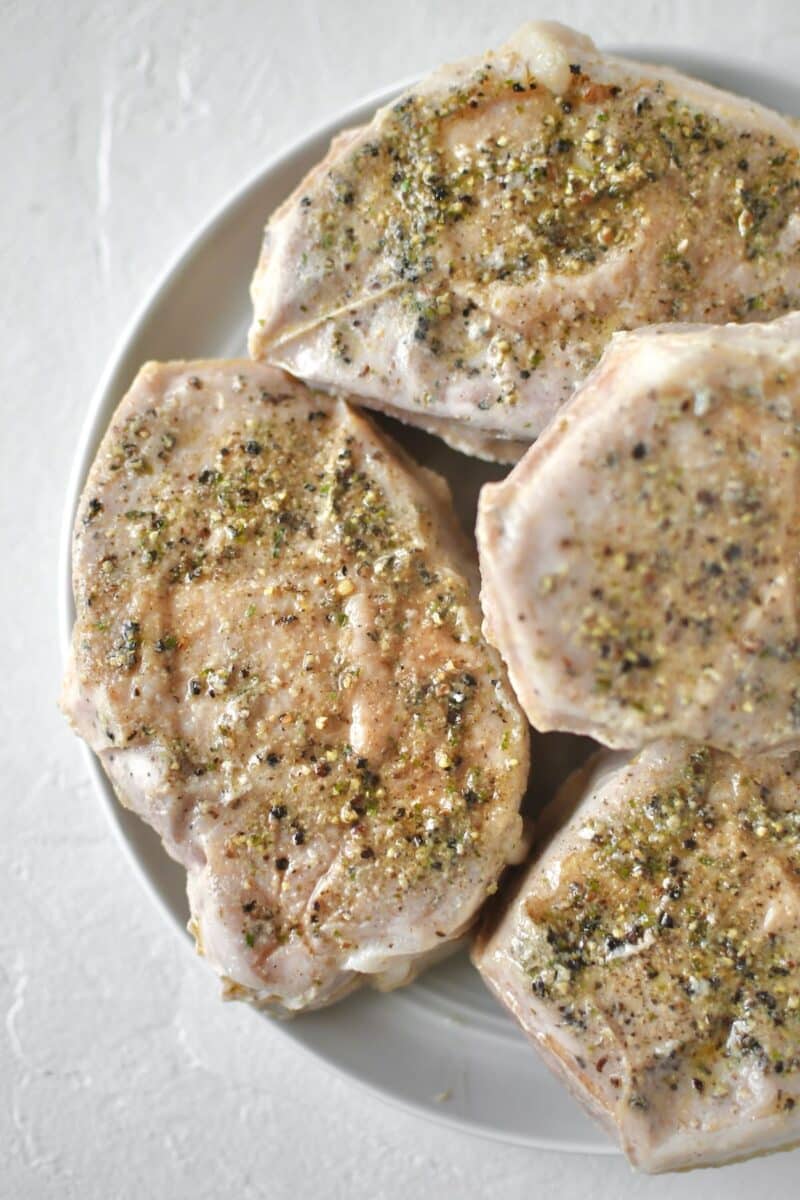 Cook the chops for as little time as possible, but long enough, over HIGH heat, to get a dark crisp sear on at least one side. The second side should be browned but doesn't have to cook as long as the first side so that it doesn't overcook your beautifully cooked Sous Vide Pork Chops.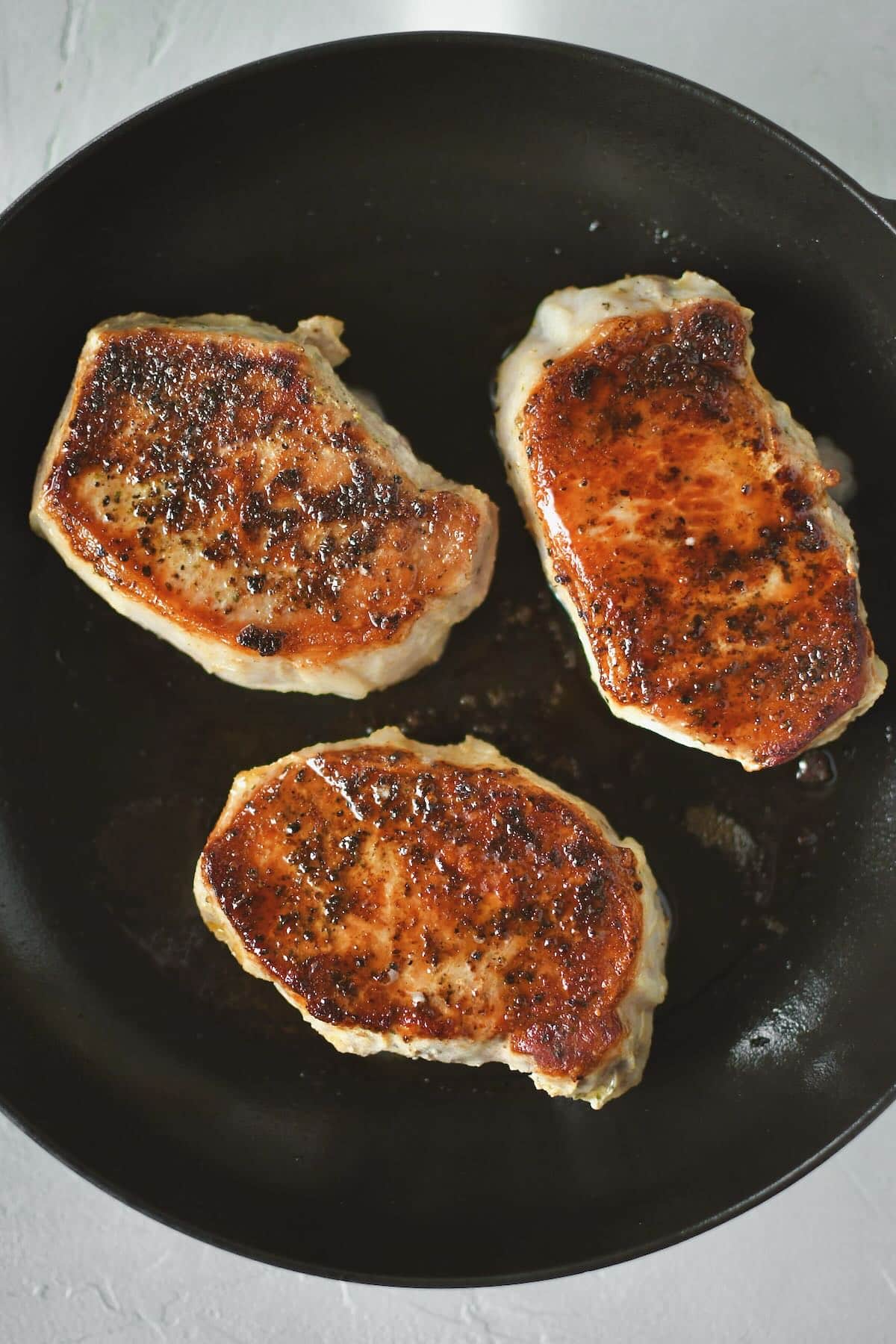 Notes & Tips
Don't get too caught up in buying too many accessories to sous vide. You just really need the immersion circulator. And while you can use a vacuum sealing machine, you do not HAVE to use one. You can still sous vide in a zip-top bag, just be sure to squeeze all of the air out and that all of the meat stays submerged in the water.
After the pork chops cook in the water, reverse sear them in a scorching hot pan or very hot grill. I prefer a flat pan to get a really quick, hard sear on the meat as you see in my photos.
You know the pan is hot enough for the meat when the oil begins to smoke a little bit. Place the dry chops in the pan as soon as you begin to see smoke rise, then turn the heat down to medium and don't touch them for 4-5 minutes. I flip them when they are dark brown, then turn off the heat and let them rest in the pan for 2-3 more minutes and they are ready to serve.
If you prefer a different cooking temperature, here is a guide for where to set your sous vide for different donenesses.
Rare (a little squeaky) 130˚F
Medium Rare (juicy, meaty, tender) 135-140˚F
Medium (firm, meaty, but still juicy) 145˚F
Medium Well (completely firm, starting to dry out) 150-155˚F
You can also prepare your chops if you cut up a whole loin and freeze them then sous vide from frozen. Add 30 minutes to the cooking time if you start from frozen.
Substitutions
You can use bone-in or boneless pork chops interchangeably. If you do use bone-in pork chops you will need to cook them in the sous vide for an extra 30 minutes before removing them to sear.
My suggestion of salt, pepper, and steak seasoning, and yes I use all 3, can be interchanged with your favorite seasoning blend or you can simply just use salt and pepper.
I love the use of butter because it basically bastes the meat as it cooks in the sous vide. If you need to swap it for olive oil because you are dairy-free you can do that.
Any herb goes here. You can really swap the thyme for whatever is in the garden at the moment. I had thyme overflowing, but rosemary, oregano, or tarragon would also be great.
In place of the olive oil used to sear the pork chop after they cook in the water bath, you can also use ghee if you prefer.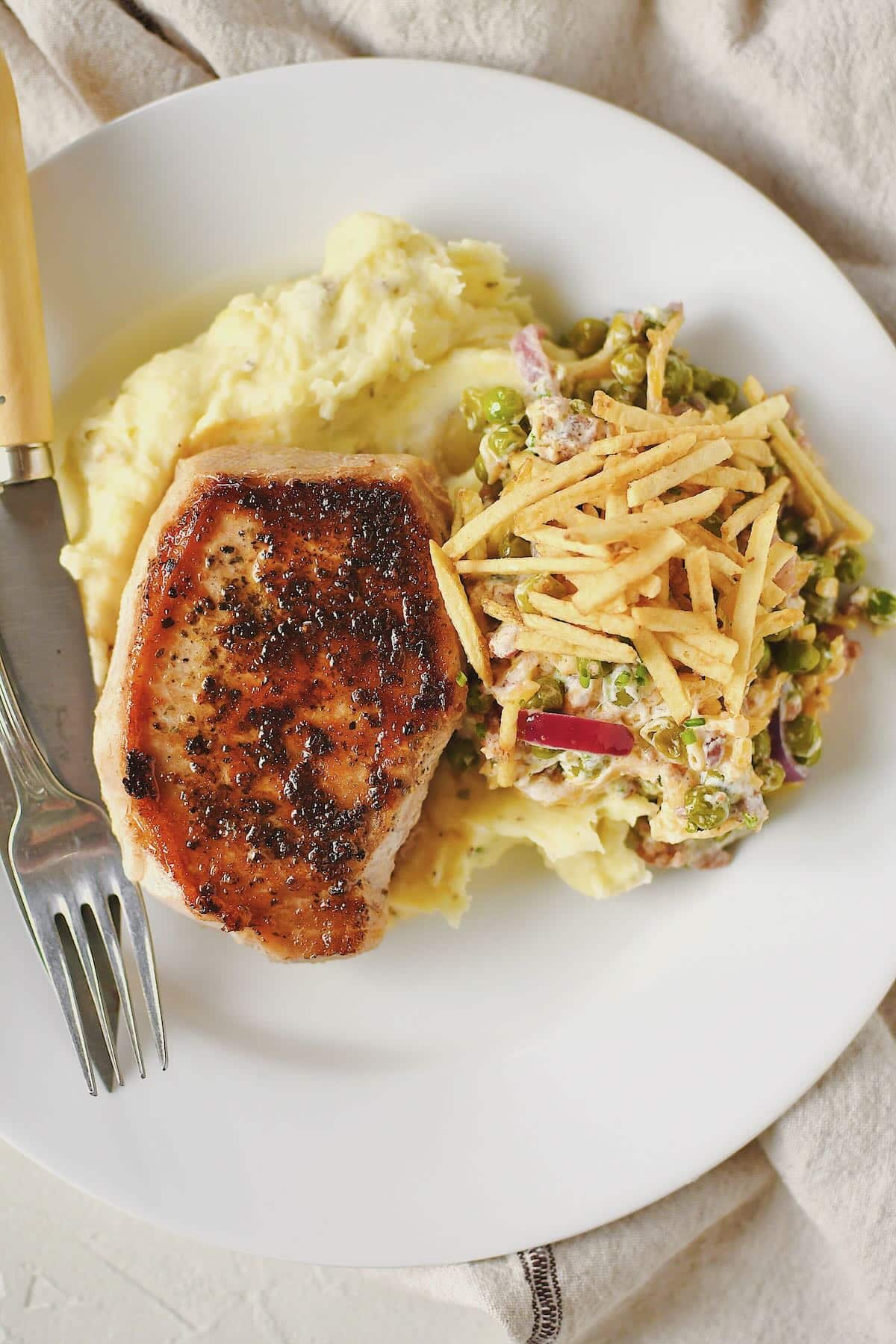 Best sides to serve with Sous Vide Pork Chops
Did you make this recipe? Let me know by leaving a review or comment! And be sure to sign up for my newsletter, and follow along on Instagram, Pinterest, and Facebook!