When I set out to create this Stuffed Pork Tenderloin recipe, I just needed something different to add to the meal rotation. This one is a real KendellKreation, I dreamed up these flavors in my head, all things I love and the end result is a thing of beauty!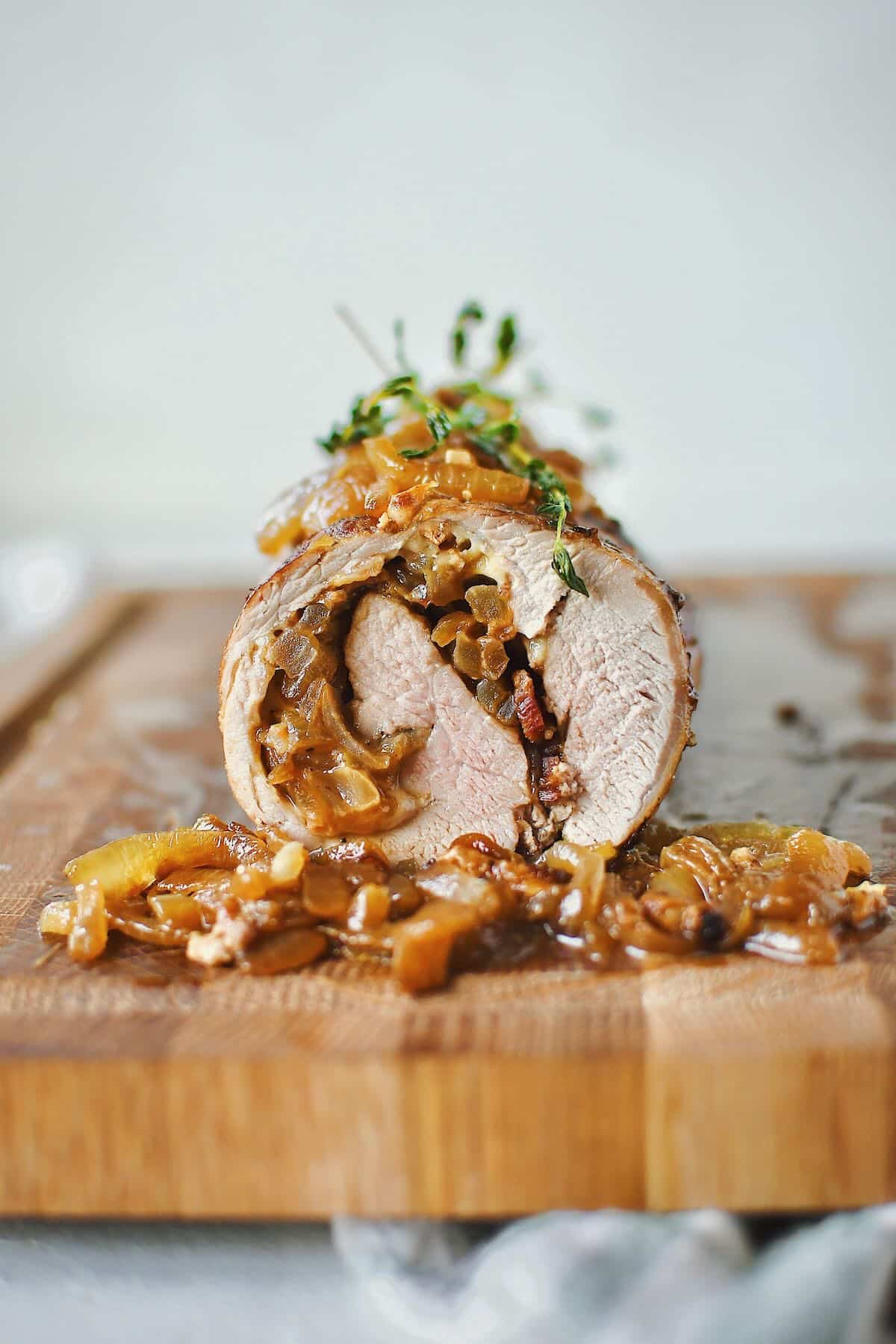 While the onions take a little time to caramelize, the recipe overall is not very difficult to make. You do need a sharp knife to fillet the tenderloins and butterfly them, but if you have a good butcher that might do it for you, take advantage of that.
Jump to:
Ingredients
All of these ingredients bring a wonderful element of flavor to this recipe. The gruyere cheese adds a creamy tang, that pairs perfectly with the salty bacon. Caramelizing the onions with white wine, chicken stock, and thyme brings an element of French onion soup to the dish, that the cheese also compliments.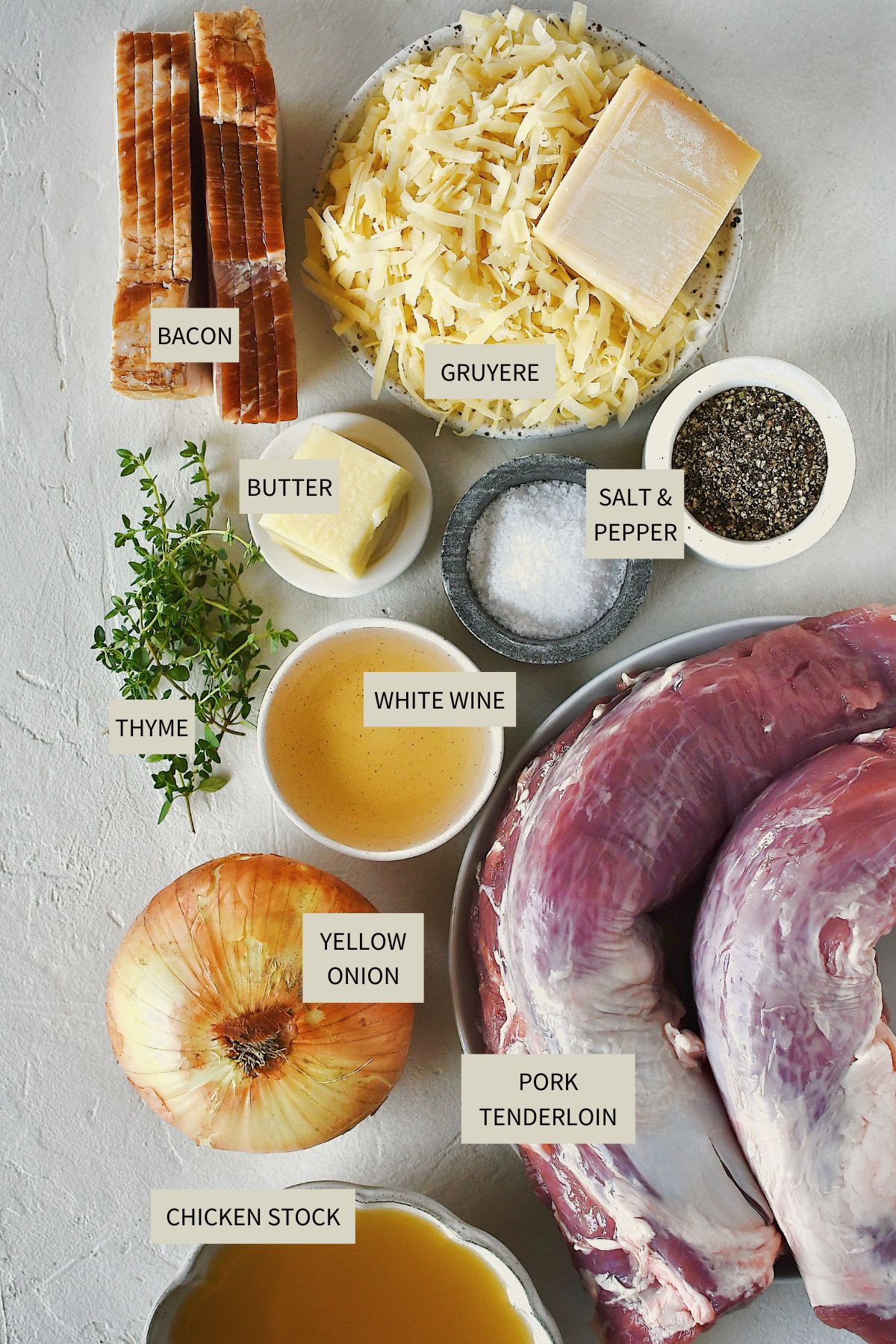 One very important note here is the use of pork tenderloins, not pork loin. Tenderloins are much smaller, are all dark meat, and as the name implies, more tender and delicious. I love these for grilling or cutting into medallions like little steaks too.
Use the JUMP TO RECIPE button at the top of the post, or scroll to the bottom of the post to see the full recipe card with ingredient measurements and instructions.
Method
I start by crisping 4 slices of bacon that I have cut in half in a large skillet. This is a one-skillet dish, so use a large one so you only have 1 dish to clean at the end.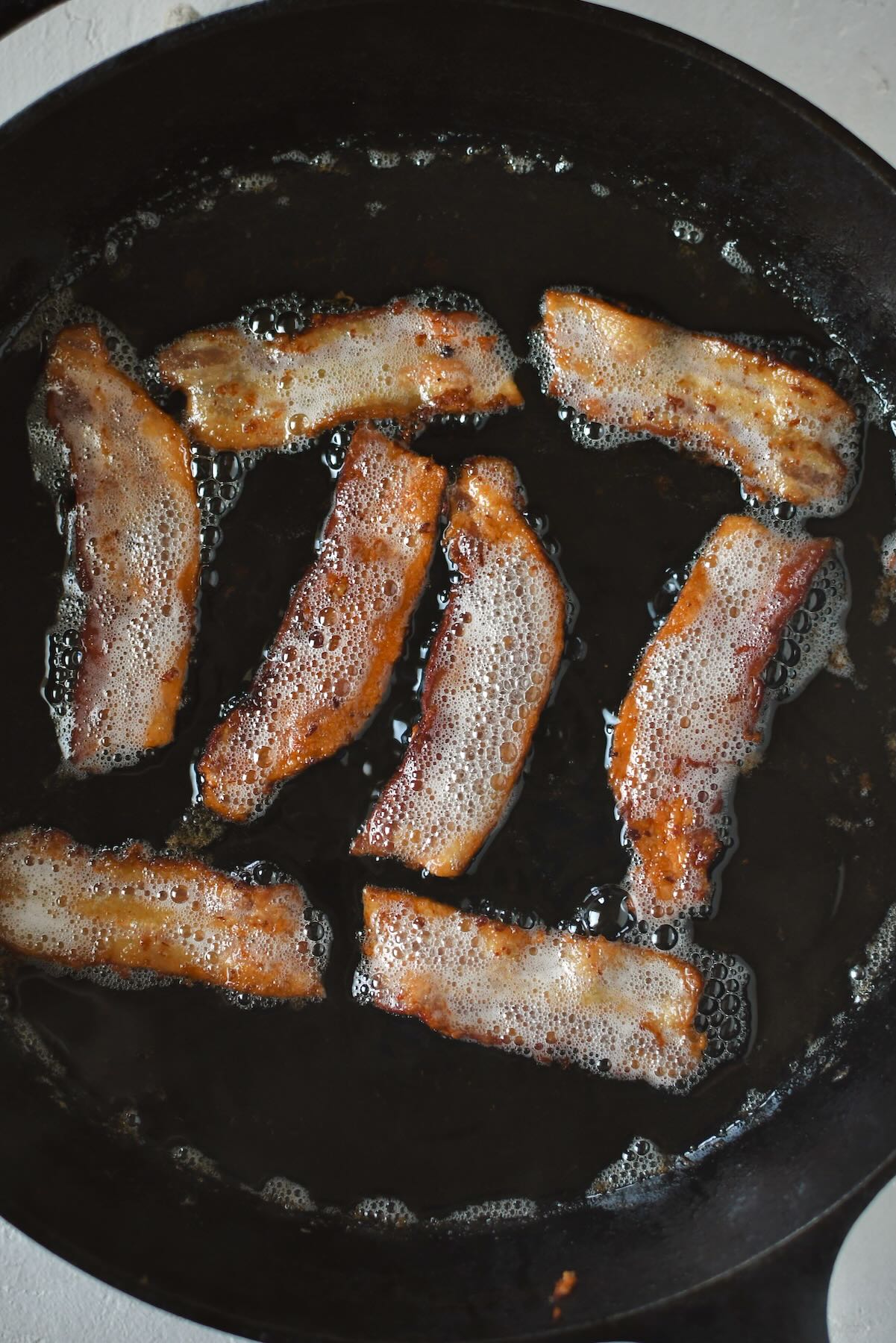 After the bacon cook, tip out all but about 1 tablespoon of the fat, and add the butter and onions to the pan. When the onions have taken on a little color, season with some salt and pepper and add the wine to the pan.
After the wine evaporates and the pan gets dry again add ⅓rd of the chicken stock and the thyme to the pan. Like the wine, cook until the chicken stock evaporates, then add ⅓rd more. Continue till all the stock is used and the onions are a deep golden color and have greatly reduced in volume.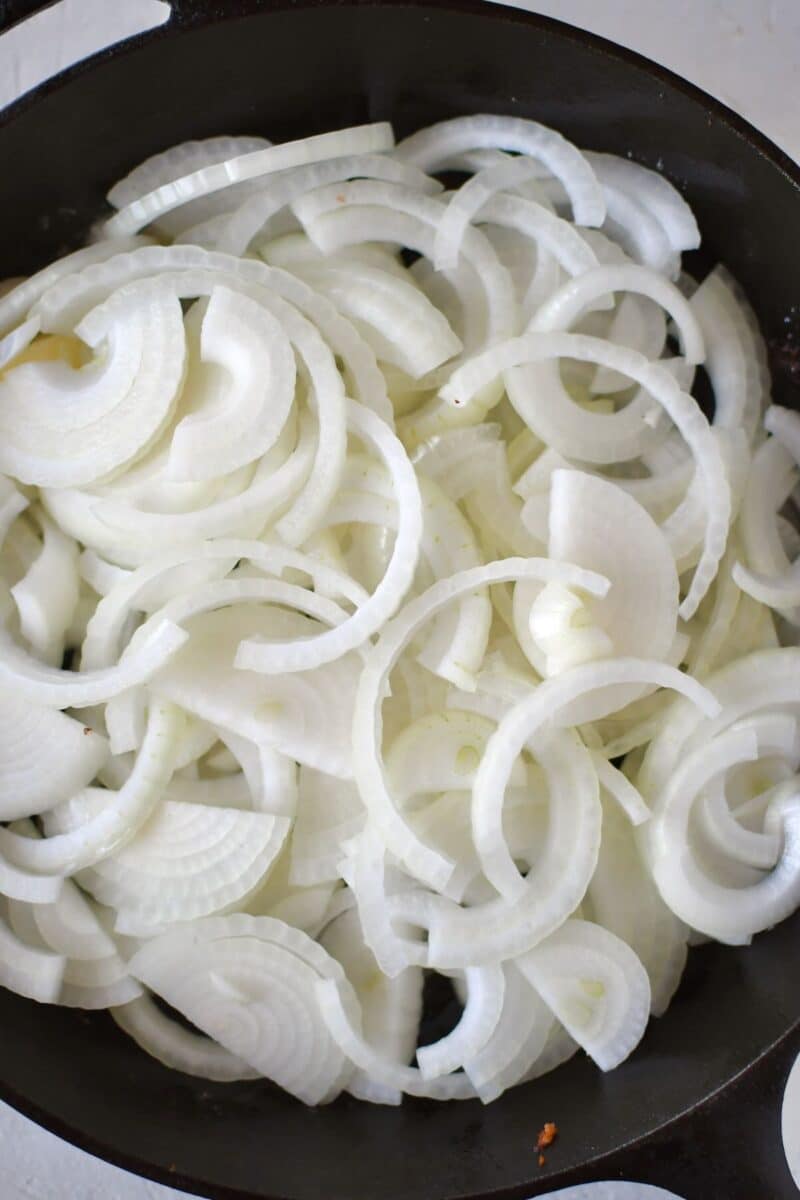 The onions take 30-40 minutes to fully caramelize, so while they cook, butterfly the tenderloin open, using long steady strokes with a very sharp knife to open up and flatten it. You can use a meat mallet or tenderizer to flatten it more if you like, but that isn't necessary.
Season both sides of the tenderloins with salt and pepper. On the cut side, add the cheese, crumble the bacon over it, and add half the onions on top. Roll it up and tie it with kitchen twine in 4-5 places and you have a perfectly stuffed pork tenderlion.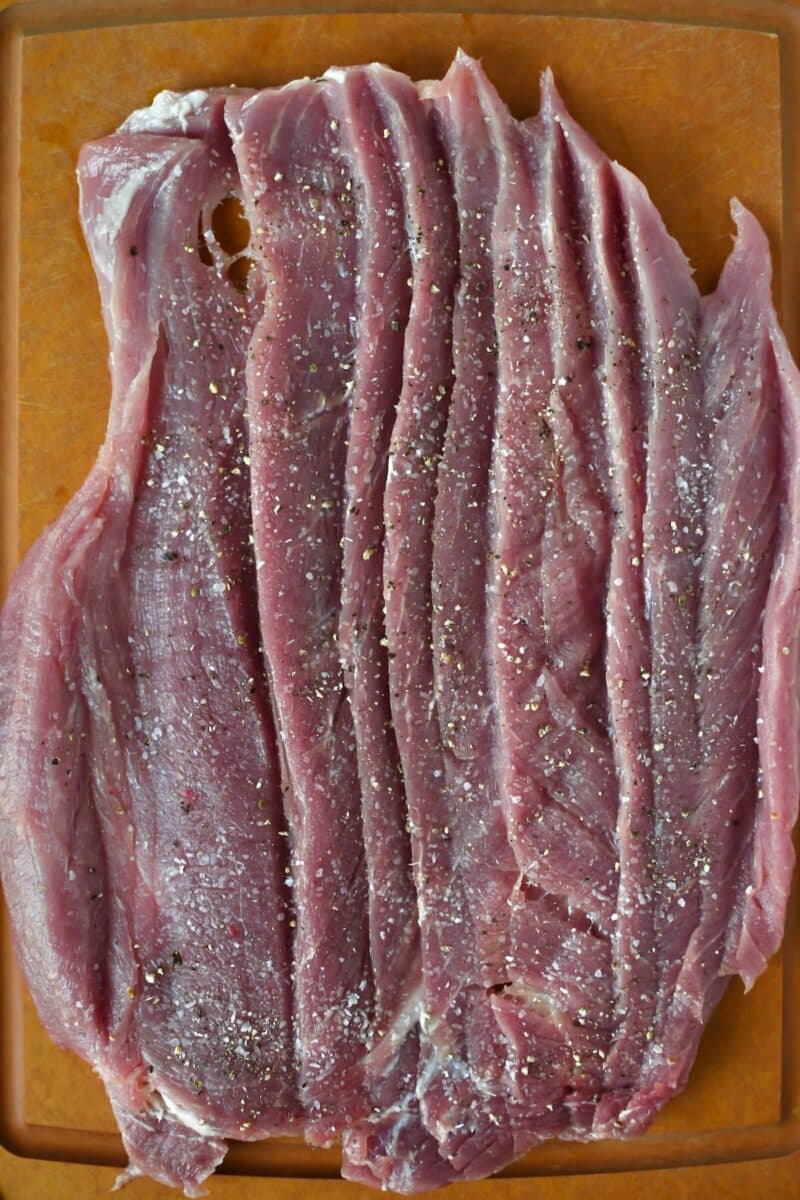 Then in the same onion pan, cook the trussed tenderloins until well browned all the way around. I treat them like they have 5 sides and give slight turns every 4-5 minutes till well browned in the pan.
I do this all on the stove because in Texas where I live, it is too hot to run the oven most of the year, but you could sear on about 3 sides and then toss them in at 400˚F oven till they reach 145˚F internal temperature.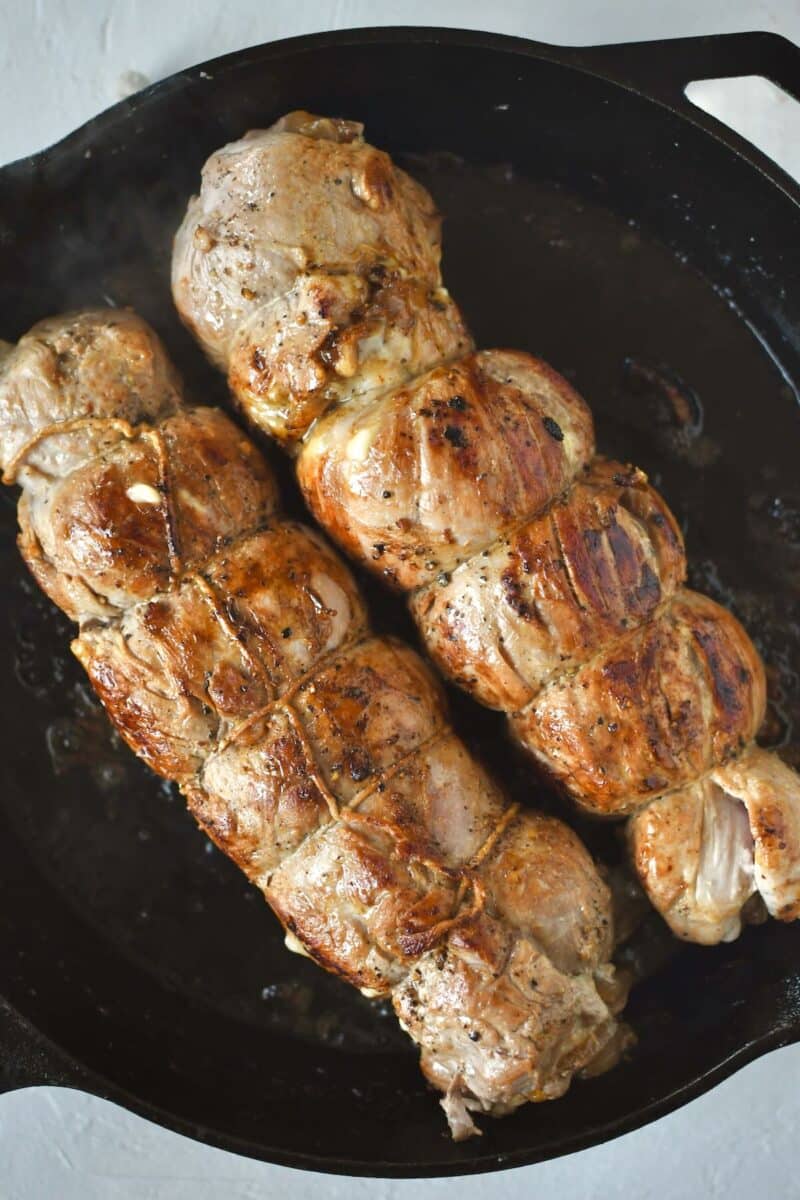 For the stovetop method, I put a lid on my pan toward the end of searing to allow the heat to penetrate all the way to the middle of the meat and cook it fully. You could also cover the pan with foil if you don't have a lid for it.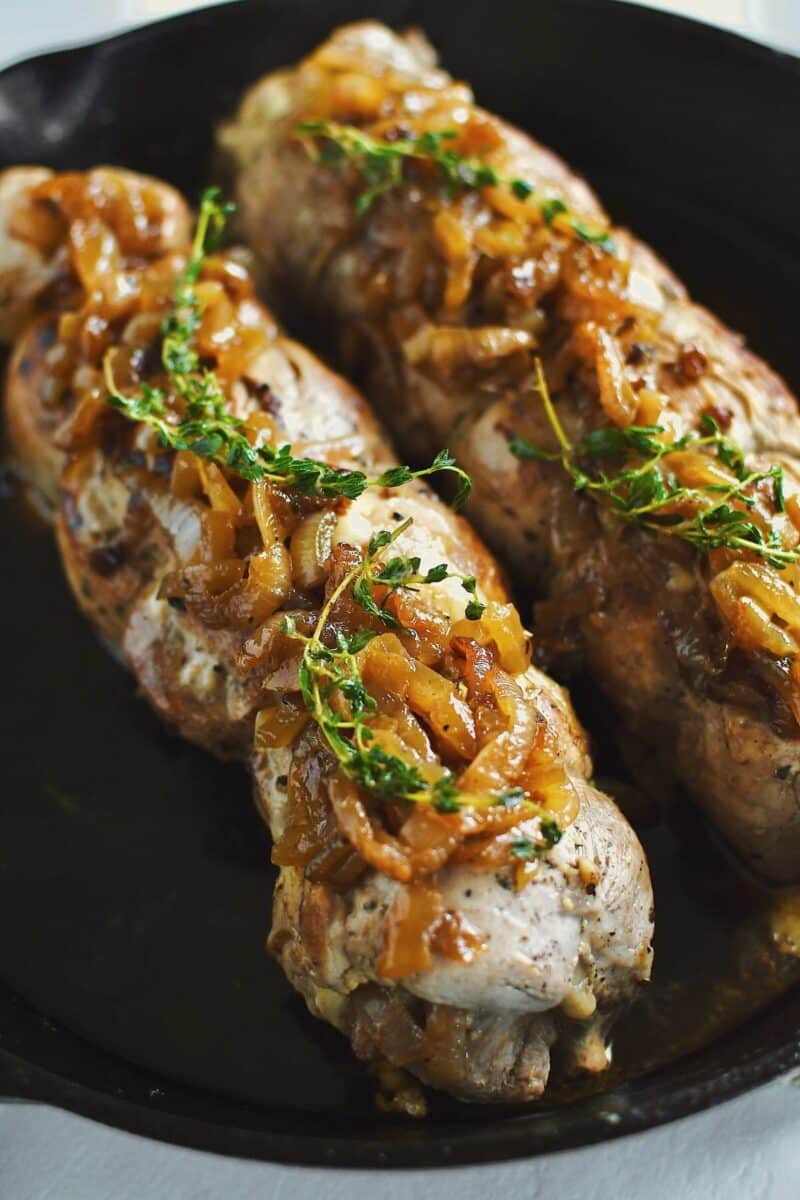 When you are done cooking, let the loins rest in the pan, covered, for about 10 minutes, then remove the twine and top with some reserved onions and it is ready to slice and enjoy. I served mine over a little bit of my Roasted Tomato Vinaigrette and it was the perfect addition and made this feel like a restaurant meal at home.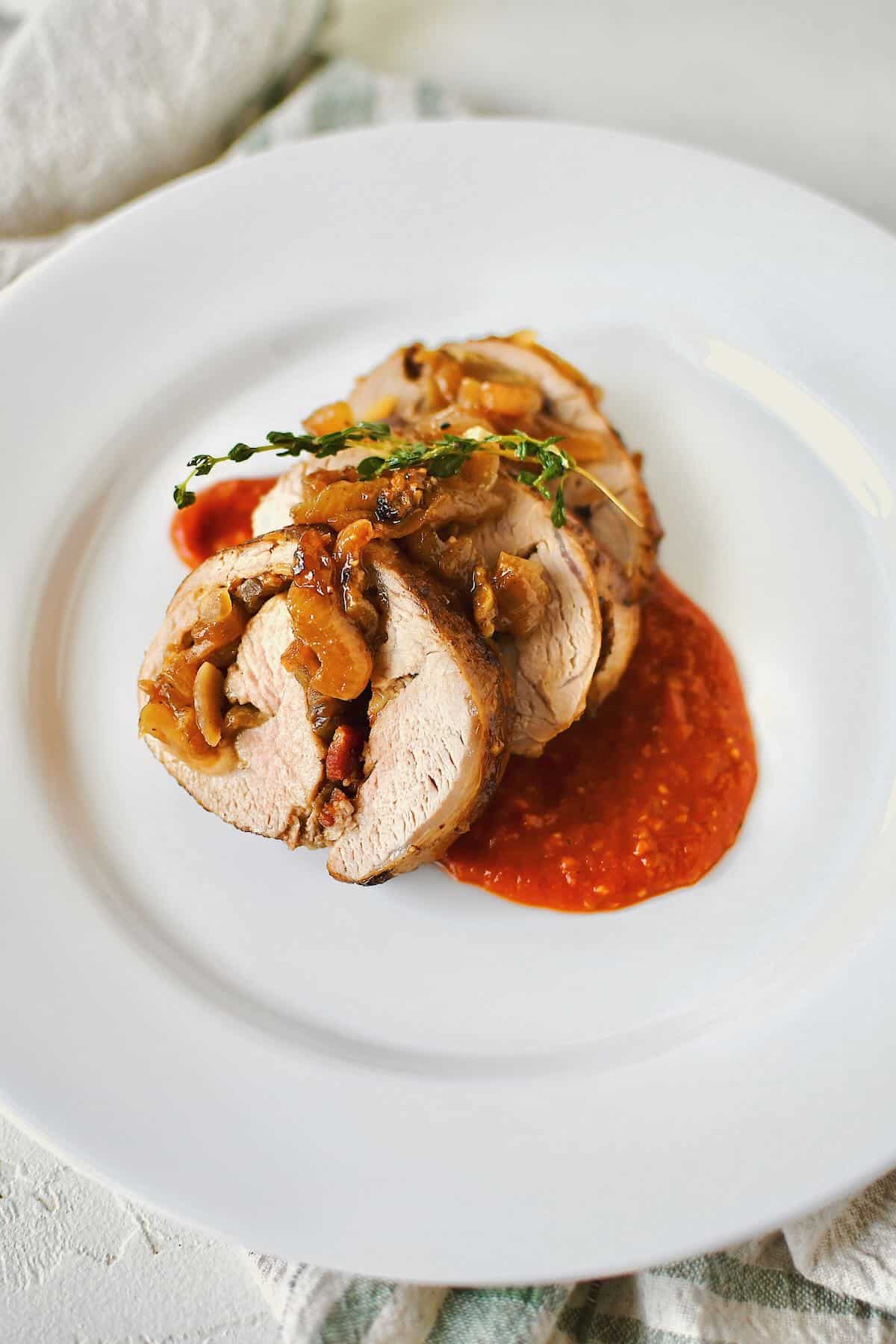 Notes & Tips
Start the onions early. They do take some time to get fully caramelized. You could even do them up to a few days ahead of time if you wanted to make this for a dinner party or get-together!
To open up the pork tenderloins, I like to treat them like a block. Using long, shallow cuts with a super-sharp knife, open up the tenderloin. It requires about 6-8 slices and you will have a butterflied piece of meat. You can then pound it flat if you want, but I don't mind it just how it is. It then kind of blocks itself back together when you roll it.
If you cut all the way through and create a hole when butchering your tenderloin, don't fret, all will be well. Do your best to overlap the opening when rolling, but some cheese will inevitably sneak out, and that is ok.
Substitutions
You could swap the bacon for bacon bits. But use real ones, I usually have a bag of the Costco ones on hand. Still, toast them up in the pan before continuing to crisp them up and keep that flavor in the dish.
The butter promotes more browning, you could use oil if needed.
You can really use any onion here. Yellow or Red has a little more sugar content and will caramelize better and quicker.
I keep a buttery chardonnay on the counter for cooking with, but any white wine you like works, you only need a little bit so even something you really like to drink will work.
The thyme is classic and gives this French onion soup vibes, but it is really interchangeable with any hearty herb, rosemary or oregano would also be welcome here.
The chicken stock could easily be swapped for beef or vegetable. Anything goes, it is just important to use stock because it amps up the flavor of the onions greatly.
Be sure to use pork tenderloins, as opposed to pork loin. They are much smaller and easier to work with for this recipe. You could use a pork loin, but it will take much longer to cook and would ultimately require time in the oven as opposed to being fully cooked on the stovetop.
A good creamy cheese is what is really needed here. You could swap the gruyere for Irish white cheddar, Emmental, or any other fantastic Swiss you come across.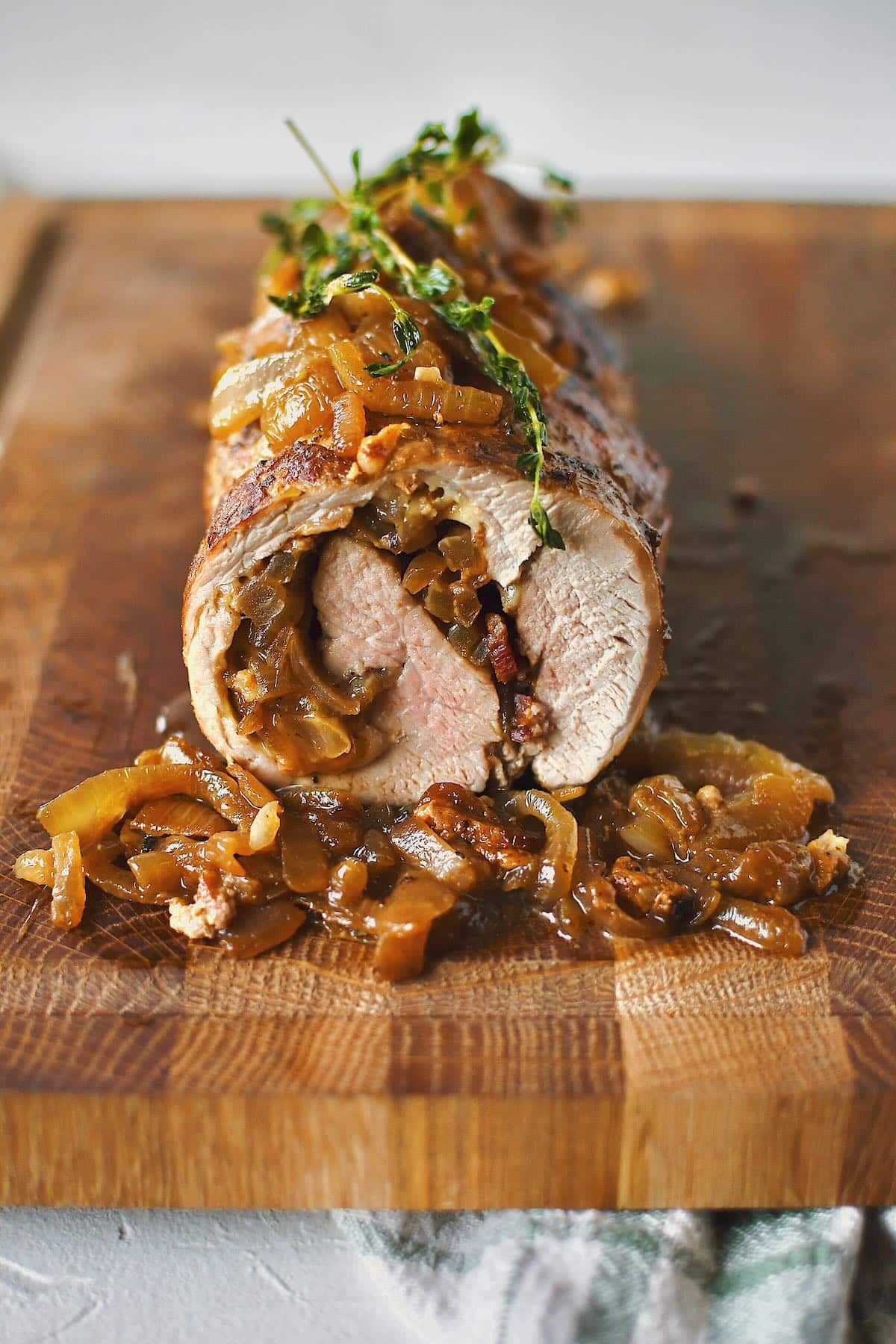 Did you make this recipe? Let me know by leaving a review or comment! And be sure to sign up for my newsletter, and follow along on Instagram, Pinterest, and Facebook!