This method for Brined Pork Chops adds a HUGE injection of flavor and tenderness, creating the tastiest piece of pork you've ever had.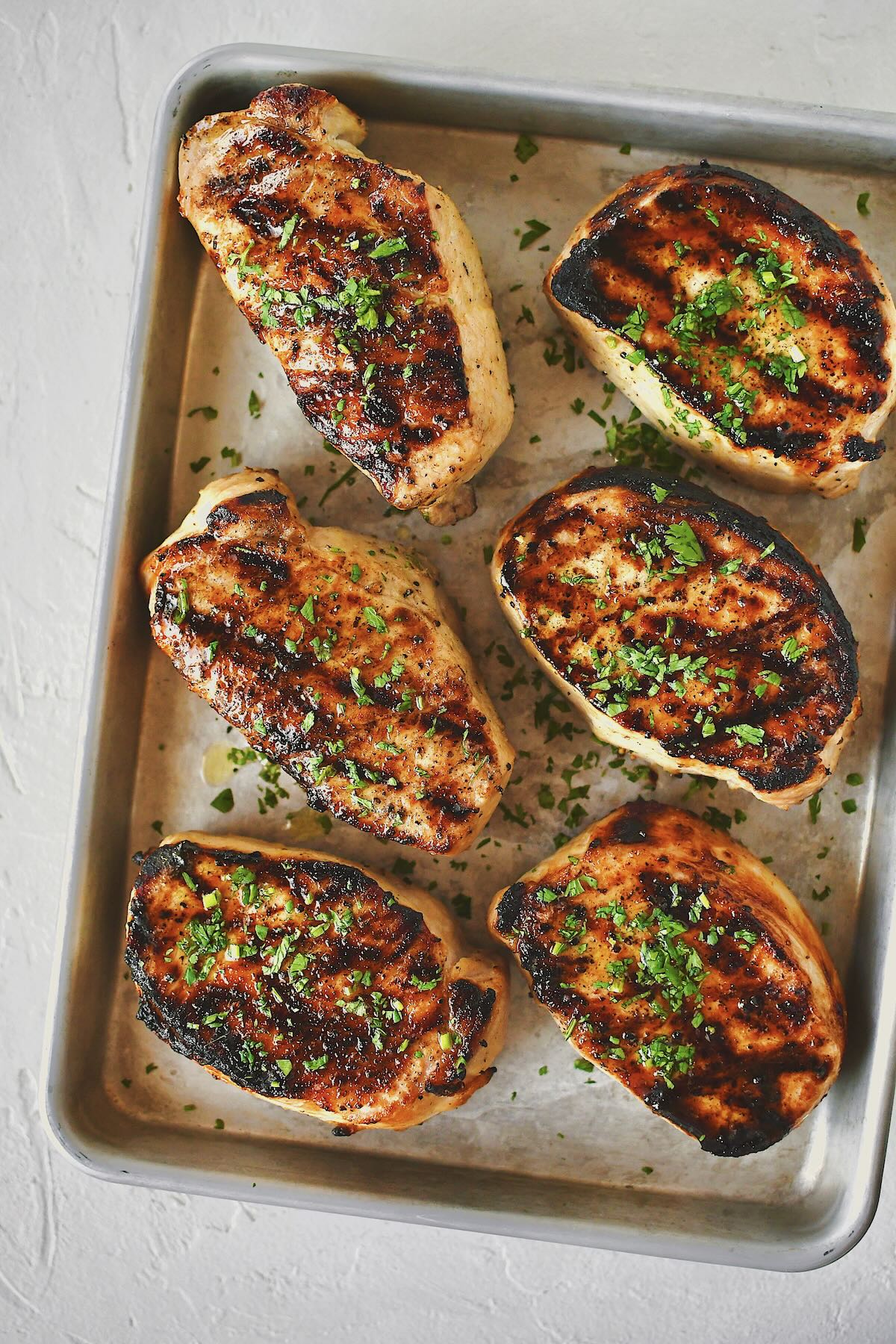 I even had the kids telling me that this was the best pork chop they had ever eaten. That's enough right there to make this recipe a winner!
Jump to:
Ingredients
The goal with brining is to infuse a piece of meat with flavor. You can create that flavor and tailor it to your liking. This is a base recipe. If you like spice, infuse some chilis in the first step of heating the water. Whole spices like allspice, clove, peppercorns of any color, or even ginger can be use to manipulate the flavor.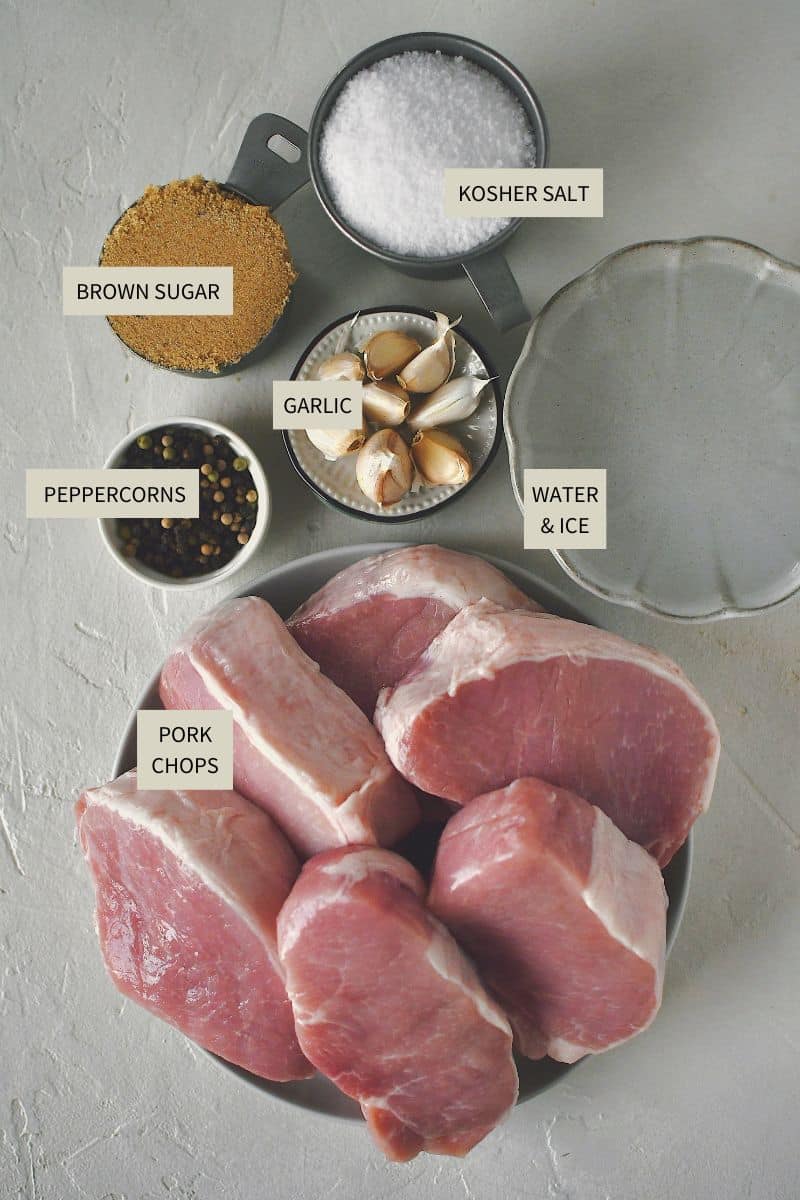 At a minimum you need the water, sugar, and salt, everything else is pretty much negotiable. The salt and sugar carry the flavor into the pork chops.
Use the JUMP TO RECIPE button at the top of the post, or scroll to the bottom of the post to see the full recipe card with ingredient measurements and instructions.
Method
First, warm some of the water and all remaining ingredients except the ice in a saucepan on the stove. The mixture doesn't have to boil, but just warm till the salt and sugar has fully dissolved and it has gone clear and not cloudy. Let it cool or pour over ice to chill it quickly.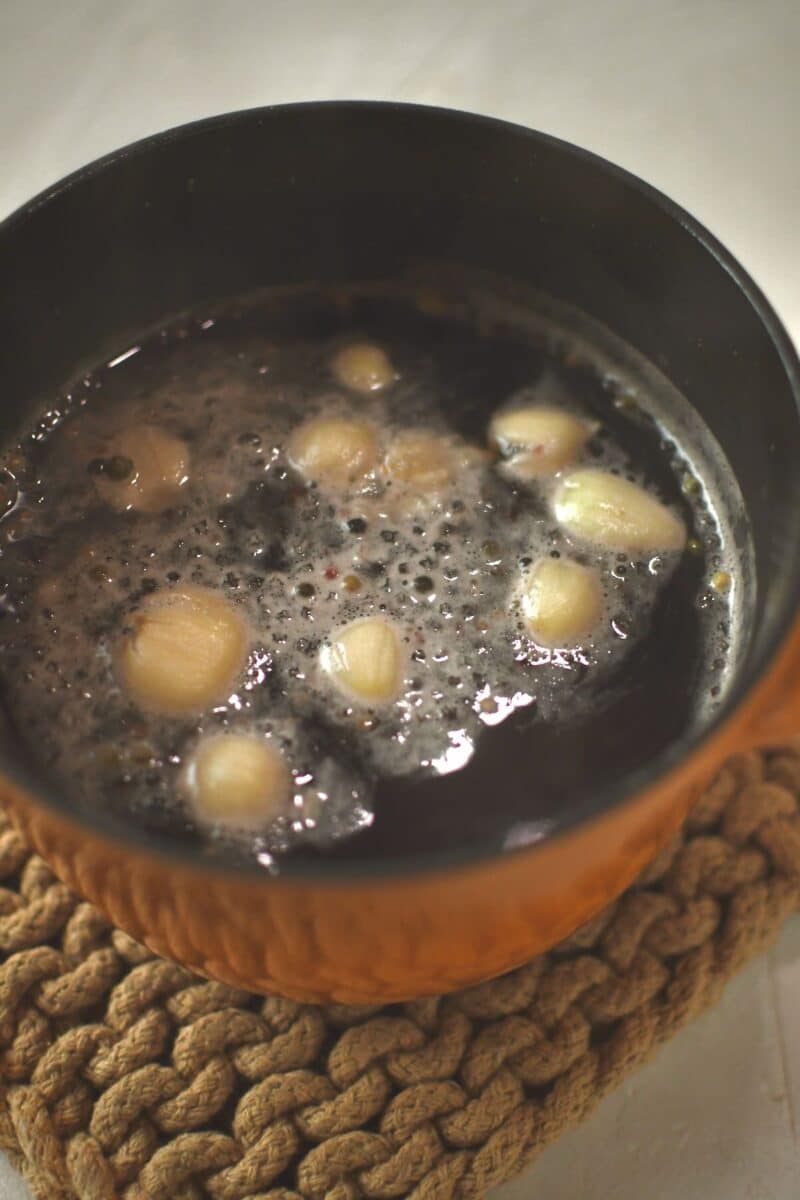 When the ice has fully melted or stopped melting, you can add the pork chops to the container or bowl. Let the pork chops brine for 8 hours, but no longer than 12 hours. It can be shorter, but not longer than that or the pork can get to salty. When ready to cook, remove the chops from the fridge and pat dry. Finish with some oil, salt, and pepper just before grilling.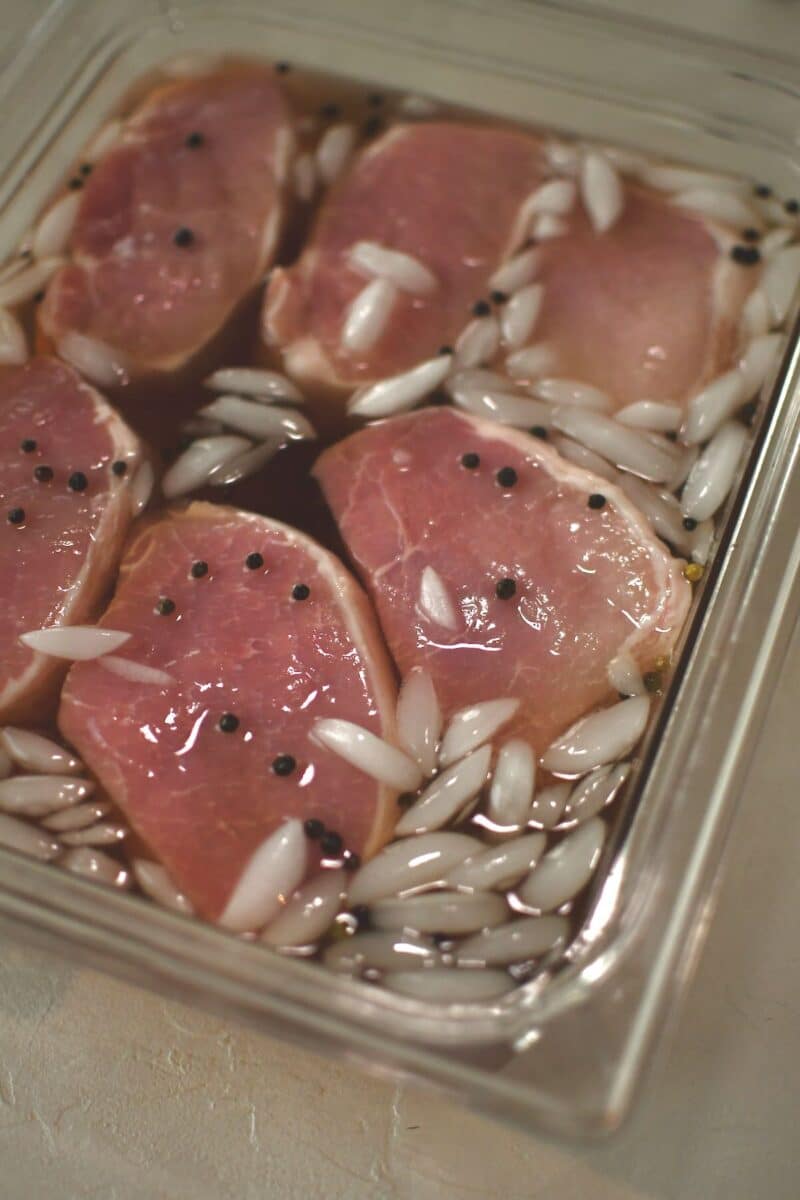 Cook on a HOT grill or in a smoking hot cast-iron skillet until golden on one side. Flip and repeat. Let the pork chops rest for 8-10 minutes before serving so they retain their juices.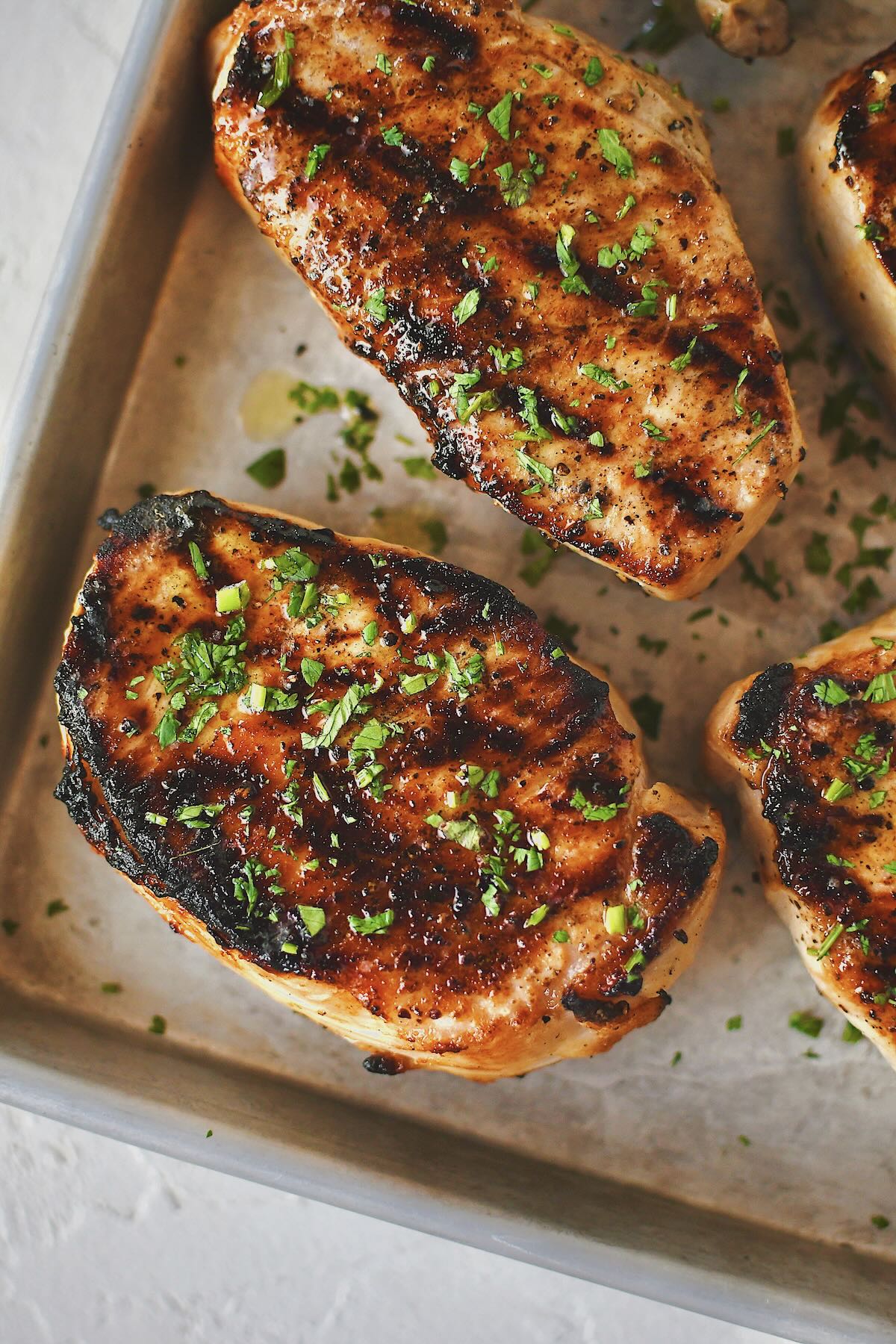 Notes & Tips
I prefer to buy a large pork loin from a big box store like Costco. This allows me to cut extra thick pork chops. I cut mine to 2 inches thick.
After heating the water to melt the sugar and salt, pour the warm water into ice in a heat-proof container or bowl. If needed, you could then place the pork chops in a zip-top bag and store them in the fridge overnight. Just be sure to put the bag on a pan or plate in case of leaks.
Be sure the pork chops are fully submerged in the liquid so no dry spots appear. If they are not covered, flip them halfway through brining.
Cook the pork chops on a hot grill, or in a cast-iron with a little olive oil in it. Get the meat dark golden brown, moving it around a little as needed on one side, then flip and repeat. This should give you a pork chop cooked perfectly medium.
Brined Pork Chops can be cooked to the same temperatures just like a steak. Here is a guide, pick your perfect temperature.
Rare: 115 to 120°F (46-49°C)
Medium-Rare: 120 to 125°F (49-52°C)
Medium: 130 to 135°F (54-57°C)
Medium-Well: 140 to 145°F (60-63°C)
Well-Done: 150 to 155°F (66-68°C)
Substitutions
You can use granulated sugar in place of the brown sugar. The brown sugar gives more of a sweet molasses flavor, the granulated sugar will yield a more mild flavor.
Take note of the brand of kosher salt used for the recipe. I was raised, even on my culinary journey on Morton's Kosher Salt. If you use Diamon Crystal, here is a conversion for the swap.
1 cup of Morton Kosher Salt = 1 ⅓ cup of Diamond (1.34 conversion)
1 cup of Diamond Crystal = ¾ cup of Morton (.75 conversion)
The flavor of the brine can be infused with just about any herb or vegetable. Swap the garlic for things like shallot, fresh ginger, or green onion stems. The peppercorns can be used in addition or replaced with allspice, clove, or cardamom depending on the flavor you want to infuse.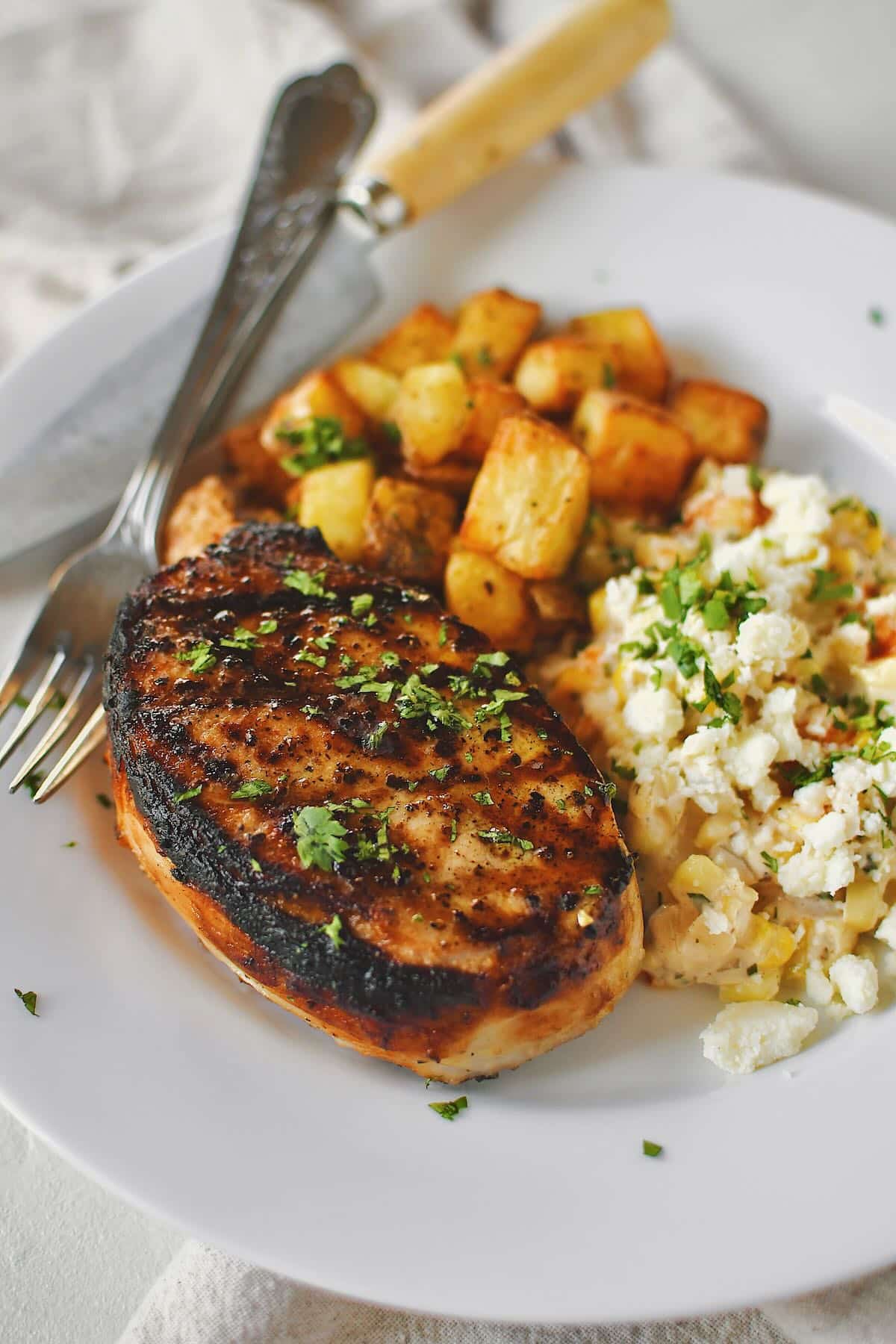 Did you make this recipe? Let me know by leaving a review or comment! And be sure to sign up for my newsletter, and follow along on Instagram, Pinterest, and Facebook!