As a Chef, I am always on the search for inspiration. I have a favorite Mediterranean restaurant where I live and this recipe is inspired by something they serve. I pair it with Tahdig Rice inspired by Samin Nosrat and Salt, Fat, Acid, Heat!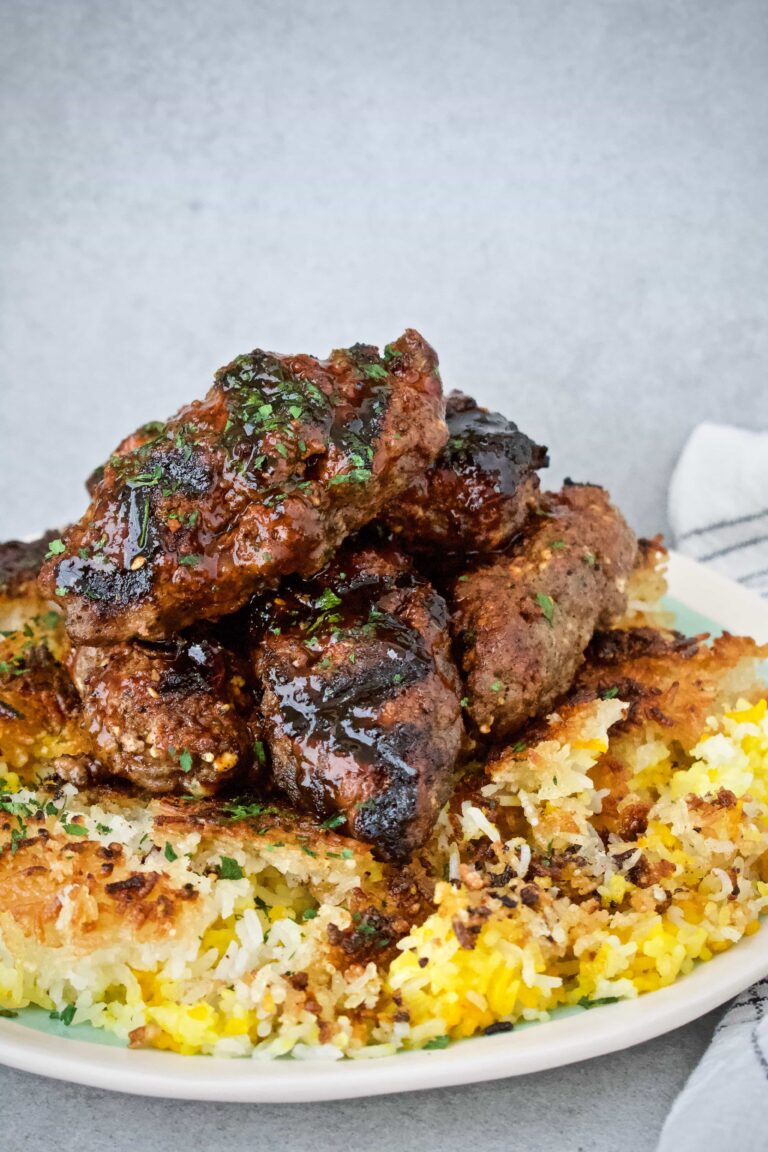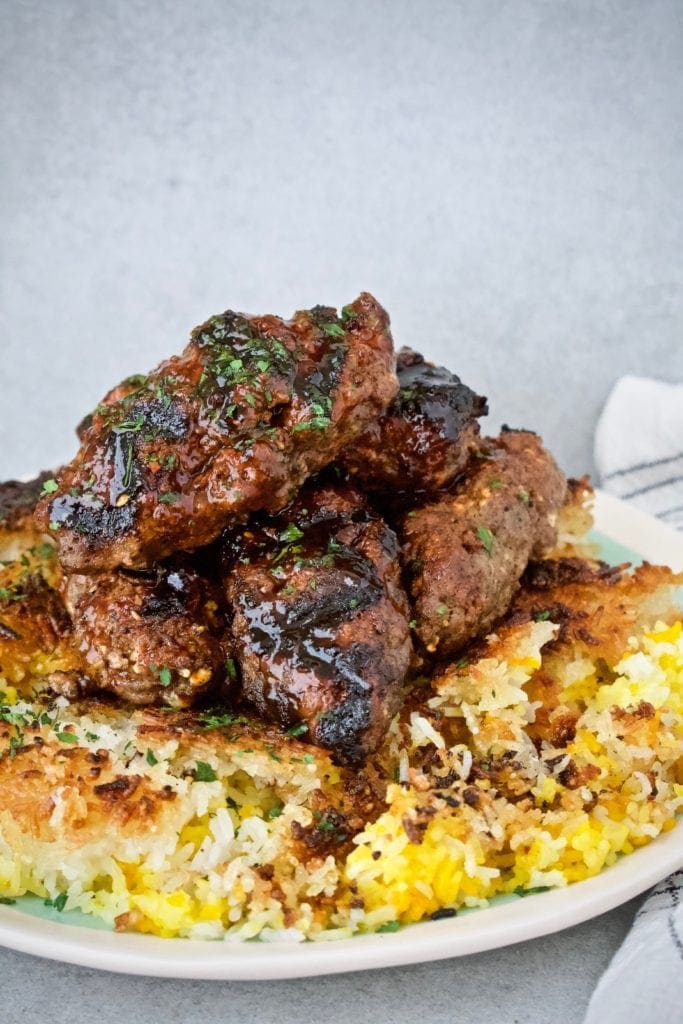 Tahdig Rice
Let's first talk about this rice. If you haven't watched it yet, I HIGHLY recommend you sit yourself down and watch Salt, Fat, Acid, Heat on Netflix. I am not being sponsored to say this, it has just inspired me to a whole new level.
Samin Nosrat loves food with an unapologetic zest and I can't get enough! Her curiosity is everything I once had but was suppressed working toward other Chef's dreams and in kitchens where it was every man for themselves. I am so glad to be seeing a shift in the industry where people are taking the time to share what they know, focusing on the customer experience and less on competing with the person standing next to you.
Anyway, this rice is the last thing that she makes in the series and she does it with her mom. I think that is a super special addition to the show that holds a special place in my heart because my love for cooking started with my mom. The series ends with the statement from Samin that food is about the people and bringing them together around the table and less about the ingredients and the time in the kitchen.
That was a lightbulb moment for me. The lightbulb went off for me when I was cooking my way through the Magnolia Table Cookbook. It was nice to take a step back and really rediscover food by cooking every recipe in a cookbook.
It was an amazing journey for me and it is all documented here on the blog, just look back through and you can read my review of each recipe. There were only about 5-6 I didn't care for. I think that is pretty good for 150+ recipes.
Samin's rice is brought from her Persian heritage and it is essentially twice cooked saffron rice that develops a super crispy crust on the bottom. You then invert it onto a plate and serve it alongside the protein of your choosing. I actually couldn't find a recipe for the way they made it on the show so this is my adaptation from the way her mom shows it being done.
Rice Ingredients
Basmati Rice
Salt
Saffron
Canola Oil
Butter
Non-Stick 4qt Pot
(from TJMaxx) this will make sense when you watch
Rice Method
You begin by parboiling your rice in heavily salted water. Bring 4 qts of water to a boil over high heat and add salt until it tastes like the ocean. Yes, you are going to taste the boiling water.
Depending on your salt this will take 4-6 heaping tablespoons. Add the rice and when it has cooked just enough on the outside to become soft, yet leaving a firm interior kernel, it is ready to be drained. Now I do this all in the same pot, so when you drain your rice just give your pot a quick rinse and then dry it and put it back on the stove.
Heat your non-stick pot over medium heat and add in about ¼ cup of canola oil. Use more if needed, just be sure it is enough to coat the bottom of the pot, but there shouldn't be a measurable volume of oil at the bottom. When the oil has warmed gently sprinkle about ⅓ of the rice into the bottom, sprinkle a few threads of saffron over it and then add the remaining rice forming a mound.
You want a mound of rice so that it doesn't being to stick to the sides of the pot and so that more steam isn't created just yet. Using the handle of a spoon, create 6-8 holes in the rice, reaching to the bottom of the pot. This allows the steam to release and not overcook the rice.
Place the lid on top and when it begins to fill with steam, remove it and wrap it in a kitchen towel. This will catch the steam that rises from the rice and allows the bottom to crisp. Let cook for about 15 minutes, rotating the pot on the burner ¼ turn every few minutes so that one spot doesn't cook more than the other.
Somewhere during this time, grind 1 tablespoon of saffron to dust and mix with ¼ cup of water. Add in about ½ cup of rice to this in a small bowl and add back into the steaming rice pot. At this time your rice should be fully cooked and is just about ready to serve.
Now add in your butter and adjust the flame to medium. Reserve 1 tablespoon of the butter to rub around the outer edge of the pot to prevent the rice from sticking to the sides. We don't add the butter at the beginning because we don't want to burn our rice as it cooks.
We want to crisp the kernels and then gently brown them with the butter. Apply the same technique here, of rotating the pan ¼ turn over the next 8-10 minutes. This will provide even heat and browning of the rice.
The trick with this rice is that you will never know how it will look until you turn it out, so cooking slower and lower is always your best bet. Now the rice should be done. Take your small bowl of saffron rice and gently mix it into the top layer.
Do not reach down to the bottom and break your Tahdig. Give the pot a shake, you should feel that the rice is not stuck to the bottom and that there is a crust that has developed. It should move as one solid cake.
Place a plate or platter on top of your pot and gently but swiftly invert, return it to the counter and remove the pot. Your rice should come out in a singular cake. If it doesn't that's ok.
Piece it back together and serve it anyway. Nobody knows how it should be but you, they will eat and enjoy it anyway! Samin's mother shares that "a potter always drinks from a broken pot". That means you get to take a taste of anything that falls off, and that is the joy of being the Chef, you get first tastes!
Now, this is completely adapted from the show. My first attempt was not great, but I served it and we ate it anyway. My attempts since have gotten better and better.
This is a technique that is learned over a lifetime, don't feel like you are a failure if it doesn't come out perfect the first time. Try and try again. Practice makes perfect better!
Above is attempt 2, it came out much better than 1, very crispy, but still needs more even browning.
Kefta Meatballs
Kefta is ground beef or lamb, typically mixed with cumin, paprika, minced onion, coriander, and parsley. The cinnamon, cayenne pepper, and mint leaves are optional, but highly recommended.
I would say that my Kefta is inspired by the real thing. Also due to the fact that I am just an enthusiast and not a middle eastern person I am sure they might say that I am destroying it. But this is my version, and it fits my palate making it enjoyable for me.
I use Za'atar seasoning and a few other things to add that traditional flavor. Za'atar has a lot of the ingredients in it that are mentioned above, so it helps me feel like I am hitting the mark. Even if I am a continent away, lol.
Kefta Meatball Ingredients
Ground Beef
Parsley
Za'atar Seasoning
Cumin
Coriander
Cinnamon
Kosher Salt
Black Pepper
Sweet Soy Sauce
Chili Sauce or Sriracha
Instructions
This is a very simple mixture. Toss all of the ingredients into a bowl and gently mix to combine. Then form into a sort of long meatball, squeezing the mixture between your four fingers and your palm. This gives, from what I know eating at middle eastern restaurants, the traditional shape of a Kefta.
It should look hand made, that is the sign of a home cooked meal that someone took time and care to prepare for you. Let your hand make indents in the meatballs, giving them 4 defined sections. Line them up on a tray until you have molded them all and you are ready to cook.
Now, due to the delicate nature of these meatballs and because they don't have any added binders like eggs or bread crumbs, you will want to cook them slow and low. Also, be sure not to move them very much so they don't break apart.
Fire up the grill and get it really nice and hot. Use a towel to grease the grates and I even go as far as spraying my meatballs with a little bit of coconut oil spray. We want to be sure they don't stick, because if they do they will just fall apart.
I like to cook my meatballs to medium, that's 135 degrees on a thermometer. If you take them off at 135 they will carry over cook just a little big and should still be very slightly pink inside. When you take them off the grill brush them with the mixture of sweet soy and chili sauce.
Serve them on top of your Tahdig rice and garnish with a dusting of parsley. This is my adapted version of a very traditional dish that could be eaten any night of the week. It combines some of my favorite flavors and I hope you enjoy it as much as I do.
-
LOOKING FOR SOME OTHER GOODIES?
Take a look at a few of my more decedent recipes or reviews below.
JoJo's Biscuits – Magnolia Table Recipe Review – Free Recipe
Get my NEW e-Cookbook here!! ⬇️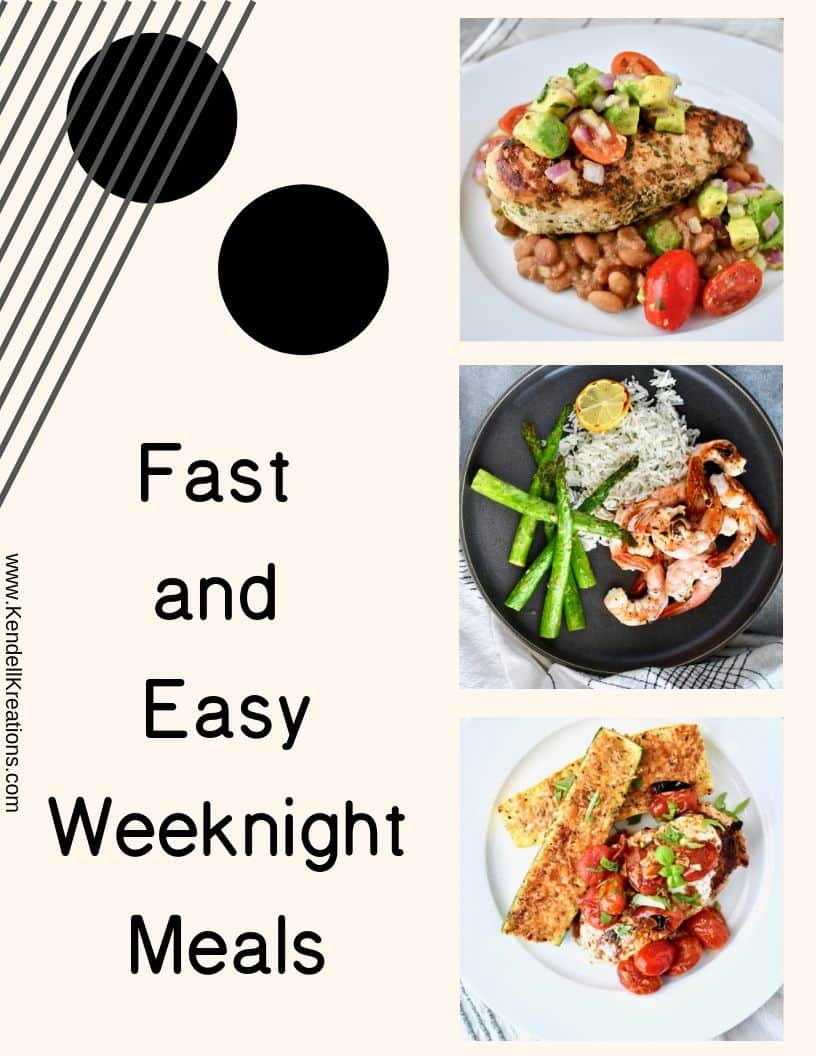 _
MY FAVORITE KITCHEN TOOLS!
Here are a few links to some of my favorite kitchen tools! You get a car, YOu get a car, YOU ALL GET A CAR…in my best Oprah voice
These Rösle Silicone Tongs are a little pricey but they will last you the rest of your life and are the softest in your hand. This is important for someone like m that cooks so much. It reduces strain, I have 4 sets in my kitchen!
These are my FAV Nordic Ware Sheet Pans, every kitchen should have at least 2 sets of these! I think I have at least 4 of each of these.
This is my favorite pressure cooker, the Fagor is the same concept as the "Instant Pot" but easier to use in my opinion, if you don't have one you NEED one, it will be your best friend in the kitchen!
A sharp knife is the most important tool in the kitchen, these Japanese steel "Shun" knives are my favorite! And this is a great starter set to build on. Once you try them you will be in love so use this as a foundation you can build on for years to come.
This Scanpan 11″ skillet is just the right size for almost anything you will need to cook and my best friend and a real workhorse in my kitchen, it's also a great deal at $99. Scanpan is the best in the world for healthy cooking. It is coated with a proprietary ceramic titanium coating that is durable while allowing you to use fewer fats and oils when cooking. It is a coating only they use. I could talk all day about my love for these pans, message me if you want more info. Here are some other sizes that are available if you are looking to outfit your kitchen with some new goodies. 8″ & 10″ Skillet setor 8″ Skillet, I still need this one for my kitchen Also, I don't really know how to cook small so the 12.5″ is my other fave!
This giant vat of olive oil is my favorite, I decant it into a smaller bottle for my counter. Or put this spigot on top of a wine bottle!
This Tovolo jar scraper has to be my single favorite kitchen tool, it is definitely the most used tool in my kitchen. If you are NOT a gadget person, this is the only necessity I say is a MUST beyond the wooden spoon.
A great wood spoon is essential, this Olive Wood one is my favorite, I have more than I can count. But can you really ever have too many?
A food scale can be a very important tool in your kitchen, this one is the one I use every day!
If you love Joanna Gaines as much as I do then the 'Magnolia Table Cookbook' is a must in your kitchen, get a copy HERE!
Check out this great product for your mason jar, the Ergo Spout lets you turn any jar into a pourable pitcher. Get yours here! I love making my homemade salad dressing and keeping them this way in the refrigerator.