Since I visited Ireland for my 30th birthday it has held an extra special place in my heart. I absolutely fell in love with the country and have been obsessed with the food and culture ever since. This classic Irish Shortbread is ready to be served with a cup of tea or Irish Coffee.
This post was first published on March 1, 2020, and was last updated on January 21, 2021.
Jump to:
Ingredients
The one true ingredient that makes this a true Irish Shortbread biscuit or cookie is, well, the butter of course! Irish butter has a slightly higher fat content, and that is what makes all the difference. While American butter contains just 80 percent butterfat, European butter has been churned for a longer period of time, giving it 82 percent butterfat.
Now I know that doesn't sound like much, but it really makes a difference when you are cooking or baking with it.
Use the JUMP TO RECIPE button at the top of the post, or scroll to the bottom of the post to see the full recipe card with ingredient measurements and instructions.
This 2% higher butterfat gives the pastry a richer texture. By having more fat and less water it will also prolong the crispness of the shortbread or any pastry you apply it to. This makes Irish butter perfect for pie crusts and cookies alike.
One can only assume that this butter would help you achieve a Mary Berry approved "No soggy bottoms". And I am happy to report that these cookies, even 2 weeks after being baked, retained their signature crunch. I liked this because I like to make a nice big batch that I can keep around for my morning coffee.
Method
Making Irish Shortbread is probably one of THE EASIEST things you could ever make. It requires only a few HIGH-QUALITY ingredients, and make sure they are quality because you will taste the difference, and can be made by hand or in a mixer. I throw it in my KitchenAid and it takes all of 5 minutes to whip up the dough.
First blend the butter, sugar, and vanillas until it is light and fluffy. This is a super important step. I probably let the mixer run for about 4 minutes on high.
Then add the flour and cornstarch and just let it mix until a dough begins to form. The mixer should run no longer than 60 seconds. Take the dough out of the mixer and press it together with your hands to finish it. Split it into two balls and it is ready to roll out.
You can then cut them out like you would sugar cookies, into any shape your heart desires. I like to keep them recognizable and distinguished between other cookies so I almost always opt for a traditional shamrock or four-leaf clover stamp on mine.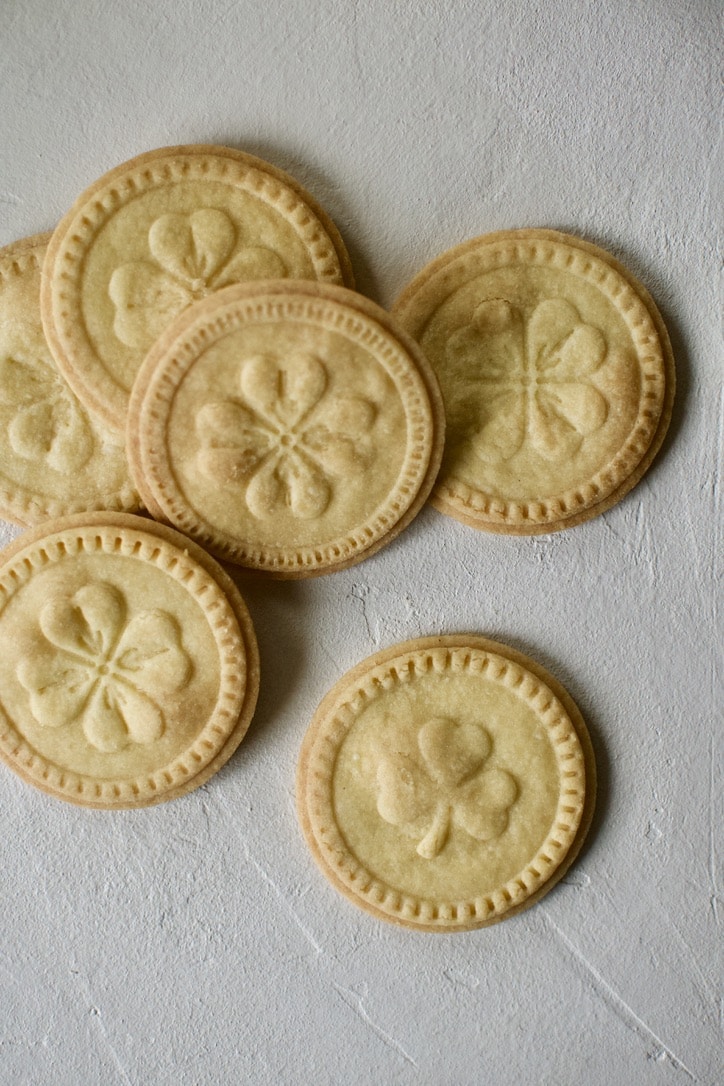 Notes & Tips
This dough becomes very fragile if rolled out more than twice, after the second rolling, bake the scraps just as they are for what I like to call "Chef Snacks" with your private cup of tea.
Using these cookie cutters can be a little tricky. Feel free to use any simple shape, basic fluted circles, or shamrocks at St. Patrick's Day are super fun too!
If you are using a cookie press, it is best to freeze the cut cookies before baking. Allow them to chill for 15 minutes so they will keep their shape and impressions.
This dough can be rolled the moment it is finished mixing, but if you can I would let it rest in the fridge for about 20 minutes, up to overnight, before using.
These cookies can also be frosted, make a think water frosting by mixing a teaspoon or two of water into ¼ cup of powdered sugar. Dip cookies in the frosting and allow the excess to run off. Rest on a parchment-lined cookie sheet until dry.
Substitutions
Since the Irish Butter is what makes these traditional Irish Shortbread Biscuits, there really is no substitute. But if you are in a pinch and you want to make these, any butter will do. But a higher fat butter is preferred.
If you do not have vanilla, you have a few different options for a swap. Vanilla bean paste, maple syrup, or bourbon can all be used. But this is an Irish Shortbread cookie recipe right, why not sub for some GOOD Irish Whiskey?
If you wanted to lower the glycemic index of this cookie, you could swap the sugar for baking stevia, or Splenda. I use stevia for my mother who is diabetic.
To make these biscuits gluten-free, I would suggest a store-bought cup for cup flour substitute.
These are perfect served with Irish Coffee. They make for a wonderful morning spike or a sleepy nightcap. Grab my Classic Irish Coffee recipe here!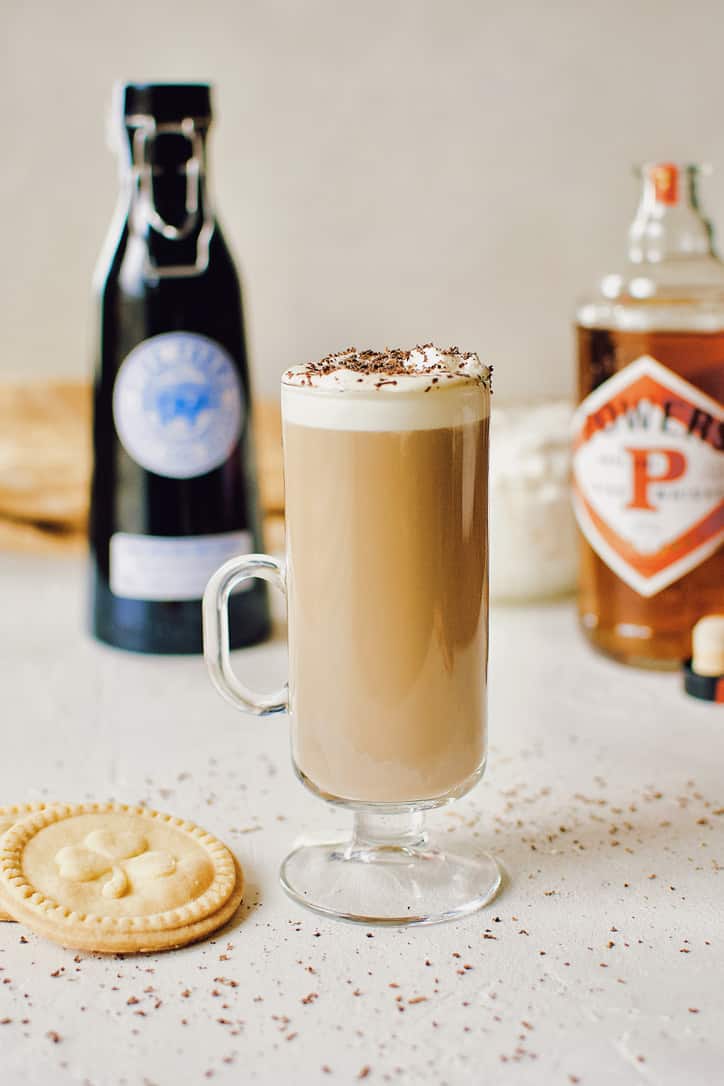 More Classic Irish Favorites
Check out some of my other favorite Irish foods I cook around St. Patrick's Day!
While Corned Beef and Cabbage isn't traditional to the island of Ireland, it is Irish-American and a fantastic way to celebrate in the US.
Colcannon Potatoes are an absolute classic Irish dish and one I would be happy to enjoy pretty much any day!
This Soda Bread recipe is VERY traditional and I am told many people in Ireland still this style of bread every day.
Now, this Irish Potato Bread recipe comes directly from Ireland and is one that dates back to the potato famine. It is a truly delicious bread and is still made today!
The seller on Etsy that sold the cookie stamps I used is no longer making them, but HERE are some other great options that look way better than what I used.
Did you make this recipe? Let me know by leaving a review or comment! And be sure to sign up for my newsletter, and follow along on Instagram, Pinterest, and Facebook!