On a hot day when the produce is at its peak, this Summer Fruit Salad is the perfect refreshing treat. It is hydrating and delicious, a little sweet, and a little tart, and just feels like summer in a bowl.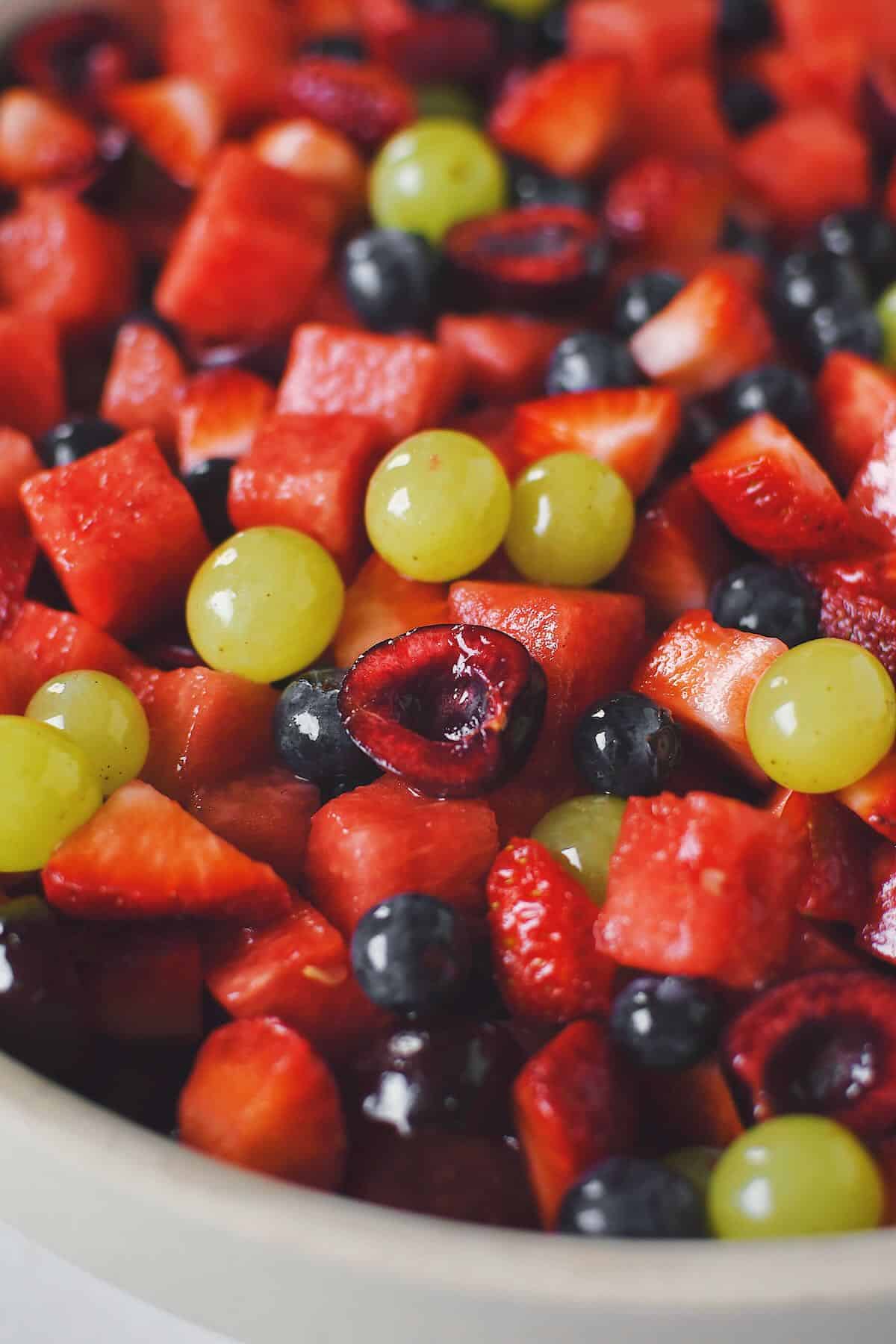 While you can really make a fruit salad with just about any fruits you love, these are my favorites. So use this as a guide line if you like, or make it just as stated.
Jump to:
Ingredients
I like to start with the watermelon as a base, it takes up most of the space and is a good vehicle for all the other fruits. The grapes and cherries are interchangeable for whatever color is fresh or that you prefer.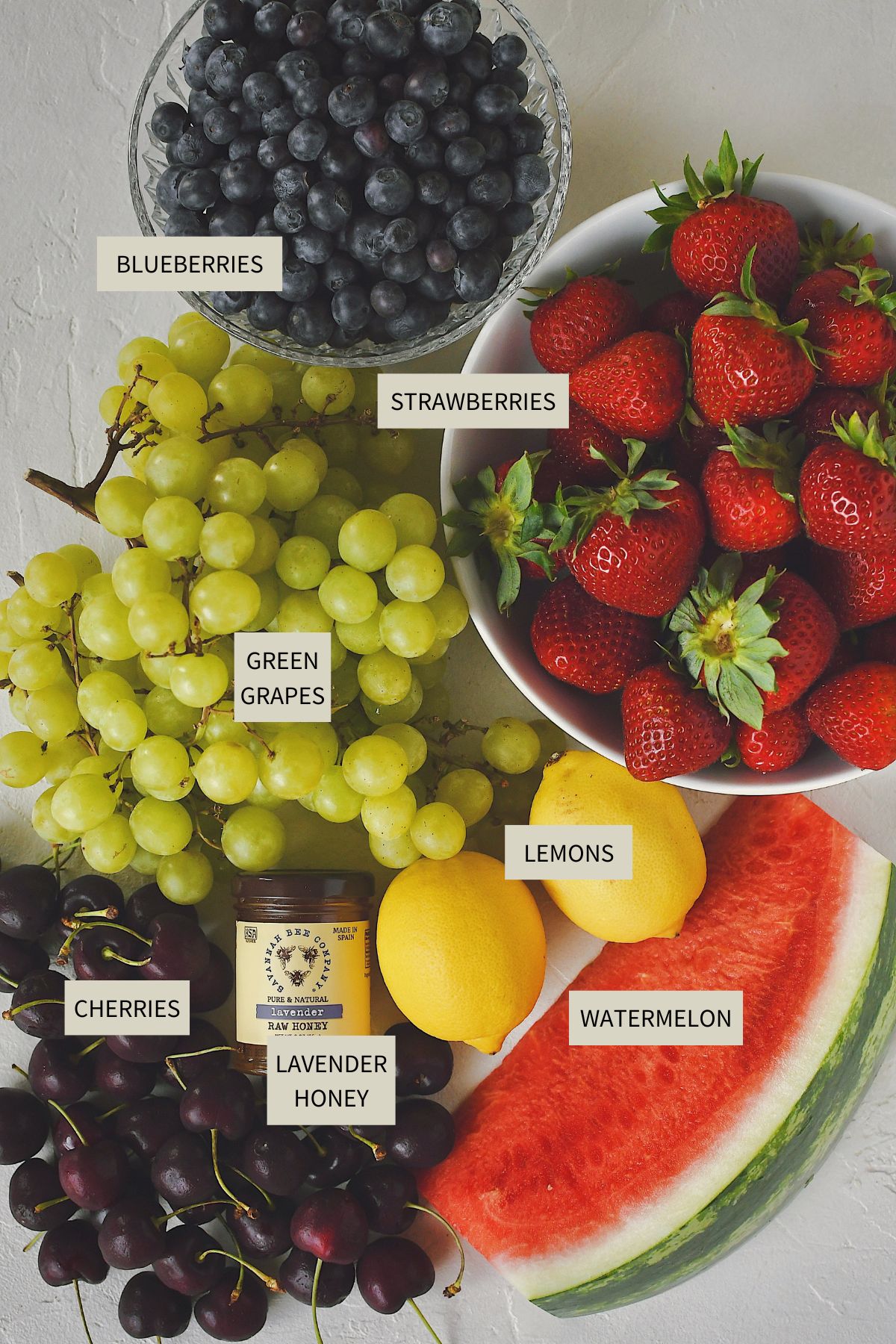 The same goes for the berries, you can use what I suggest, add, or take away to your liking. What really brings everything together is the lemon and honey. I had this jar of lavender honey that I picked up when it was on sale for a great price and it was perfect for this recipe. But you can use regular honey too, there are so many flavors it is really just there to bring balance.
Use the JUMP TO RECIPE button at the top of the post, or scroll to the bottom of the post to see the full recipe card with ingredient measurements and instructions.
Method
I like to start by dicing up the watermelon and using it as the base in my bowl. A good rule of thumb is to make everything about the same size, so I like to dice it just barely bigger than the grapes or cherries. The strawberries can be quartered or diced depending on how big or small they are.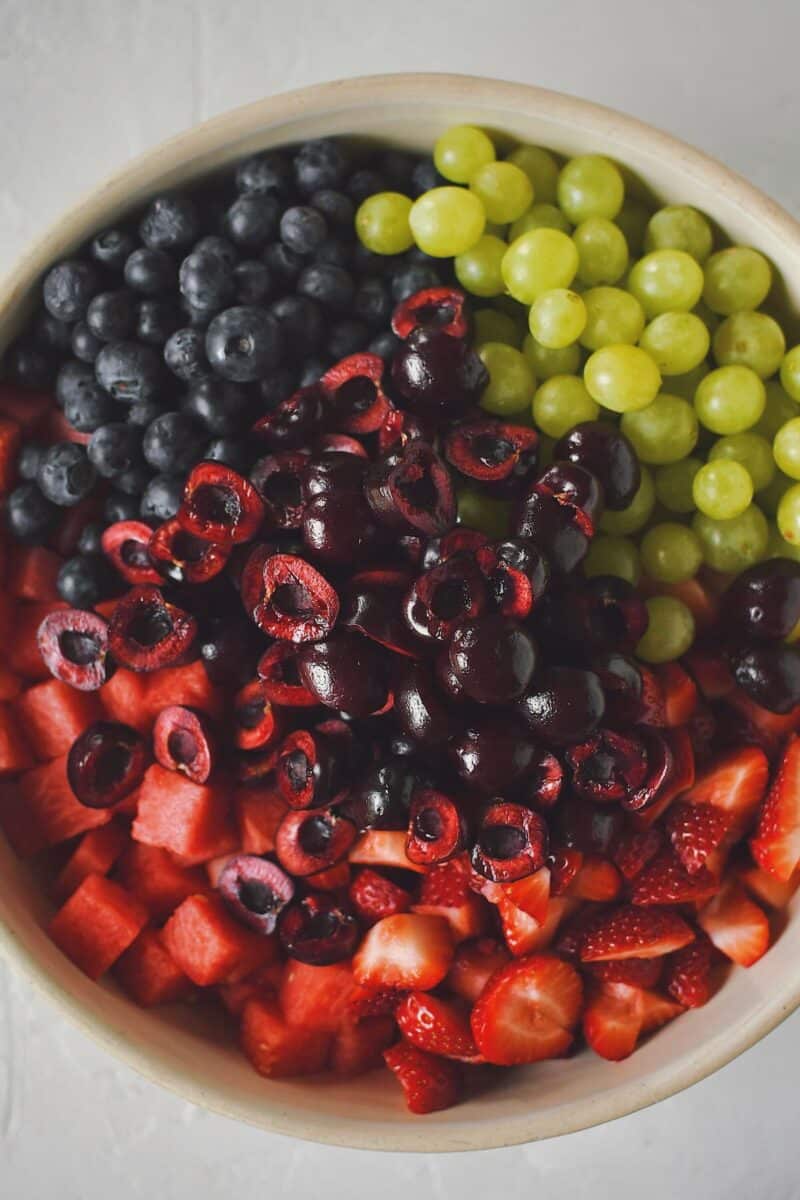 Then squeeze the lemon over the whole bowl and drizzle in the honey. I then use a rubber spatula to toss everything together. It helps to not break up or smash the fruit. You can serve the salad right away, but I think it is best if you give it a few hours in the fridge first. I even made my a day ahead and it was so addictive the whole thing was devoured in an afternoon after swimming. It is simple but perfect, everyone LOVED it.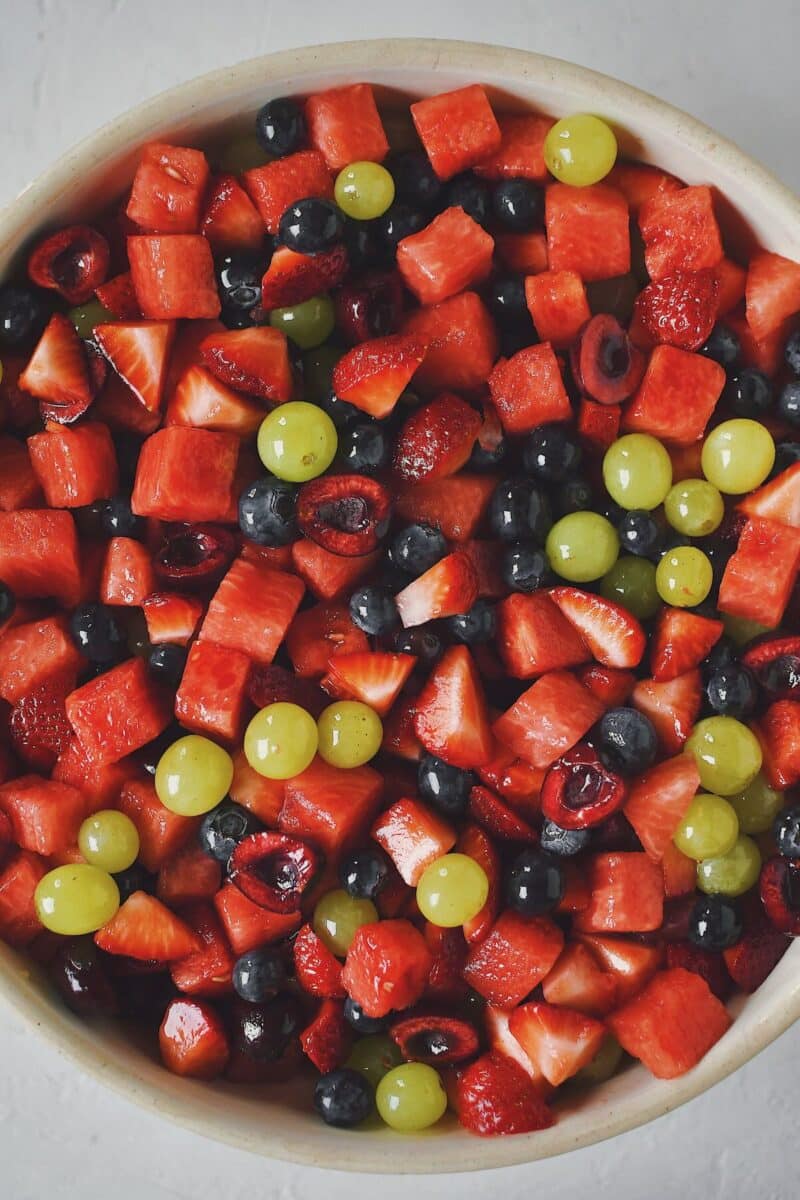 Notes & Tips
Dice the melon just a little bigger than the grapes or cherries, but it should be pretty small. I like for it to fit on a spoon with a few other pieces of fruit too.
Be sure to use a rubber spatula to toss all the fruit together with. This will keep from bruising or smashing the fruit, helping the salad hold up longer.
The salad holds up in the fridge for up to 2 days, but after that the berries begin to get mushy and the watermelon just doesn't hold up too well. But for 2 days it is great. I like to make mine the night before serving, it lets all the flavors really marinate beautifully.
Substitutions
For the grapes, you can use one, two, or three colors, any flavor or variety you like. Green is my preference here, it also brings a welcome color pop.
When red cherries are in season, they are great in this salad. I also sometimes make them with rainier cherries too.
Strawberries and blueberries hold up really well and don't squish when mixed together. Blackberries would also work ok. I would steer away from raspberries, they get too soft, or just dot some on top if you want to use them.
I am not a fan of melons other than water. But if you love them, by all means add them in. The sky really is the limit.
The only other fruit I sometimes add to this salad is banana. But only add them just before serving, and be sure to toss them together with everything so they get some lemon juice on them, it will help them not brown too fast.
Lime can also be used in place of the lemon. It will be a little brighter and more tart, but would totally work.
I used lavender honey that I picked up on a sale, and this seemed like the perfect place to use it. Wildflower or any local honey would also be great.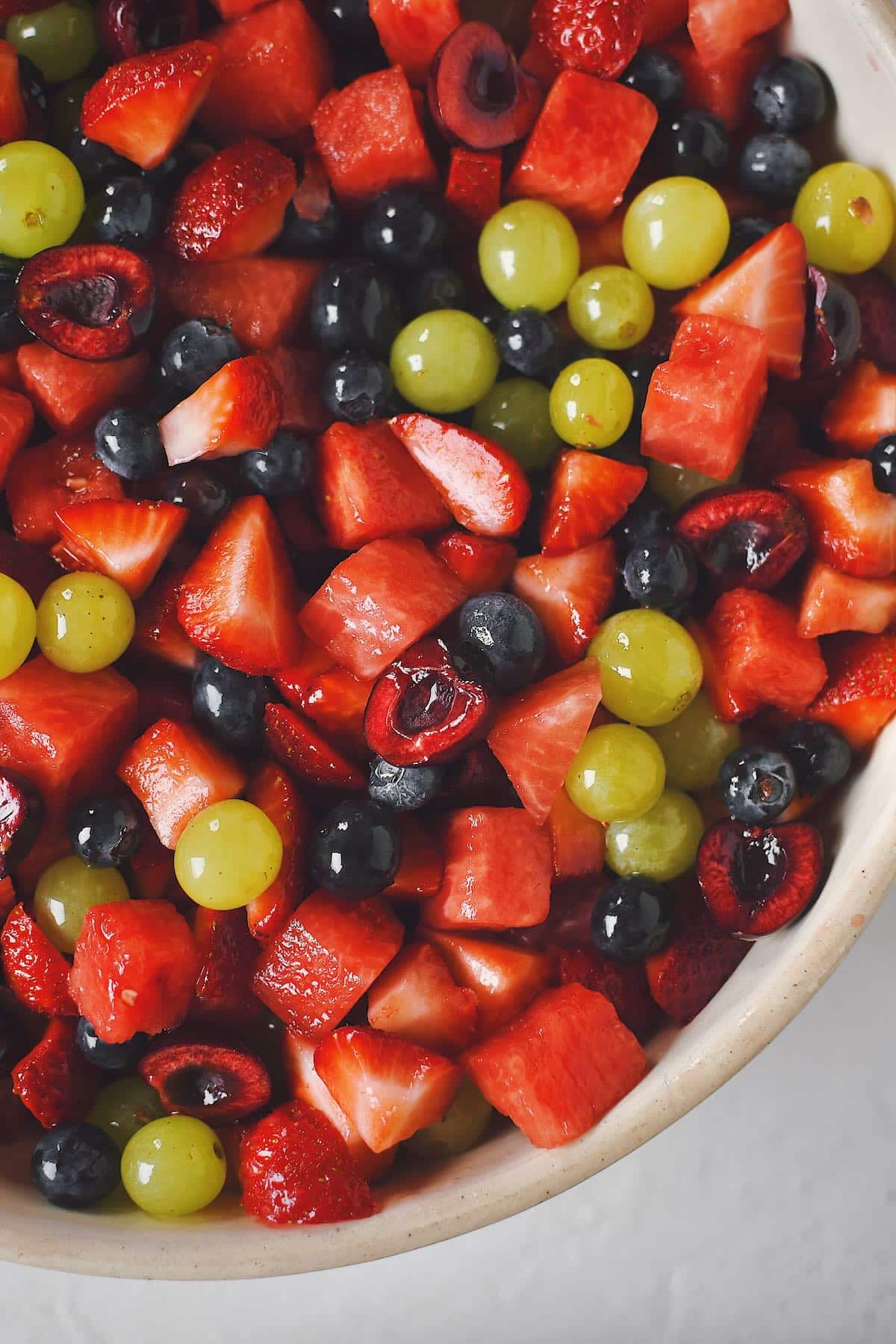 Did you make this recipe? Let me know by leaving a review or comment! And be sure to sign up for my newsletter, and follow along on Instagram, Pinterest, and Facebook!