I needed a fresh take on veggies and this Pea Salad was my answer. It is sweet, tangy, cheesy, and crunchy! And you can enjoy it warm or cold.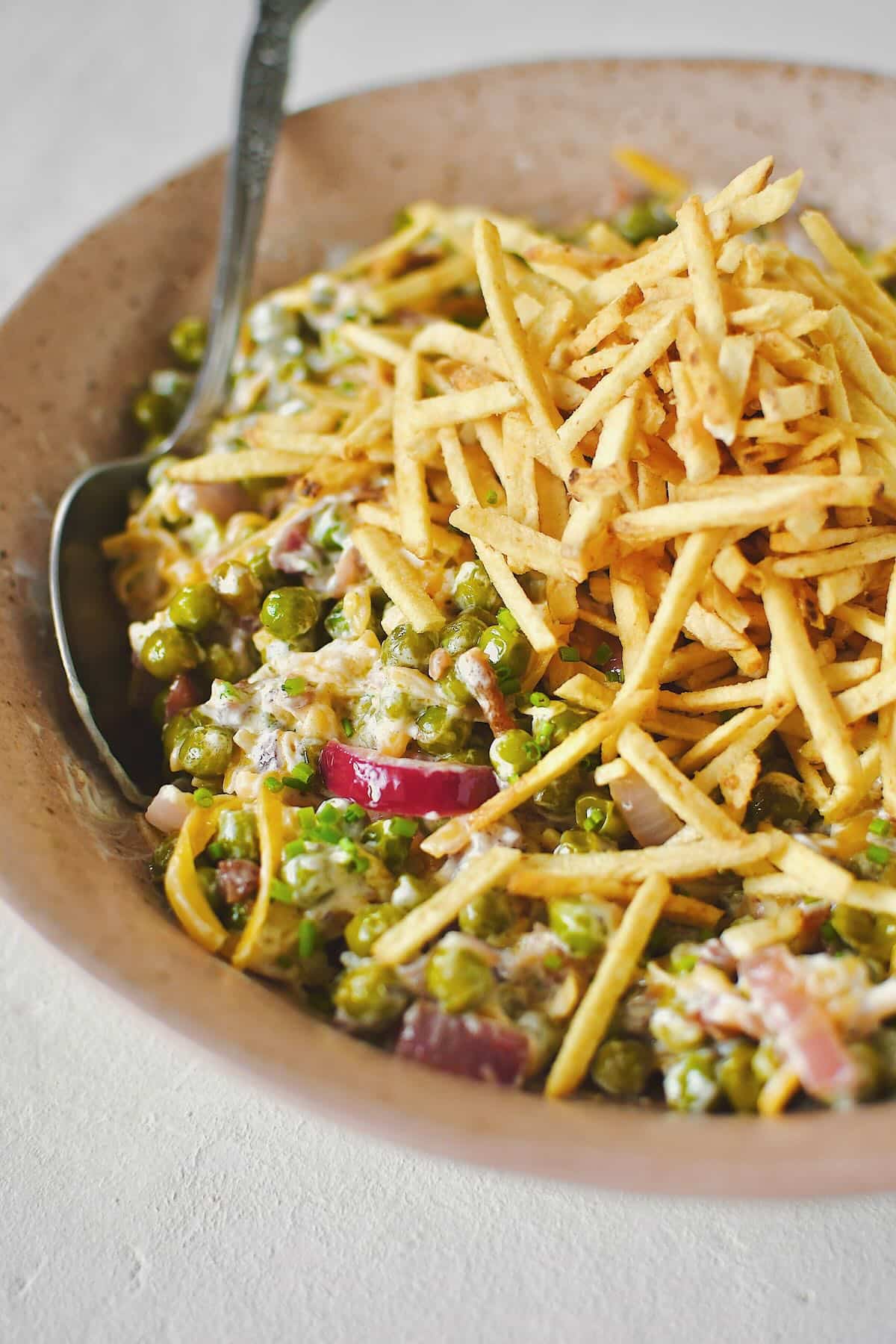 While this recipe harkens back to the ham and pea salad you might already know it is a fresh take on it and WAY different than what you think you may know.
Jump to:
Ingredients
When I can find them, I like to use fresh peas for this recipe. It doesn't change much from the cooking method, it just goes a tiny bit faster. Frozen does perfectly well and doesn't stop you from making it. Use fresh English peas when you can.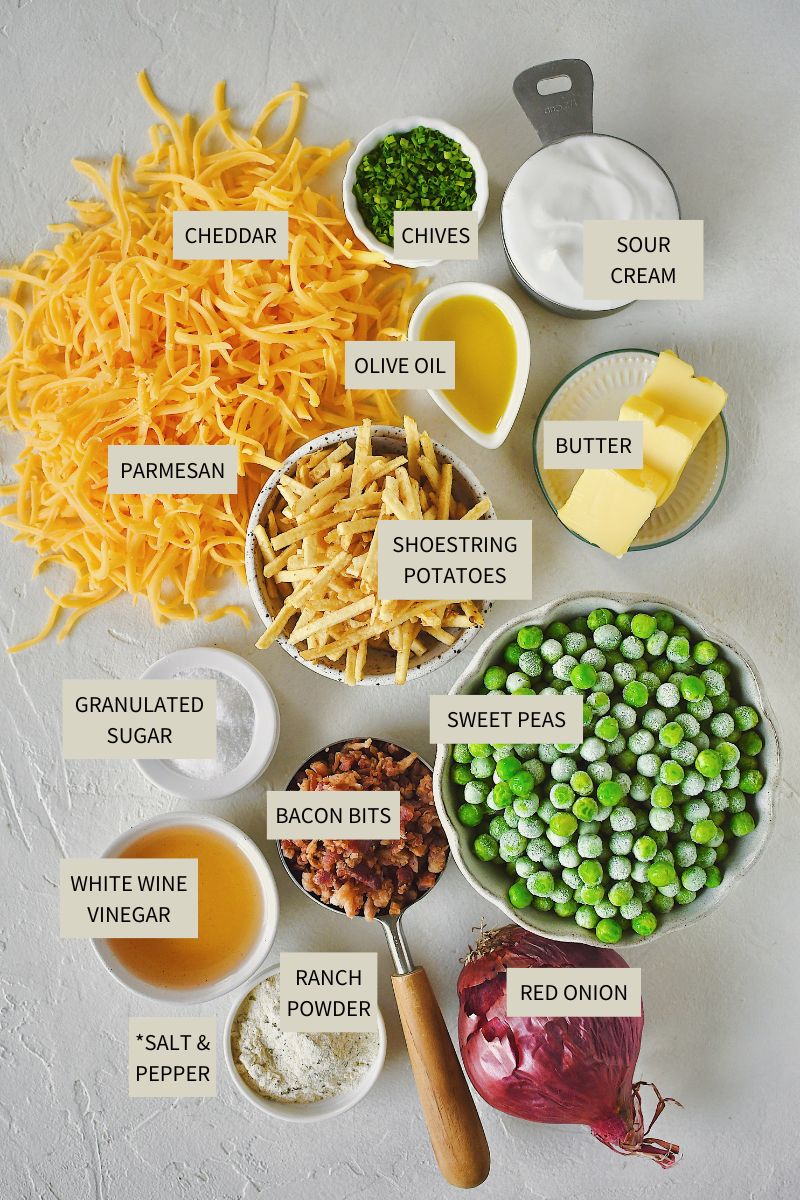 I also use storebought bacon bits for this one. I love the ones from Costco. They are the real thing and way better than making a bacon splatter mess. I also use storebought shoestring potatoes, yes, the ones from the little can. They bring a welcome crunch and it's an awesome hack. Just treat them like croutons or your favorite salad topper.
Use the JUMP TO RECIPE button at the top of the post, or scroll to the bottom of the post to see the full recipe card with ingredient measurements and instructions.
Method
I start by cooking the peas in the butter until they are warmed through. Do this for fresh or frozen. Then add the bacon and onions and cook till the bacon begins to crisp and the onions get tender.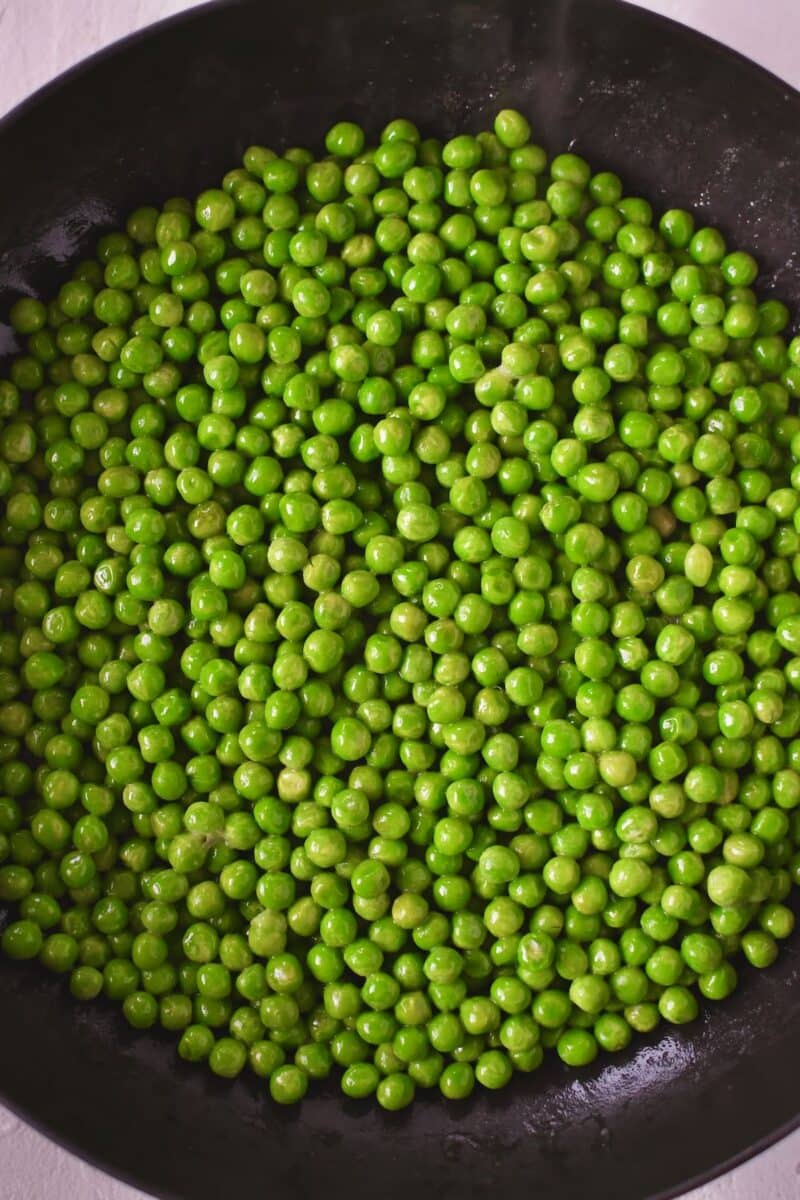 Then shake up what I call my ranch vinaigrette in a jar, and deglaze the pan with it. Toss it all together on the heat for a minute, then remove it to a serving bowl. You can let the peas cool at room temp and serve hot right away, or let it cool a bit.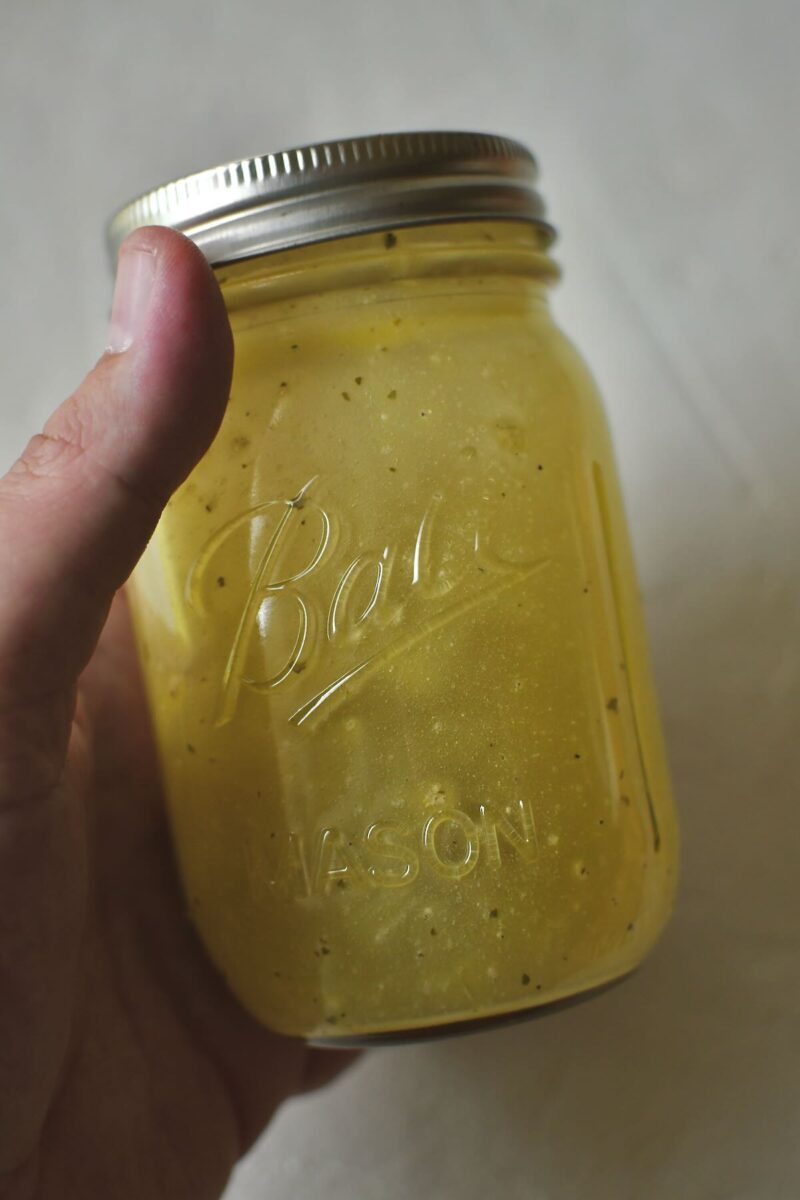 I finish the Pea Salad with some chive sour cream, cheddar, and a hearty topping of shoestring potatoes. It is a great side to a classic dinner of pork chops and mashed potatoes, or it also makes a great side for a backyard bbq!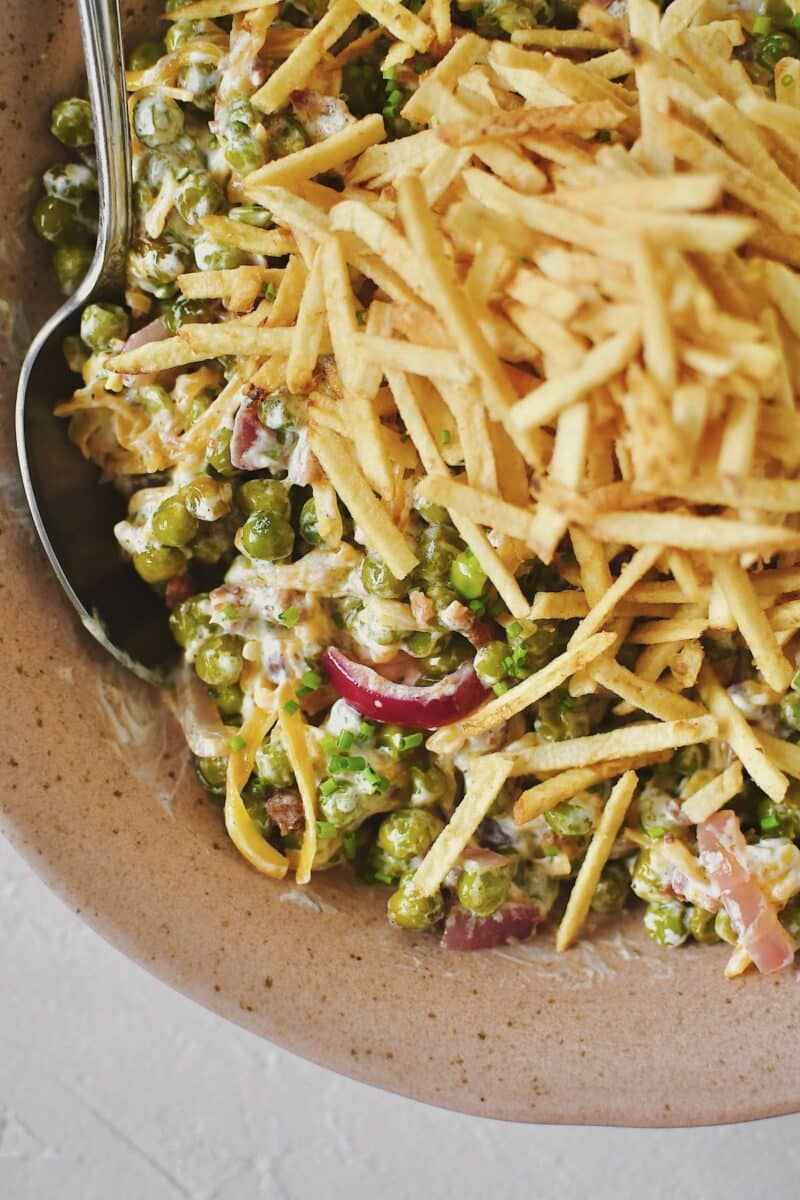 I hope this recipe harkens back to ham and pea salads from the past, but brings it to a new and exciting future. I dreamed about this salad for a long time and contemplated how to make it work just right and I think this version is totally tasty!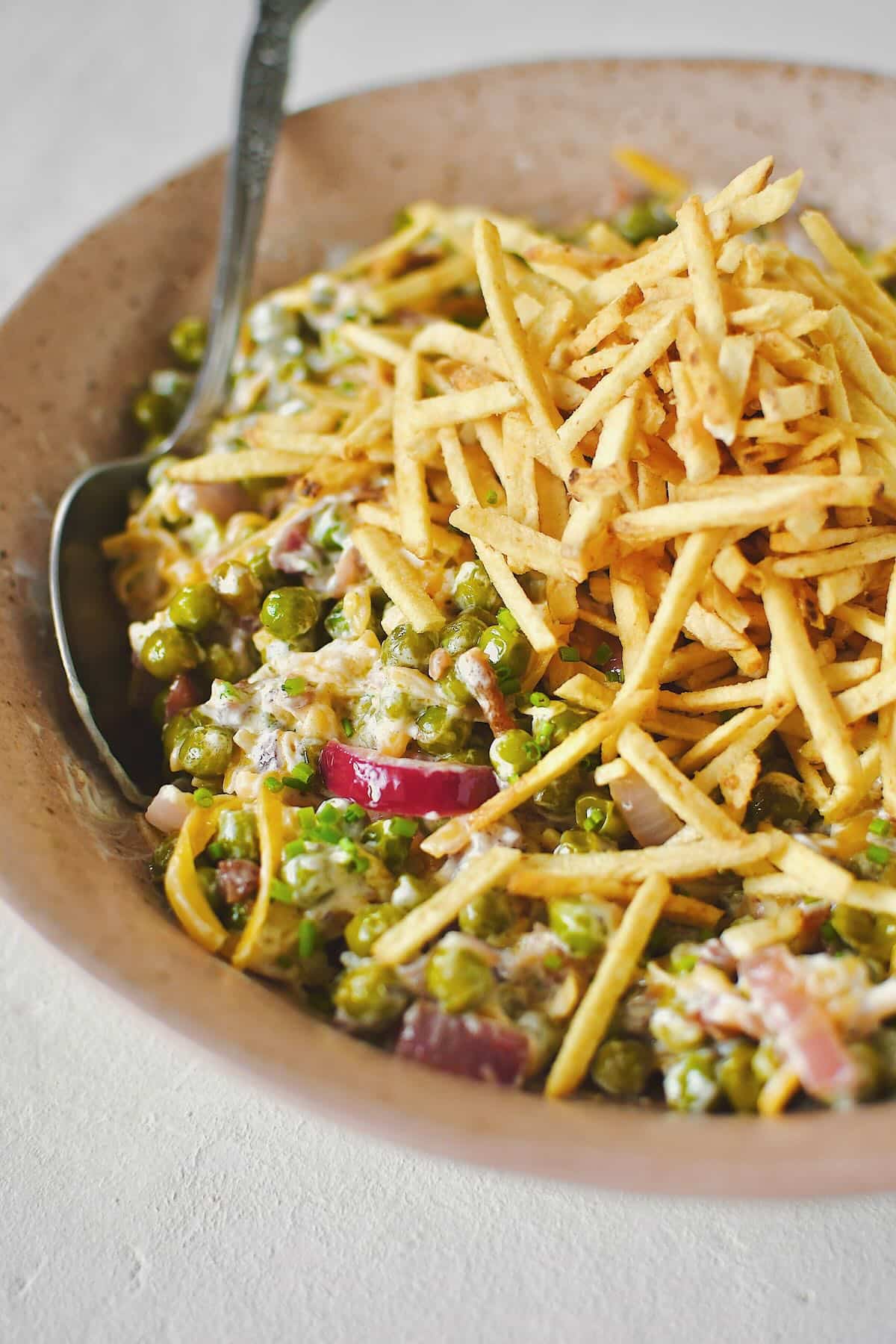 Notes & Tips
You can use fresh or frozen peas for this Pea Salad recipe. The only thing that changes is the first step, it will take frozen peas a few minutes longer to warm through.
Store leftovers in the fridge, but for best flavor and enjoyment, let it come to room temp before eating, or pop it in the microwave for 30 seconds to 1 minute to take the chill off. This helps the oil that hardens in the fridge to become viscous again.
If you don't want to use store-bought bacon bits, cook 6 strips of thick-cut bacon. Cook till crisp then dice or crumble and add in with the cheddar cheese at the end.
Substitutions
If you would like to keep this recipe dairy-free, swap the butter for olive oil. And use a plant-based sour cream and cheddar alternative.
Again, use fresh or frozen peas. If using fresh I like to use English peas, for frozen use sweet peas.
Yellow onion or shallot can also be used here. If you don't have red onion you can use those.
I prefer the bacon bits for this. You could go more traditional and use diced ham in its place if you like.
I like to use a vinegar that has a little sweetness to it. White Balsamic could also be used in place of the champagne vinegar.
If you so choose, you could replace the shoestring potatoes from the store with homemade ones. Cut fresh potatoes super thin, then cut them into thin matchsticks and deep fry them.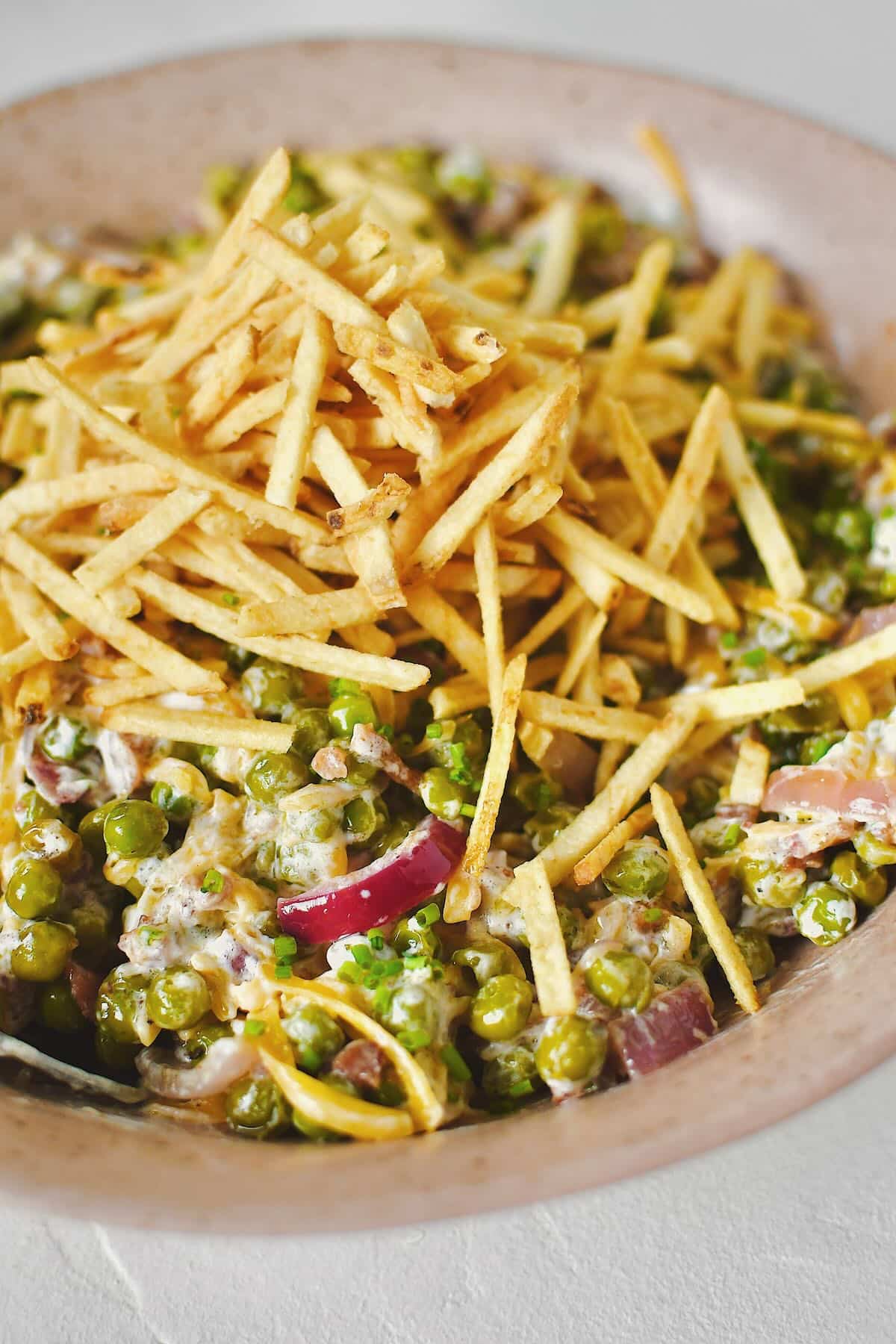 Did you make this recipe? Let me know by leaving a review or comment! And be sure to sign up for my newsletter, and follow along on Instagram, Pinterest, and Facebook!