This recipe for Strawberry Rhubarb Crisp just tastes like summer, the time when both of these ingredients are in abundance. Wrap them up in flavor with this extra crispy and nutty topping, and don't forget the ice cream. The filling is pretty tart, the way it should be, so the ice cream balances everything out perfectly!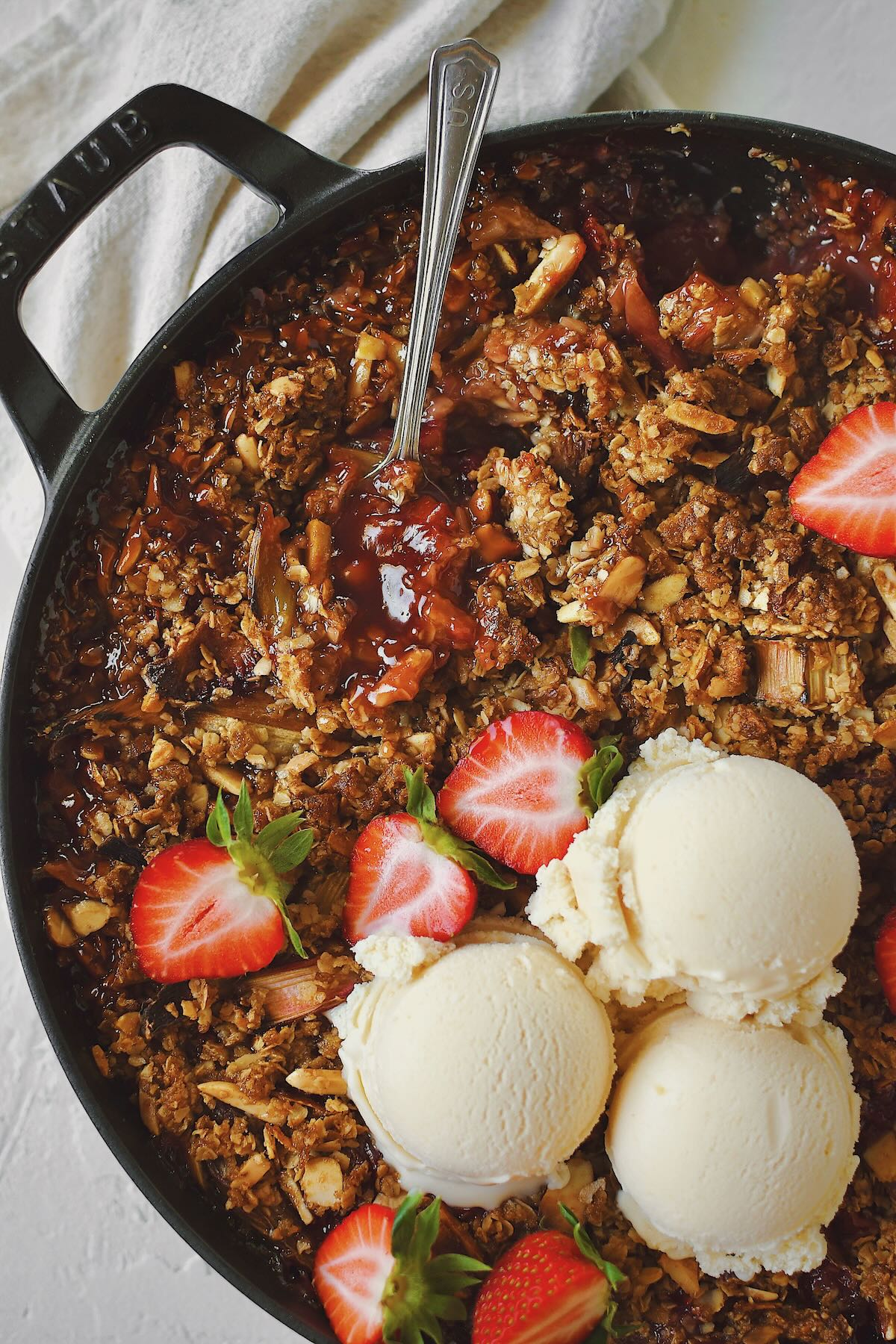 And while a classic vanilla ice cream will work for topping this delicious treat, it is even better when you add my Strawberry Ice Cream on top! At the very least use some whipped cream, I will say a creamy element is a must, the filling is very tangy.
Jump to:
Ingredients
Of course, you need the namesake ingredients, and now is also a good time to note that you can also use frozen berries and rhubarb. Either of them can be fresh or frozen, it really works any way. They are then tossed with some lemon, cornstarch, and sugar, you need the lemon because it helps keep everything bright. But if you like a sweeter filling add a little more sugar to the filling.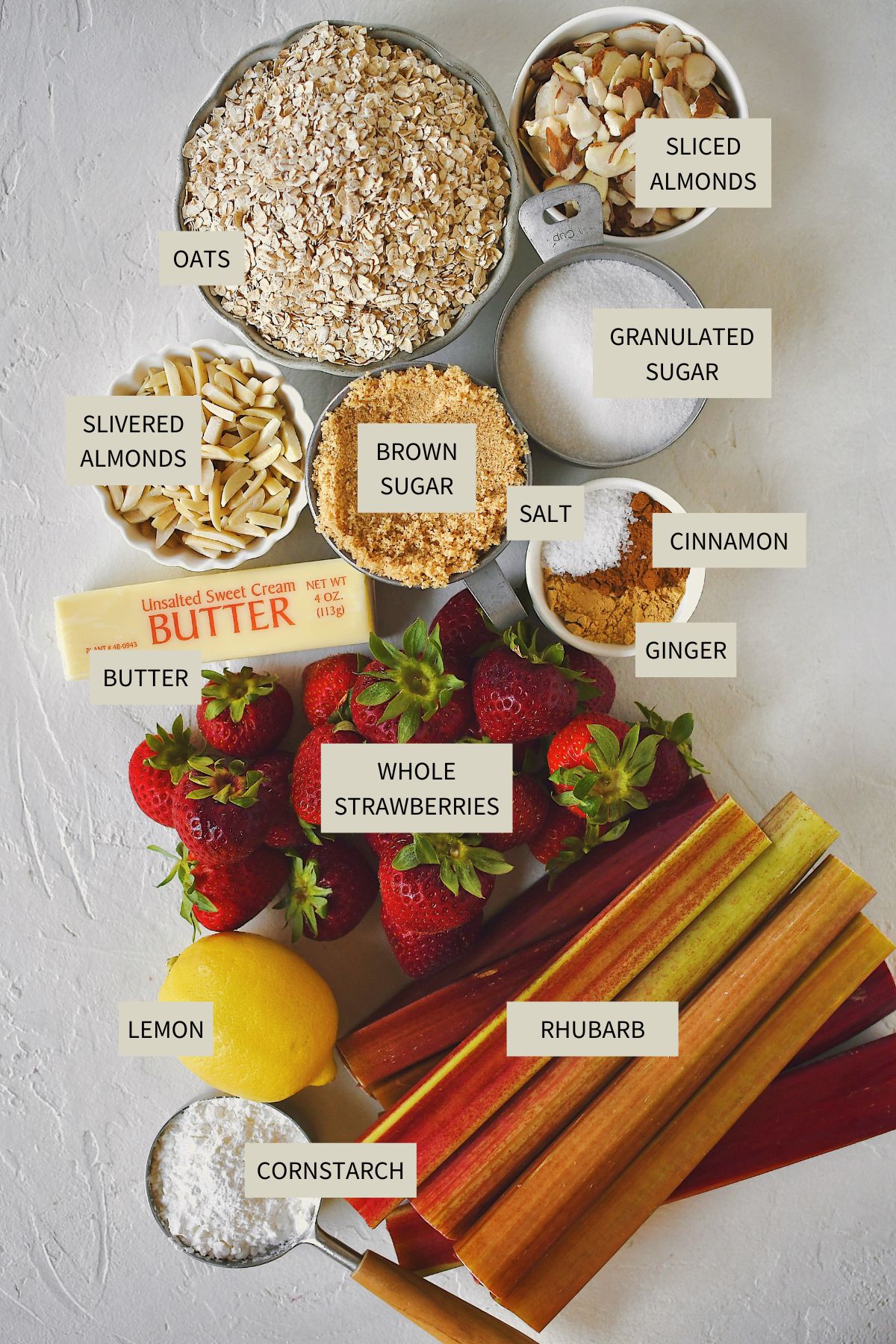 For the topping, I like to use two cuts of almonds for texture and contrast. You can leave it at one, but I'd suggest the slivered ones if you do. The oats can be any kind you have on hand I'm really not picky about them, though Irish oats that have to cook for like an hour wouldn't be advised.
Use the JUMP TO RECIPE button at the top of the post, or scroll to the bottom of the post to see the full recipe card with ingredient measurements and instructions.
Method
To mix up the filling, combine the rhubarb, strawberries, sugar, cornstarch, lemon juice, and zest in a large bowl and toss everything together to coat and combine. The rhubarb and berries can be either fresh or frozen, or a mix of both, the beauty of this recipe is that they will cook up the same either way. Also note, I like to cut my rhubarb on a sharp diagonal for some contrast.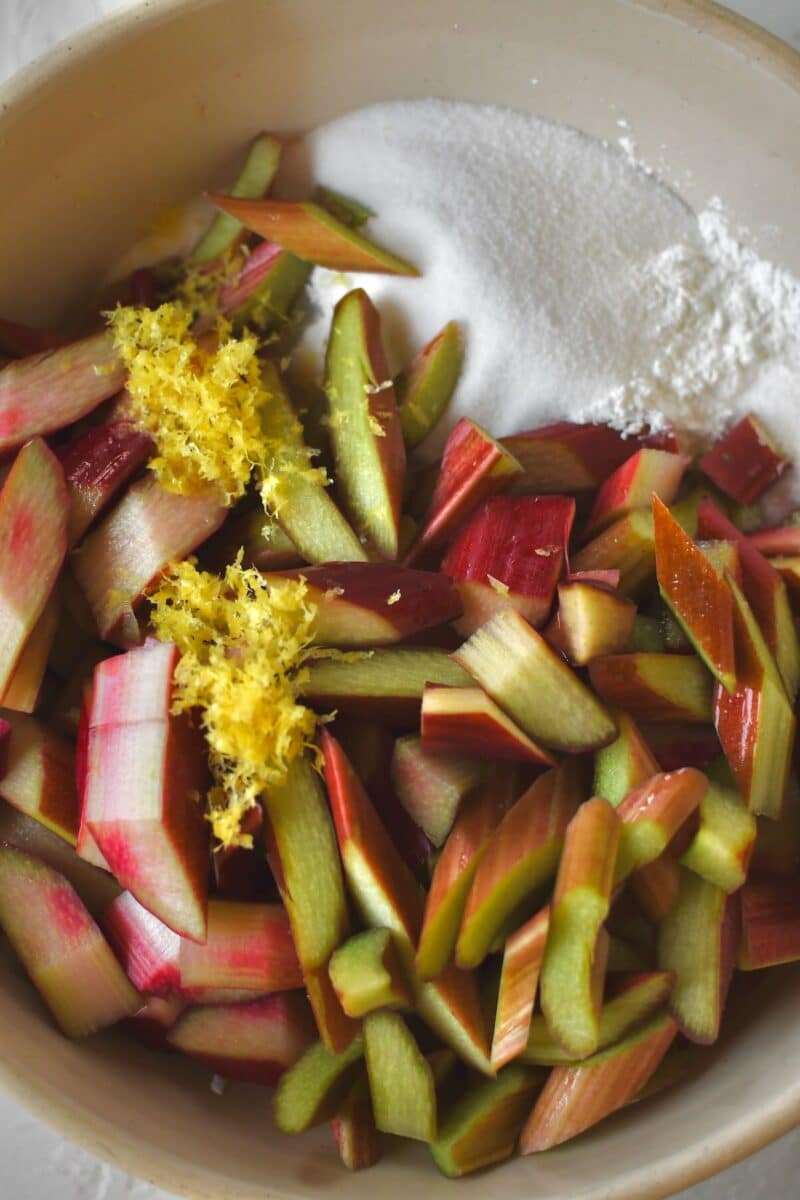 After placing the fruit in the baking dish, I make the topping in the same bowl. Press the butter into the oats, sugar, and nuts with your hands, then dust it over top of the fruit I like to pull some berries and rhubarb pieces through the crisp so you can seem them and so some of the juices will bubble through with baking.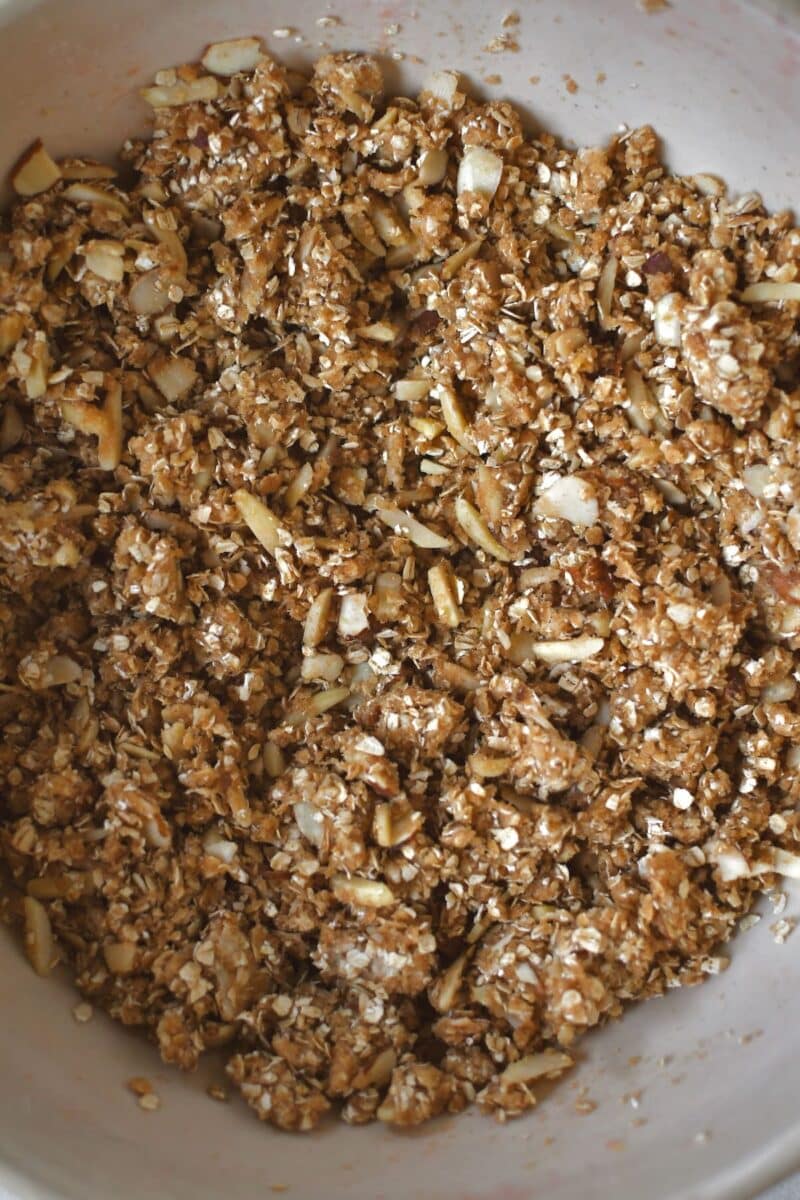 Look how pretty the final product is, even if it is brown all over. I like to bake the crisp just until some of those pieces I pulled through almost start to burn. This ensures that my filling has come to a full boil and will be really nice and thick all the way through. It will also be bubbling all the way around the pan too.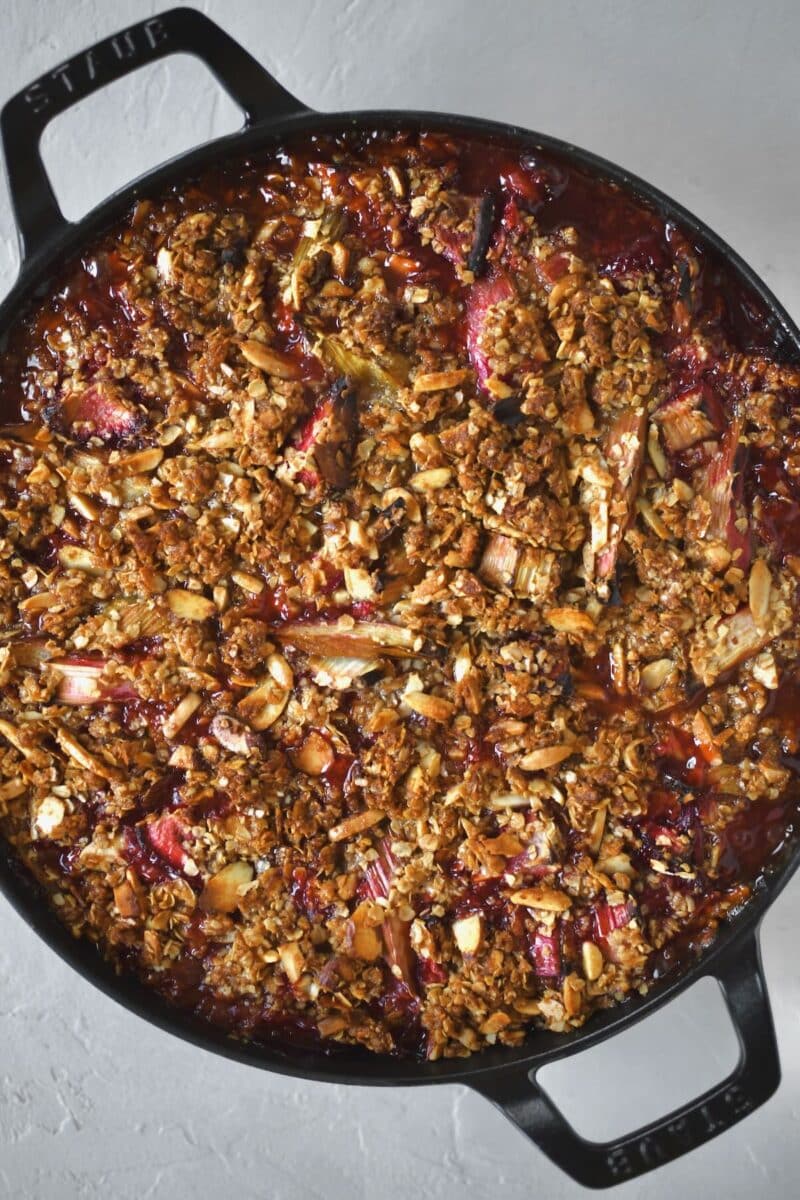 You end up with the most luscious textured jam essentially, layered under a beautifully crispy and nutty topping. It is a wonderful contrast of sweet, tart, and crunchy.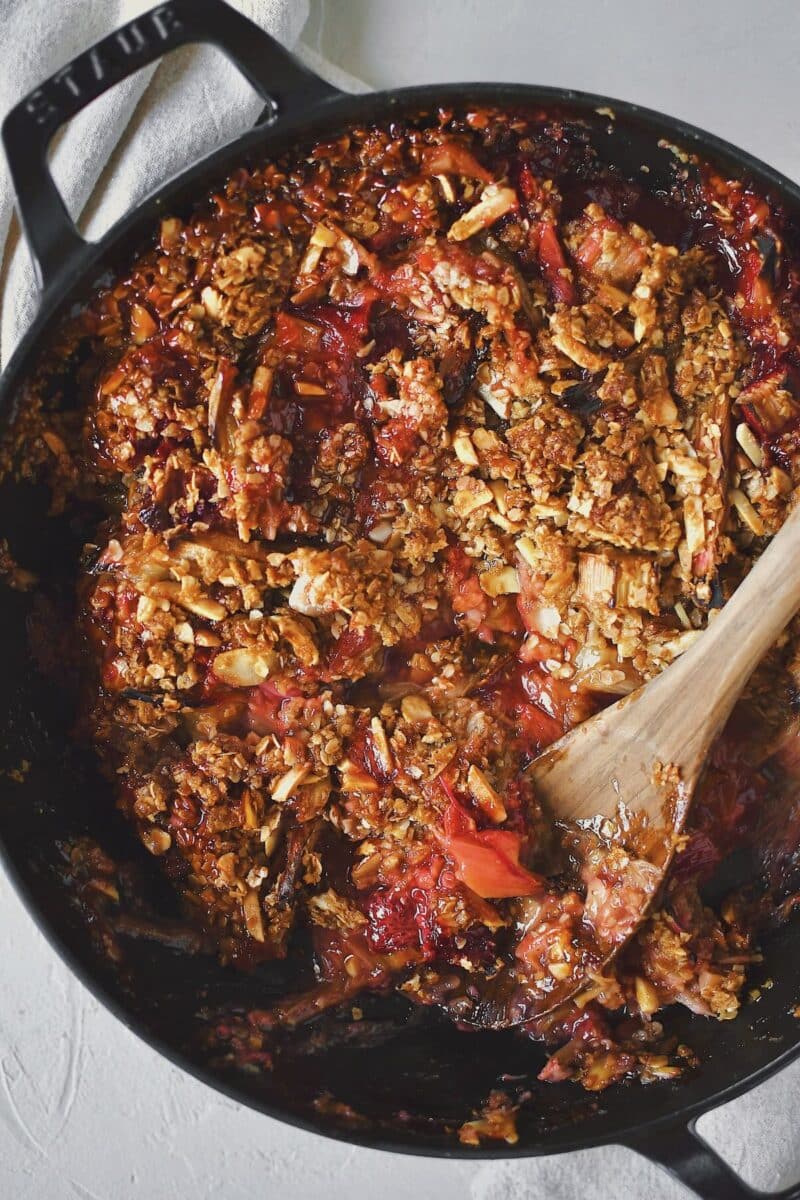 Notes & Tips
Even though the rhubarb is super tart, you need the lemon to keep the flavors balanced and it also acts as a natural preservative of the color. This way you end up with a bright red filling, instead of it going dull and brown.
If you like a sweeter, less tart filling, double the granulated sugar at the beginning of the recipe when mixing in with the fruit. I believe this should be super sharp and tart because that is what rhubarb is.
I like to bake this in a large skillet, you could also bake it in a 9x13 baking dish.
Make as few dishes as possible. I do think the fruit needs a good toss in the bowl before putting it in the pan, but if you toss it with a rubber spatula and scrape all the juices out into the pan you can make the topping right in the same bowl.
Substitutions
When it comes to the rhubarb and strawberries, one or both can be frozen if that's what you have on hand. I used all fresh when making these photos, but it works either way.
This recipe comes out naturally gluten-free, however, if you are celiac, just be sure your cornstarch and oats are from a gluten-free facility.
Light or dark brown sugar can be used for the topping, don't get hung up on that for this recipe. Dark will just have a richer flavor, and that is ok.
The cinnamon and ginger are there to bring just a touch of warmth to the final product. They are not necessarily a note you will pick up on heavily, but they will balance everything out really nicely. Use a touch of fresh nutmeg for some extra punch.
If you would like to keep this recipe dairy-free, swap the butter for coconut oil or a plant-based butter substitute. Because it is a "crisp", it doesn't really matter too much which fat you use.
I like the use of two types of cut almonds for textural and visual contrast. But you can use just one if you like. Pecans are also great here.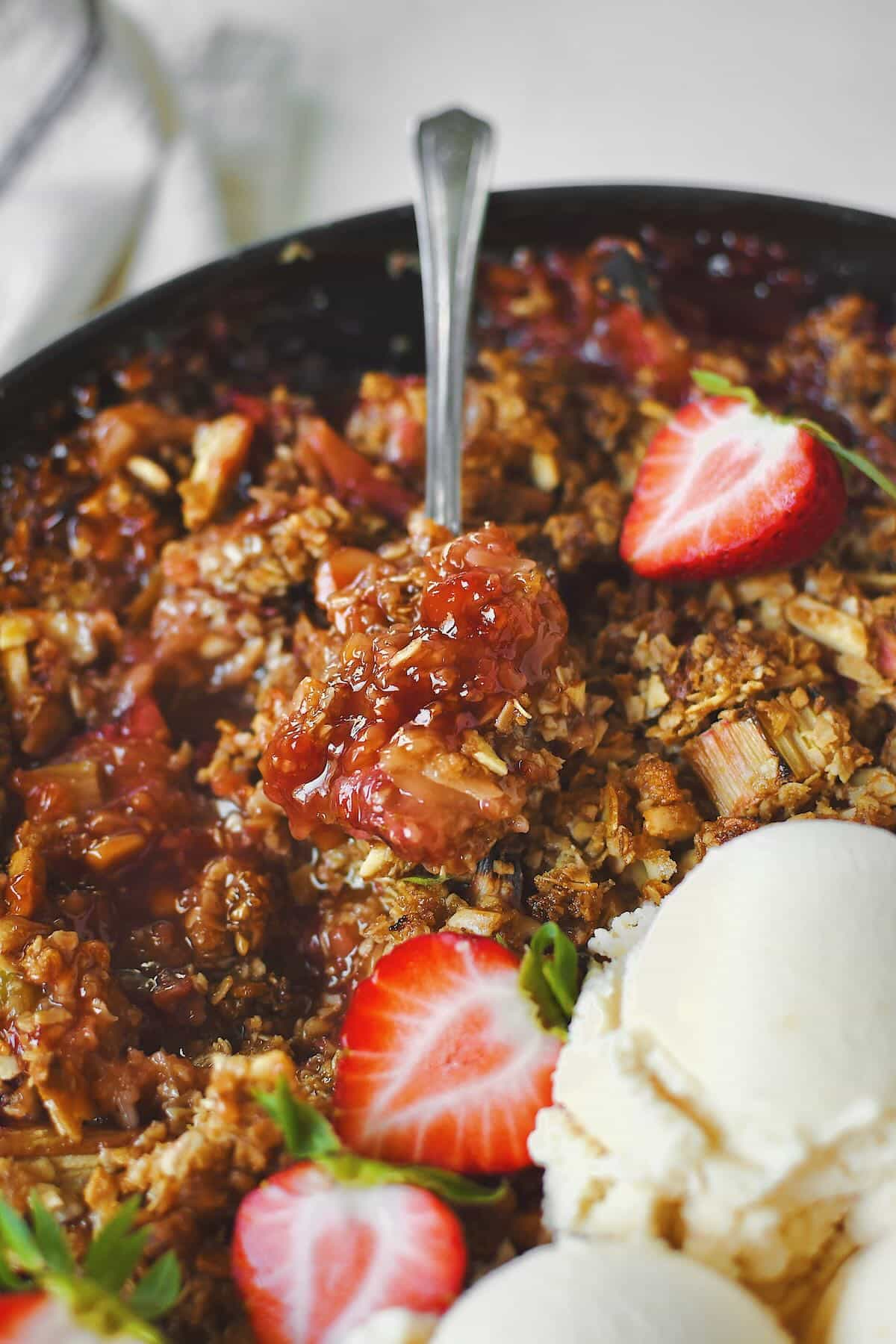 Did you make this recipe? Let me know by leaving a review or comment! And be sure to sign up for my newsletter, and follow along on Instagram, Pinterest, and Facebook!