If you prefer a breakfast this is a little sweet, tart, and crunchy, then this Smoothie Bowl Recipe is for you. Get ready to grab your spoon and dive right in!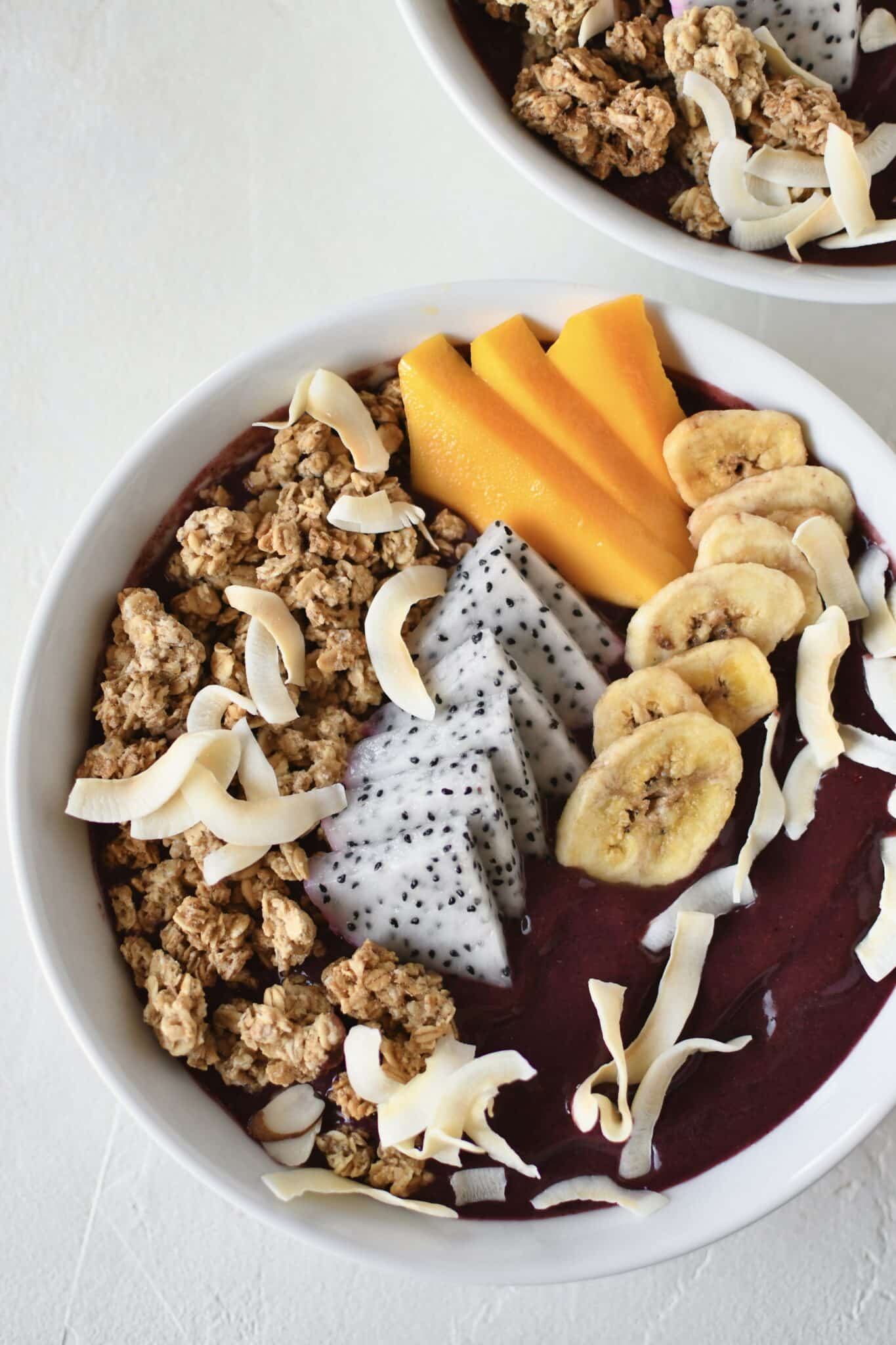 Sometimes sucking down a smoothie doesn't feel quite like a meal. So making this smoothie bowl feels like the halfway point between a smoothie and a bowl of cereal.
Jump to:
Ingredients
While what you choose to put in your smoothie bowl can vary greatly, I am providing a general guideline and my go-to for how I typically make myself one.
What you do need is some frozen fruit, a frozen acai packet if you like to use it, and some fresh and dried fruit and granola for topping. From there you can use water or nut milk to get everything moving and add in protein or collagen powders if you like. But I am going to leave that up to you and leave that out for now.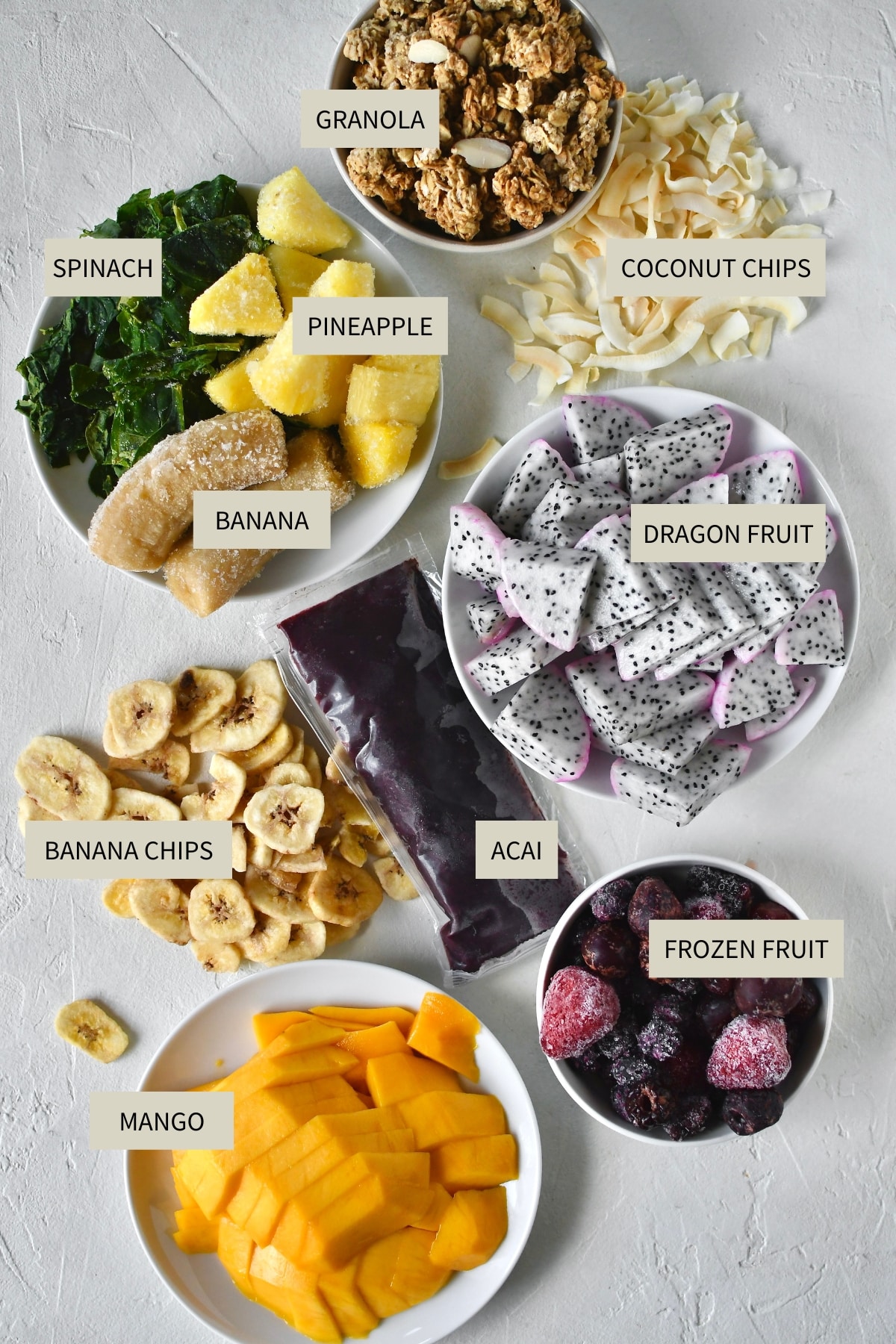 There really are so many options for toppings too, if you like hemp or flax seeds toss some of those on top too. I also drizzle some nut butter on top sometimes too. The customization options are endless.
Use the JUMP TO RECIPE button at the top of the post, or scroll to the bottom of the post to see the full recipe card with ingredient measurements and instructions.
Method
First, toss an acai packet, your favorite frozen fruits, and I like to add some frozen spinach in too. Add a little ice and some water or nut milk to get everything moving and blend until a thick mixture forms. Pour it into a bowl and get topping.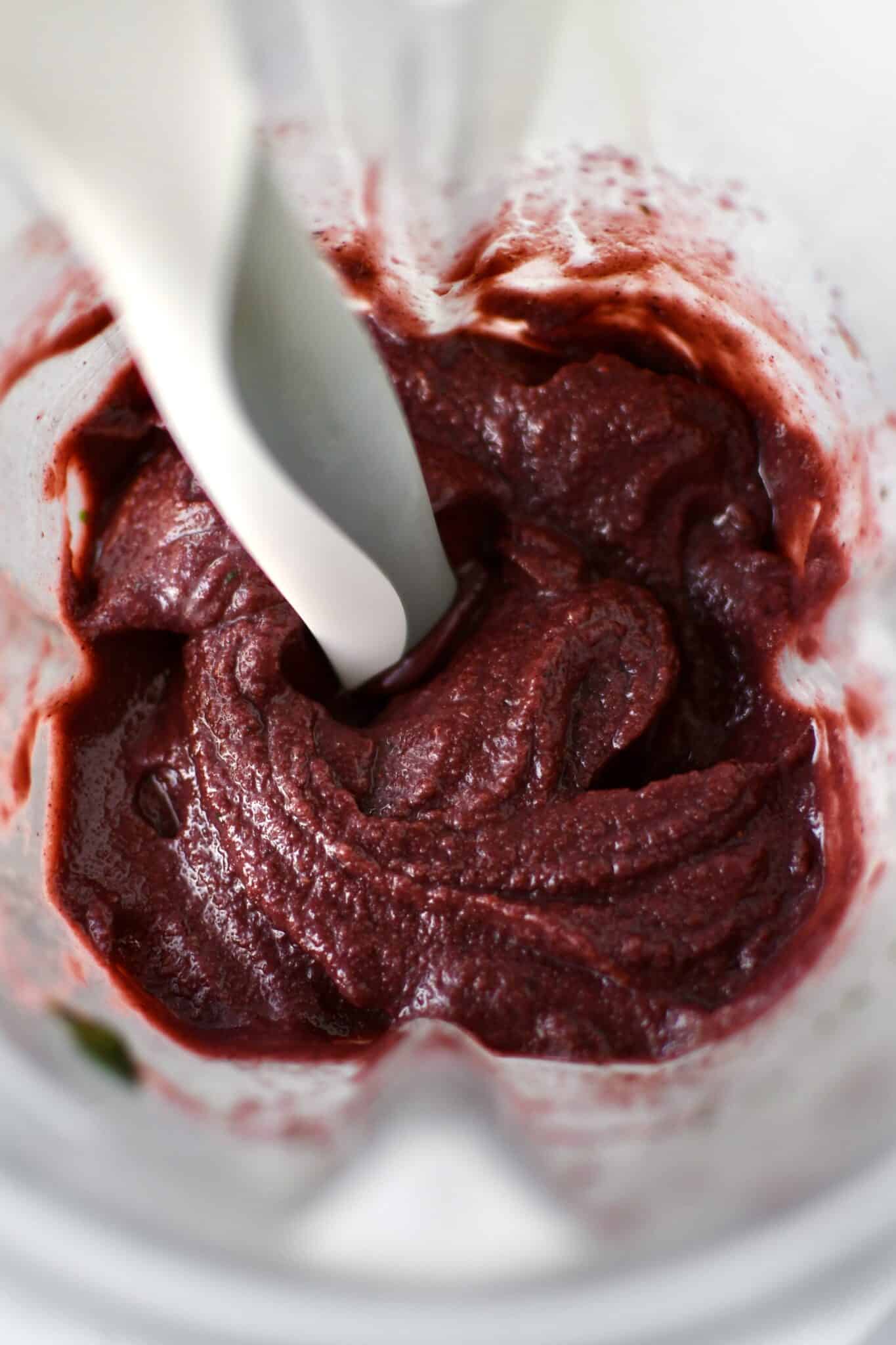 I like to top my smoothie bowl with a good base layer of granola, then add some fresh fruit on top. Then scatter some of my favorite dried banana chips and coconut chips to round everything out.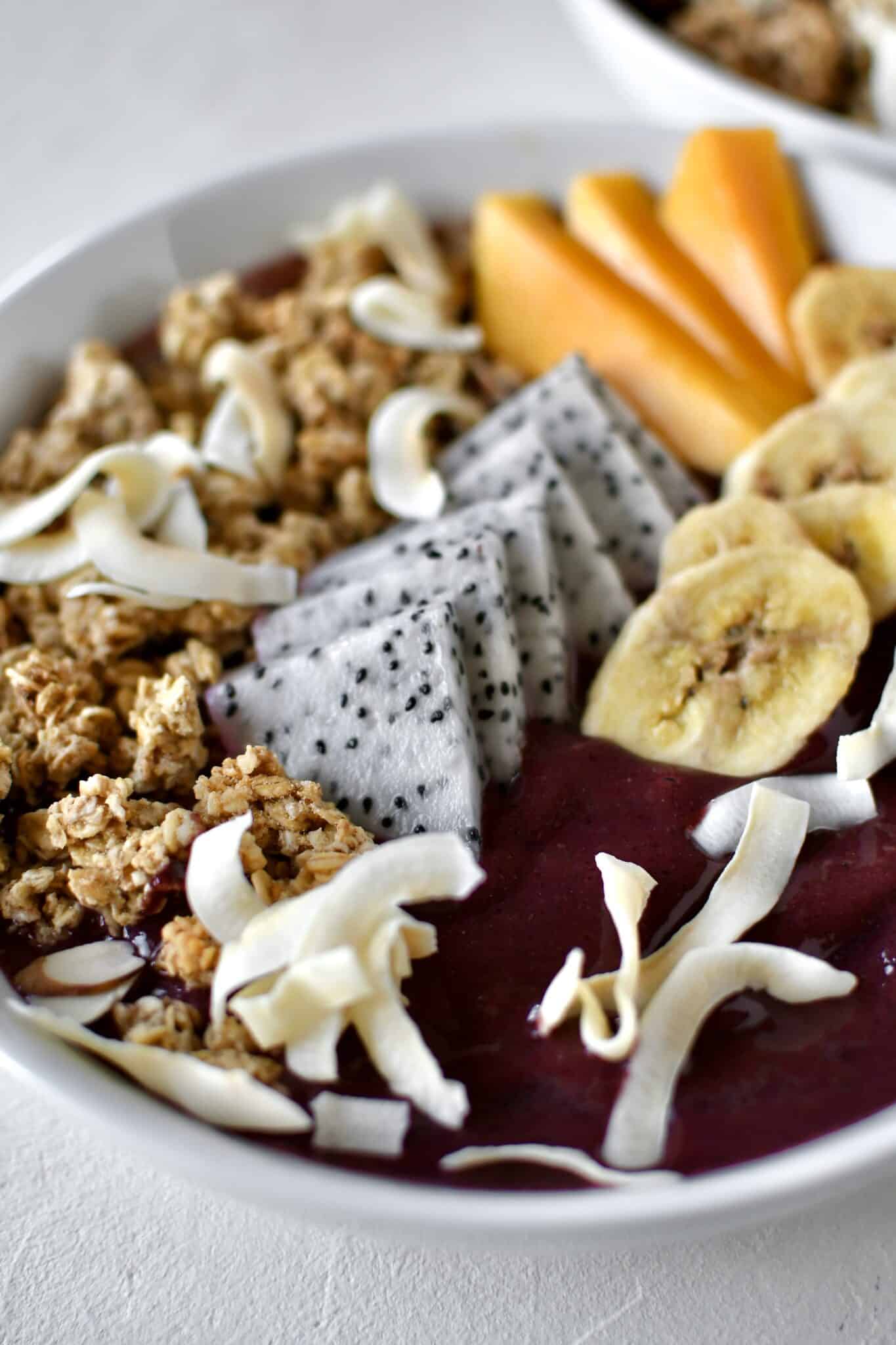 Notes & Tips
What is great about this recipe is that you get all the loveliness of a smoothie – cool, creamy, and delicious! This comes together in mere seconds… just add everything to a blender till smooth pour into a bowl and add your toppings on top.
This end result is packed full of fiber and protein and makes a great, well-rounded breakfast or healthy snack. They are also easily made gluten-free, dairy-free, or vegan!
To make a smoothie bowl thicker, you can add things like protein powder, avocado, or chia seeds. You also want to start with just a scant amount of whichever liquid you use. You want just enough to get everything moving, but not so much it becomes soupy.
I like to freeze most of my fruit for a smoothie bowl, banana, pineapple, and even spinach hold up really well in the freezer and they help keep the bowl thicker too.
Substitutions
More great topping options are things like fresh bananas or berries, almond or peanut butter, chia or flax seeds, honey, or even chocolate shavings.
And of course, feel free to swap a fruit or nut milk for your favorite. There really is no wrongdoing, just keep the amounts fairly similar and you will achieve success.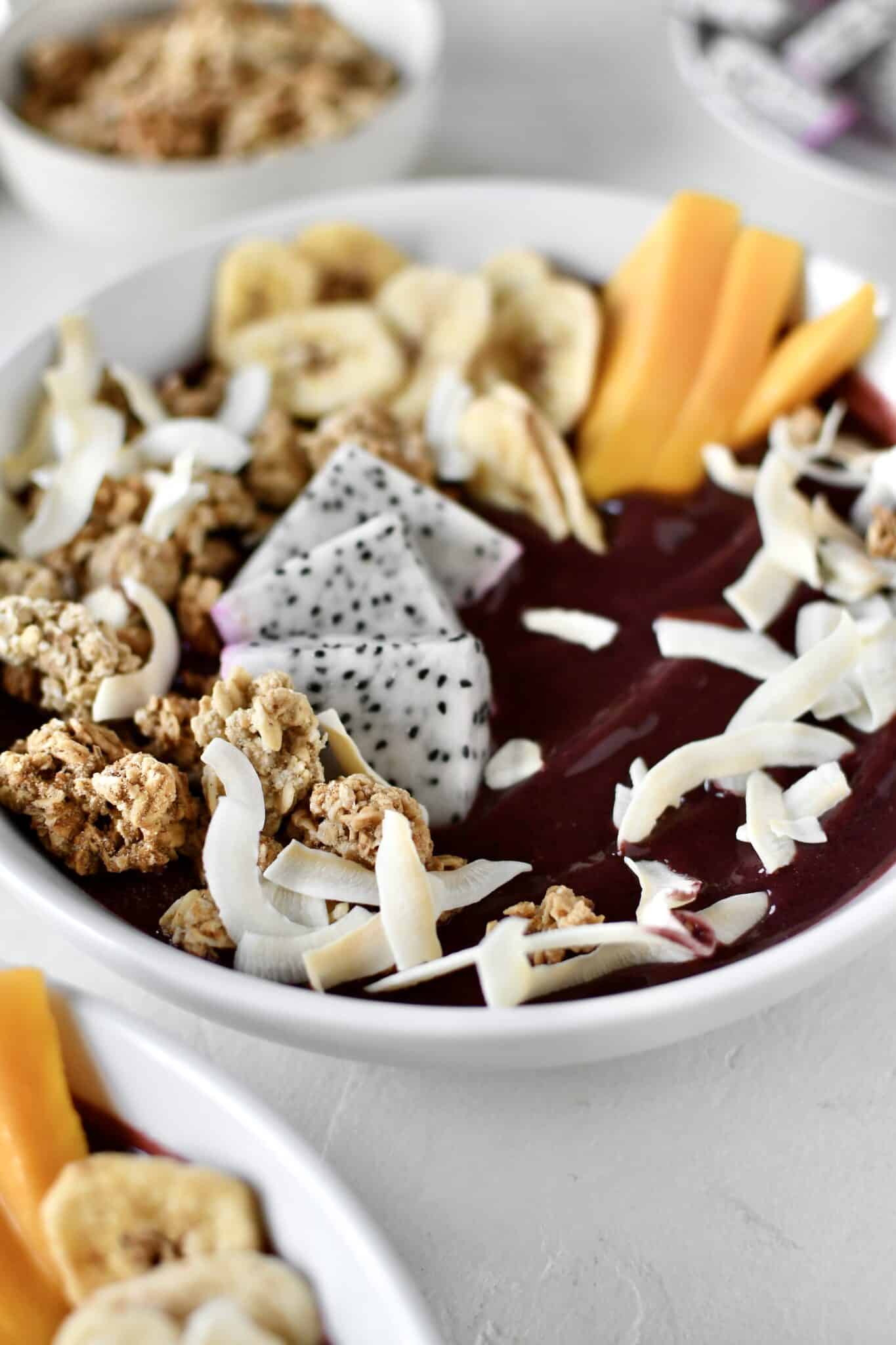 Did you make this recipe? Let me know by leaving a review or comment! And be sure to sign up for my newsletter, and follow along on Instagram, Pinterest, and Facebook!