There is just something about the moment that the crisp fall air hits that make me what to whip up these Apple Nachos. Plus, the fall crop of my favorite Honeycrisp apples just always seems to be the best.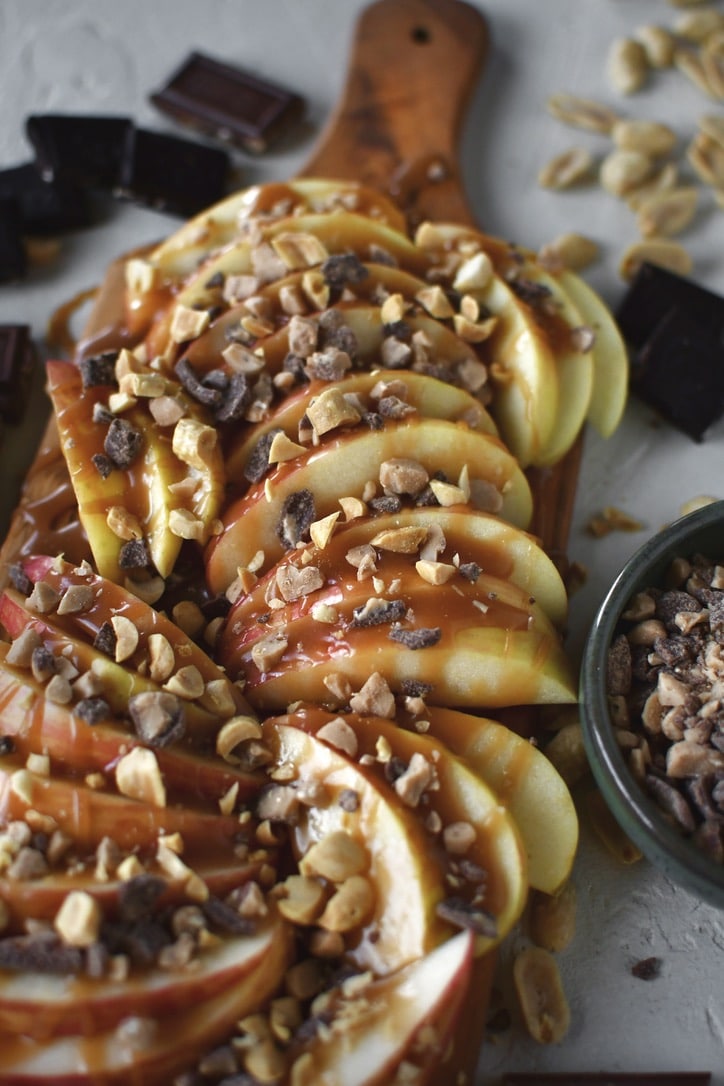 And while you can use any apple you like to make these, if you ask me the Honeycrisp is superior. I use to live in Washington State and Oregon, and when I first tasted one, right off the tree that morning, I was hooked!
Jump to:
Ingredients
What you need to make this recipe is very minimal. There are also endless options for things you can top your sliced apples with, the image below depicts my favorite things to use. I also like to make my own Caramel Sauce. This recipe is so easy, I can take a moment to whip up a fresh sauce.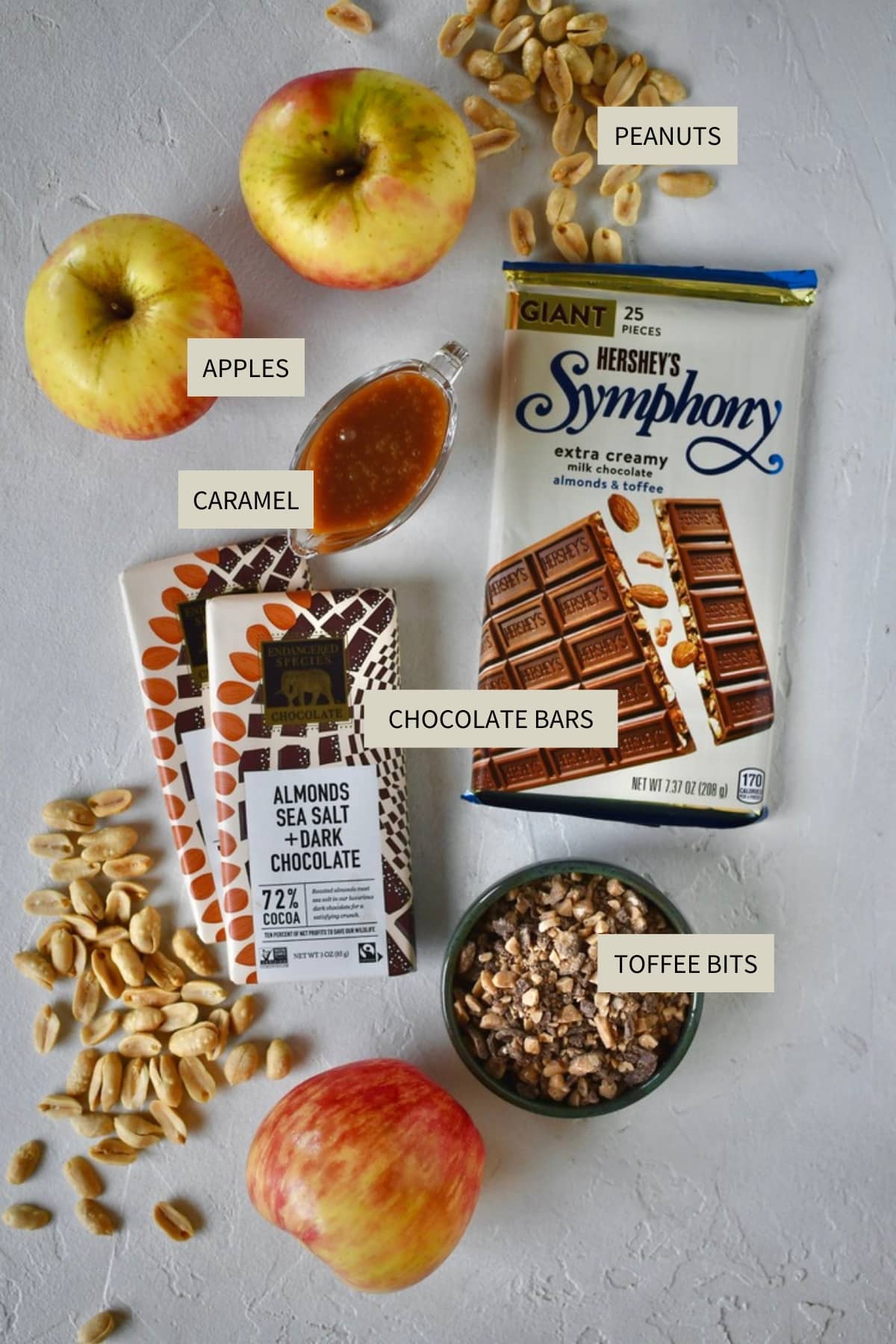 I also like to use a bar of darker, bitter chocolate, as well as a bar of milk chocolate for a nice contrast of flavors. And the nuttier the better in my opinion.
Use the JUMP TO RECIPE button at the top of the post, or scroll to the bottom of the post to see the full recipe card with ingredient measurements and instructions.
Method
Making this recipe could NOT be easier. You can whip up this tasty snack in just about 5 minutes and have something kids and adults will enjoy!
Simply slice and fan out some apples on a platter or board and drizzle some caramel sauce over them. Then top them to your heart's content with nuts, toffee bits, and shaved or grated chocolate. The sky is the limit for the healthy, snacky, treat!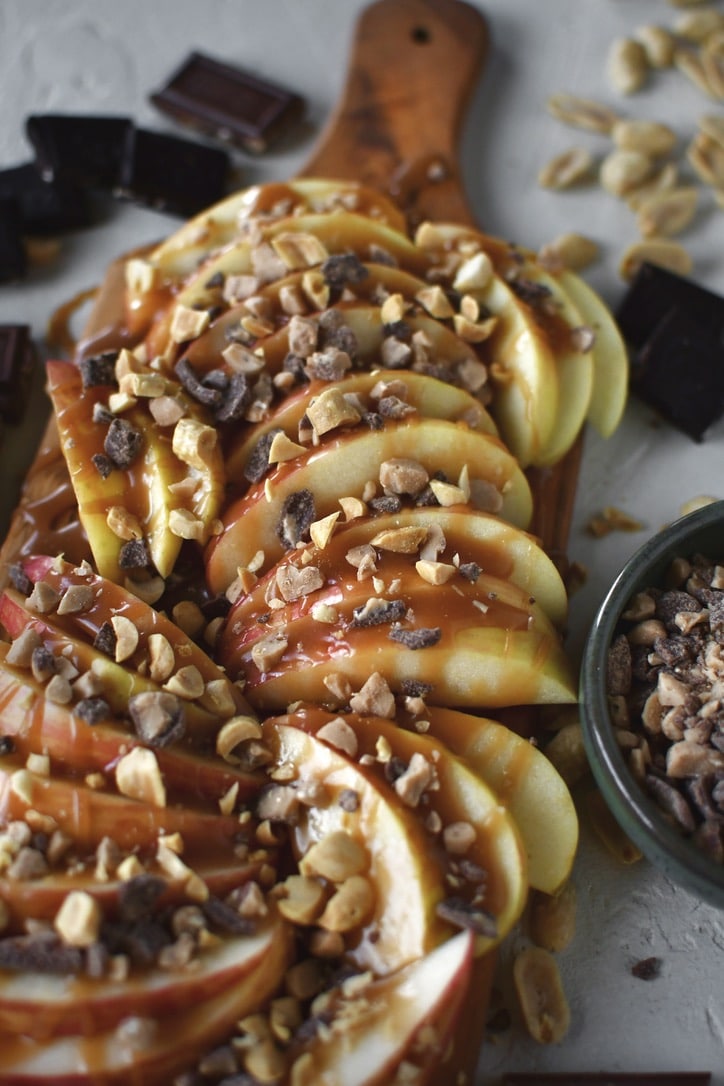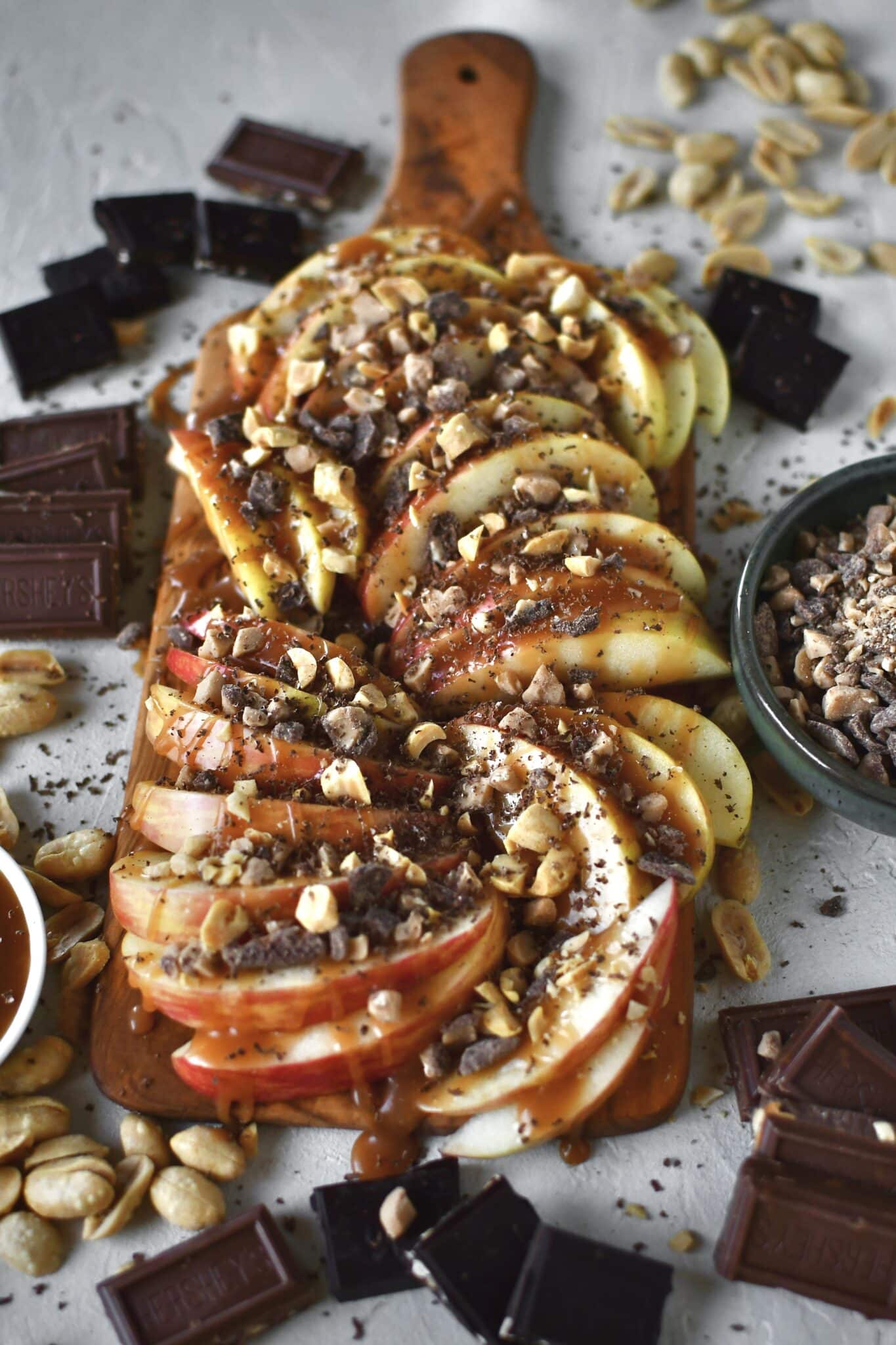 Notes & Tips
You can get a good dose of protein from this snack if you use nut butter. Easily giving you about 8 grams of protein for every 2 tablespoons of nut butter you use.
This recipe is naturally vegetarian, (vegan if using nut butter) gluten-free, and grain free.
If you would like to make these Apple Nachos more ahead of time for a party, slice the fruit and place them in a bowl of water with 1 fresh lemon squeezed in it. Stir everything around and let them soak for 5-10 minutes. Drain the water and let them dry for a few minutes in a strainer. Then layer them on your serving dish.
If you do soak the apples, they will keep for 2-3 days in the fridge when held in an air-tight container. This is a great option if you would like to meal prep this snack.
Substitutions
I have shared my favorite toppings for these Apple Nachos, reminiscent of a caramel apple. But if you'd like to be a little healthier you could drizzle the apples in peanut or other nut butter.
Other healthy topping options are things like a drizzle of pure maple syrup or honey, raisins or currants, ground cardamom, or even some hemp hearts.
A good option to use instead of chocolate bars is chocolate chips. There are TONS of varieties out there. Use what you LOVE.
Another favorite topping is a dusting of cinnamon over the apples too.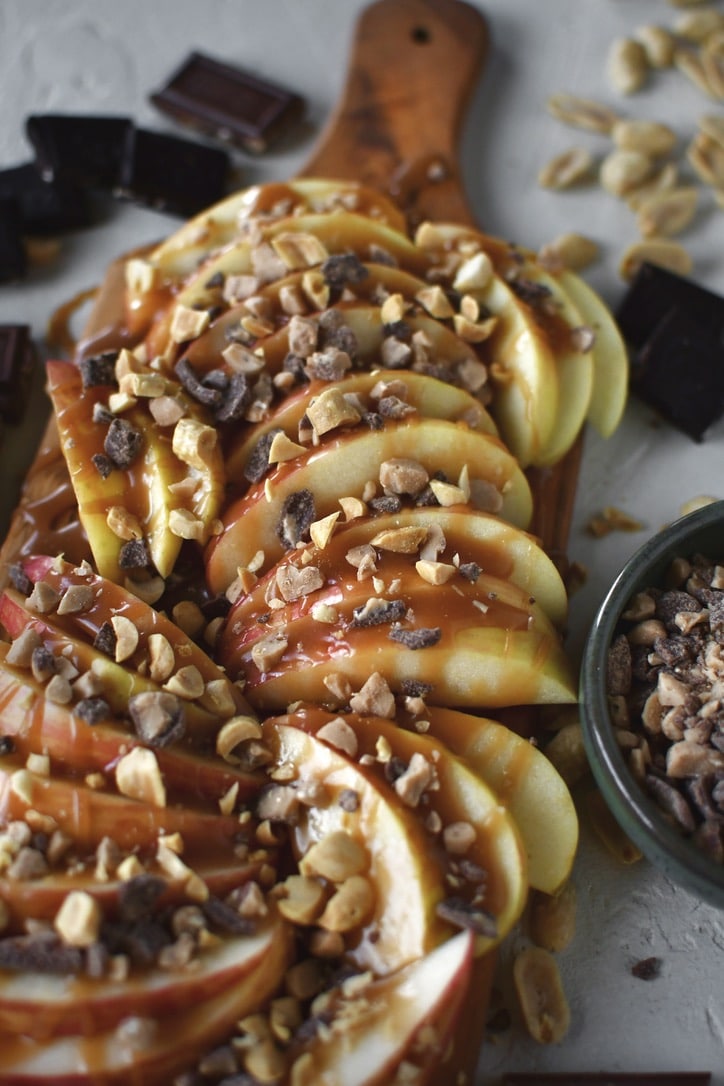 Did you make this recipe? Let me know by leaving a review or comment! And be sure to sign up for my newsletter, and follow along on Instagram, Pinterest, and Facebook!