I had a version of these Irish Nachos at a pub and after my first bite, I knew I had to run home and recreate them. I would cook a whole fresh Corned Beef just to make this recipe.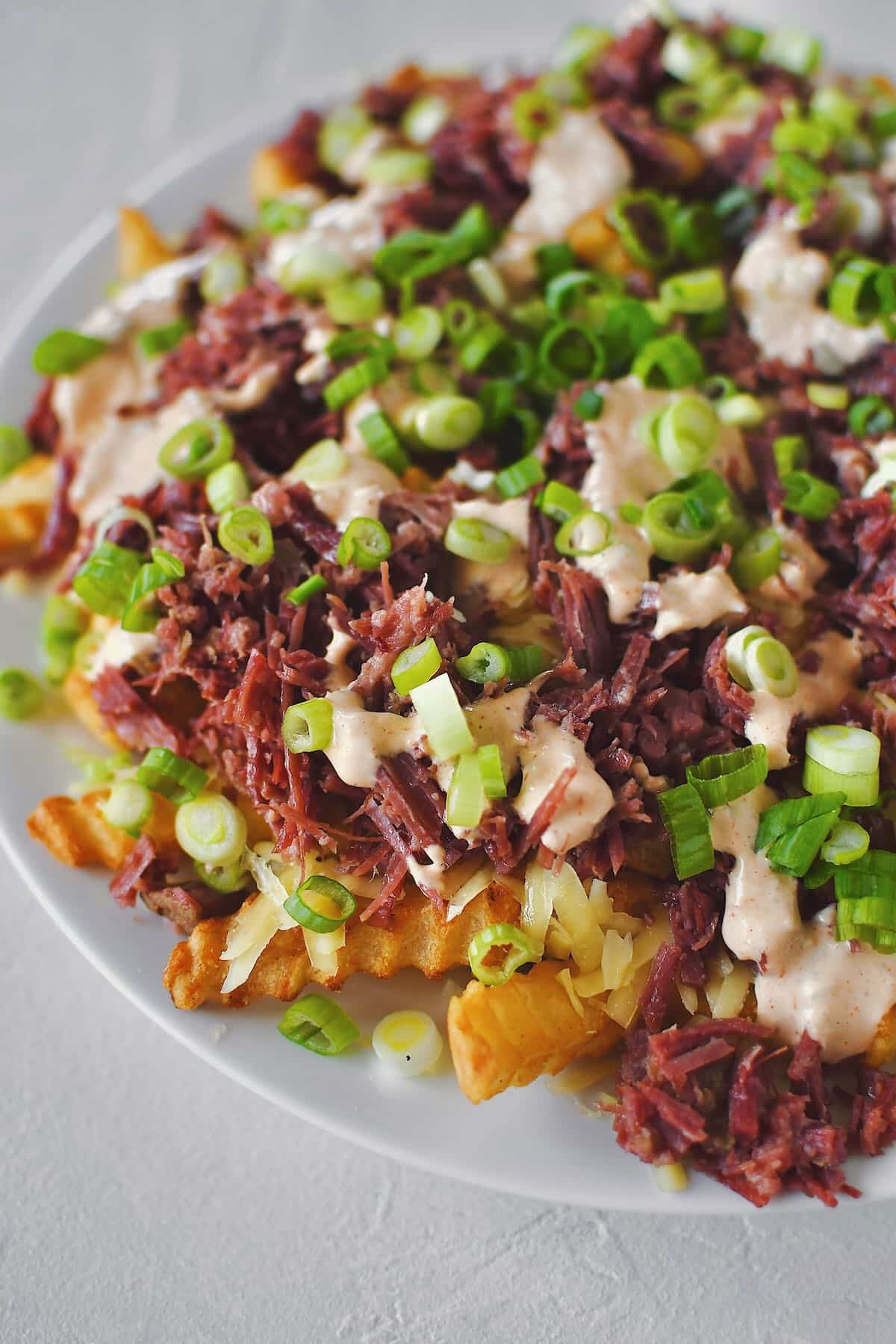 Ok, this is a SUPER easy and fun recipe. It is a great place to use up leftover corned beef from St. Patricks Day if you aren't cooking one fresh just to enjoy these Irish Nachos. Which again, I would totally do!
Jump to:
Ingredients
I really enjoy corned beef, and I buy a couple of extra ones when they are in the grocery store in March. I sometimes find them at other times of the year, but I stock up then. Cook corned beef in a slow cooker on low heat until it becomes fall-apart tender for this recipe. You can also use it to make my Corned Beef Hash.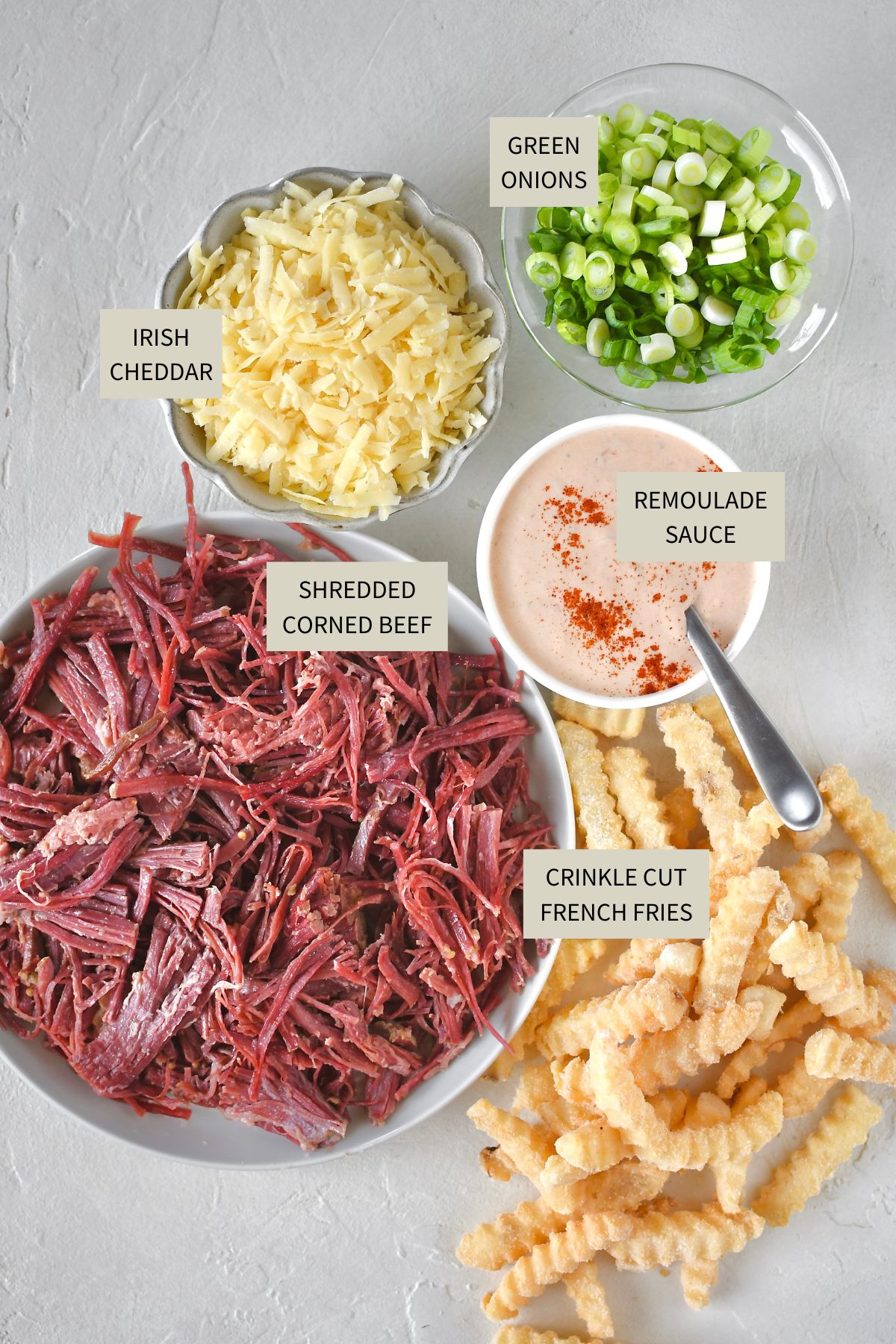 The corned beef is the main ingredient here. I use frozen french fries to make this super quick and easy and I whip up a batch of my Remoulade Sauce just like I would use on my Reuben Sandwich with Homemade Pastrami from a corned beef.
A little Irish white cheddar and some green onions round everything out and make everything cheesy and delicious!
Use the JUMP TO RECIPE button at the top of the post, or scroll to the bottom of the post to see the full recipe card with ingredient measurements and instructions.
Method
Start by cooking up some frozen french fries, I like crinkle cut, any way you like them. In an air fryer, deep fryer, or oven. I also warm up my corned beef in a bit of its juices on the stove too.
To make the Irish Nachos, top the warm, cooked fries with lots of Irish cheddar and a good amount of corned beef.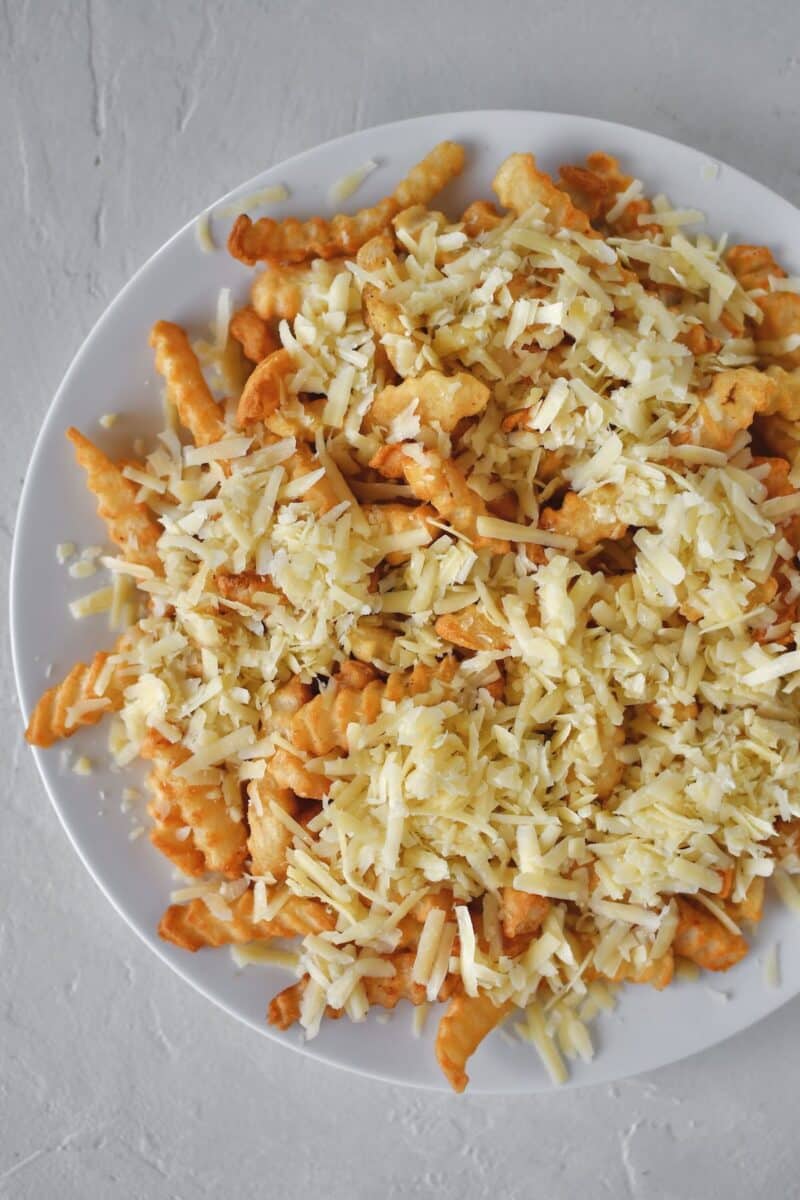 Drizzle over the Russian dressing and top with lots of green onions. This recipe for Irish Nachos could NOT be easier to whip up, and it can make a great appetizer or a full dinner. I won't lie, sometimes it is a whole dinner, lol.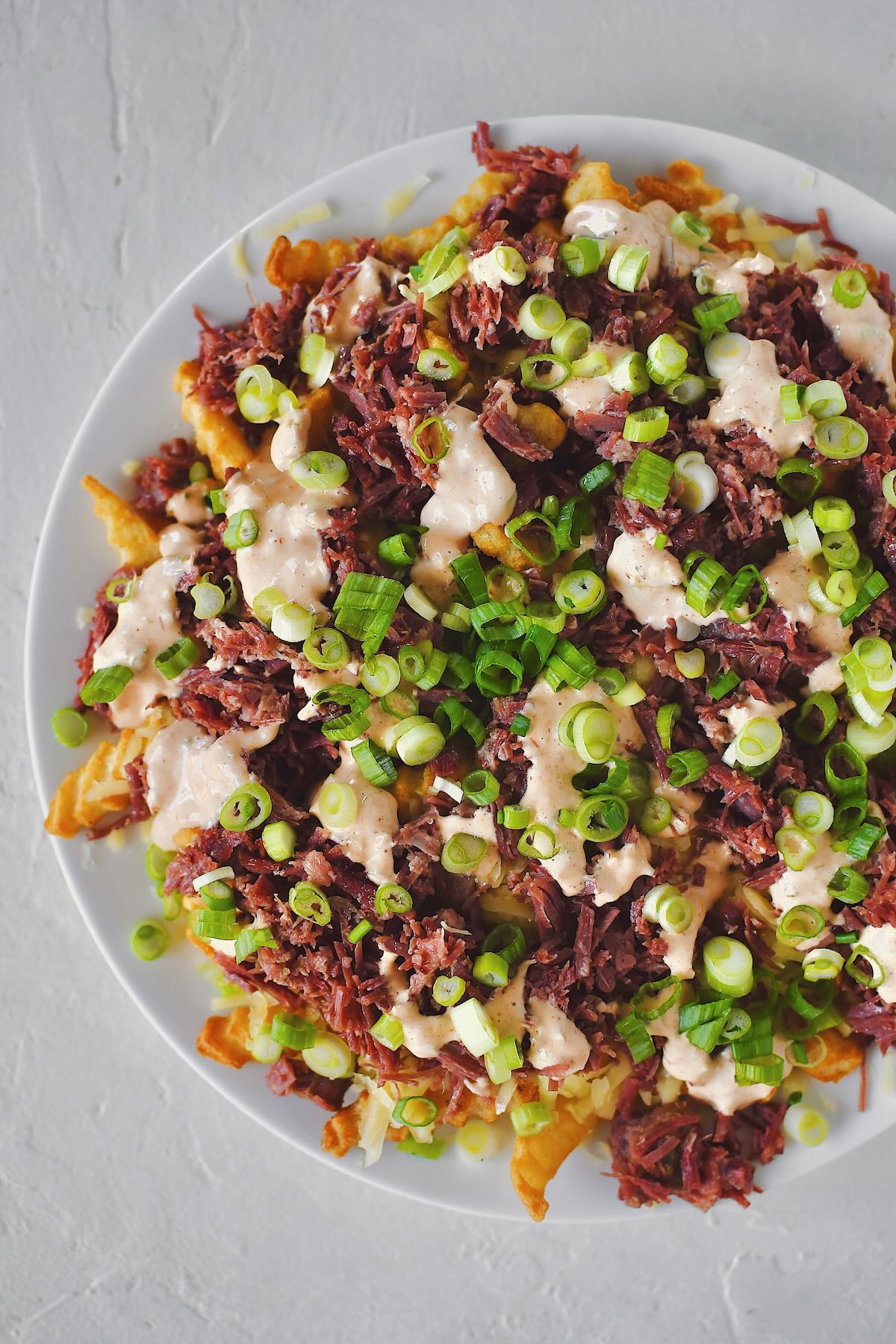 Notes & Tips
If you do not use leftover corned beef, you can slow cook or pressure cook one till tender.
I suggest slow cooking in a crock pot on low with 1 cup of water to get it started for at least 8 hours till it becomes fork tender and will shred nicely.
Pressure cook on high for 20 minutes with 1 cup of water, then slow cook on low for 2-3 hours till tender.
Substitutions
A good swap for the crinkle-cut fries is waffle fries. You could also make Homemade French Fries, homefries, potato planks, or potato chips to build your nachos on.
The Irish cheddar helps to make these Irish Nachos a little more Irish. You could also use a plain white cheddar or yellow cheddar in a pinch.
If you want to make this but do not have leftover, super tender corned beef, don't swap it for canned. If you make a swap, you can use deli corned beef. Get it sliced and then dice or cut it into strips and use it in place of home-cooked brisket.
If you do not want to make homemade remoulade sauce, you could use a store-bought Russian dressing or thousand island dressing.
Green onions really make this. They add a bright fresh crunch to the finished product. You could also use chives for that oniony garlic flavor.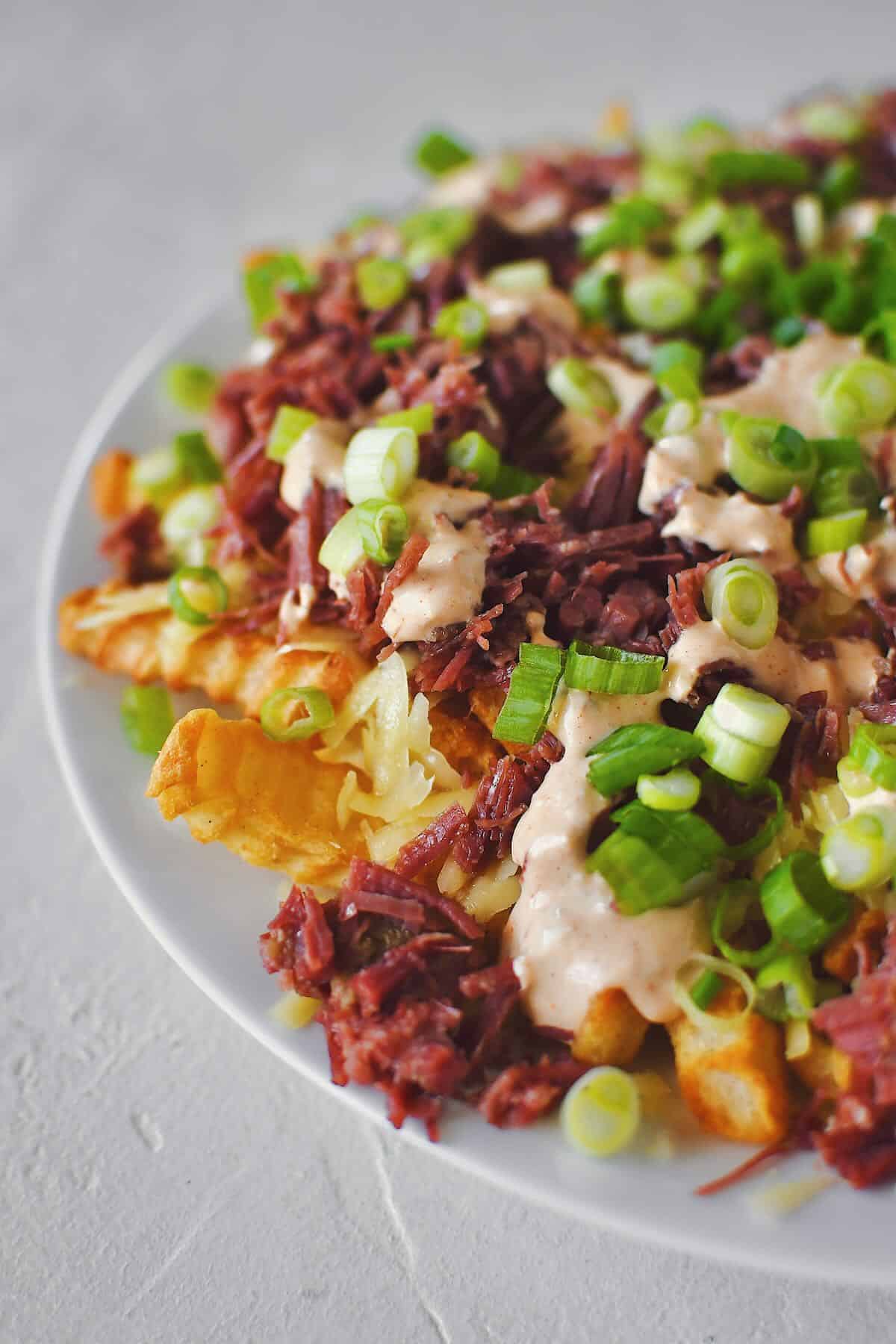 Did you make this recipe? Let me know by leaving a review or comment! And be sure to sign up for my newsletter, and follow along on Instagram, Pinterest, and Facebook!