To say that this French Onion Chicken became an instant favorite the moment I tasted it might be an understatement. It is packed with so much flavor and covered in cheese...need I say more?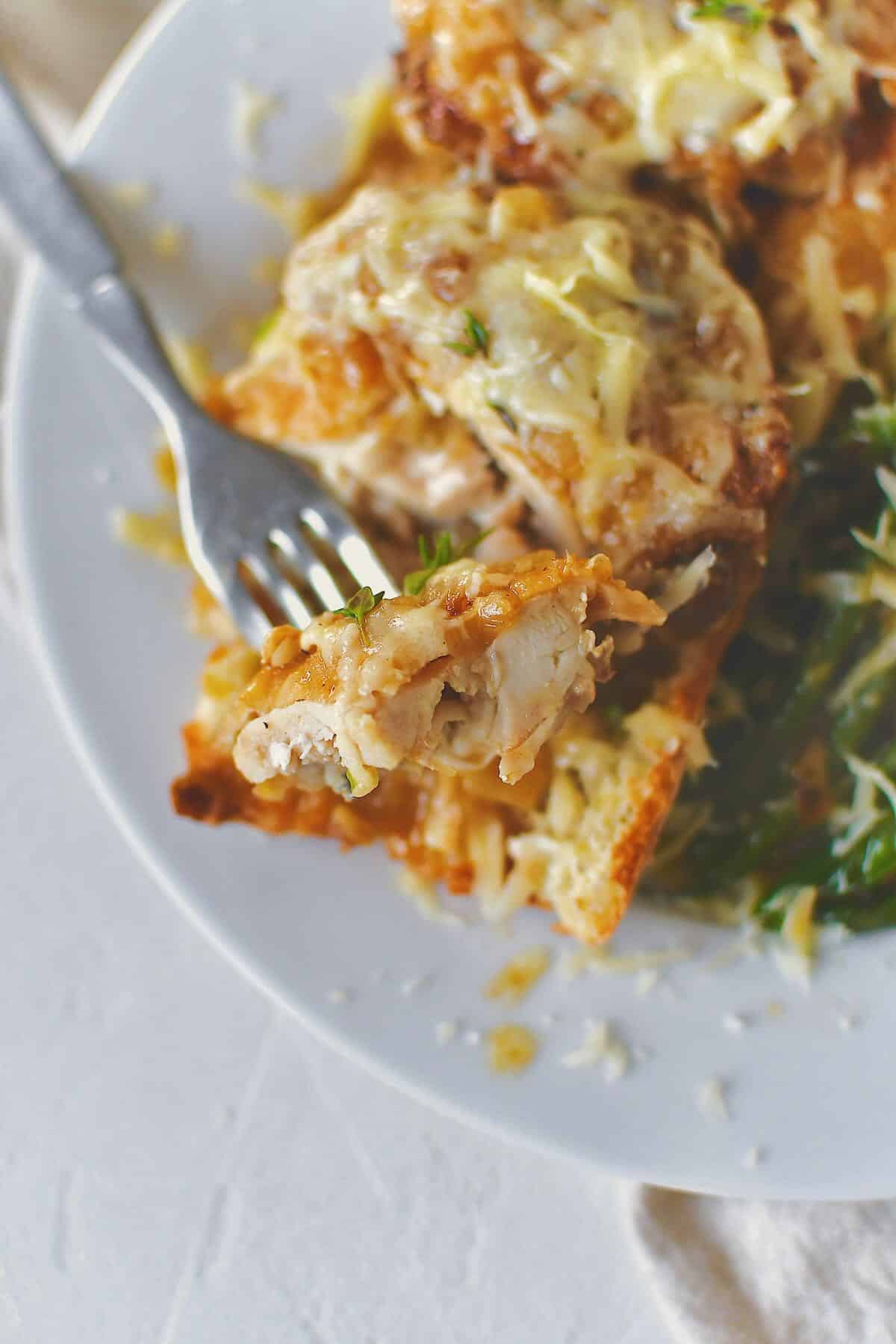 Ok, I will go on but just know that this recipe yields the most tender juicy chicken you ever did have. And in the words of Lorelai Gilmore, "I want to take a bath in that sauce!"
Jump to:
Ingredients
While you could use any cut of chicken or even a whole chicken that's broken down, chicken thighs make it easy. I like to use bone-in skin-on so I can get crispy skin and the chicken stays super tender and juicy. All that said, chicken breasts work great too!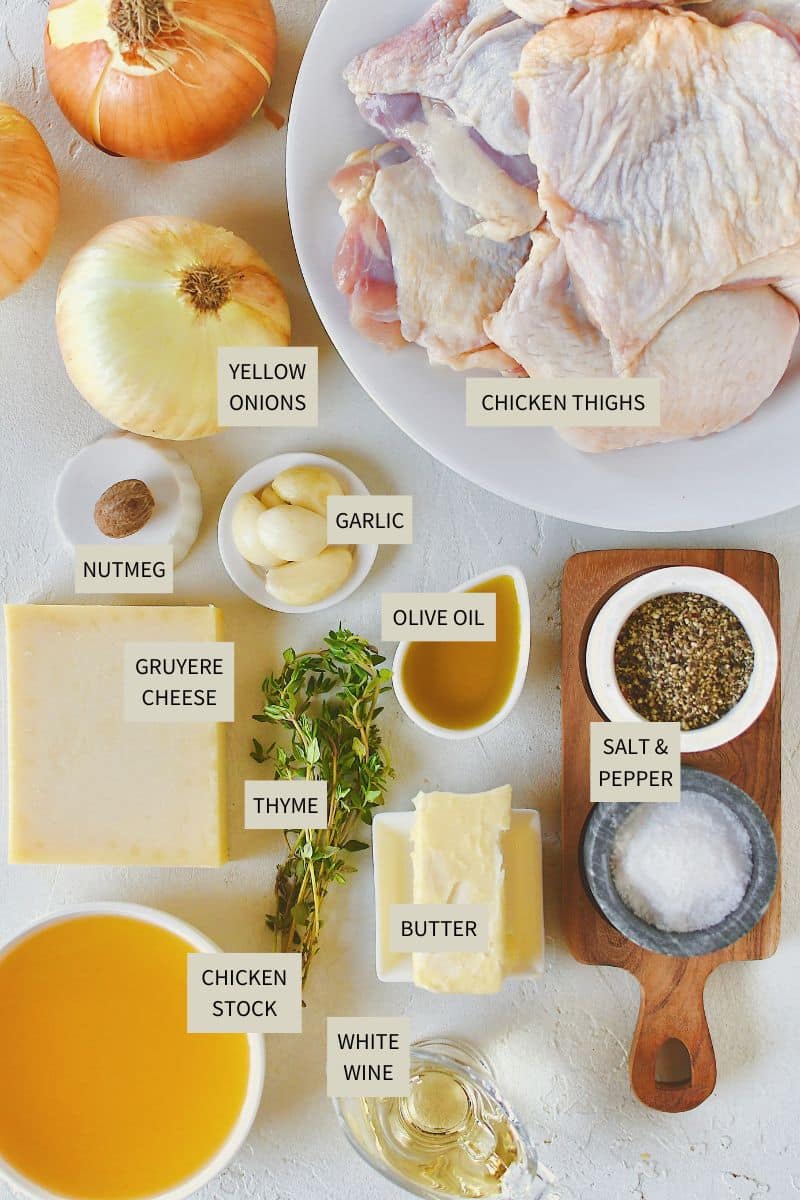 Aside from the chicken, you of course need onions, it is best to use a sweet onion. Most yellow onions are naturally sweeter, but if you find Vidalia onions use those for THE BEST flavor. The other must-haves that truly makes this French Onion Chicken is the nutmeg, thyme, and gruyere cheese. They are quintessential flavors for French onion anything.
Use the JUMP TO RECIPE button at the top of the post, or scroll to the bottom of the post to see the full recipe card with ingredient measurements and instructions.
Method
The first step is to crisp up the chicken breasts. Season them well on both sides and sear in a large pan until the skin is golden and crispy.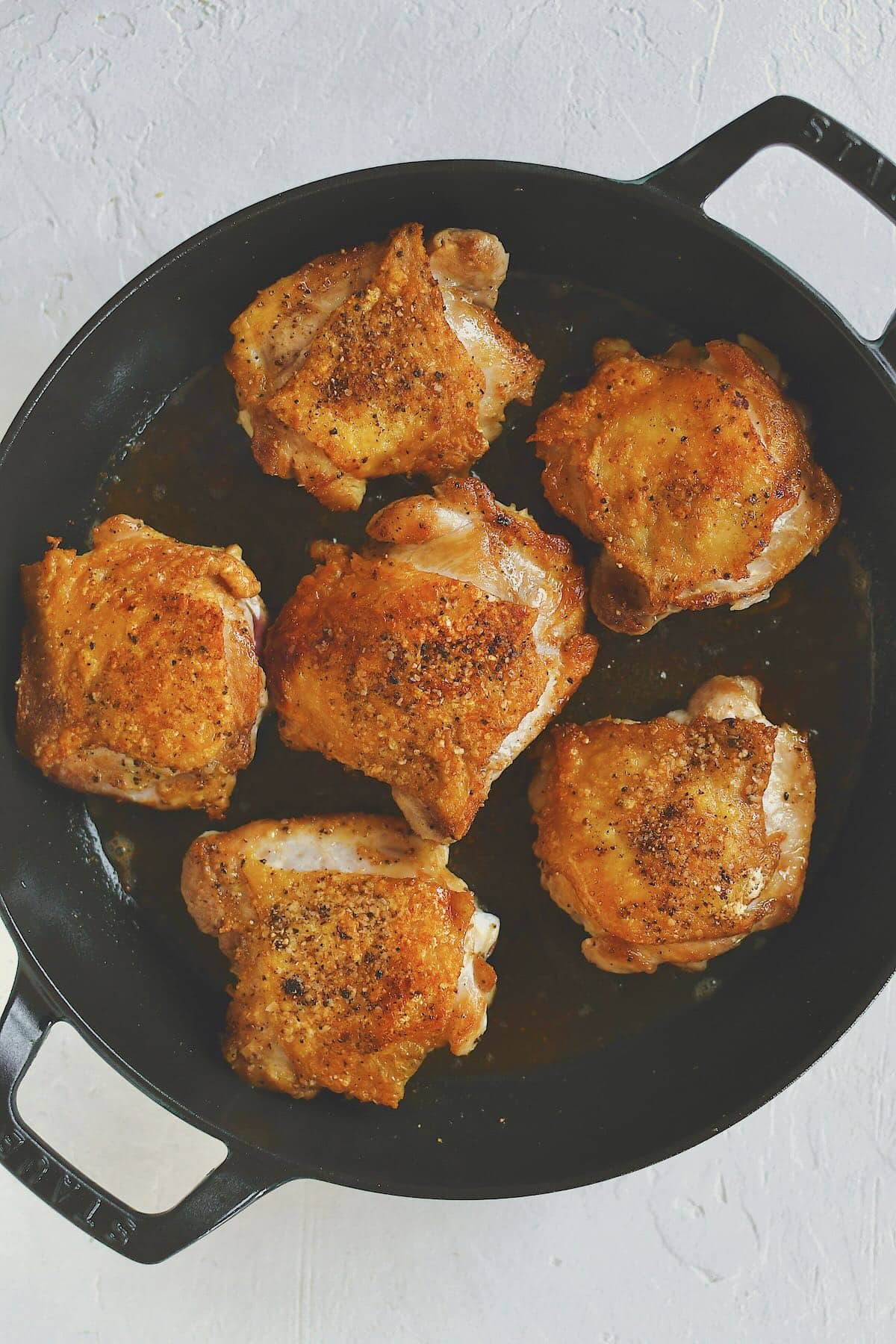 Then send the chicken to the side and caramelize the onions. This takes time and patience, but letting them get really soft and golden is the goal. After you have achieved a deep rich color you add a little more butter, the garlic, and the herbs and spices.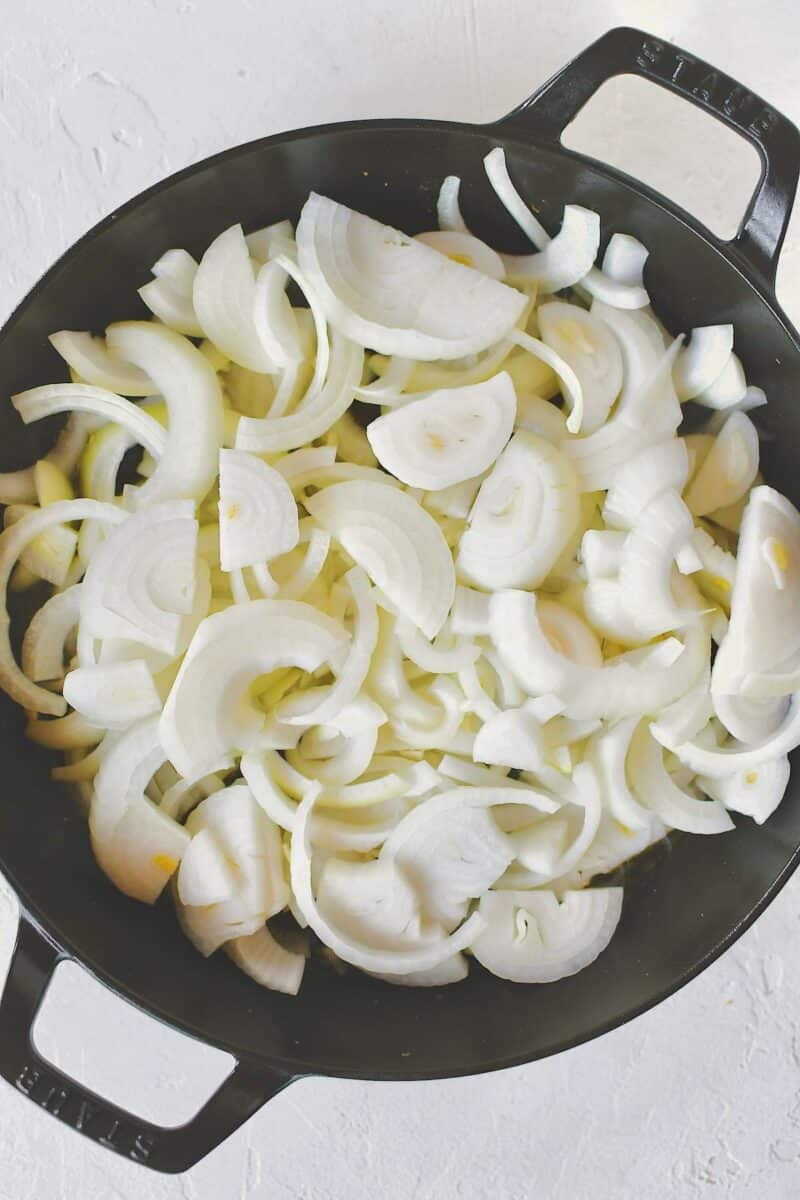 Cook those in for a couple of minutes, then make the sauce in the pan. After the sauce has simmered a bit return the chicken to the pan and let it cook in the sauce till it is fully cooked. Then to finish it off, scoop those onions on top of the chicken and mound the cheese onto it. I then place it under the broiler until it is beautifully melted.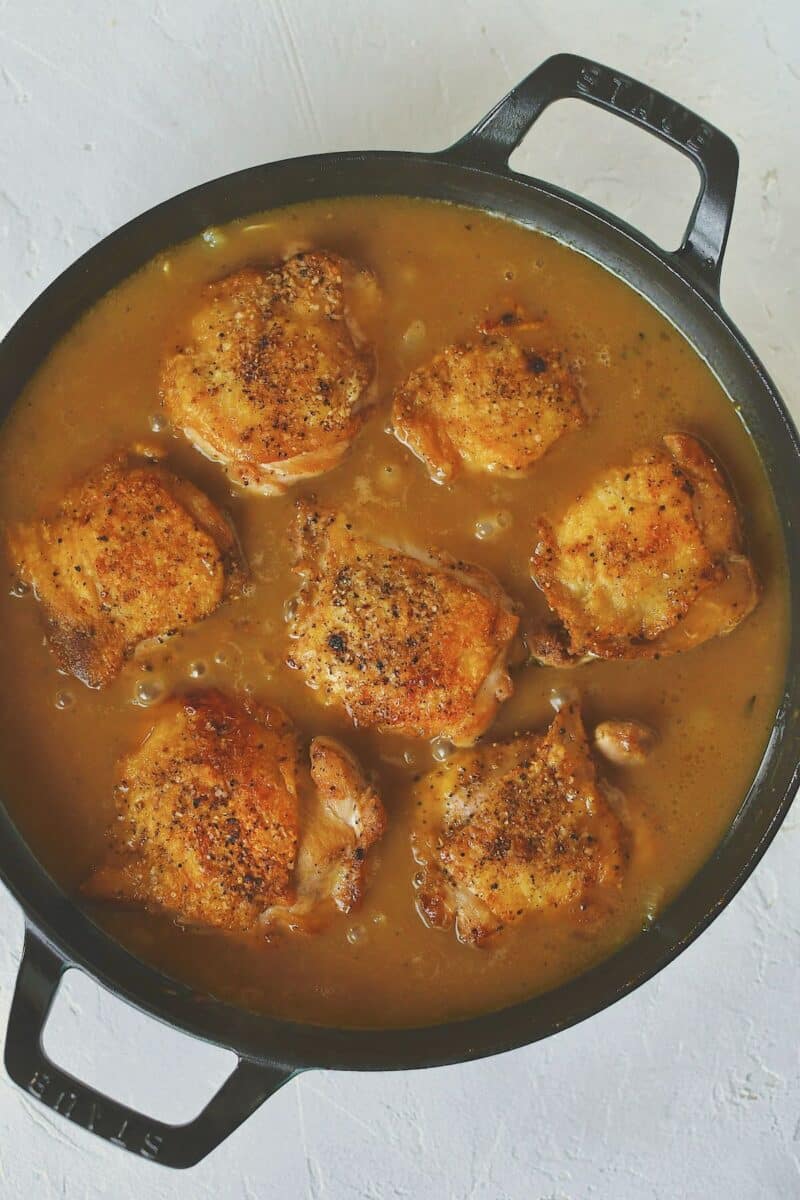 This is optional, but I like to serve the chicken on top of a nice piece of crusty bread. This solidifies the thoughts of French onion soup and the cheesy bread on top of it. Scoop lots of that sauce and onions onto the bread and top with a couple of chicken thighs. I highly suggest this, it makes it a dream dinner!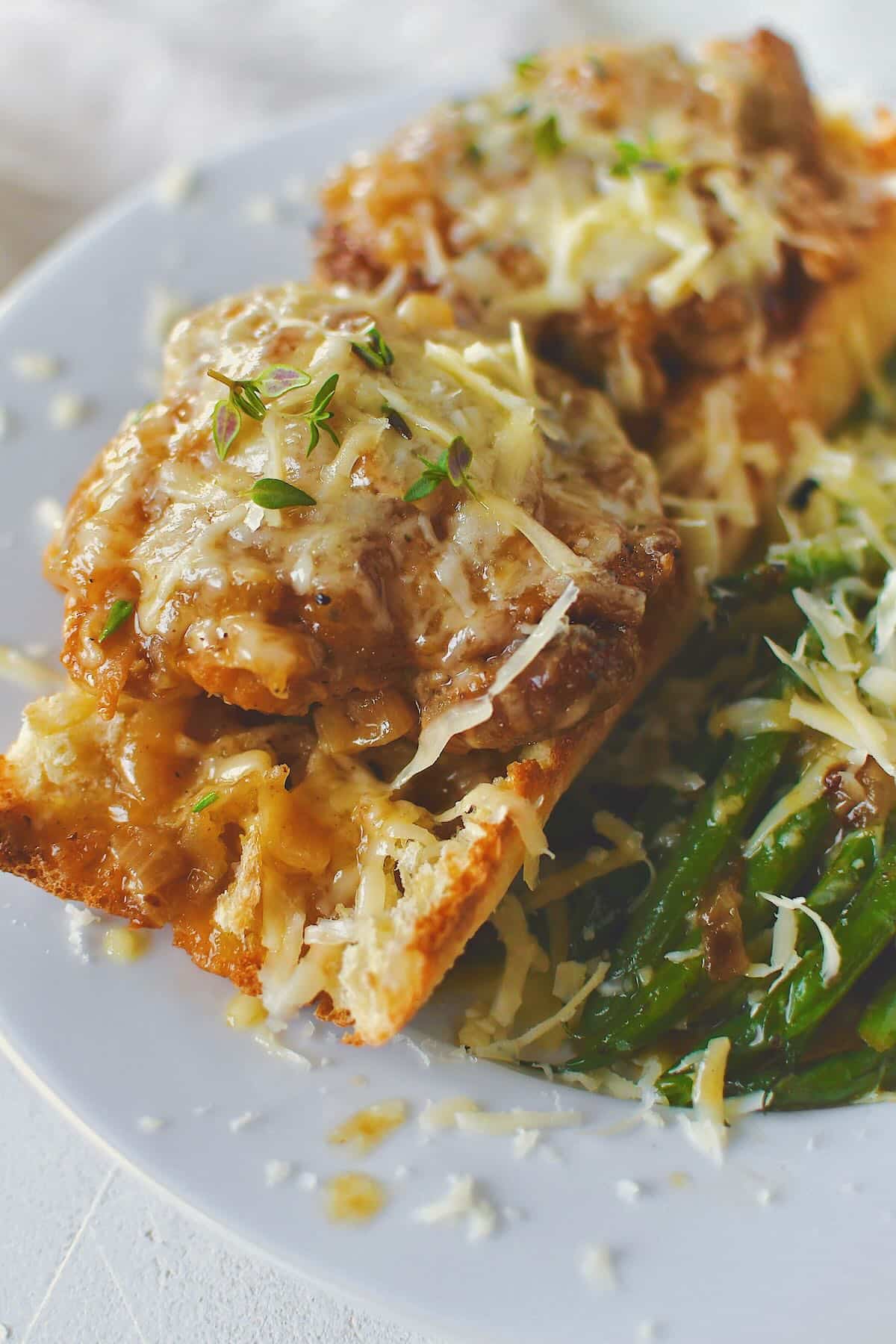 Notes & Tips
It is super important to crisp the chicken skin until DARK brown in the first step. Rendering off the fat makes the eating experience in the end much more enjoyable and the schmaltz that comes off the chicken adds so much flavor.
Caramelizing the onions takes at least 30-40 minutes, most people will tell you it takes longer. But for this recipe, after 30ish minutes they are good to go. You'll have to exercise some patience though, and it will be worth it for the flavor.
When you get to the cheese, pile it high! It rounds everything out so beautifully and just brings so much great flavor. Plus, who doesn't love a cheesy dinner?
Substitutions
While I personally think this recipe is fantastic when made with chicken thighs. You could also use chicken breasts or even a whole chicken broken down into 8 pieces.
Yellow onions are traditionally used for French Onion soup. But I have also made this recipe when I had a bunch of red onions laying around and it works equally well with them. The sauce gets a little bit sweeter when you use them.
I highly suggest grating fresh nutmeg into the pan for this recipe, it just has so much more flavor. But you could use preground if you need to. Fresh thyme is also preferred, but dry will work in a pinch.
I usually keep a Pinot Grigio or Sauvignon Blanc on hand for cooking. A nice buttery chardonnay would also work here. Brandy is traditional for French onion, but I like white wine for a little more tartness. If you do not what to use alcohol use ½ cup more chicken stock in its place.
Gruyere is a MUST for me. But if needed you could use a FRESHLY grated parmesan in its place if needed.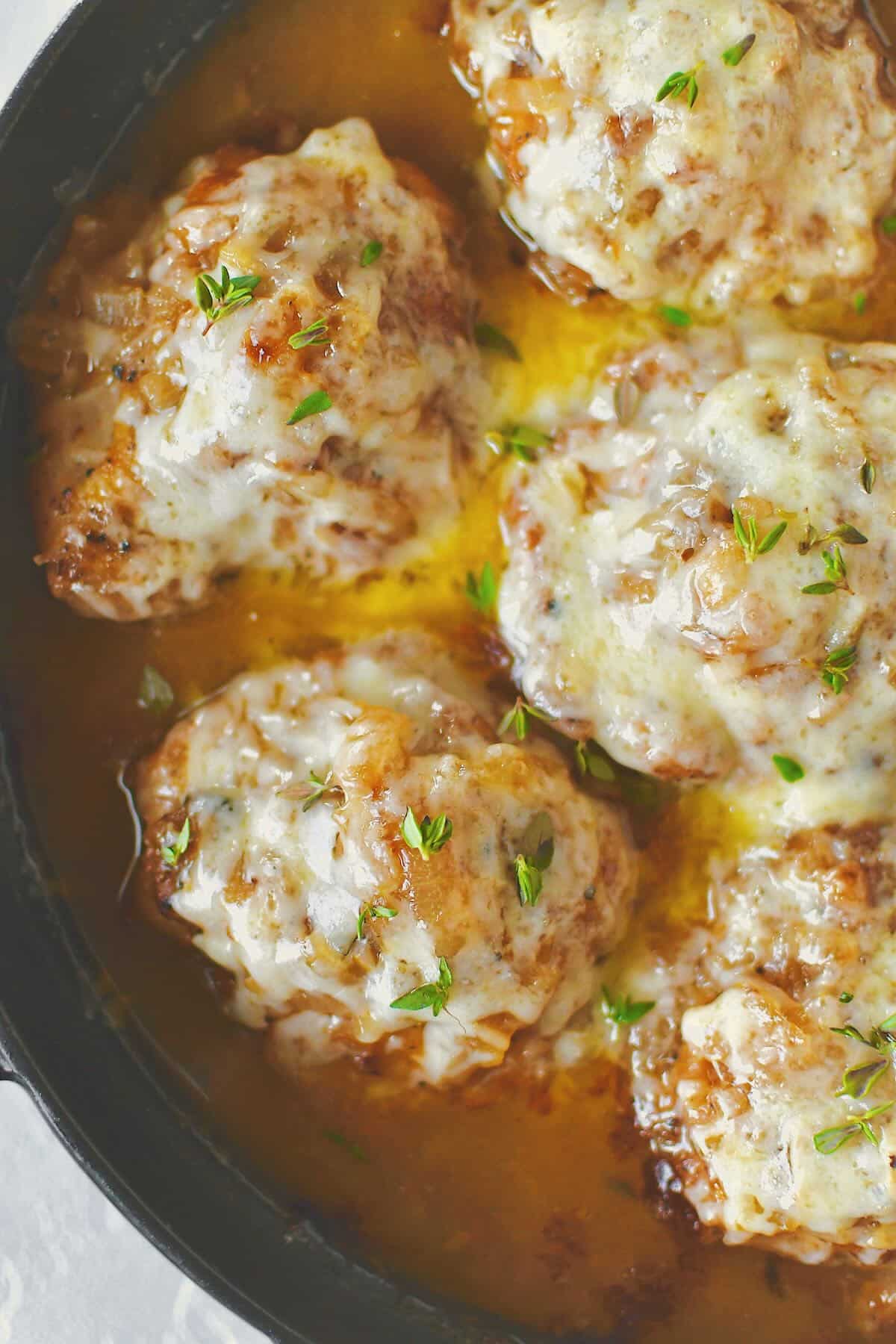 More "French" recipes, lol!
Did you make this recipe? Let me know by leaving a review or comment! And be sure to sign up for my newsletter, and follow along on Instagram, Pinterest, and Facebook!