This delicious and GIANT Italian Pasta Salad is perfect for your next backyard shindig or all-out family pizza night! It is inspired by a salad served at a couple of Chicago institution restaurants.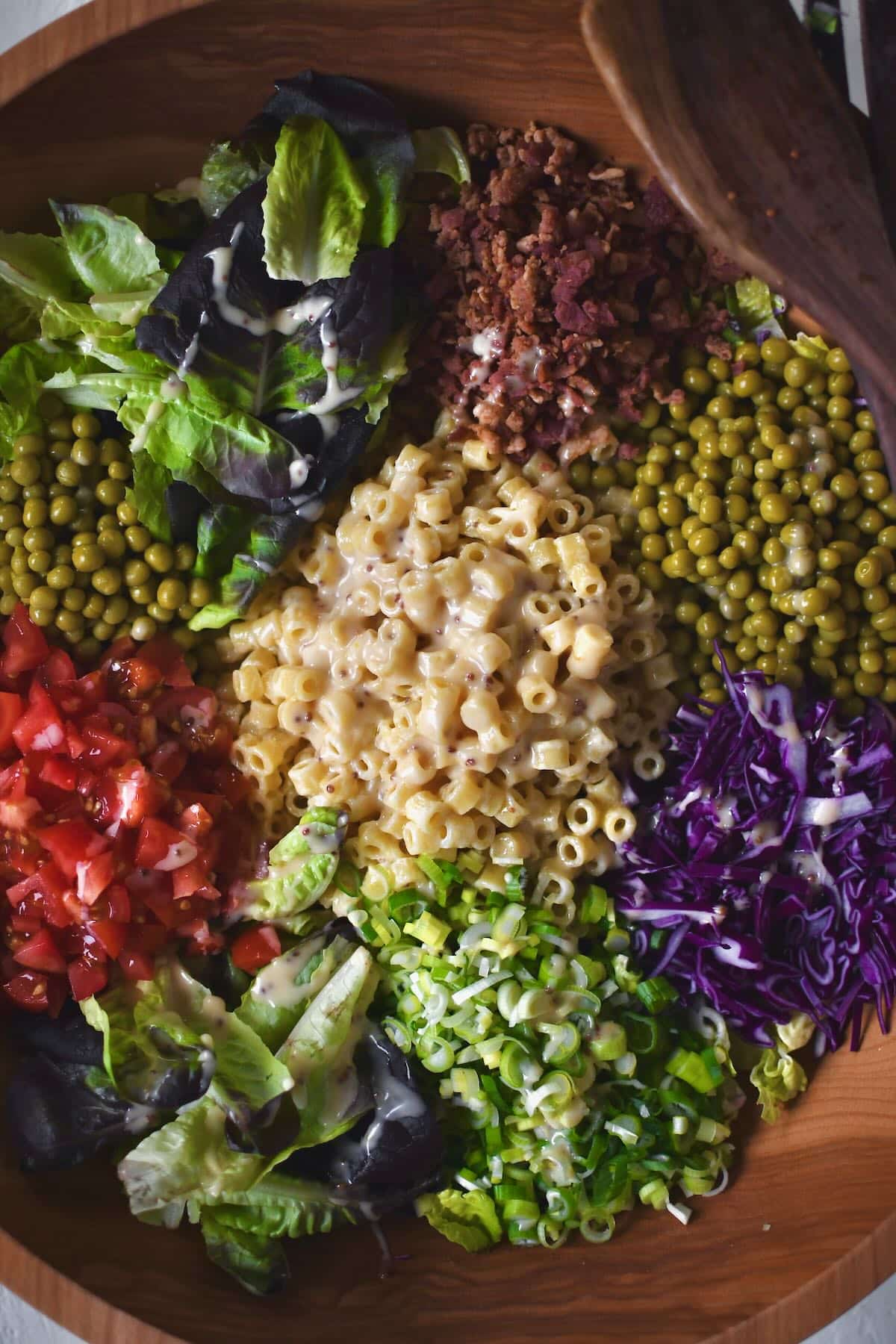 The Portillos chopped salad and the Giordano's chopped salad are both very similar, but since I don't live in Chicago anymore had to create my own at-home version. I've also opted to use my own homemade Honey Mustard Dressing too.
Jump to:
Ingredients
For this salad, I like a crisp and a tender lettuce against the crunch of the cabbage. Use romaine or iceberg, as well as a bag of baby butter lettuce for some contrast in textures. I make it easy and use a tin of canned sweet peas, and you can cook your own bacon or use bits from a bag.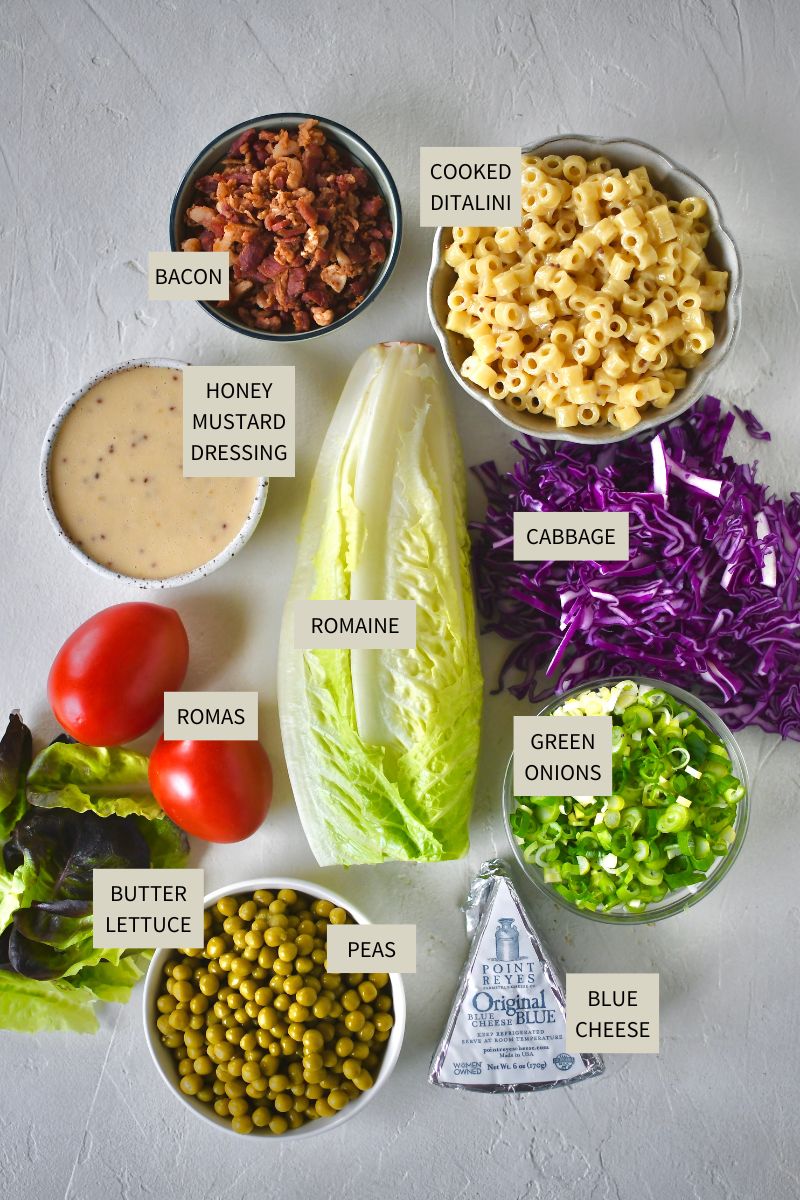 I usually have some leftovers from Sunday breakfast that I can use throughout the week in other dishes. For the blue cheese use a good quality blue or even a gorgonzola for a milder blue cheese flavor.
Use the JUMP TO RECIPE button at the top of the post, or scroll to the bottom of the post to see the full recipe card with ingredient measurements and instructions.
Method
I chop my romaine and slice the cabbage super thin then toss them in a bowl with a little bit of dressing just to get some flavor on the lettuce. Then top with the remaining toppings and the cooked, cooled, and dressed pasta.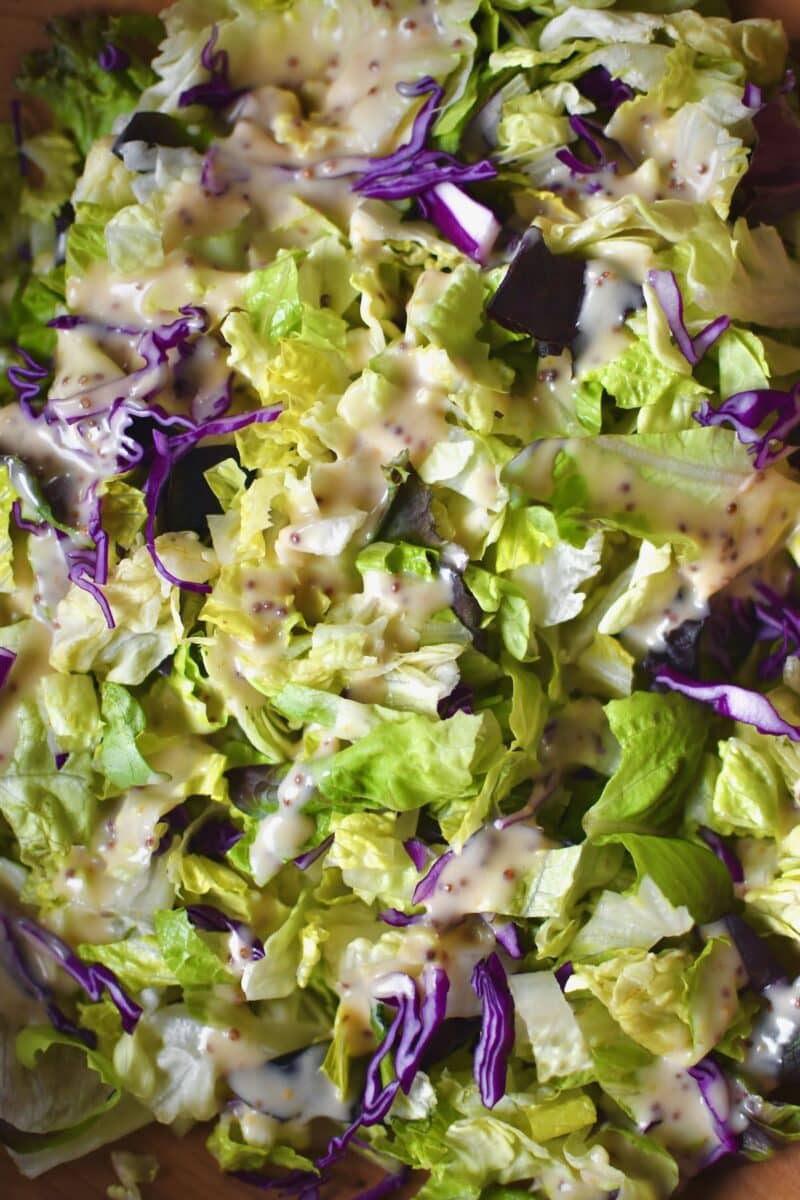 I give the salad a light toss to mix everything together and then top it with the blue cheese. I do this last so I can take some salad out for those who refuse to eat blue cheese. You could also serve it on the side if you like.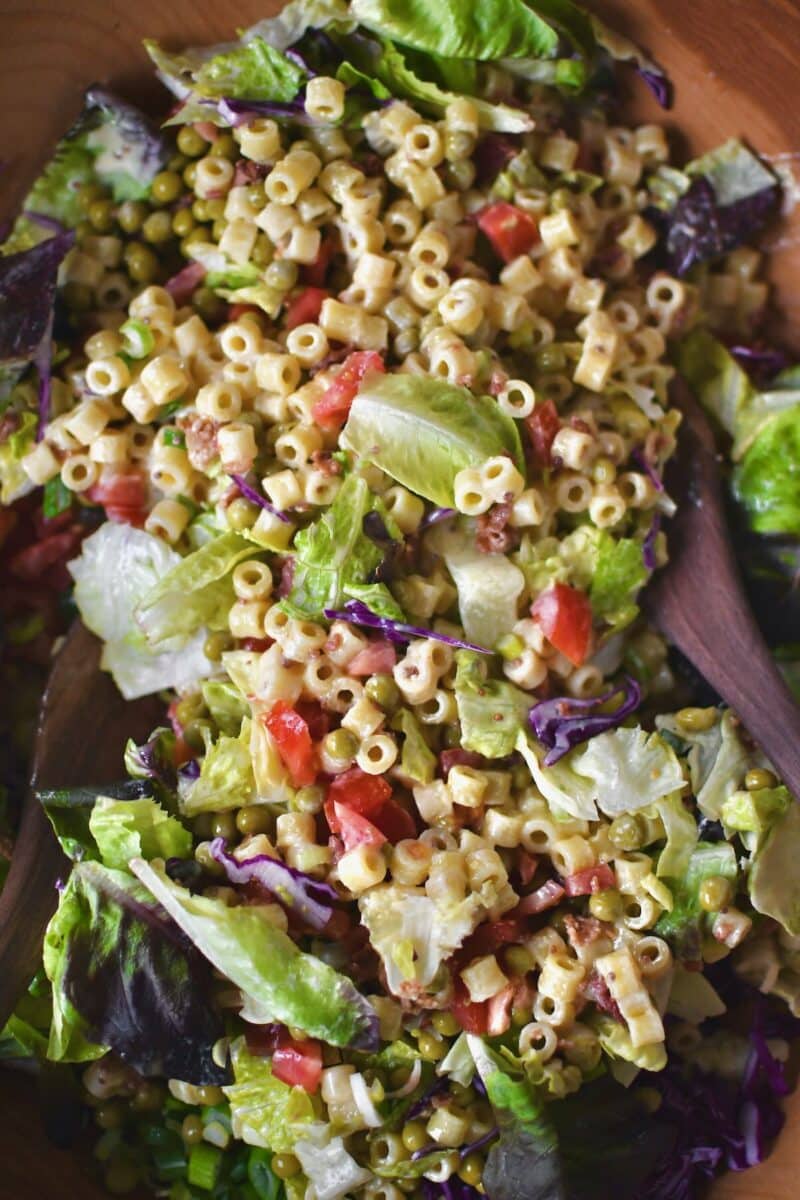 I call this a pasta salad, but you could also just call it a salad with pasta on it. Whatever you call it just call it delicious after your first bite.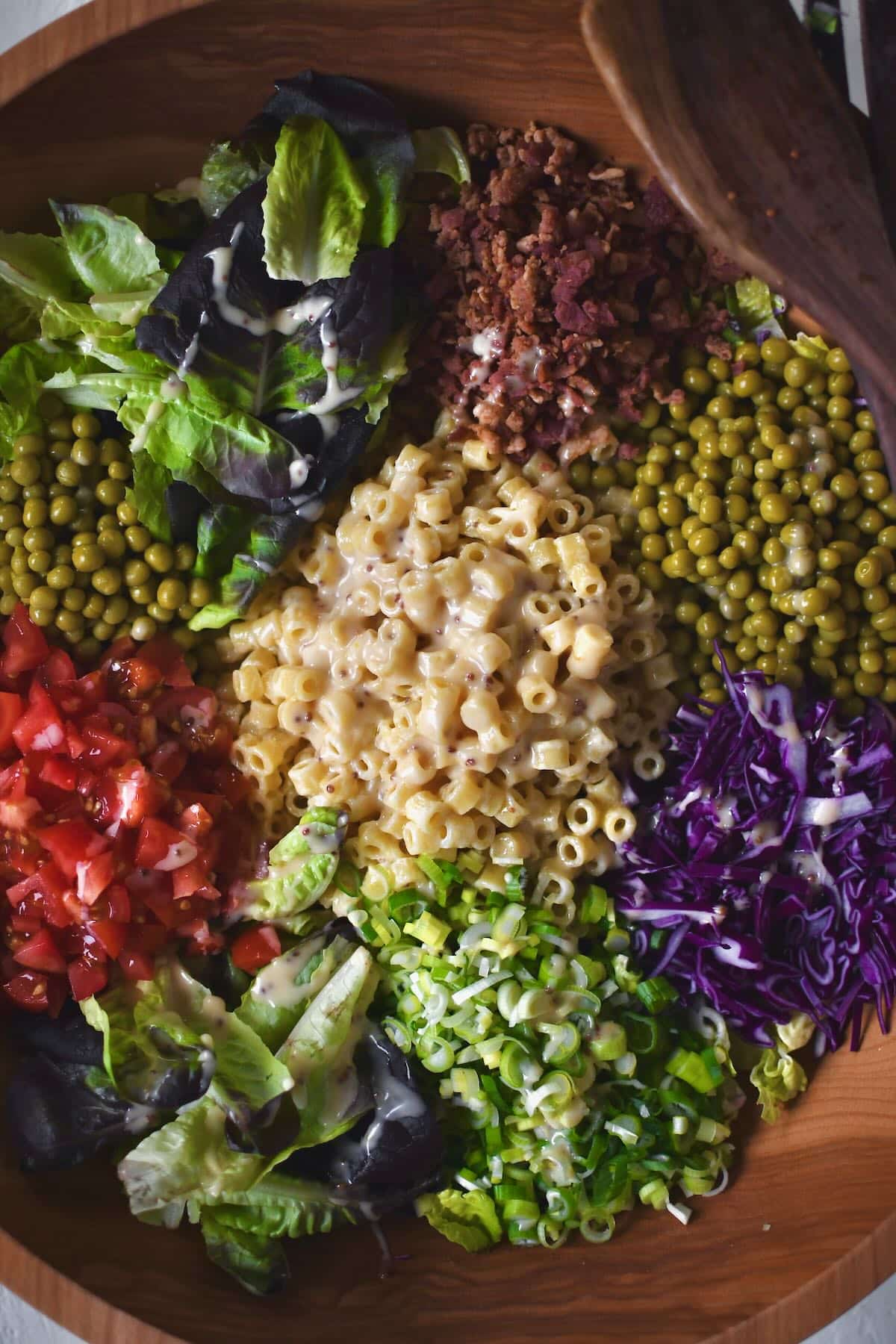 Notes & Tips
Cook the pasta according to the package directions for al dente. Then drain and rinse it with cool water till it is no longer hot. Then toss it with some dressing to keep it from sticking. This can be done a day or two ahead of time and mixed with the lettuce and toppings just before serving.
Fully dressed salad with pasta should be served immediately or stored in the fridge immediately. It will keep for up to a day but is best eaten when made.
Substitutions
Ditalini pasta is traditional to the salads from the Chicagoland restaurants I mentioned at the top. But you could really use any type of small pasta you come across or love.
I love this with the sweet, tangy, honey mustard dressing. But it works equally well with a zesty Italian dressing too, homemade or storebought.
The romaine holds up really well to all the mixins. It is nice and hearty, you could also use iceberg, but the salad won't keep as long.
Blue cheese is what I usually use for this recipe, but you could also use gorgonzola for a more mild flavor.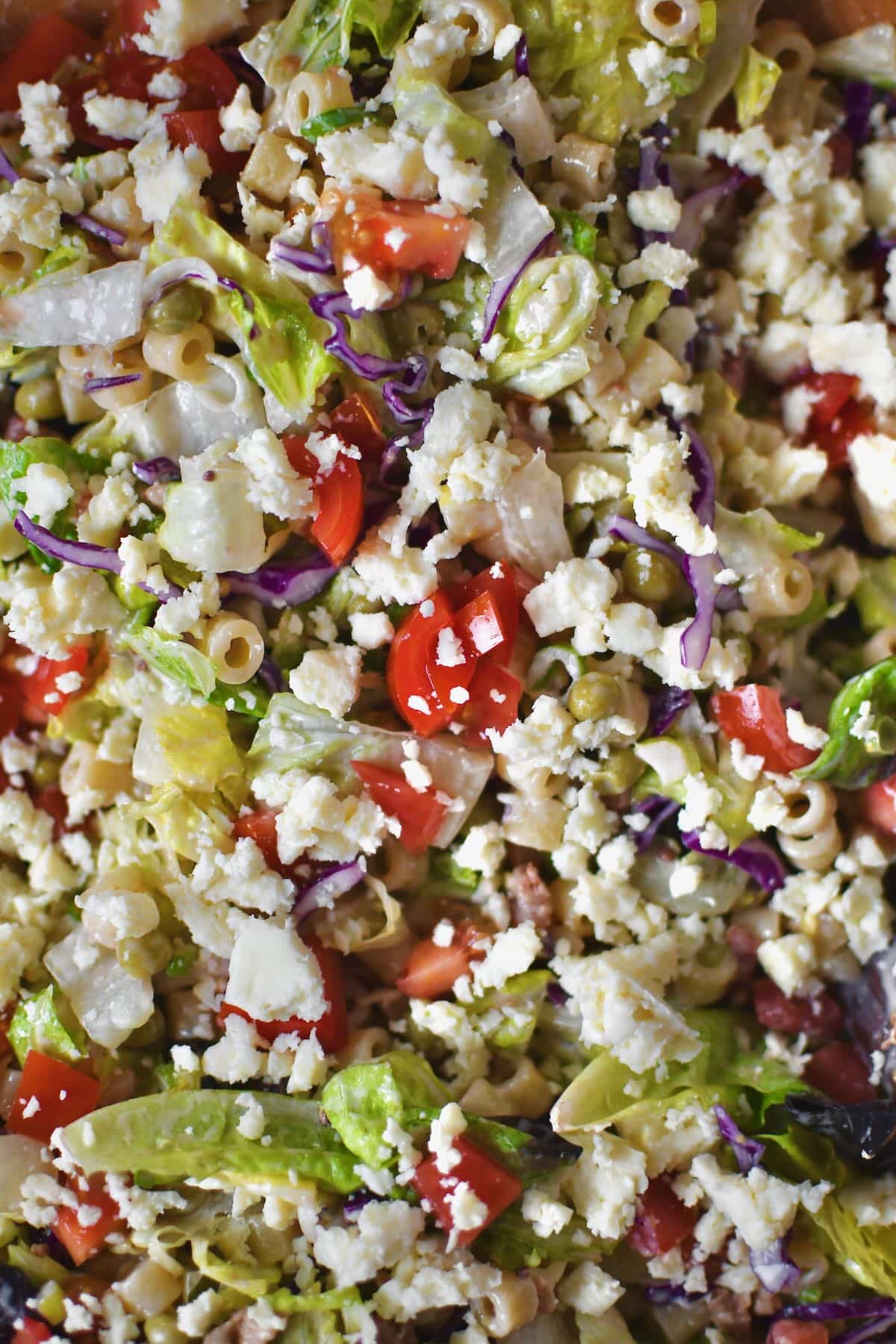 Did you make this recipe? Let me know by leaving a review or comment! And be sure to sign up for my newsletter, and follow along on Instagram, Pinterest, and Facebook!