I LOVE the deep rich flavor you get from this Sausage Bolognese even with just a quick simmer. Packing it with lots of veggies and using flavorful Italian sausage is key to getting all that flavor in a short amount of time. When you are craving an Italian-inspired dinner, this is a quick and easy go-to!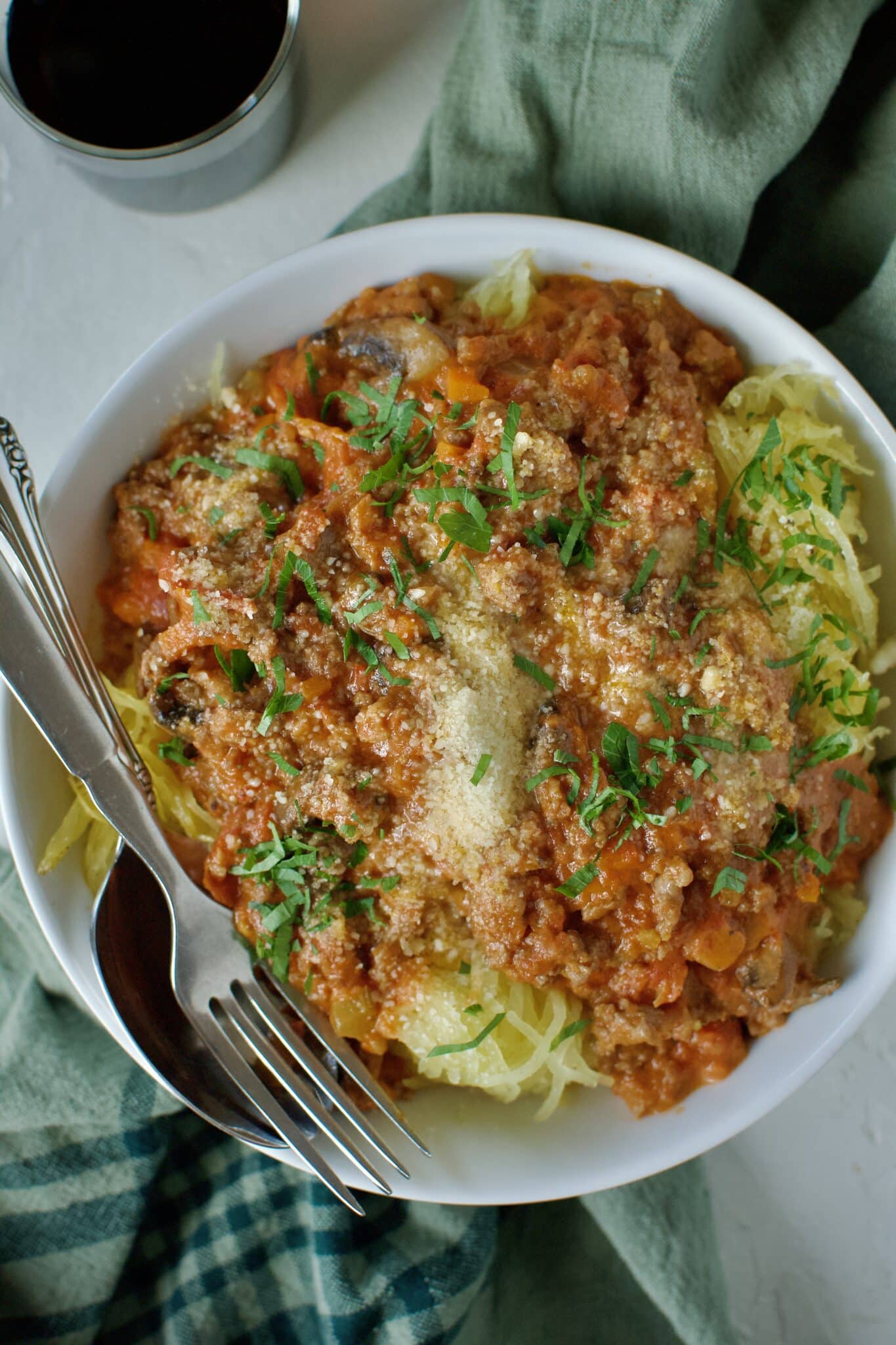 I've been trying for years to get this sauce just right, like one I had in a restaurant once, and I finally achieved it!
Jump to:
Ingredients
While this ingredient list may look a bit on the larger side, don't let it put you off. It is made up of primarily inexpensive flavor-building components. The best thing to do when making a bolognese is to build flavor!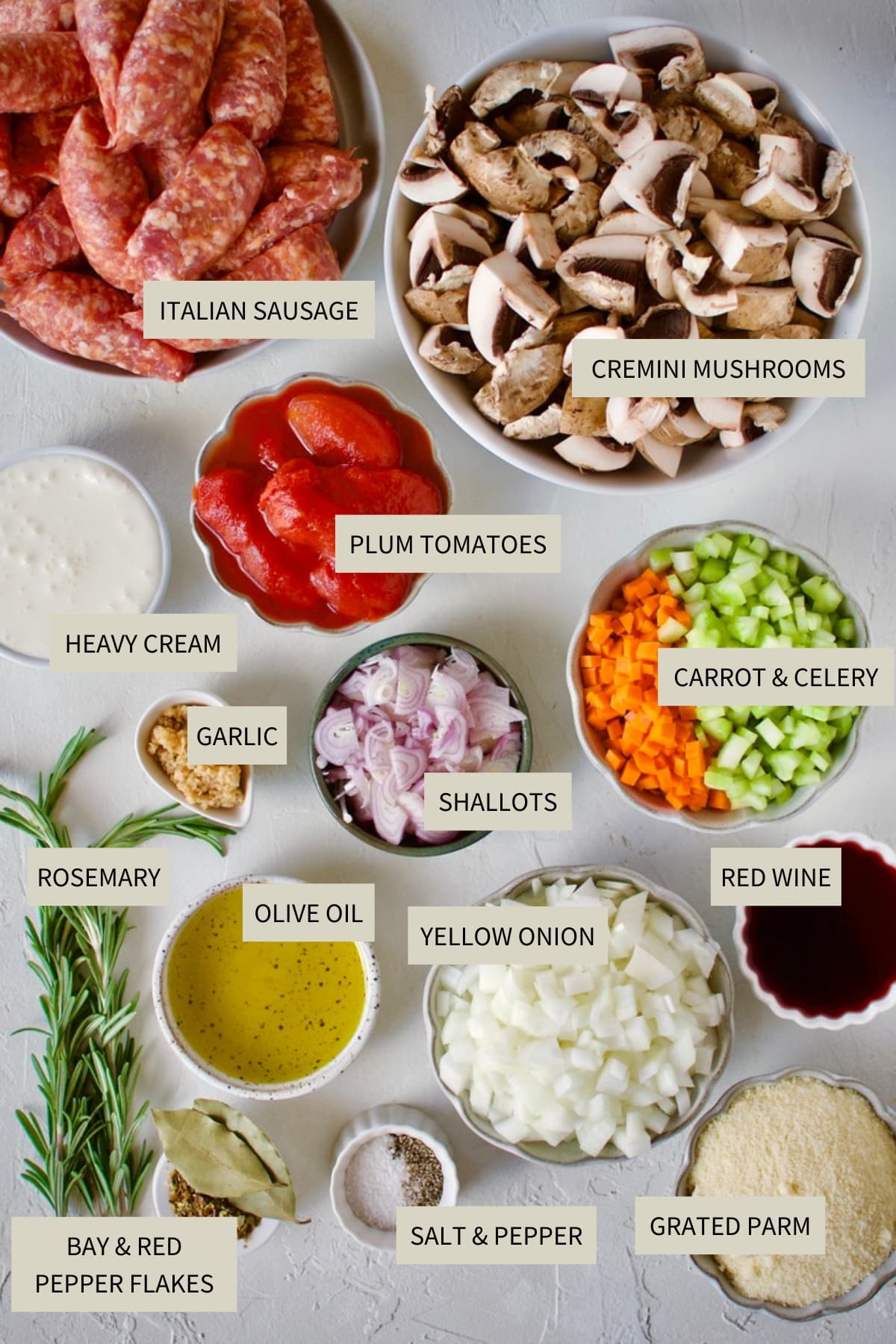 Infusing the sauce with all of these flavors is what makes it great.
Use the JUMP TO RECIPE button at the top of the post, or scroll to the bottom of the post to see the full recipe card with ingredient measurements and instructions.
Method
To make this Sausage Bolognese, first, cook all the veggies down until soft and starting to slightly brown. Then add in the garlic, and sausage and continue cooking until the sausage is fully browned and no pink bits remain.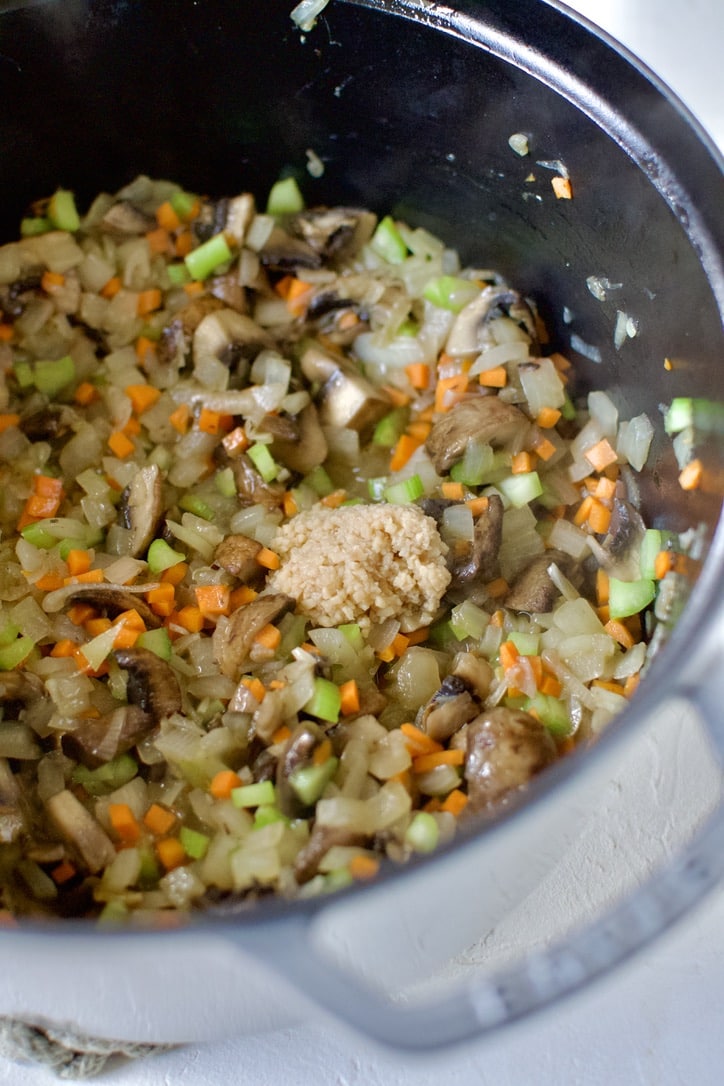 Add the tomatoes, crushing them in your hand as you add them, and their liquid. Place the rosemary sprigs, bay leaves, and crushed pepper flakes in too. Stir everything together and bring the mixture to a simmer for 20-30 minutes. Longer if you have the time and can stand to wait.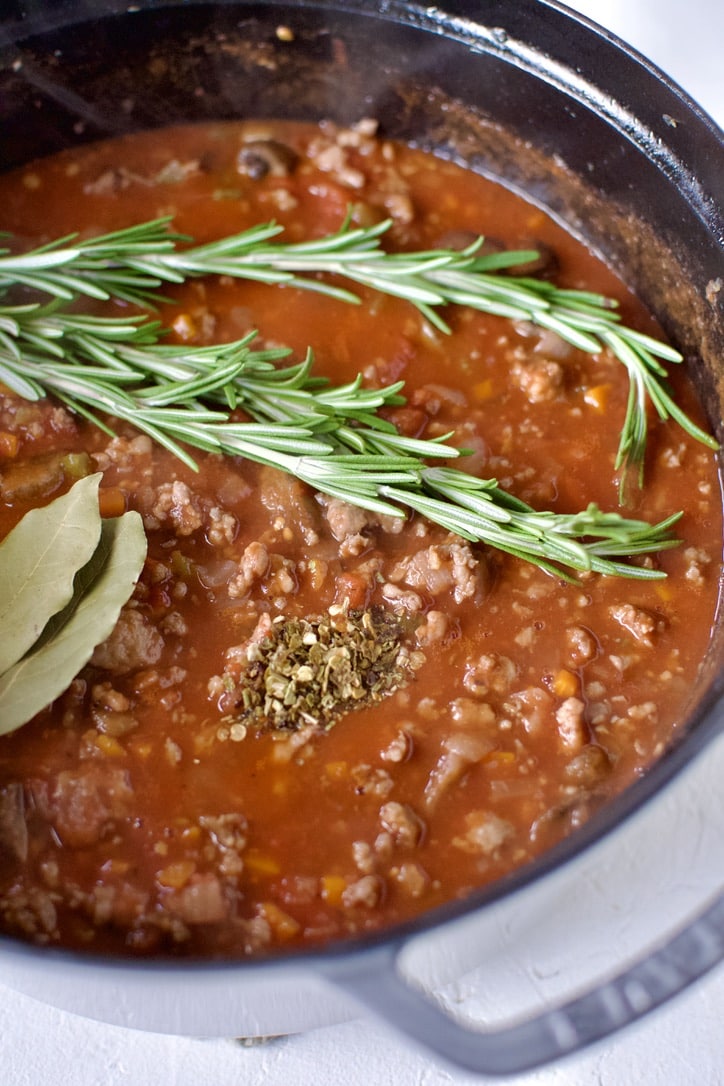 After the sauce has simmered and thickened for a while, finish it off with some heavy cream and lots of parmesan cheese. Remove the bay leaves and rosemary sprigs too. The sauce can be served over cooked pasta or roasted spaghetti squash, either are GREAT! Oh, and with more parmesan and some basil if you have it.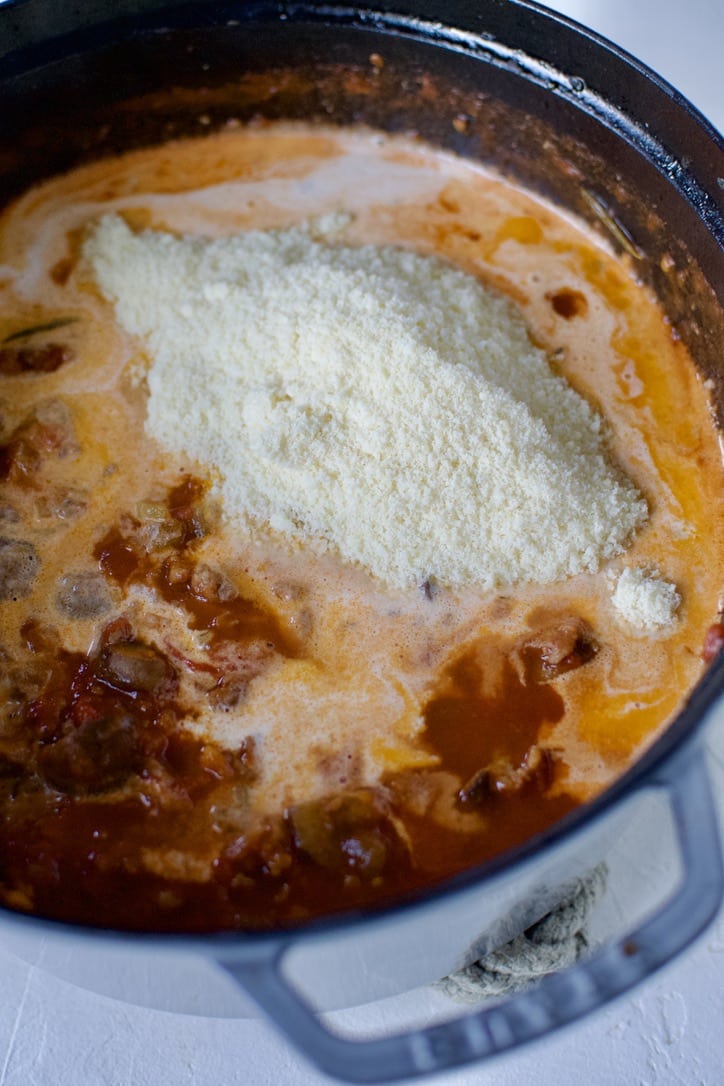 Notes & Tips
I like to chop all the veggies fairly small for this recipe. If you want to really hide them from kids, you could toss all of them in a food processor and pulse them until very fine. The recipe will work equally well and all that flavor and those veg will be completely hidden.
I like to use San Marzano plum tomatoes because they are THE BEST. They come whole in the can, be sure to crush them in your hand as you add them to the pot. They break up super easily, then add all the liquid too.
When it comes to red wine, I like to live by the rule of using something you'd drink. You only need a little bit, then you can drink the rest with dinner!
I don't mention this in the recipe, but if you like and if you have it, you can use some basil that has been finely sliced to garnish your meal.
Substitutions
If you don't have shallots you can omit them, or replace them with more onion.
Mushrooms are another thing you can drop if you do not prefer them. I like to add them to bulk the sauce up a bit. They bring lots of extra flavor but you can do without them if need be.
If you do not want to use red wine, you can replace it with beef stock.
San Marzano whole tomatoes are best, but you could replace them with 2 cans of petite diced tomatoes if you like.
I prefer to use rosemary sprigs for this recipe, but you could also use thyme, or sage for a little different flavor.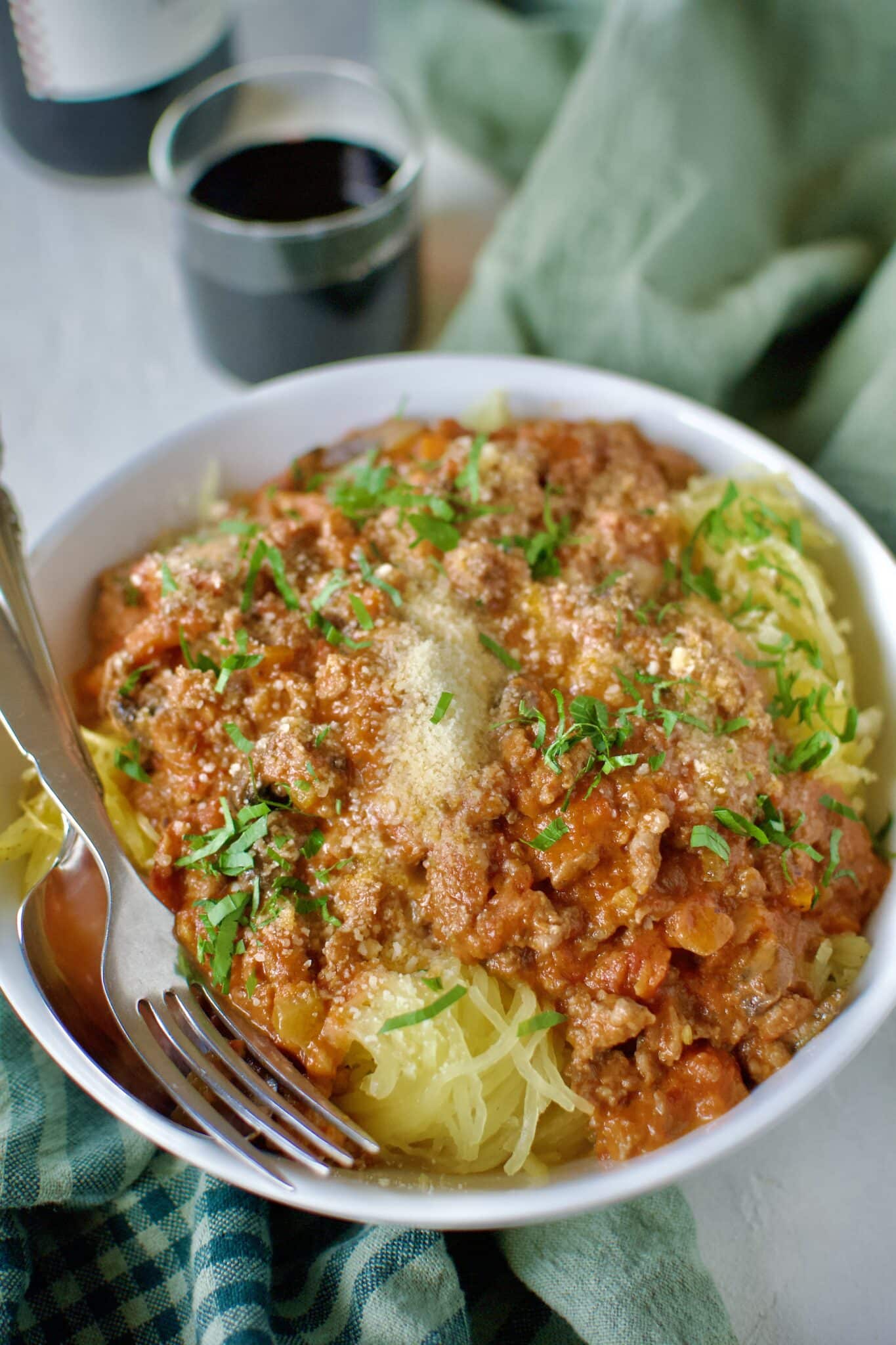 More Italian-Inspired recipes
Did you make this recipe? Let me know by leaving a review or comment! And be sure to sign up for my newsletter, and follow along on Instagram, Pinterest, and Facebook!