I love to make these Roasted Cherry Tomatoes any time I come across them on the vine like this. They are just so pretty and uber-flavorful!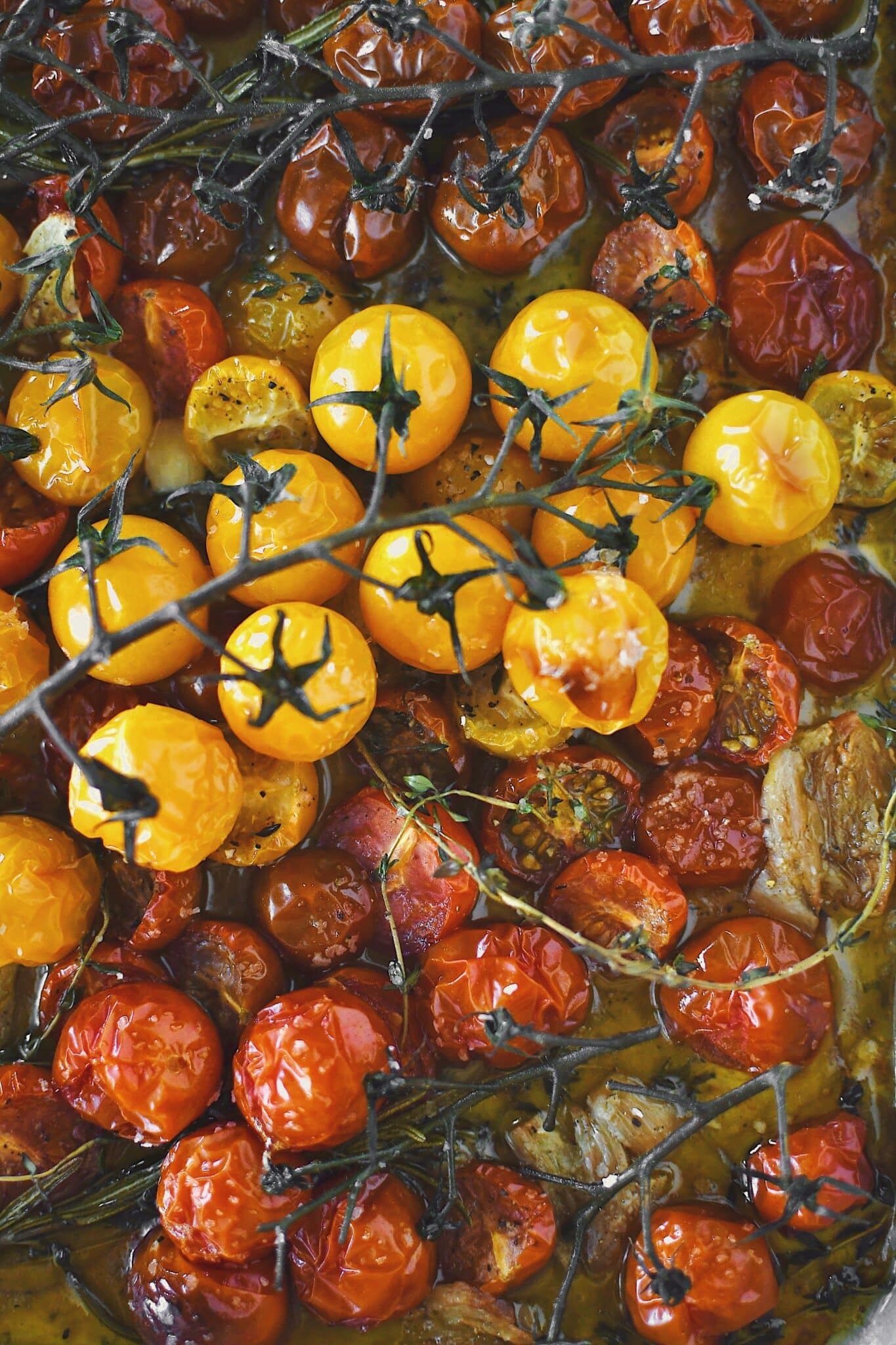 I love to make these to toss in a pasta salad, on toast, or just to top green salads. They just pack such great flavor that works in any of those instances.
Jump to:
Ingredients
This recipe uses so few ingredients, so I like to make sure the oil is high quality and everything else is super fresh. And while you could use any tomato to roast, I like to stick to small ones so their flavor gets nice and concentrated while roasting.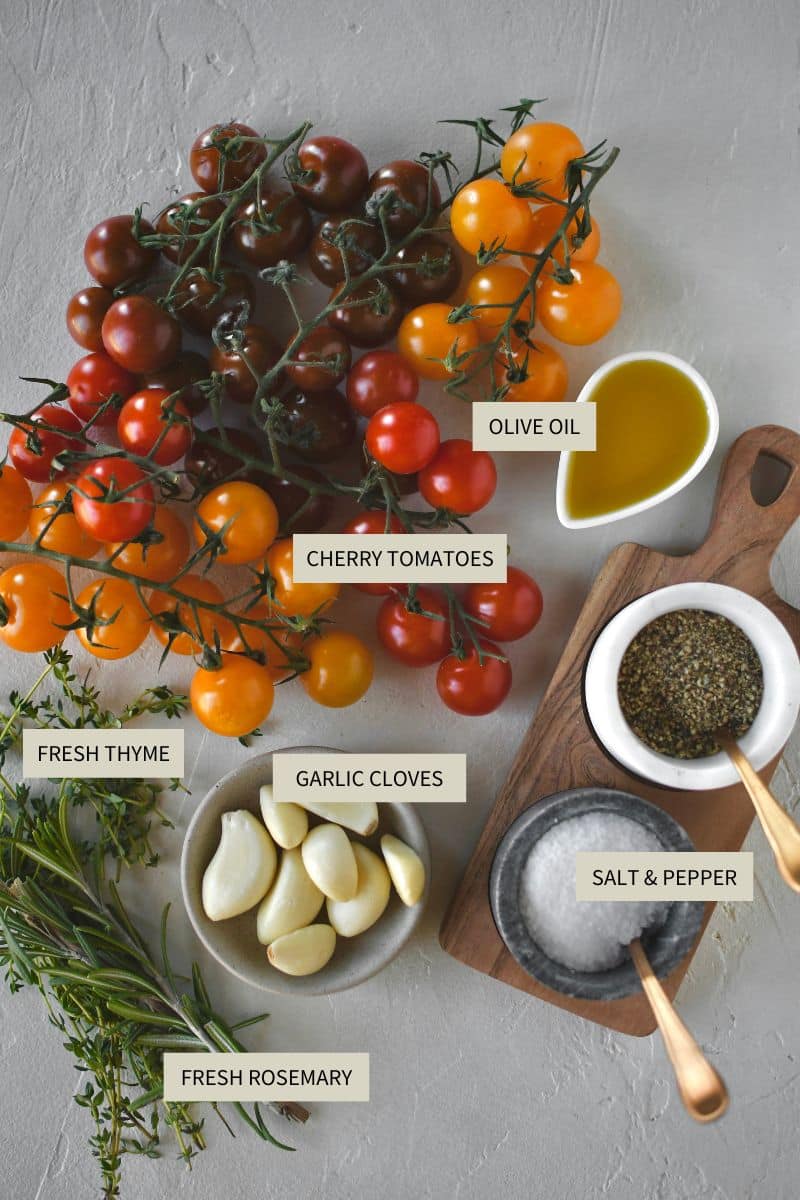 They just become these awesome little flavor bombs, that when left a whole sort of pop in your mouth when eaten. They get sweet and tangy, and with a little garlic and salt, it is perfectly simple flavor.
Use the JUMP TO RECIPE button at the top of the post, or scroll to the bottom of the post to see the full recipe card with ingredient measurements and instructions.
Method
If using and roasting on the vine tomatoes, I like to cut in half any that might fall off. Do that first and smash the garlic cloves too. Toss together with some olive oil, salt, and pepper, along with the herbs. Then place the tomatoes on the vine on top, with a little more oil and seasoning.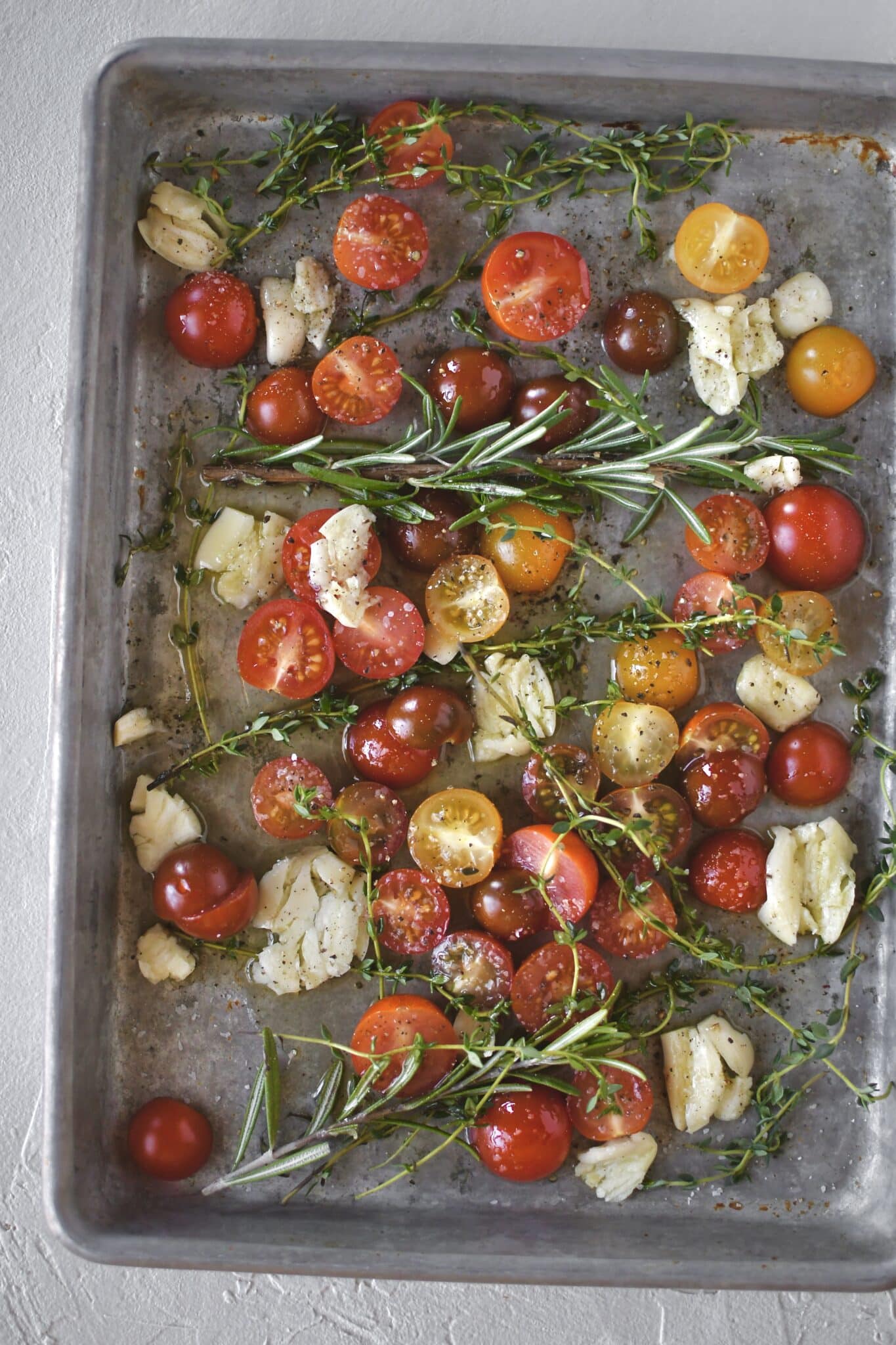 Place the pan in the oven and roast until the tomatoes begin to burst and shrivel up a bit. This means that all the fantastic flavor in those tomatoes has been concentrated and will be a total joy to eat.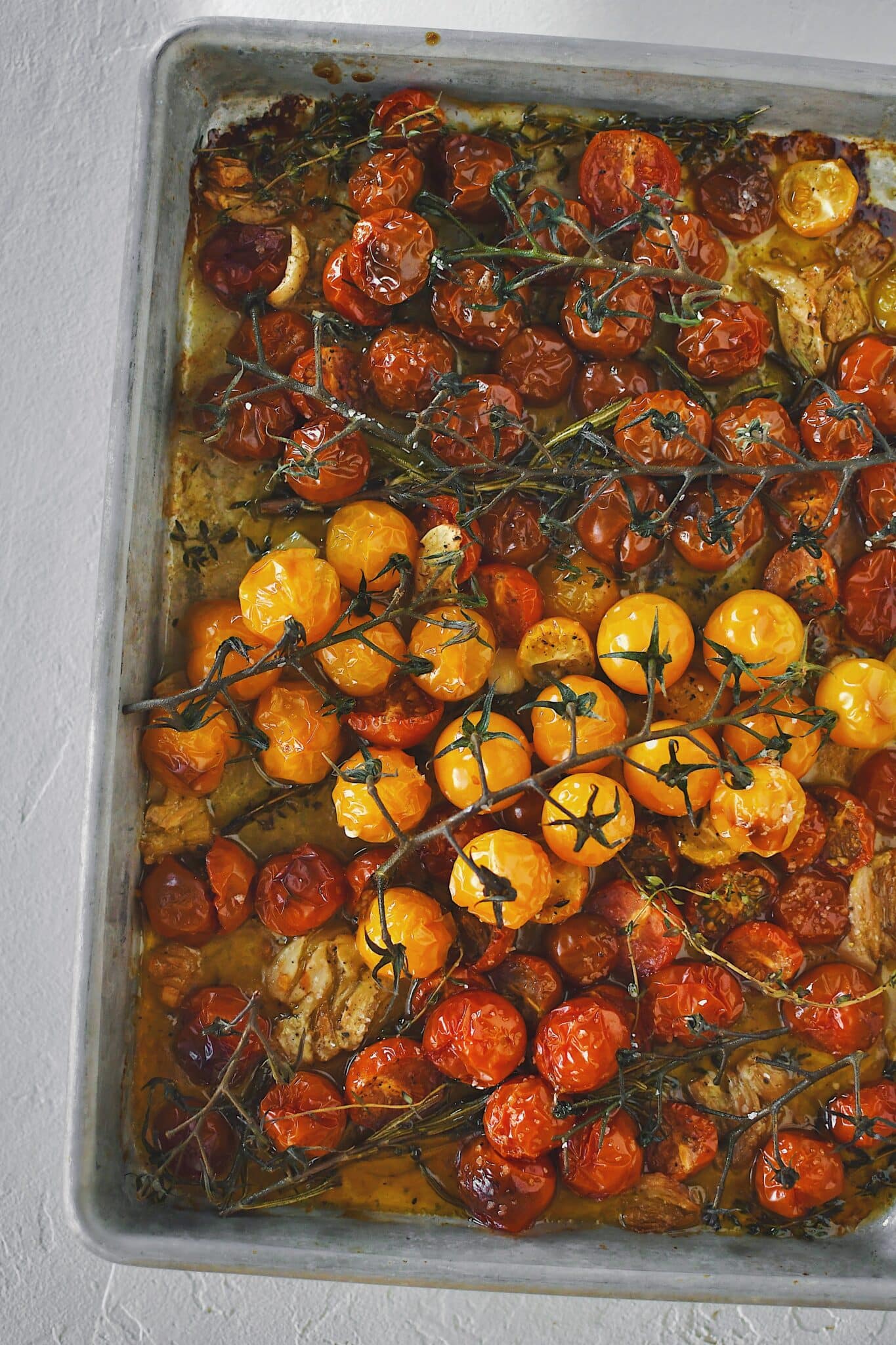 The tomatoes are then ready to be eaten right off the vine, tossed in pasta salad, placed on top of green salads, or used to fancy up your toast, of any variety!
Notes & Tips
If you like, you can slice all the tomatoes in half and remove them from the stems. I like to roast them on the stem for a more dramatic presentation and let everyone pick them off. I cut the ones that fall off in half, but leave the remainder intact.
If you choose to cut the all off, toss them all in a bowl and season them, then spread them on the pan. You can also strip the herb and chop them too, and add when tossing with the oil, salt, and pepper.
If reserving these for later use, store them in an air-tight container in the fridge. Warm gently before eating or let come to room temp for best enjoyment.
Substitutions
I like to use cherry tomatoes for this recipe because I can often times find them on the vine as you see here. That just makes the presentation even more pretty. That said, you could use grape tomatoes, or any tomato you like. But if you use larger tomatoes I would cut them into wedges or dice them before roasting.
Smashed garlic is my preference, I like to be able to pick out a big piece and enjoy it. But you could dice, slice, or mince it, or swap it for onions or shallots. Or just add them to the tray too.
If you don't have any fresh herbs, when tossing everything with the olive oil, sprinkle in a little herb de Provence in their place.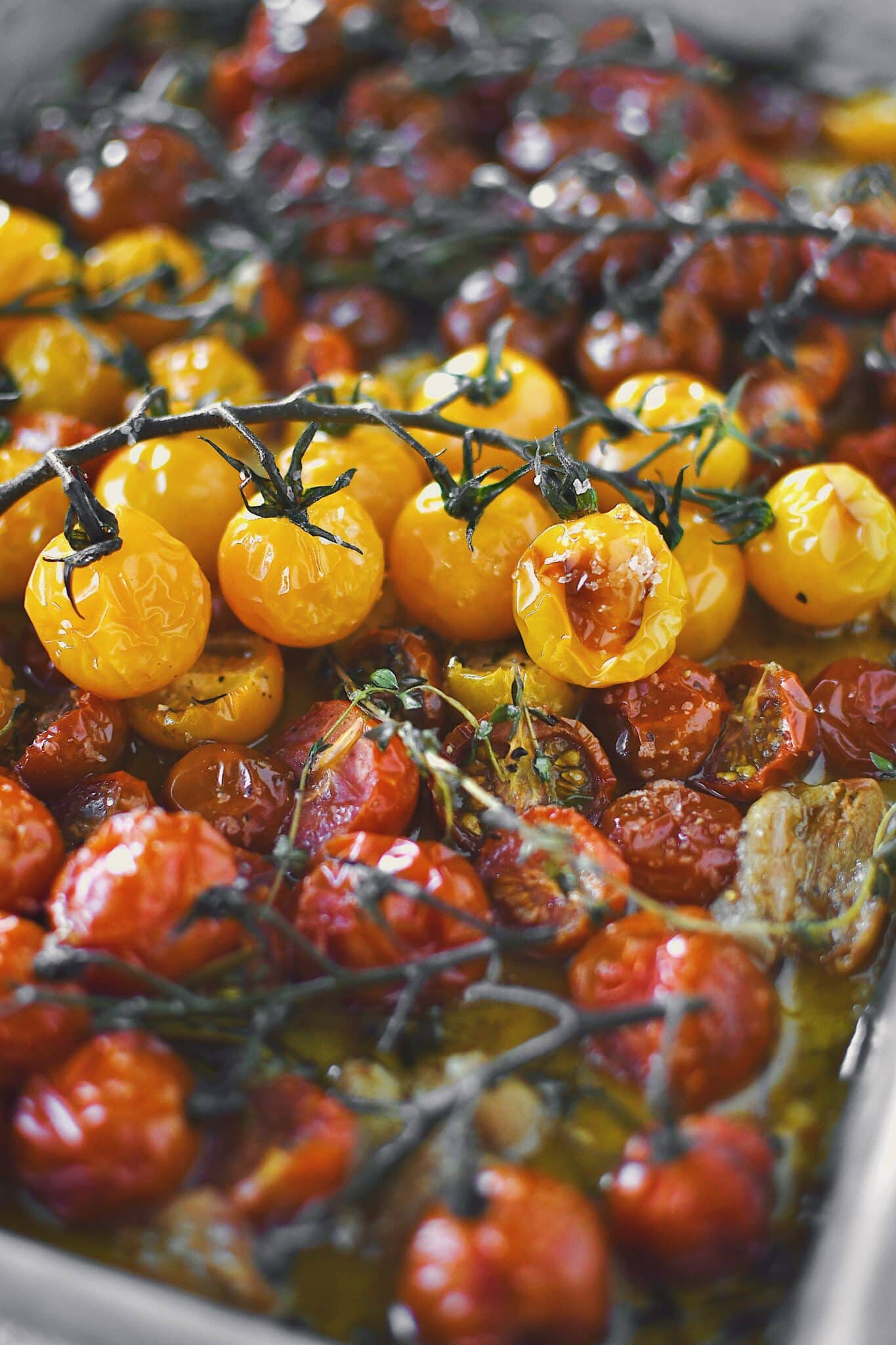 Did you make this recipe? Let me know by leaving a review or comment! And be sure to sign up for my newsletter, and follow along on Instagram, Pinterest, and Facebook!