This recipe for Crispy Roasted Potatoes yields the most delicious side dish you'll ever eat. They are like a cross between a potato chip and mashed potatoes. Nice and crisp on the outside, creamy and light on the inside.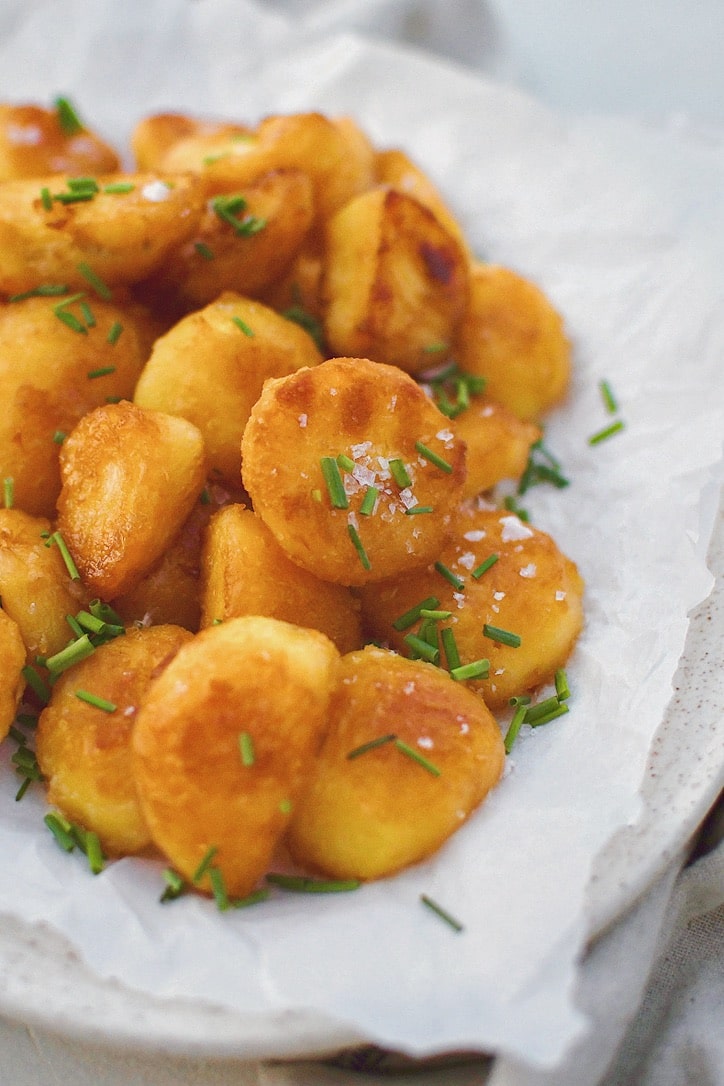 You may also know these at English Roasted Potatoes, served alongside a traditional Sunday roast across the pond. And while they do take some time to make, they don't take much attention, making them 100% worth the effort.
Jump to:
Ingredients
The ingredient list for this recipe could not be more basic. Essentially you need potatoes, salt, and high-heat cooking oil. I get a little fancy with my chives, flakey sea salt, and duck fat, but those are totally optional. For a little extra flavor I use some duck fat when seasoning the potatoes, but you can leave that out if need be.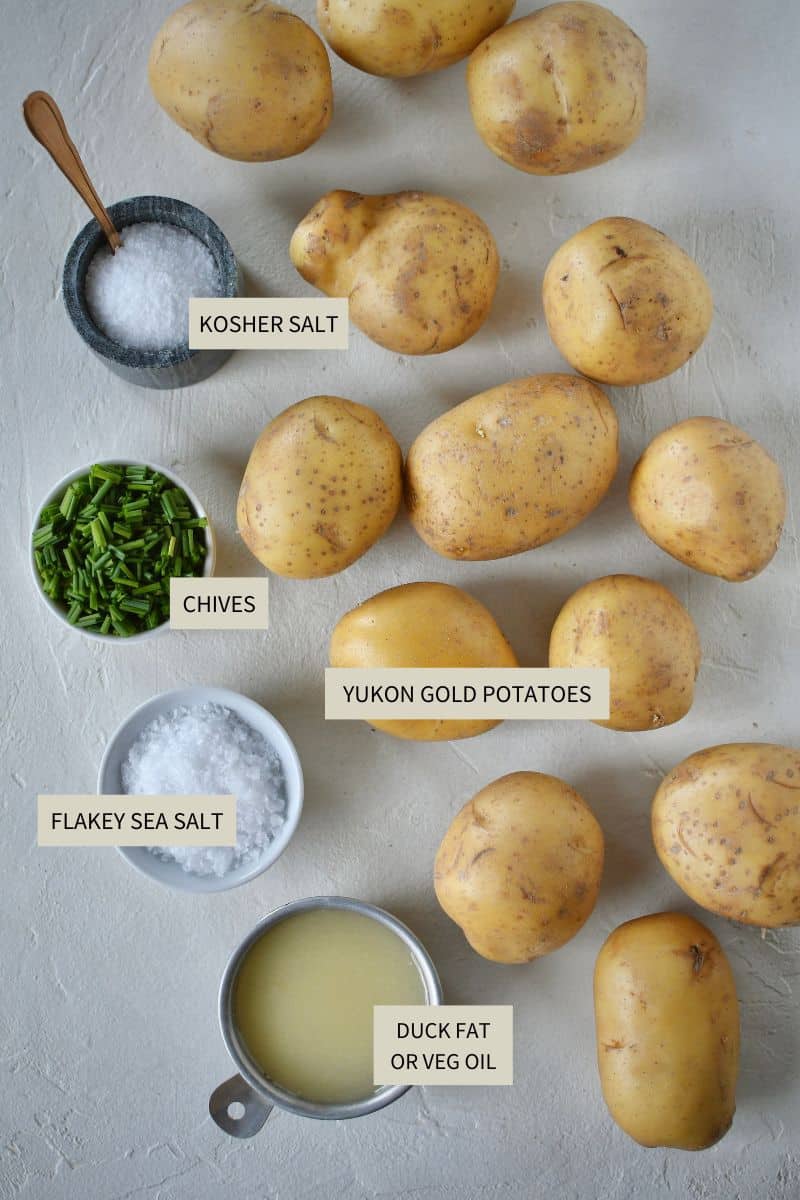 Use the JUMP TO RECIPE button at the top of the post, or scroll to the bottom of the post to see the full recipe card with ingredient measurements and instructions.
Method
First, peel and cut the potatoes. I use small to medium Yukon gold potatoes and cut them in half or quarters depending on the size. Then boil and drain the potatoes, let them air dry for a couple of minutes, then season with salt and duck fat if using.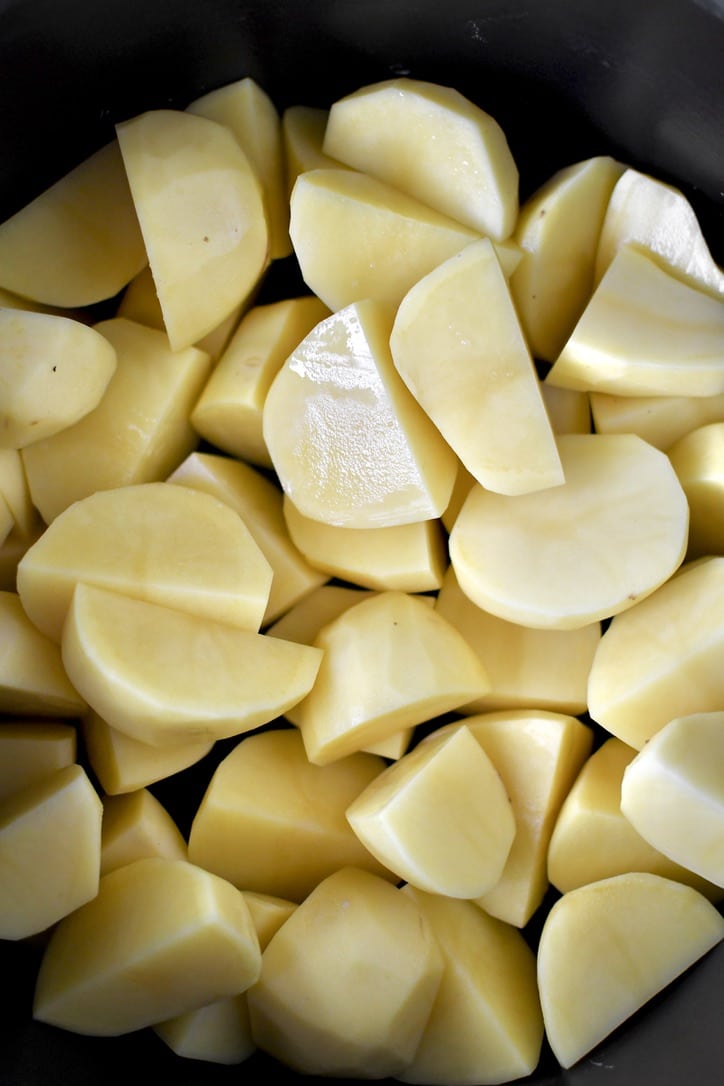 Then put the lid back on the pot and shake it around to rough up the outside of the cooked potatoes and make them, what I call "fuzzy". Then place them in some hot oil that has been heated in a pan in the oven and bake, turning every 15 minutes till golden brown and crispy.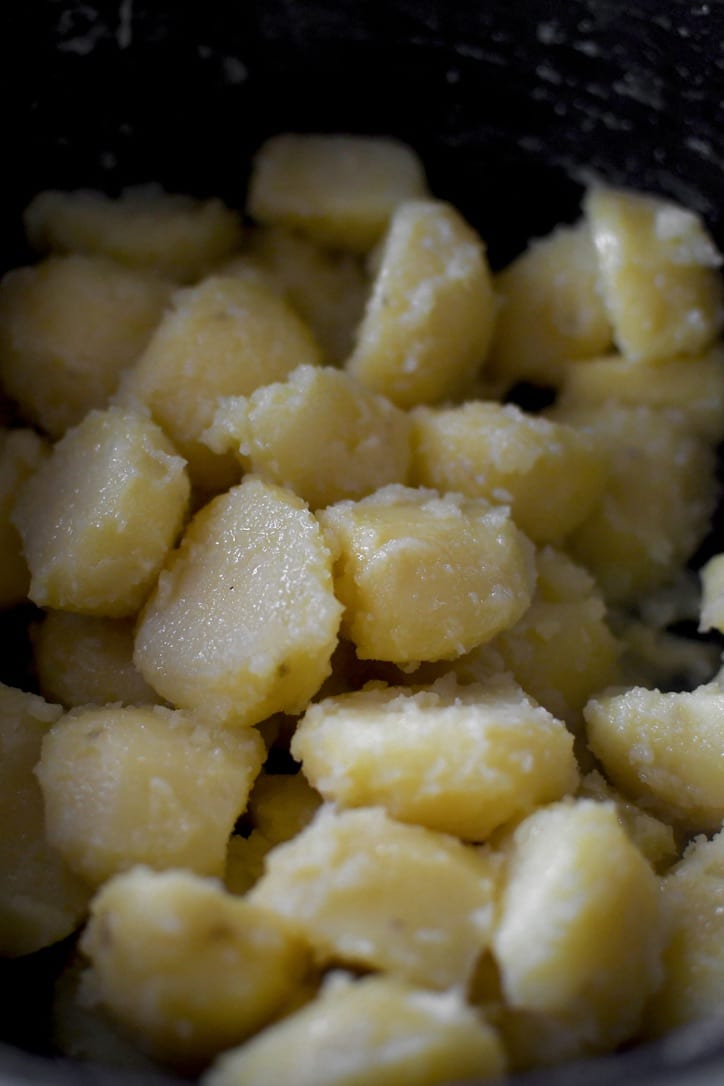 Finish them off with a dusting of flakey sea salt and a dusting of chives and you have the most delicious potato side dish you've ever had.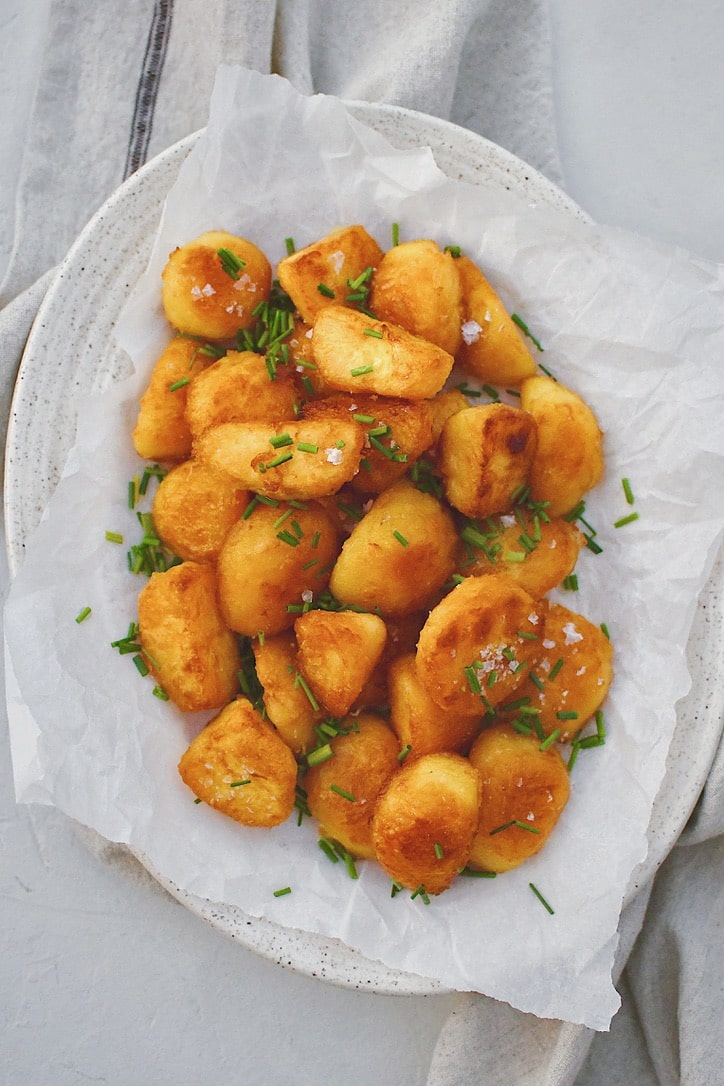 Notes & Tips
Use a high-heat cooking oil for this recipe. Do not use something like olive oil or EVOO. Avocado or sunflower oil is best, but you can also use duck fat for LOTS more flavor if you like.
It is important to heat the oil in the oven as it preheats. It gives the crisping of the potatoes a head start by dropping them in hot oil.
This recipe is really only good with Yukon gold potatoes, and they must be peeled so they get crispy on all sides.
Don't skip the step of tossing the potatoes around in the pot. I like to do it in the pot because it keeps the hot potatoes from flying around. But you could also strain them into a colander and toss them in there till, what I call "fuzzy". This step is important, it helps to make the potatoes crispy when cooked.
To get a deep golden outside, and super fluffy inside, the potatoes must first be parboiled and then roasted in the oil. And they take about an hour in the oven. They really do, turn them over every 15 minutes so all sides get crispy.
Substitutions
I use sunflower oil for this recipe, but you could also use avocado oil or grapeseed oil for the oil in the pan.
If you do not have or don't want to use duck fat, you can omit it altogether. Use some more of the same oil you are using to cook the potatoes in.
My favorite flakey sea salt is Maldon, if you do not have it, use some more kosher salt on top before serving.
I LOVE chives and potatoes, but you could also use parsley or any herb you like really.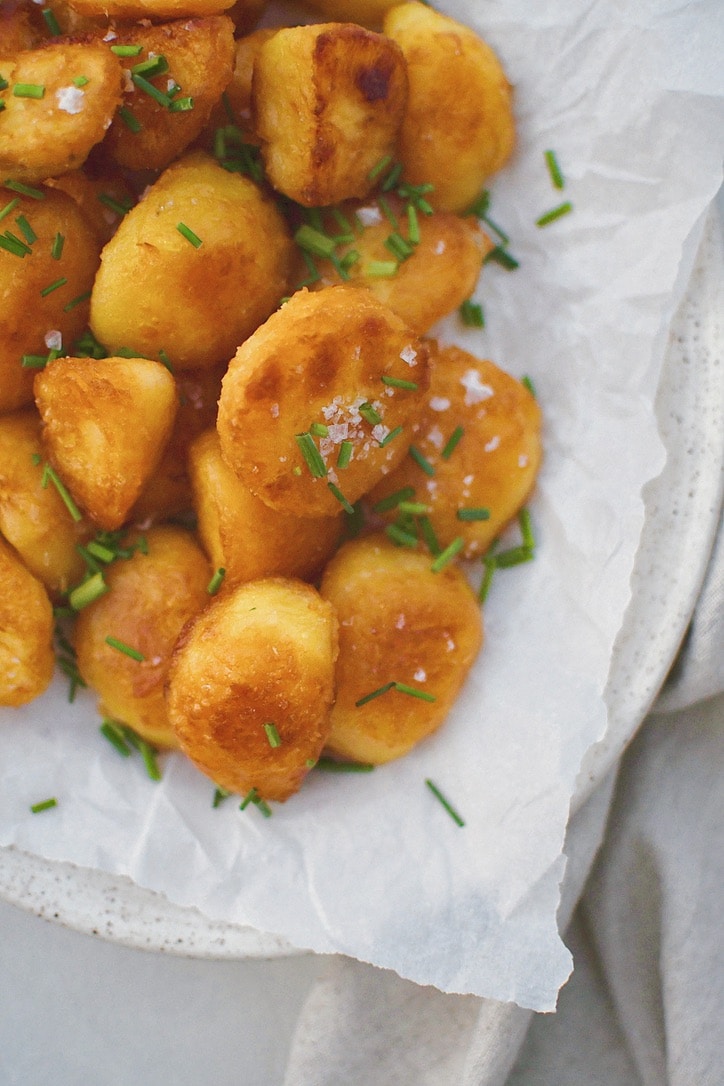 Did you make this recipe? Let me know by leaving a review or comment! And be sure to sign up for my newsletter, and follow along on Instagram, Pinterest, and Facebook!